When it comes to the office, there's no going back to the way things were before the pandemic—and more importantly, employees don't seem to want things to go back to normal. More than 70 percent of workers want flexible remote work options to continue, according to Microsoft's Work Trend Index survey, while over 65 percent said they would like more in-person time with their colleagues. To meet the moment, more than 66 percent of business leaders report that they are considering a redesign of physical spaces to accommodate hybrid work. At Google, for example, that transformation looks a lot like a sci-fi projection of a futuristic workplace, featuring robots programmed to inflate translucent cellophane walls to provide workers more privacy when needed.
Swiss furniture brand Vitra is taking a different approach. In some ways, the company has been preparing for this for years—following a 1957 entrance into the furniture market after partnering with Herman Miller, it has spent decades studying the shifting needs of workers. When the pandemic hit, it wasn't a matter of starting from scratch, but rather taking a dip into the archives to decide which classic pieces had a place in the modern office.
As a starting point, the company consulted designers, experts and the general public at its 2020 Vitra Summit to gauge the new values held by business leaders and workers in a post-pandemic world. The initial findings revealed that many companies were questioning the need for expensive real estate, meaning the future workplace should make better use of smaller spaces (and possibly eschew the expansive corporate campuses of the past). Cutting down on square footage also means getting smart about who enters the office, when and why. In the research process, Vitra found that while employees felt comfortable working remotely, they also craved a place for culture and collaboration.
To put those ideas to the test, it debuted a living laboratory featuring its new concept for the future office: a 3,200-square-foot space called the Club Office, which was unveiled in early June at Vitra's headquarters in Birsfelden, Switzerland, in a space now home to the company's research and design team.
"It's now less about how to fit as many people as possible into a floor plan, and more about emphasizing social interaction, prioritizing communal spaces, and really creating a space that encourages their team to come back into the office by providing them with a sense of common purpose and culture," says Vitra North America president Melissa Shelton.
Club Office breaks the workplace down into three different zones: The first is a public section designed for informal meetings and discussion; the second is a semi-public area dedicated to formal collaboration and projects; and the third, which also encompasses home offices, is a private zone with workplaces sheltered from intrusion.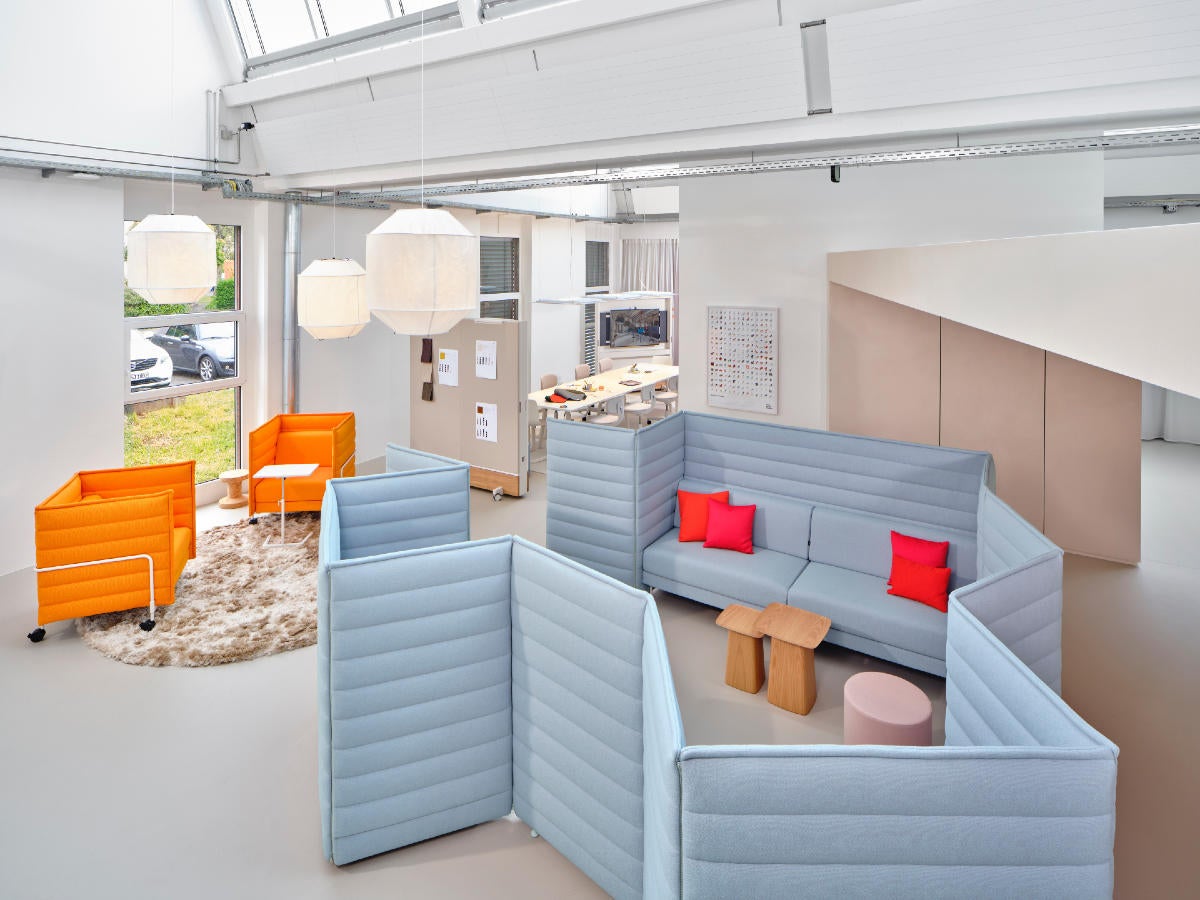 To maximize the multipurpose common areas, the company combed through its product archive to update and reintroduce some of its tried-and-true modular designs, tapping designers including Ronan and Erwan Bouroullec, Edward Barber and Jay Osgerby, and Antonio Citterio. The Bouroullecs' micro-architectural Alcove sofa, for example—first introduced in 2006—includes a high back and sides extending from its seat to allow for the creation of sectioned-off workspaces. And their Tyde 2 sit-stand table system, revamped from its original 2012 introduction, can function as an individual work area or a shared meeting space.
"Space needs to be highly mobile, flexible and agile," says Shelton. "What we learned over the last 18 months is that anything is possible, and you need something that is not written in stone—you need something that can flex and move with your company."
Part of the intent behind reissuing products from years past ties into the company's focus on sustainability. By revisiting existing products and designs and refitting them for the demands of a changing workplace, the company cuts down on the waste involved in trendy single-use pieces that quickly become obsolete. Plus, multiuse furniture naturally has a much longer shelf life than a less adaptable piece.
"It's not just an update to the portfolio; it's the evolution. Sustainability is really about taking what you already have, adapting it to your future needs and having a continuous life cycle," says Shelton. "We feel like coming into this process with our clients and having that discussion is very important, so they don't feel the burden of always having to reinvent, redesign or repurchase for their spaces."
Shelton says a few different workplace trends exhibited in the Club Office have been brewing for a while now, specifically noting hotel lobbies and co-working spaces, which in the last 15 years have become popular destinations for freelancers and remote workers gravitating toward a sense of community. Still, other factors (of which the pandemic is the most obvious example) have thrown the future of the workplace for a loop. Whatever impacts the office next, Vitra might prove that the clearest route to designing for the future could be taking a hint from the past.
Homepage image: Inside Vitra's Club Office in Birsfelden, Switzerland | Courtesy of Vitra