Shore to Core, a waterfront design competition in downtown West Palm Beach run by nonprofit architecture organization Van Alen Institute, asked "How can we re-create an urban core so its design is intelligent, flexible, and responsive to the needs of residents and visitors?" and named Ecosistema Urbano as the winning design team and Perkins+Will as the finalist.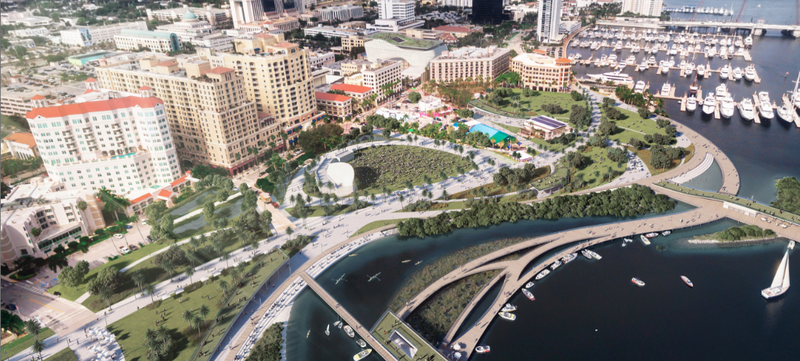 The goal of the competition? To create a "healthier and more resilient" downtown and waterfront in the city. The contest asked teams to consider: How can downtowns be reimagined "to make them more engaging and vibrant? How can cities collect information that informs future adaptation and growth? How can we facilitate social interaction among diverse groups? How can the built environment improve residents' physical health, mental health and social capital?"
The winning project, Open Shore, by Ecosistema Urbano, brings together new public space and outdoor activities in an environment that the firm says "blurs the line between the city and the water, bringing the nature of the lagoon back to the city center while adapting to rise of the sea level."

Inside the winning project
Perkins+Will's Adapt to Thrive project featured a community-centered design with a continuous waterfront park, extended great lawn and the Banyan Garage along the waterfront. 
"We are excited to have been selected and recognized as a design finalist for Shore to Core," says Cesar Garcia-Pons, principal and senior designer at Perkins+Will. "As architects, landscape architects and urban designers, our work goes beyond creating buildings and spaces that are just pleasing to the eye. As part of our integrated design approach, we have a responsibility to improve our community by making it a more resilient and sustainable place to live, work and play."