In Ask an Influencer, Business of Home explores the creator economy. This week, we spoke with David Quarles IV, the designer and lifestyle influencer behind Studio 417.
Before there was DIY, there was David Quarles IV's family. Growing up in Memphis, he watched his grandmother arrange her own florals and even mix her own paint to make sure the color was just right. His father was a truck driver, but on the weekends, he would do construction work—the doodles that the younger Quarles sketched on napkins would come to life, whether it was a shed, a garage or reframing the entire home. It was a no-brainer that he would go on to study design in college.
After graduation, however, Quarles's design opportunities seemed to dry up. Discouraged after not landing an internship, he pivoted to a corporate career and poured his creative energy into other outlets on the side: He became a Zumba instructor and started designing jewelry. By 2018, he finally bowed out of his day job and took up work as an interior design stylist in a local shop in Memphis.
Around the same time, his social media presence began to change. Instead of fitness inspiration, he pivoted to documenting his own home and interior design stylings. As he began taking on design clients, he took his audience along for the ride—a supportive following that celebrated with him as he launched his own firm, Studio 417, in 2020. His page became a place to document his many talents, but behind the scenes, Quarles strategically combined precise amounts of each passion project on his blog and social media to create the lifestyle tour de force that has now garnered him 76,000 followers on Instagram, in addition to a plethora of brand partnerships, a web series and speaking engagements across the country.
Ahead, Quarles shares how he's using brand partnerships to offset costs for his design clients, the lifestyle pillars that guide his content creation, and how he's legally protecting his brand with his sights set on becoming the next Martha Stewart.
When did you start approaching social media with a strategy?
I come from a writing background—I used to do some writing for newspapers [in Memphis], and I was a corporate letter writer, so I started there. Especially after seeing Instagram crash a couple times, I thought, "What if Instagram crashes and I lose all of my work?" I need to have a website, it needs to be owned by me, and I need to make sure that any photos I show on Instagram are ones that are on my website. Even the carousels I post on Instagram for each project don't show all of the photos. For the full project, you have to go to my website.
Even to this day, I start off projects in my [Instagram] Stories. I let people know that this is a new project that I'm taking on—here are the challenges that the client is having, and here's the space as it is. I'll develop a hashtag for each project, and then make sure that I save it as a highlight in my Instagram profile so people can always refer back to it, or if they missed something from the previous day, then they're able to see it. So I start off in Stories, and I do a lot of site visits—it will be me visiting with whatever tradesperson is working on a project with me, or often my contractor showing work that he's doing and getting him to explain how we're going to bring our design to life. But before we get to that point, I'll even show [my followers] the mood board, the renderings, the floor plans, everything like that. All of the project is usually told in Stories, and I never involve the client because of privacy—unless they want to.
We'll tease the big reveal a little in my Stories, but the project is revealed in my [main] feed. From there, I will put it on my blog, and that's basically a written dissertation of everything that happened in Stories, for people who may not be visual, so they can read about it. I'll only share the links that my clients have approved for me to share because they pay for that service. It will be links to paint colors and tile, stuff like that. Now, I've started using a lot of my brand partnerships to offset the costs for my clients. In my blog, I'll also link back to my Reels and embed that into my blog through YouTube. I try to hit all kinds of content, so that my YouTubers, my Instagrammers and my readers all have stuff to indulge in. And then of course, I upload all the photos to my portfolio.
What was the trajectory for building your following?
In April 2021, I [hit] my first 10,000 followers, and that's when my brand partnerships started really taking off. Over time, it started growing from my design work. [I got a boost when] I did [the] Small/Cool [Contest] with Apartment Therapy, but the rest was just from my content. I had a few posts go viral and that boosted my following as well. It's not really a strategy, but I do have pillars that I like to touch. Now that branded partnerships are such a big part of my business, I want to make sure that my Instagram doesn't feel like, "Buy this, I'm selling you this," so I make sure that I'm producing enough organic content. I'll do fashion, cooking or some type of culinary experience—whether it is through cocktails or mocktails or food—and then of course, design. Recently, I've introduced fashion. I started doing videos where I'm throwing clothes to myself—it's like my twin, and I'm getting him dressed to go out for whatever event he may have. I was nervous about putting that into the mix, but it ended up becoming a big success story that has landed me a digital series on Tastemade and on Pinterest for fashion. All those nerves were for nothing! Now, it's just maintaining the energy to record all those things.
What does your business encompass today?
Studio 417 is the interior design firm that [provides services] for commercial and residential spaces. David Quarles IV LLC is me as a talent—[where] I offer services for collaborations with brand partners or speaking engagements. My first large official speaking engagement was The Meridian Experience [an interior design and influencer weekend retreat]; and then I got [to do] What's New, What's Next [with the New York Design Center]; and now I've gotten a few locally in Memphis with the business chambers and the Memphis Business Journal. Most of them have been focused on me as a multihyphenate, seeing how I merge interior design with a love for cocktails, cooking and still being able to teach fitness classes—how I'm able to fit all of that into my life.
I live as an artist, and I like to do a little bit of everything, but everything exists within my ethos. Without my Zumba classes, I wouldn't have had the clientele for my interior design, for example. For me, especially in the city, it was a way of building community; and then I got about 47 percent of my clientele from those classes, in my early days. Without them, people wouldn't see me as approachable enough to want me to create something fun in their home. And then interior design, of course, supports my home backdrop for all of my content creation, whether it's Mocktail Mondays or normal vibey day-in-the-life content. Since my home is a reflection of my design style, my interior design content feeds my content creation. And then my Reels serve as a strategy for [potential clients] to see how I work—my styling, my color usage—but it's also a way to break the ice so they know who they're working with.
Everything I'm doing now is the reason why I could not last in a corporate setting. I want to show people that building a business can be fun, and it shouldn't be so stagnant. Now I get to create the world that I wanted to live in but hopefully create it for more people.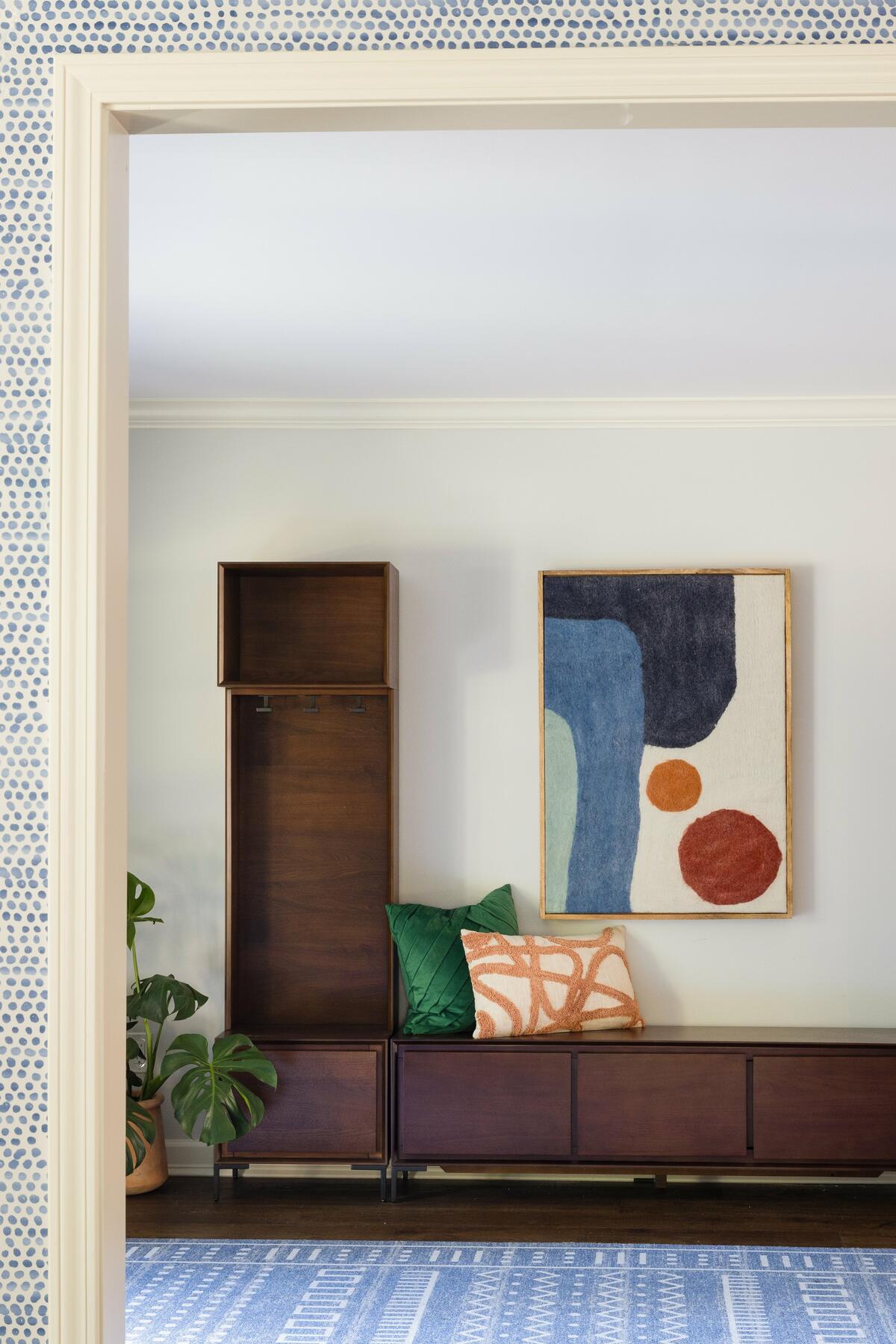 What does the physical process of producing content look like for you?
Before I record anything, I come up with a concept. After the concept, I'll decide what the song is, so I'm not trying to pick the song at the end—that's just a way to remain organized—and I'll develop a shot list, detailing what shots and angles to get, allowing me more time to ad-lib as I need to during the shooting process. I record on my phone and use a tripod, and edit through the app Splice on my phone. It takes 45 minutes to an hour to record. Once the shoot is over, I regroup depending on when the content needs to be produced, and then I will edit for two to three hours.
When did you start working with brands?
That came about in 2021. My first collaboration was with HomeGoods, and then Grove Collaborative came second. I used to go to HomeGoods as my therapy during quarantine—I would go on Sunday and share my finds on Stories. They started following me; I mentioned that I wanted to redo my patio area on a Story, and then I got a message from HomeGoods: "Hey, we want to partner with you on this to make it happen." Now, my business days are interior design and brand partnerships—they're neck and neck at this point.
If I'm going to do a brand partnership Reel or something like that, I have a contracted videographer/photographer who can produce those things. If it's casual content, I just do that myself. I give the [contractor] the same concept and shot list so they know what to do, and I also give them the brand guidelines and creative brief so that we don't deviate. It takes [some] mental [work] out of it so I can just perform, and then allow them to edit and do the music.
A lot of that content creation now involves travel, too. For Ford, I traveled to Detroit; for Target, I went to Greensboro, North Carolina. Walmart sent me to Los Angeles to do a round of commercials. Next week, I go to Las Vegas because I have a partnership with Bellagio, and then I go back to L.A. for another partnership—it's wherever they need me to be. While I'm on the plane and in my downtime, I have to design, because I'm currently in the middle of a whole-home renovation.
How have you approached setting your rates?
When I first started out, it was all me navigating contracts. I had a personal lawyer and I would take some contracts to her. Then, when more contracts started coming up, there was just so much you have to look out for—things like perpetuity and if they're going to use your likeness, all of that. My whole thing is, I see myself as being the Black male Martha Stewart in the future, so I don't want to sell myself and then have to go back to the company to buy me back because they own me. After a while of just being so tired of negotiating my rates, negotiating the contract, setting new rules, then having to produce the content, then having to continue to run my design business—I was like, "Something has to give." It was actually at The Meridian Experience, where I took a picture with someone and her management reached out, and we negotiated back and forth all summer. I interviewed with about five [management] companies, but [Boston-based digital talent management company] Parker stood out the most because of everything that they offer, as well as their focus on not working all the time, on self-care, a four-day workweek. I was like, "Maybe I need to give them a chance." We did our trial period, and then I forgot that we were in a trial period, and I was like, "Can we just go ahead and get married?" Now they negotiate rates for me, and they have legal representation as well, so now that I'm getting more into entertainment, they have someone on staff that is able to do those negotiations and make sure I'm getting paid according to entertainment standards and in licensing as well.
It helps because [my agent] Carly is also like my second therapist. If your metrics are off or something's not performing, it's easy to beat yourself up like, "Oh, my God, I'm the worst." We have those conversations often because I'm such a perfectionist, and numbers and metrics were my thing [in my former corporate career] before I worked in content creation, so I always need data—but when it's about you, that feels weird. But with management, instead of changing yourself, it is, "Maybe this isn't what you need to be doing," or "Just give it some time and we'll be successful." But it's never like, "Well, you have to push out more content because you need to meet this quota."
How have you approached platform updates and algorithm changes?
[The algorithm] is this weird beast. I'm just focused on when my audience should be awake. I usually post at 9 a.m. On the West Coast, they're just waking up and—everybody does this—with one eye, you scroll Instagram. Since my main goal with my content is to spark a bit of joy, then that's the first thing that you get a chance to see, like a shot of dopamine. Then on Central—and you should probably not be doing this—you're at a stoplight and you're watching content. On the East Coast, more than likely you're over your first meeting or that first batch of emails that you do not want to be looking at. You should be able to see my content then. Some things flop, most things don't. On the weekends, I rarely post to the main feed. I'm always on Stories on the weekends, but if it is a one-off and I'm feeling inspired, you may get something on Saturday or Sunday evening because people are at dinner and they're scrolling.
When you decided to be on camera, was that ever difficult for you?
Absolutely, and then not. I'm naturally nervous, so I'm like, "What are they going to think?" But then I'm also like, "I want more people to get to know me." Since I was such a nervous kid, I used to let that dominate my personality a lot more—culturally, I'm different from the majority here in the Memphis area, because our family is mixed with a whole lot of things and we take our culture very seriously. When we would go into different settings, sometimes it was like, "Wait, what? What are you?" I decided to be the shy kid instead. So I like to say that I'm making up for a lot of lost time when I'm sharing.
I don't feel like it all the time. When I don't feel like it, I don't produce, because I don't want to give you some half-baked version of me. That's not nice for me, and I need to be preserving my energy for when I really need to use it. So that's kind of how I work. Now, there are still some times when—like this week, for example, I was nervous [while] I was producing content. So I stopped midway, and I was like, "You don't want to do this. Let's try again tomorrow."
How much of your personal life makes it on to social media?
It's just what I care to share, and I don't really put a limit on it. The things that I don't touch are on purpose. For example, my parents—I used to keep them private, but they are such a bigger part of my business too. One of the reasons why I quit corporate work is because I noticed my relationship with my parents started changing. I was a lot more irritable, and that's not how we operate. We're a close family. So I stopped because I was like, "Well, I have this goal of wanting to work together as a family." Dad started off as my carpenter; Mom would do the books and make sure that the invoices were paid by the time an install was finished. She would also do quality control, helping out with furniture assembly, things like that. They just started showing up on Stories, and then brands would request that they make an appearance in the content as well, so they become part of the brand. But as far as anything I don't touch—I don't do anything without intention.
Did your life change when you started to build a following?
Yes. But I did none of this for recognition—it's me making up for lost time, my personality and the goals that I had, the dreams that I had. I was like, "Oh, my God, I spent all this time hiding, and for what? Nothing." Now, it's a little different, just [getting recognized] locally and now nationally—it even happened in Puerto Rico. I was walking down the street, and there was a lady who left the restaurant she was at [to say hello to me]. That's been happening a lot more now. It's the way I know I'm expanding the community from offline to in-person, to create relationships with people. Of course, you need to have your guard up, but most people may have just been looking for a way to connect, and they have not been able to find it outside of interactions online. My community has grown in a way [from] offline to in-person to [the point] where if you experienced me online, that's one thing, but I would like for us to engage in person.
Is keeping up a presence on social media ever overwhelming for you?
I think it is for everyone, [but] especially if this is part of your profession, then it is what it is. Because work is something that I enjoy, I have a hard time turning it off. Even, for instance, when I was on vacation—I was like, "I need to post, because if not, the algorithm is going to hate me." Those thoughts are always [there] because of that unhealthy side of the algorithm, which no one likes. As far as keeping up with it, I try to make sure that I have a schedule: Monday, Wednesday, Friday—those are the only days that I post to my main feed.
What's the biggest challenge for you on social media right now?
I'm analyzing growth as a company. It was scary to hire my first employee; I was like, "Oh, my God, I'm responsible for someone eating." I was watching a lot of movies about growth, reading some books and listening to podcasts. I like to think of it as being an adolescent. Getting pimples was not easy, having your voice crack in front of the class was not easy—but it meant that you were growing up. I take those uncomfortable moments as like an acne outbreak or my voice starting to crack, because it's leading to a different level of your maturity. Right now, my voice is cracking as I'm getting ready to hire for a second position—like bad cracking, in front of social studies class [while] presenting something—but I know that [these tasks] will [ultimately] be in better hands. One thing that has helped is that my business coach told me long ago to list my weaknesses, and then put that in bullet format and make that the job description.
Right now, I'm doing the uncomfortable work of listing new weaknesses as my business grows, so that I can hire for the next position. Now that I have a good design employee who is beyond amazing, I can delegate some things to her. But now that I'm doing a lot more content, I need somebody to take care of the coordination of the content creation, so that I can truly show up and be the talent that I need to be for both the content creation and the interior design.
Homepage image: David Quarles IV | Courtesy of David Quarles IV