In our series, What I Love, we're asking designers to build us a mood board of what's inspiring them right now.
Danielle Balanis isn't afraid to make a statement in a room. Known for her nuanced approach to maximalist interiors, the Birmingham, Alabama–based designer has a knack for mixing bold colors and playful patterns into a palette.
Take, for instance, her current mood. Crafted with a 1928 Colonial Revival home project in mind, Balanis drew inspiration from an enchanted-forest-themed wallpaper print when designing the flat lay. "The client loves mad hatters, rabbit holes and surrealistic whimsy," she says. "She's a kindred spirit."
A supporting cast of classic finishes and vintage motifs balance out the scheme, but not without the occasional pop of a bright hue or eye-catching embellishment. "There is a layer of fantasy in this home—and eternal cheer."
Here, Balanis breaks down the details—from lavender-tinted glass fixtures to black-and-white hexagonal floor tiles.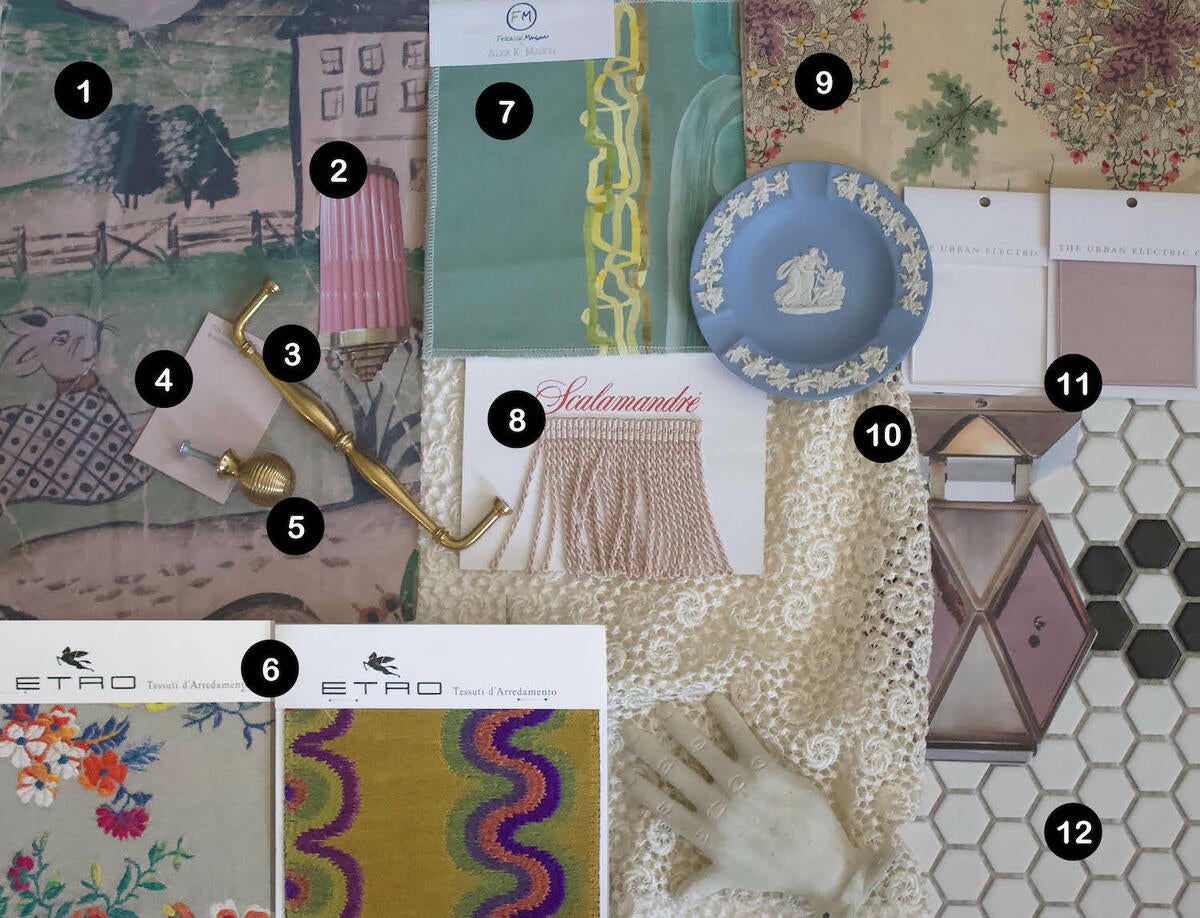 Courtesy of Danielle Balanis
1. MYTHICAL LAND WALLPAPER BY KIT KEMP FOR KRAVET
"The concept for the main suite sprang from this wallpaper. It became our hero piece and serves as the inspiration for the whole. The client loves Alice in Wonderland, so this is playful and fitting."
2. VINTAGE BATHROOM SCONCES FROM CHAIRISH
"These vintage sconces really spark a mythical vibe. Enchanting yet elegant, they feel harmonious flanking the rolling landscape depicted in the wallpaper."
3. VINTAGE BRASS CABINET PULLS
"For the finishes, I went with a combination of new and vintage brass. Mixing old and new is the most compelling way to outfit a room. You don't want anything to feel too contrived or expected."
4. BREATHLESS BY SHERWIN-WILLIAMS
"From the Kit Kemp wallpaper, I pulled out this paint color, which we used to swathe the bedroom, where it covers every inch of trim and cabinetry. It's also used in the bathroom, where we gave the walls a semi-gloss sheen and used a gloss finish on trim and cabinetry."
5. CK020 CABINET KNOBS BY HAMILTON SINKLER
"The beehive shape of these knobs fits right in with the nature of both the home and client. A dash of whimsy is always welcome."
6. FLORA AND VERTIGO FABRICS BY ETRO FOR FABRICUT
"I was particularly drawn to two prints from Etro's newest collection. The boldness really spoke to me, and I felt an urge to contrive color combinations that brought in some welcome newness. For this client, I wanted intrigue and a bit of romance in the design."
7. WHISKEY STRIPE FABRIC IN MINT GREEN BY FERRICK MASON
"The scale of the stripe on this fabric is quite dramatic, and the colors are a bit unexpected. There are several almost watercolor-like green tones in the center bordered by a striking yellow-gold. I used it for Roman shades in the bedroom, but this stripe would work well on an armchair and ottoman as well."
8. CARLYLE BULLION TRIM IN BLUSH BY SCALAMANDRÉ
"The color of this trim on the Roman shades fits right in with all the others at play. I also love to use bullion to edge the bottom of a sofa or chair for a finished custom look."
9. VARYKINO FABRIC BY DÉCORS BARBARES
"We are avid fans of this line, and the Varykino fabric felt so right—something a little dusty and nostalgic to play off the bold pattern of the windows and opulence of the bedding."
10. SPINNER FABRIC IN ALABASTER BY KASMIR
"This airy, lacy fabric serves as a foil to all the strong colors and adds a feminine note in the main suite. I'm contemplating using this fabric to drape a vanity table and give the bedroom an old-fashioned, glamorous note."
11. KARDAMYLI LIGHT BY THE URBAN ELECTRIC CO.
"This light has a vintage look that felt like it could have been in this 1928 house originally. The smoky lavender glass is unexpected, melding beautifully with our palette, and the facets impart an enviable jewel-like demeanor."
12. VINTAGE BLACK AND WHITE HEXAGON TILES
"Black and white is such a classic color combo in a bathroom from this period. It was an easy decision and creates a foundation for the bolder choices."
Homepage photo: A flat lay by Danielle Balanis | Courtesy of Danielle Balanis Design