We all see color differently, which makes finding the precise color for a project all the more challenging. Hours spent poring over swatches and samples can quickly shift from inspiring to infuriating. A tool to take the guesswork out of the process can save both time and money—which is where the ColorReader, an innovative, pocket-sized paint-color-matching tool from color management company Datacolor, comes in.
"We're always looking for ways to make the workflow more efficient and help our customers access color," Susan Bunting, Datacolor's director of marketing and customer solutions, tells Business of Home. "This virtual fan deck allows professionals to quickly access thousands of paint colors without the need to carry cumbersome paper fan decks with them. It's perfect for on-the-spot inspiration, too, letting you capture color on the go, wherever you are."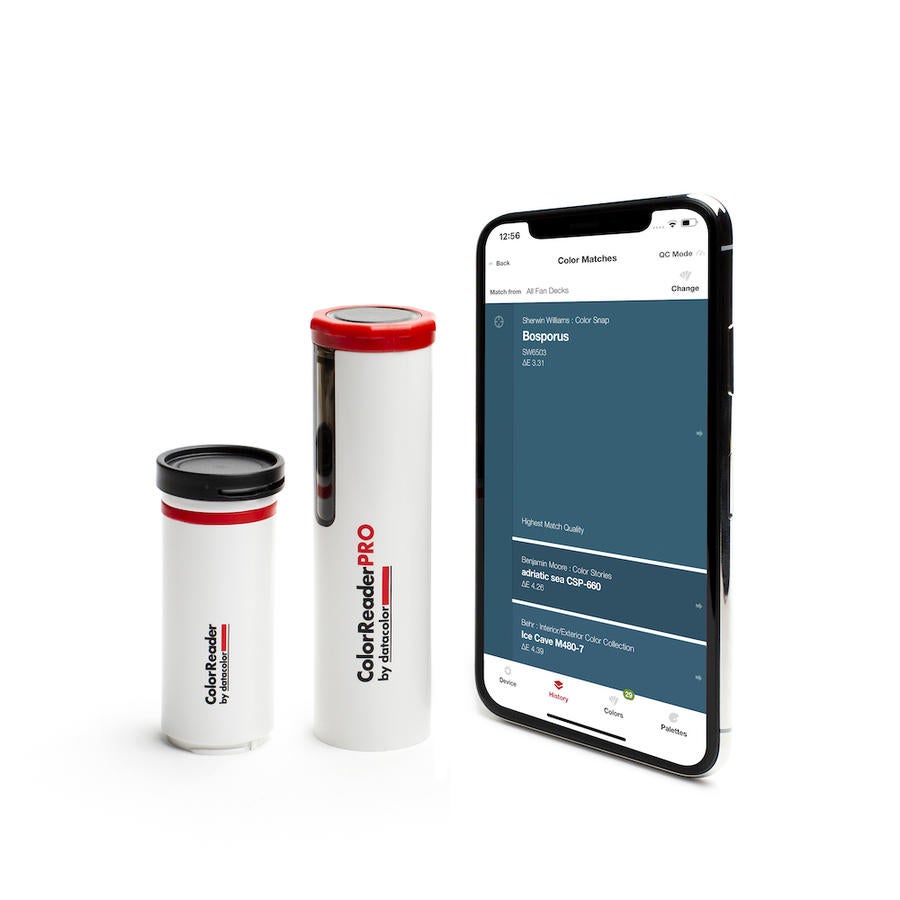 Datacolor has worked in precision color management for nearly 50 years, serving clients in the textile, apparel, paint, coating and photography industries. But it is the company's recent development of a lens-based design for color matching—which gives the ColorReader a first-hit accuracy rate of over 90 percent—that made it an essential tool for the design trade.
"When a color captures a designer's eye, they want to be able to identify it and bring it into their design work," says Bunting. "ColorReader lets you do that instantly, whether it's pulling a specific color from a print pillow, a client's antique textile or a vibrant flower petal. In seconds, ColorReader measures the color and gives you the closest paint color match."
The ease of not having to carry several fan decks to a client meeting can be a major plus; the ColorReader itself is the size of a film canister. The matching platform is also brand agnostic, currently linking to thousands of colors from paint brands like Benjamin Moore, Sherwin-Williams, Behr, Valspar, Ace, Farrow & Ball and PPG—all easily accessible on a phone app that lets users create, save and share color palettes, as well as explore coordinating colors.
Designers who have started using the ColorReader are already obsessed. "I love pulling the color from colorful patterned fabrics and incorporating it into the paint choices," says interior designer Anne Hepfer. "Additionally, a few projects for clients have [been inspired by] colors of items that they have—a scarf from a beloved grandmother and a fabric swatch from curtains of a childhood home. The ColorReader is especially helpful in these circumstances."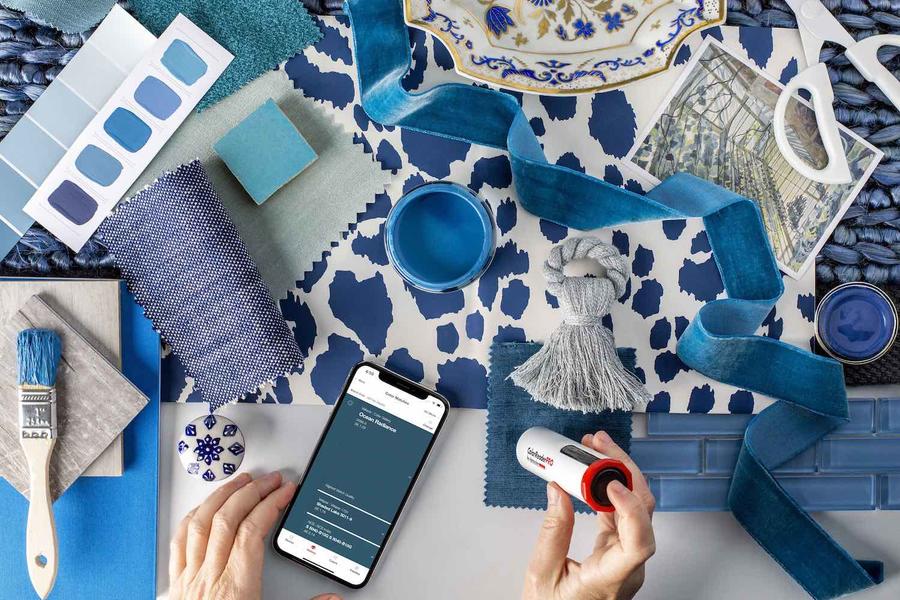 Speaking of vintage and sentimental goods, renowned designer Sasha Bikoff says the ColorReader "made my neon pink and acid green dreams come true," by matching her 1990s-era Chanel sweater set with the perfect paint for an upcoming project. "Sometimes I am truly amazed by technology."
Some, according to Bunting, have even used the ColorReader to measure their skin tone or the color of their pet. "We prefer to keep it design-focused—as fun as it is to say you've measured your cat," says Bunting. "Ideally, it's used on flat surfaces, because the product needs to be laid flat to keep out any light for an accurate measurement."
No matter what designers decide to measure, the ColorReader is easy to use "even for a non-techie like me," affirms designer Vicente Wolf. "I haven't been able to stop using it to match colors to fabrics and wallcoverings. It most certainly beats flipping through fan decks in hopes of finding that perfect match."
To learn more about the Datacolor ColorReader, click here.