Ceramicist Gregory Roberts of Studio C2 is turning the charred rubble of last fall's Northern California wildfires from soot to stoneware. The Sonoma Ash Project, which he founded last November, has created ceramic mementos for victims of the blazes using ashes from their former homes. The deadly wildfires killed more than 40 people and destroyed nearly 9,000 structures.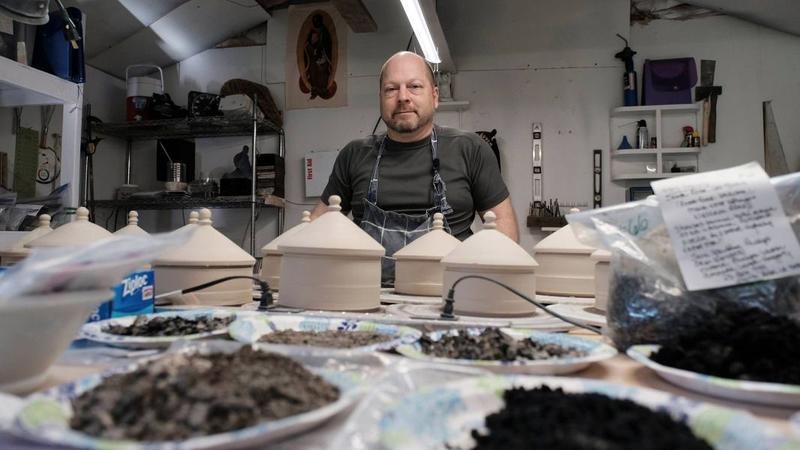 Having worked with ash-based glaze in the past, Sonoma State University studio art professor had just the memorial in mind for the region's devastation. His idea was simple: If victims of the wildfires would gather small samples of the incinerated remains of their homes, he'd turn each into a glaze for a ceramic container. The finished product takes an inspired form, as well. Each piece of pottery, with its cylindrical container and bulbed, roof-like lid, is an homage to the historic Fountaingrove Round Barn in Santa Rosa. The local landmark was lost in the wildfires that swept through Sonoma County last October.
"I always wanted to be a village potter," Roberts told local news station KGO. "And this just seemed like a great way to do it." He shared his plans via social media, dedicating a Facebook page to the Sonoma Ash Project. He invited locals to bring small portions of their homes' salvaged ash—and they listened. Since November, more than 125 people have left packages of soot at his front porch dropoff bin.
Upon receiving each special delivery, Roberts sifts out any rocks, coins or nails. A quick water bath strips the lime from the ash before it dries and gets ground into a fine powder. Once shaped, the stoneware is labeled with a number that reflects its home address, which is often noted—sometimes along with names, phone numbers and even details of what was lost in the fire—on the outside of the original container.
In February, Roberts was approached by the Museums of Sonoma County in Santa Rosa, and offered a special opportunity. The museum invited him showcase the Sonoma Ash Project as part of a one-year remembrance exhibition slated for 2018. Albeit thrilling, it's a request that will require a greater scale of resources.
"Over the past several months, the project has grown in size, scope, and complexity, increasing the costs beyond what was originally expected," Roberts explains in the description of a GoFundMe campaign, which was created last month to help fund the cost of materials, equipment and utilities.