Designers and consumers alike are increasingly seeking natural alternatives to harsh chemicals—but could the future of sustainable performance fabrics lie in something as unexpected as discarded crab shells? Two companies have teamed up to pioneer a nontoxic solution made from chitosan, a biopolymer sourced from seafood waste, which they hope will transform the landscape of eco-friendly performance textile production.
More than two years ago, Bellingham, Washington–based manufacturer Tidal Vision launched a proprietary chitosan solution called Tidal-Tex, which can be custom-formulated to give textiles biostatic, fire-retardant, antimicrobial and anti-odor properties. While chitosan as a biopolymer has been on the market for years, and is even touted as a medical supplement, it is most commonly sold in a dry form, not conducive to textile applications. Textile manufacturers interested in using it needed to adapt the powder into a spray or coating, a process that can be costly, particularly as chitosan has primarily been imported from outside the United States, making it subject to tariffs and other import costs. "It's part of our mission as a company to take chitosan from just serving a niche market in the U.S. to a solution that's widely available," says Kari Ingalls, director of textile business development at Tidal Vision.
In an effort to increase production and distribution capabilities, in June, Tidal Vision partnered with Leigh Fibers, a Wellford, South Carolina–based manufacturer of engineered fiber solutions and a processor of textile waste. The partnership has allowed Tidal Vision to open a new 24,000-square-foot facility within Leigh Fiber's million-square-foot headquarters and establish a presence on the East Coast. Since opening the new facility, Ingalls reports that Tidal Vision has increased its production capacity to 1,600 to 2,000 metric tons of liquid chitosan per month—up from only 50 metric tons a month in 2018.
Performance fabrics have long been a sticky subject in the design industry, as they provide hitherto impossible qualities of durability, but are often treated with toxic chemicals to achieve that long-lasting effect. For years, many contained per- and polyfluoroalkyl substances (PFAS), known by the Environmental Protection Agency to cause cancer in addition to a host of other issues. While the most toxic of PFAS have largely been phased out in American manufacturing, the EPA reports that they are still produced internationally and can be imported into the U.S. in goods such as carpets, apparel and textiles. Given those risks, there's a growing demand for nontoxic alternatives that offer similar durability.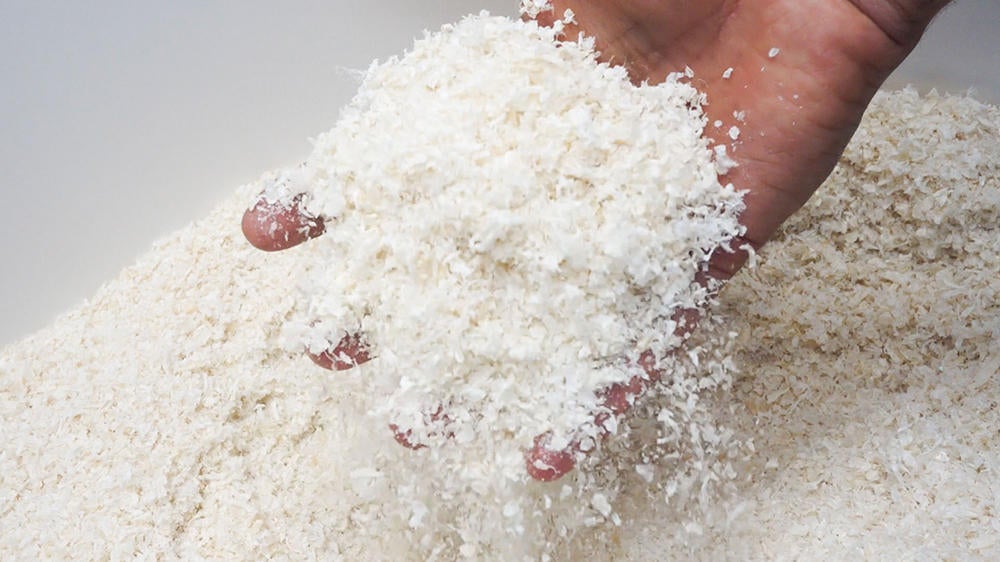 Tidal Vision sources the raw materials for its solution from a sustainable fishery in Alaska, cutting the cost of the chitosan supply and giving the company more control over the manufacturing, which allows for the creation of custom formulas for any given client. Once the company receives the discarded crab shells, they are ground up and frozen before the chitosan is extracted. That's the processing point at which many chitosan suppliers stop; Tidal Vision, with an eye primarily toward textile applications, then has the extract blended into a liquid, which can be used as a dip, spray or coating.
Because the company is vertically integrated, it's able to offer Tidal-Tex at a cost that's competitive with that of traditional chemical coatings used to treat performance fabric. According to Ingalls, Tidal-Tex's price per pound ranges from seven-eighths of a penny to 7 or 8 cents, depending on the formulation. "Every company wants to be sustainable until they find out that it's going to cost them so much as a dollar," says Bryan Tickle, key account executive at Leigh Fibers. "Because we're able to pass on our savings, we're removing that cost barrier."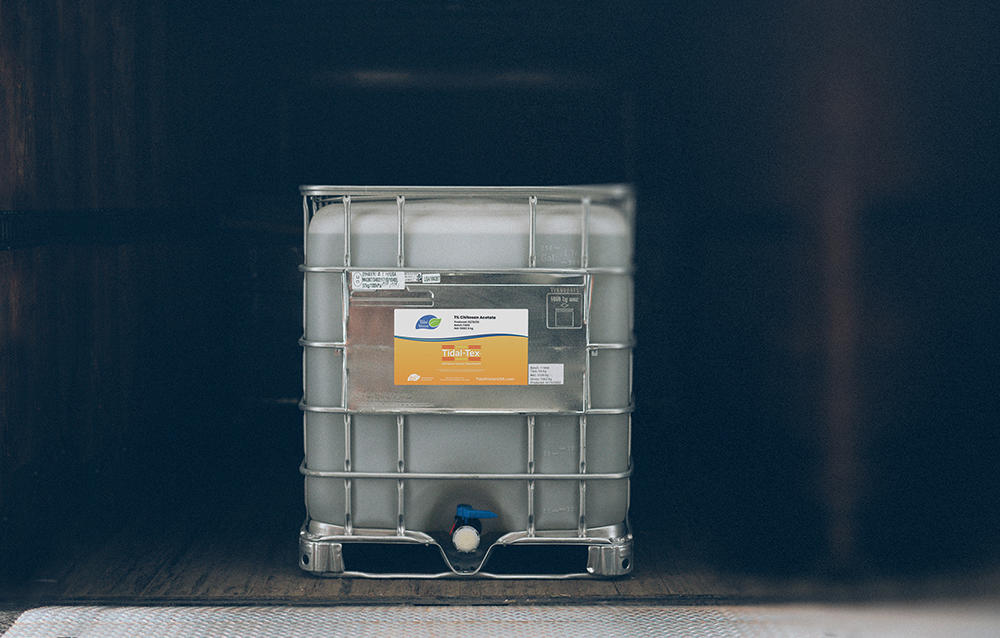 Affordability and customization are both crucial to the end goal of making Tidal-Tex a drop-in alternative to any solution a manufacturer is currently using. "We're able to customize the formula to the exact viscosity of whatever the client was using previously, so there's no need to change out any machinery," says Ingalls. "We're removing the obstacles to using this sustainable alternative and striving to show that this material is cost effective, convenient and high performing."
Tickle regularly receives inquiries about Tidal-Tex from a diverse range of companies, from furniture and apparel brands to automotive companies and even a mop manufacturer and water-treatment facilities. "Because the formula is so versatile, we can go in a lot of different directions and offer each manufacturer a unique solution," he says. "We're not trying to sell a square peg. This is something that can really make sense for a lot of brands and help them drive these green narratives that everyone is looking for these days."
Homepage photo: Tidal-Tex is made using an extract found in crab shells. | Courtesy of Tidal Vision