It's easy to dismiss YouTube as a mess of jump-cut editing, rants, clickbait titles and DIY hacks. But consider this: The platform has more than 2 billion monthly active users—almost twice as many as Instagram. As a search engine, it ranks second only to Google. If it's a mess, it's a big one, with plenty of opportunity. No surprise, then, that the fashion, music and beauty industries have embraced the platform with open arms. By contrast, home design—especially the high end—has lagged behind.
Recently, a few luxury brands and publications have been tiptoeing onto YouTube to try and fill that space. Some have already made names for themselves, like Architectural Digest's wildly successful Open Door series, but luxury design content is still somewhat of a Wild West. Those currently succeeding are capitalizing on personality-driven content in slick, professional packaging. They may still be on the cutting edge, but things are starting to stick.
CREATING "THE LOOK"
Though production value has been upped across the board in recent years, most popular YouTube videos have a relatively low-budget look and feel. Often, that's the point—creators are usually running DIY operations, and this character-driven, homespun authenticity is part of their appeal. But design relies more on envy-inducing visuals than your everyday lifestyle vlog.
How to make content that feels high-end and right for the platform?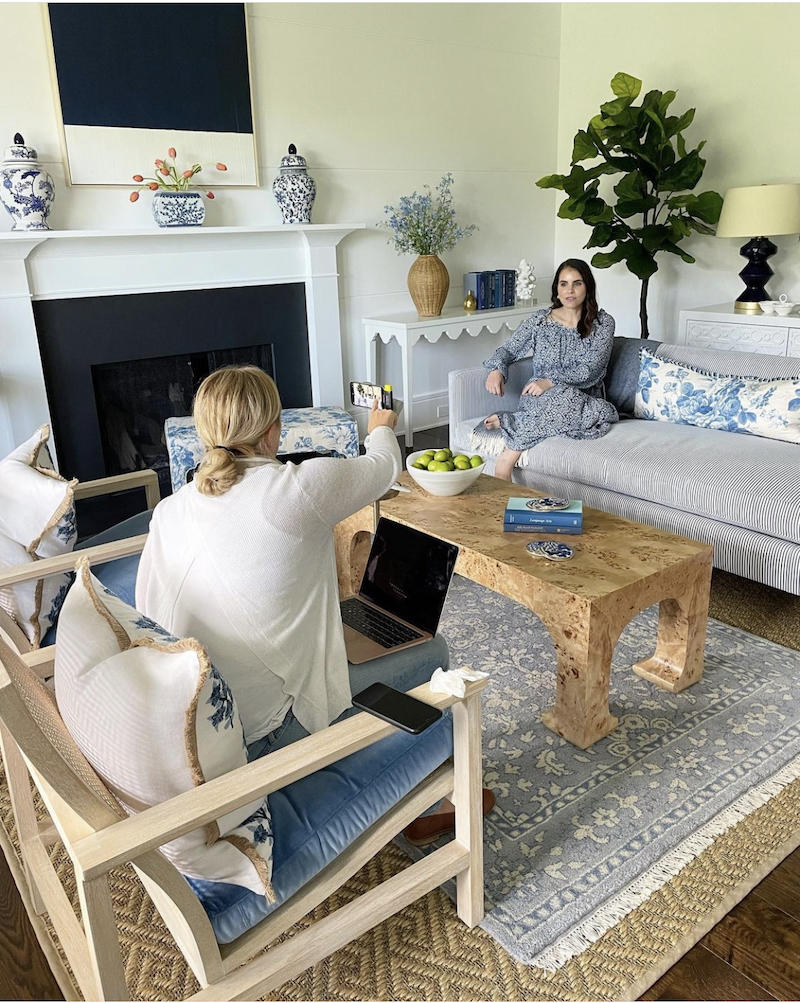 Courtesy of Designer Home Tours
Laura Bindloss, founder of design PR agency Nylon Consulting, recently created the Designer Home Tours video series on YouTube. In each episode, an acclaimed interior designer takes viewers on a personality-driven tour of a luxury home they designed. Bindloss shot all of the first season's content on her iPhone 12, but viewers wouldn't know it. To make the finished product look appropriately luxe, she relies on editing. "Where we spend the money is on professional video editors," she says. To complete the story, she mixes professional still shots—worthy of a glossy magazine—with her iPhone footage.
"When I first did it, I thought I'd just take snaps on my iPhone while I was there and we can use those in the video, but it was so clear that it didn't work," says Bindloss. "It has to be professional photography, otherwise it just looks terrible."
Stacey Bewkes, the founder and editor of the Quintessence lifestyle blog and YouTube channel, was an early adopter of the platform, publishing her first video on YouTube 10 years ago. She has seen considerable success since then, with a loyal fan base of 150,000 subscribers returning week after week to watch the At Home series, which features host Susanna Salk's tours of renowned designers' personal homes. Thirteen videos on the channel have over 500,000 views. Three have over a million.
Now that smartphone cameras can take high-definition, almost cinema-quality footage, solid editing can matter as much or more than the image quality itself. Bewkes shoots her own video with an iPhone and a Sony camera, takes photographs of the homes and edits the video, while Salk hosts and assists with editing. A former art director, Bewkes takes on a detail-oriented editing process to take the Quintessence videos to the next level. "It takes me a long time to edit every video," she says. "We want our videos to look professional but friendly."
JUSTIFYING THE INVESTMENT
Brands are also eager to get a slice of the video pie. Bindloss represents manufacturers that increasingly want videos of their products in beautiful spaces, both for their websites and social media. But since the designers who use the products hardly ever shoot video content themselves, it's hard for brands to get what they need.
"Brands are desperate to get more video content of beautiful projects that they're featured in," says Bindloss. "Video content is now where [Instagram] is putting all of its juice, so if you can't get video content, you basically cannot utilize that platform correctly."
For those who wish to enter the video space, it can feel risky to invest in a high-quality video if only a few people end up watching it (not to mention the public shame of a low view count). The good news is that YouTube provides metrics so brands can quickly realize what they're doing right and wrong and adjust their strategies accordingly.
Cade Hiser, Condé Nast's vice president of digital video programming and development in the company's lifestyle division, works on Architectural Digest's YouTube videos and pays serious attention to these metrics to guide the channel's content. "With every video we release, we closely monitor how our audience is reacting to the content and how much it's being shared," he says. "In digital video, iteration is crucial to growing your audience. We double down on our successes when we know we've made something that's resonating with our viewers and pivot ideas that aren't as successful."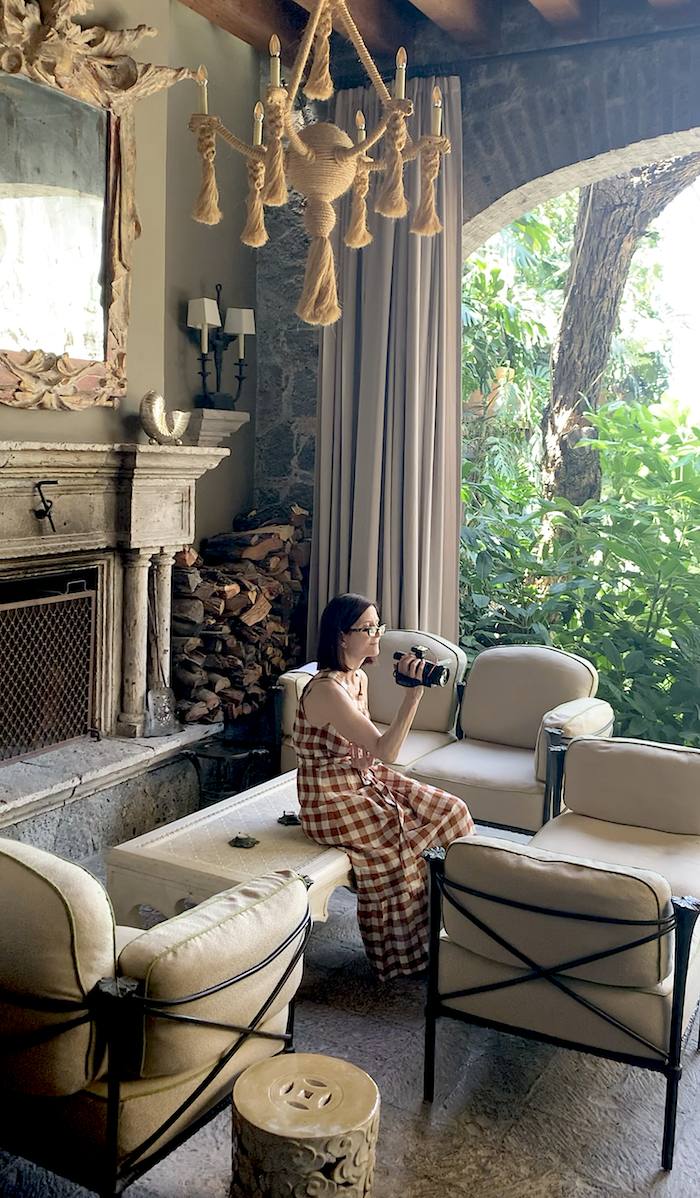 It's working for AD. In 2021, Open Door—in which celebrities give viewers a casual tour of their not-so-casual homes—was the most trending series produced by Condé Nast Entertainment. To date, the show has garnered more than 674 million total views across nearly 100 episodes.
Beyond views and shares, metrics like "watch time" (how long a viewer actually spends with the video) are key for creators to see if the pacing of a video is working. Other metrics such as average percentage viewed, likes, shares and comments are important to follow. "If our audience is clicking on our videos, watching them all the way through and sharing them after, then we consider that a success," says Hiser.
If a video doesn't get enough engagement, there are ways to salvage the footage, says Tori Mellott, director of video content for Schumacher's media division and style director for the brand overall. "You can get a lot of mileage out of one video, and you can put it on so many different channels," she says. The content can also be repackaged for TikTok or Instagram if it's just not working in long-form. "You can turn it into something completely different."
Creating content for YouTube can be as cheap as filming on a smartphone, but a professionally produced video can cost much more. (No one in this story would provide specifics about their exact costs.) Fearing a failed investment is perhaps the biggest reason that high-end design content isn't as popular in video—yet. It's not that there isn't a demand, it's that it can be hard to justify. Those who have managed to do it successfully are often backed by big brands that can afford the expense or rely on smaller teams that can afford to take risks. Doing the legwork to build a new audience seems, to many, to be a demanding undertaking, especially when monetizing the channel can be equally challenging.
GETTING PAID
There are a variety of ways in which video creators make money. The simplest is via ad revenue through YouTube's partner program. Though YouTube would not confirm exact figures, estimates suggest a video with a million views pulls in between $2,000 and $6,000. That means Dakota Johnson's beloved (and heavily memed) Open Door episode—which has over 23 million views—likely earned tens of thousands of dollars. But unless videos are reliably going viral, most YouTube creators in the home space agree that ad revenue alone is not enough to sustain video production at a high caliber.
Some have turned to sponsorships to fill the gap. Quintessence earns ad revenue but also tries to find sponsors for each of its At Home videos, which see outside companies pay a flat fee to have an advertisement shown at the beginning of a video.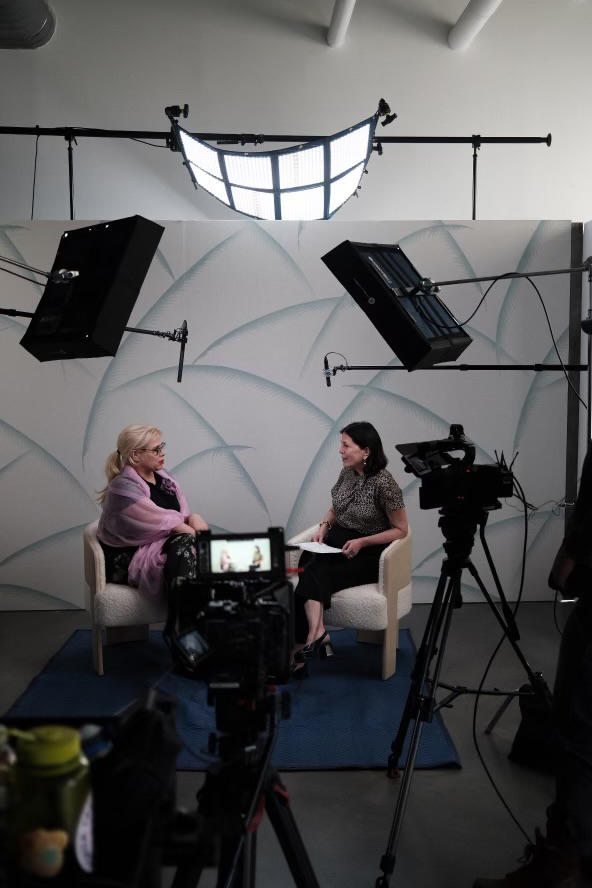 Some monetization strategies are more complicated. Bindloss earns some ad revenue from her new series but foresees a few different avenues for making the investment pay off. One is affiliate linking products featured in each video, in which Bindloss would collect a portion of the sale profit from viewers who buy something they see on screen. Additionally, she predicts that while on set shooting a Designer Home Tours video, some designers will pay her to film additional content for their social media accounts, a service they would purchase outright. This is called "private-label content creation"—using the infrastructure already in place for Designer Home Tours to shoot new or additional content for private businesses.
Schumacher—the only big residential fabric company with a significant YouTube presence—is thinking more about brand awareness than earning ad money from its videos. "We're trying to offer different entry points for subscribers on YouTube who are interested in design," says Mellott. It's still important to make smart investments, but for Schumacher, positioning itself as an industry leader through its YouTube presence is a higher priority.
NEW EYEBALLS
The ability to create a distinct series on YouTube allows brands to tap into multiple audiences at once. Schumacher's channel, for example, features a mix of videos geared toward trade experts—which she expects to generate less views but to build credibility among top talent—and others that are more for everyday design aficionados. "We're trying to offer different entry points for subscribers on YouTube who are interested in design," says Mellott. The same is true at Architectural Digest, which produces videos at both the aspirational and DIY level.
Business logic aside, there's no doubt that video content provides a more intimate way to view some of the world's most beautiful homes and get to know the personality of the designer behind the curtain. Historically, most publish-worthy homes have only been widely seen through print magazines. While this medium is often more polished than video—each photo is meticulously styled and captured by some of the world's best photographers—the home's story ends there.
YouTube is offering a new way to see these celebrated projects. Most national interior design magazines work with "exclusivity" clauses, meaning that once a home has been photographed and shown anywhere else, it's off the table for publication again. This policy encourages publications to show unique projects but often pushes standout homes off the table if they were touched by a rival magazine or design blog, or even posted with excess on the Instagram feed of its famous homeowner. But most of today's design video content isn't as concerned with exclusivity, and designers and homeowners are happy to give their projects renewed attention in this format. Plus, a six-page magazine spread doesn't have the bandwidth to show an entire home, so there are certainly new elements to be seen.
"If it's 'in book,' it only has so many pages, and if it's online, it runs and then it's kind of finished," says Bindloss of the current publishing landscape. "There's so much more happening in the space that doesn't get covered in a home tour feature because they just can't show it." Her series can show much more of these houses during an 8-minute video.
Designers also want to be featured in video content, so they'll gladly open the doors to their best projects. Bewkes says only one designer has said no to a video home tour: Gloria Vanderbilt. But even then, it wasn't necessarily a lack of interest that prevented the design doyenne from participating. "It was sort of a backhanded compliment," says Bewkes, with a laugh. "She said, 'I don't think I can, because it would be a conflict with the documentary they're doing on me.'"
Homepage photo: Behind the scenes of a Schumacher video shoot | Courtesy of FSCO