In the new Barbie film, the doll protagonist ventures out of a candy-colored fantasyland and into the stark landscape of the real world. Back in the actual real world, the opposite has happened: Thanks to the movie's massive marketing campaign, the fashion and home realms are suddenly drenched in shades of bubblegum pink. For the design industry in particular, it's hard to think of another time when a movie has had quite the same effect. Collaborations ranging from Barbie-branded paint (Backdrop) to area rugs (Ruggable) and furniture (Joybird) mean the Dreamhouse can be easily replicated in real life—in fact, it already has, thanks to Airbnb's recent Malibu listing.
Consumers are seeking out their own Barbie-themed pieces as well. Pinterest witnessed a whopping 1,135 percent increase in searches for "Barbie aesthetic bedroom" from May 2022 to May 2023, while online marketplace 1stDibs saw a 103 percent year-over-year rise in searches that include the word "Barbie"—Barbie dolls, Barbie art, vintage Barbie, you name it. Those searches translated to sales, too, with the site recording a 100 percent year-over-year jump in orders for Barbie-related merchandise.
At this point, it's clear that the Barbie home trend is tapping into something bigger than the movie itself. After years of minimalism, neutral tones and earthy, modern farmhouse–inspired interiors reigning supreme, the stage was set for an anything-goes maximalist resurgence. As consumers increasingly look online and in media for design inspiration, it seems that the industry was perfectly primed to accept Barbie as its next harbinger of style.
According to 1stDibs editorial director Anthony Barzilay Freund, the platform is no stranger to TV- and movie-induced buying sprees. "We do see direct relationships between these big cultural moments and searches," he says, noting that titles like The Gilded Age, Elvis and The Queen's Gambit also sparked boosts in shopping activity. Still, he notes, Barbie is different in that she appeals to the luxury market like no other. After all, Dreamhouse decor has always been au courant, counting pieces that recall Eames chairs and Tulip tables among its collection. Plus, Barbie's looks and occupations have always been in tune with the zeitgeist, whether she's running for president (in 1992) or inhabiting a plus-size body (in 2016). "Barbie has gone through cultural highs and lows, and people are eager to see how it's going to be reinterpreted today," says Freund. "It's controversial; it's not frivolous—it's social commentary."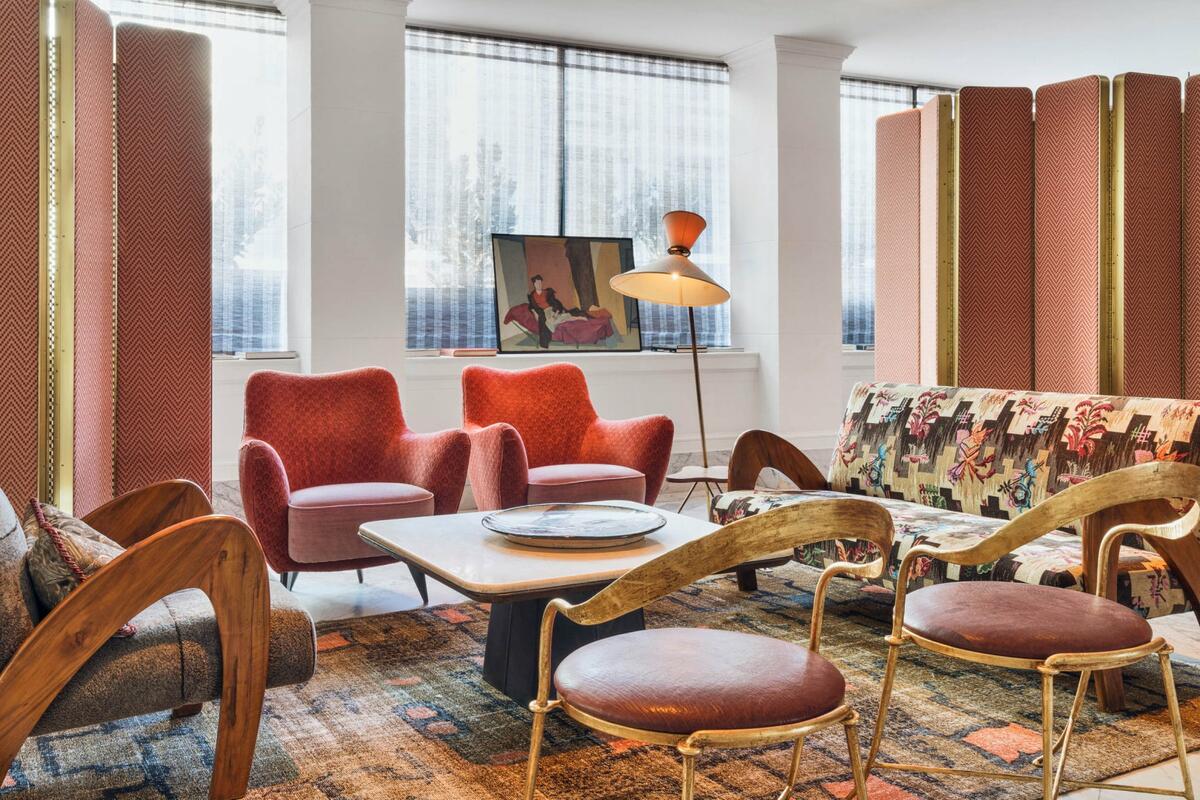 And with a highbrow director like Greta Gerwig at the helm, the film is prime material for the luxury design industry to join the fun. "The [film is] not blindly celebrating [the world of Barbie] but winking at it a little bit, [which] makes it safer for even intellectual or aesthetic snobs to say, 'If Greta Gerwig, who can update Little Women for today's age, is going to take on Barbie, then it's OK for us to do it,'" says Freund.
Even outside of Barbie, the popularity of Barbie pink—that instantly recognizable, saturated shade—has long had its own history in the realm of design and saw a resurgence in the years before the movie. Gifty Walker, director of merchandising and sourcing at Joybird, recalls when the brand debuted a hot pink sofa at furniture fairs in 2016, drawing buzz for one of the few striking shades among a sea of gray furniture.
The timing was just right: Before long, millennial pink made its way into the mainstream, evolving into something closer to a neutral shade. Meanwhile, vibrant colors reentered the market with the rise of maximalism. Last year, Joybird found success after partnering with Barbie Dreamhouse for a furniture collection celebrating the toy house's 60th anniversary. The partnership came at the very start of the Barbiecore wave, and at the time marked a somewhat surprising linkup between a home brand and a toy company (though it was a no-brainer for Joybird, says Walker, due to the brand's history of dabbling in hot pink). This year, the brand launched a second collection in tandem with the movie—and was met with even more fanfare. "The Barbiecore trend has really helped hot pink find its place again in home design," says Walker.
Etsy's resident trend expert Dayna Isom Johnson backs up that assertion. The platform began seeing an uptick in bold, bright decor searches two years ago, as homebound shoppers sought a mood boost. "This trend, which we dubbed 'dopamine decor,' has only continued to evolve, now with hot pink in the limelight," says Isom Johnson.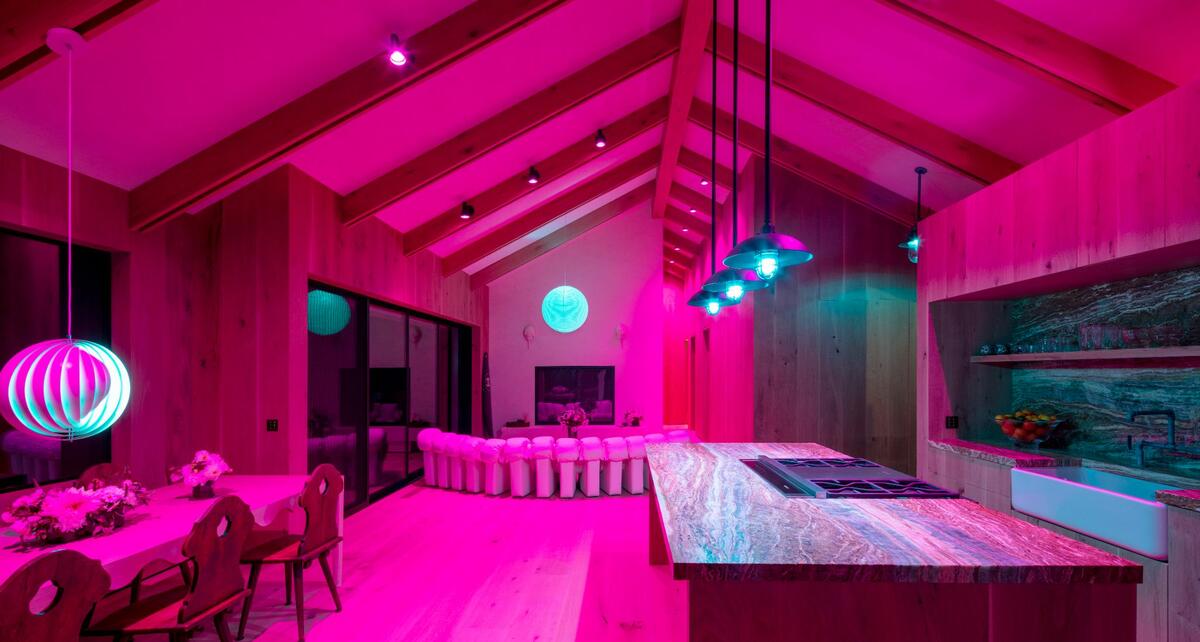 Magda Biernat Photography
The aesthetic has also shown up elsewhere in the industry, with a variety of Barbie-coded collections and interiors entering the doll's canon without even needing to utter her name—take Sasha Bikoff's scene-stealing room at the 2023 Kips Bay Decorator Show House in New York this spring, for example: a primary bedroom bathed in floor-to-ceiling shades of pastel pinks and blues. For some brands, the trend has provided a boost in business even without the branding. Amanda Both, art director at Tempaper & Co., has noticed a sales increase in the brand's floral and ornate patterns, such as damask and toile, along with soft pastels reminiscent of classic Barbie packaging, including pink, lavender, mint green and baby blue.
The industry was primed for this moment, according to Both. Thanks to Barbie's decadeslong oeuvre, today's collector—who mixes modern with vintage—has plenty to reference when it comes to the Dreamhouse. "Barbiecore is the icing on the cake—the pastels, the retro glam, the exaggerated femininity," she says. "It may not be called 'Barbiecore' in the future, but I do feel like everyone's ready for that whimsical, playful aesthetic after some heavy times. It's natural for this to rise right now."
It's unclear whether Barbie's hold on the home world will last, but Freund doesn't think we've seen the last of the doll's favorite hue. "If you think about what's at the heart of Barbiecore, it's really this feminine embrace of pink and pretty and color and joy—that's kind of a perennial," he says. "Barbie may come and go, but pink is here to stay."
Homepage image: Joybird's embrace of hot pink has led to two Barbie collaborations | Courtesy of Joybird