A meticulous green lawn has long been a staple of suburban life—but in an era of frequent droughts and extreme weather conditions, an increasing number of homeowners with brown yards are turning to lawn painting companies to spruce things up in a pinch. Stay in the know with our weekly roundup of headlines, launches, events, recommended reading and more.
Business News
In the wake of Silicon Valley Bank's implosion and subsequent turmoil elsewhere in the banking industry, many small business owners are reexamining their finances amid concerns that the collapse of other institutions is soon to follow. As The Wall Street Journal reports, some small and midsize business owners have already leapt into action—either by moving funds to other banks, splitting them between multiple institutions, moving cash to mutual funds or buying Treasury bonds. Others are responding to the crisis by scrutinizing the finances of their banks and anticipating potential risks for customers—or, looking even further afield, to consider where their customers and vendors bank.
As the costs of living and real estate continue to rise in major cities like New York and San Francisco, a growing number of wealthy Americans are moving to comparably more affordable cities in Southern Europe, such as Lisbon, Barcelona and Athens, The New York Times reports. In Spain, home sales to Americans jumped by 88 percent from 2019 to 2022, while the number of Americans living in Portugal leaped 239 percent from 2017 to 2022. The migration is partly due to new policies in Portugal, Spain and Greece, all of which have welcomed foreigners with the introduction of golden visas—which reward real estate buyers above a certain price threshold with long-term residency—and digital nomad visas, which also allow remote workers to stay for an extended period. For locals (whose average wages are substantially lower than Americans), the migration is less welcome, producing rising rents and intense housing market competition—among the current generation of under-35 Southern Europeans, 90 percent still live at home. Still, American newcomers are not solely responsible for the crisis, as the problem began when investment firms like Goldman Sachs and Blackstone bought up thousands of distressed European properties in the wake of the 2008 financial crisis, converting homes into securitized assets.
​​Amazon will lay off another 9,000 employees by the end of next month, The New York Times reports—adding to the 18,000 roles already eliminated since late last year. The latest round of layoffs will primarily affect workers in the tech giant's cloud computing business and advertising operations, which amounts to less than 3 percent of its corporate workforce. The decision is a continuation of CEO Andy Jassy's plans to streamline costs after the company's rapid expansion during the pandemic and subsequent slowdown in the wake of inflation and reduced consumer spending. It is yet another symptom of the tech industry's largest contraction since the early 2000s, a trend that has seen nearly every major tech company slash jobs.
The Franchise Group—parent company of American Freight, Badcock Home Furniture and Buddy's Home Furnishings—received an unsolicited takeover bid to acquire all of its outstanding stock, Furniture Today reports. The proposal came from an unnamed party, which set the price per share at $30, while Franchise Group's closing price last Friday was $22.75. A recent earnings report showed that the company had gains in revenue but losses in income for the 2022 fiscal year. In a release announcing the bid, Franchise Group said it "will carefully evaluate the proposal."
Hooker Furnishings announced plans to shut down the Accentrics Home e-commerce arm of its Home Meridian International (HMI) segment in an effort to return the division to profitability, Home Accents Today reports. As Hooker Furnishings CEO Jeremy Hoff told HAT, Accentrics Home's business model drove up operational costs with low-priced, lower-margin items offered in quick-ship services, which accounted for more than 60 percent of HMIn's operating loss last year, despite contributing only 13 percent of revenue. In the near term, Hooker Furnishings expects to take on an approximate $34 million loss, but with the addition of other cost-cutting measures—including reducing the company's footprints at its warehouse in Savannah, Georgia, and High Point administrative office—Hoff expects HMI to reach profitability in the second half of 2024.
Launches & Collaborations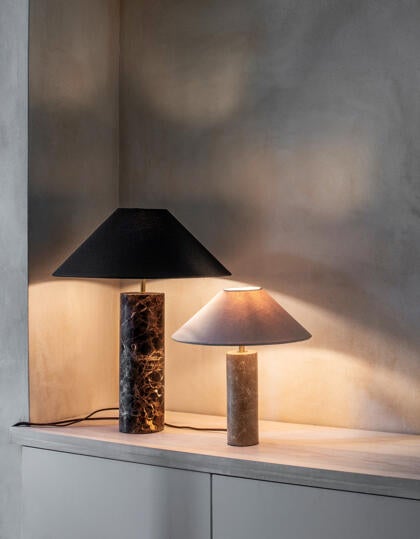 West Elm has teamed up with multidisciplinary New York–based designer Diego Olivero for the launch of the Andino Collection—an assortment of hand-made items including bold textiles, earthen ceramics and intricate wood carvings. Crafted by 15 different artisans based in Peru, the new line features products such as gilded gold-leaf mirrors by artist Marco Luzalde and embroidered pillowcases by Lima-based studio Allpa.
International stone purveyor Aria Stone Gallery has tapped Houston-based interior designer Paloma Contreras for a curated collection of natural stone pieces. The assortment includes six styles reminiscent of Contreras's modern traditional aesthetic.
British lighting design studio Lights&Lamps has extended its offerings to the U.S. market. Founded by U.K.-based lighting designers Niki Wright and Scarlett Hampton, the online platform offers a variety of design-oriented lighting, ranging from table and standing lamps to pendant and hanging fixtures.
Showhouses
The 48th Annual Kips Bay Decorator Show House New York announced the location of this year's event, held at the historic River Mansion on the Upper West Side. Built in 1902, the beaux-arts brick and limestone building once housed a number of notable residents including actress Julia Marlowe and members of the Bronfman family, and was designated a New York landmark in 1973. This year's showhouse—the organization's first in New York since 2019—will see a slate of top designers re-imagine the space, which will debut to the public for one month starting May 11.
Showroom Representation
Interior designer Sarah Sherman Samuel has joined New York–based gallery Colony's roster of furniture, lighting, textile and object designers. Launching March 23 at the Allied Maker showroom, Sherman Samuel will showcase her debut furniture collection for SSS Atelier, which is manufactured in the designer's native Michigan and draws influence from natural materials like wood and marble.
Recommended Reading
A surplus of office buildings and an ongoing housing shortage seem to present a simple path forward: Convert the former into the latter. As Emily Badger and Larry Buchanan write for The New York Times, doing so is far more complex than it seems. Taking into consideration structural columns and elevator shafts that shape where new walls can go, construction costs and land prices that affect the cost of rent, and the necessity that every unit has access to fresh air and sunlight, the process becomes a puzzle that is often solved more easily in prewar buildings than in modern structures.
Over the past few years, a broad swath of Gen Z–focused brands have adopted a similar set of favorite colors: highly saturated brights like neon green and sherbet orange, found on everything from Skims's bathing suits to Starface's acne patches. This generation-specific palette is nothing new; in the 1950s, cool pastels dominated interiors and fashion, while in the 1980s, acid tones reigned supreme. For Fast Company, Angelica Frey takes a step back and probes the question: "How do generations develop their preferences in the first place?"
When retired banker Michael Ramsden purchased his Irish country house Sopwell Hall (located about two hours outside of Dublin) in 1985, it cost 150,000 Irish pounds, or just under $160,000—today, after renovations, he has listed the home for $8.96 million. As J.S. Marcus writes for The Wall Street Journal, buyer demand for Irish country houses—a category that includes everything from rural mansions to seaside cottages—has grown despite years of market volatility, with the recent arrival of American buyers with ancestral ties to Ireland contributing to a new surge.
Call for Entries
Amish furniture and home decor online retailer DutchCrafters is now seeking applicants for its annual Heritage Scholarship. The program recognizes undergraduate students who draw inspiration from their heritage to shape their career aspirations, awarding $500 each to three top winners. To apply before the May 1 deadline, click here.
Home brand Papaya has launched a new female-founder grant in honor of Women's History Month. Open to all female founders based in the U.S., the program will evaluate applicants based on the entrepreneurial challenges they have faced thus far, their brand's larger mission and their intended grant use, ultimately awarding $10,000 to one winner. To apply before March 31, click here.
Cue the Applause
The Bienenstock Furniture Library announced the winners of its annual student design competitions for furniture and interior design, distributing a total of $16,000 to awardees and their schools. Elle Yanez of Saddleback College earned the first place distinction in the interior design competition, while Mariana Anzures from the University of Houston received first place recognition for the furniture design competition. For the full list of winners, click here.
In Memoriam
Suzanne Rheinstein—a California-based interior designer and owner of cult-favorite Los Angeles design shop Hollyhock—passed away on March 20. A New Orleans native, Rheinstein's design style combined Southern hospitality with a relaxed California lifestyle, which shone through in her bestselling books At Home and Rooms for Living. Throughout her career, she was recognized by a number of industry organizations for her contributions, which earned her the New York School of Interior Design's Albert Hadley Lifetime Achievement Award. Above all, Rheinstein also had a lasting commitment to philanthropy, which included the founding of The Garden Conservancy's Suzanne and Frederic Rheinstein Fund for Garden Documentation, which she established in honor of her late husband.
Homepage image: West Elm has teamed up with multidisciplinary New York–based designer Diego Olivero for the launch of the Andino Collection | Courtesy of West Elm