In our series, What I Love, we're asking designers to build us a mood board of what's inspiring them right now.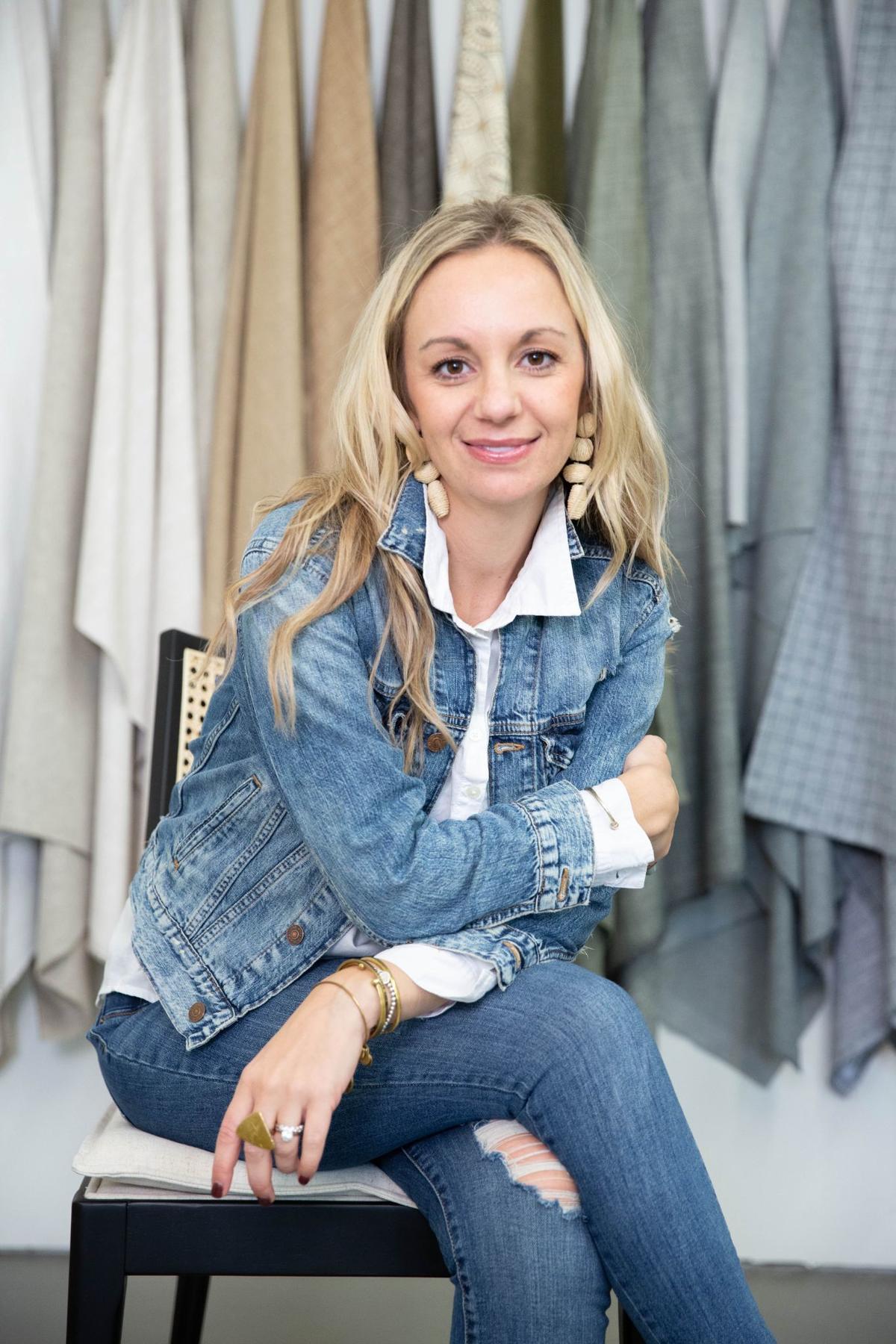 Anna Franklin believes that the best designs don't forgo style for functionality. The Milwaukee-based designer behind Stone House Collective has an affinity for blending classic colors with contemporary motifs to create eclectic spaces that exude warmth and elegance.
Her flat lay—filled with rich earth tones and organic textures—offers a superlative case in point. Adhering to a neutral palette, Franklin employs a veritable range of curvy lines and natural materials to forge a "restrained" scheme with "timeless appeal."
The end result is a harmonious mix of airy hues, touchable finishes and the occasional pop of a graphic pattern. "Touches of contrast aren't only visually appealing, they also make an interior feel more welcoming and inviting," Franklin tells Business of Home.
Here, Franklin breaks down the details—from silver tile samples to black-and-white wallpaper swatches.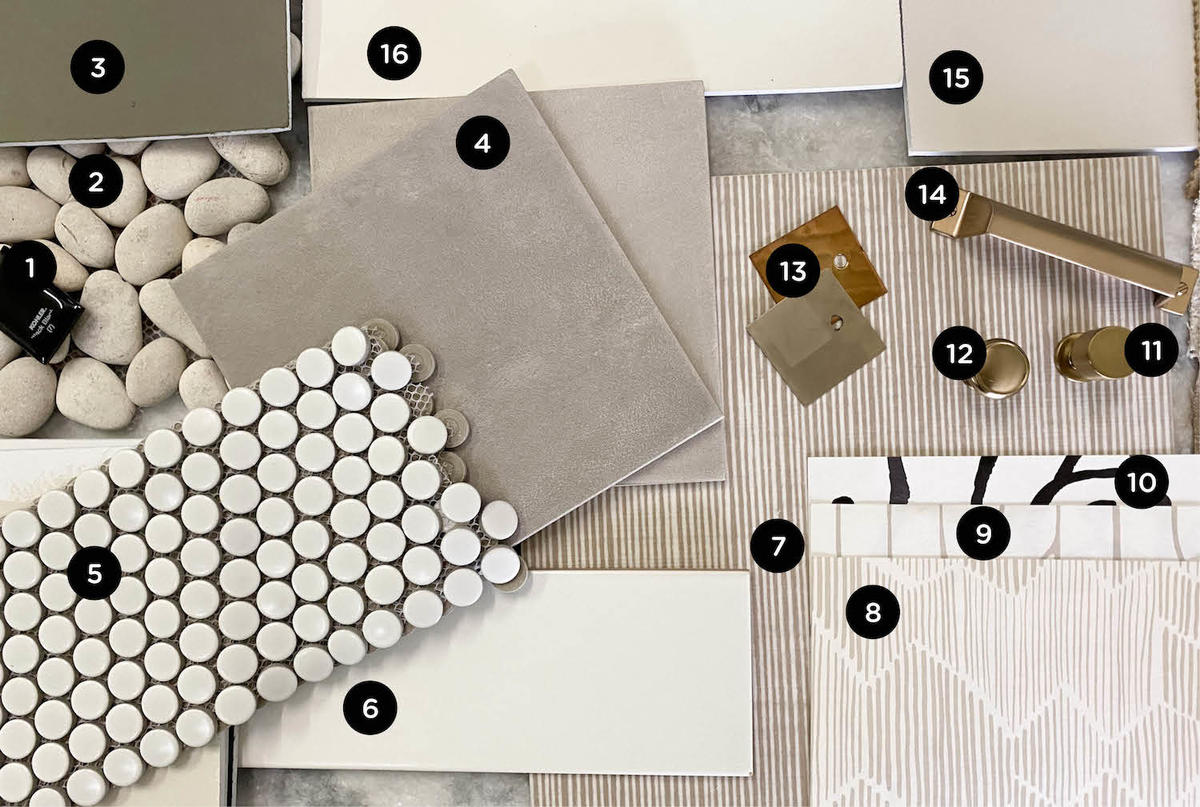 Courtesy of Stone House Collective
1. VERTICYL RECTANGLE UNDERMOUNT BATHROOM SINK SAMPLE IN BLACK BY KOHLER
"This sample complements the colors in the palette well, but also acts as a statement piece because it contrasts the lighter and warmer hues. I love the way it reflects light—it is so chic."
2. WHITE PEBBLES SMALL TILE BY THE TILE SHOP
"The pebbles add a nice texture, as well as architectural interest."
3. GLOUCESTER SAGE HC-100 PAINT SWATCH BY BENJAMIN MOORE
"A beautiful, grounding color, Gloucester Sage complements the wallpapers and other neutral colors, while also bringing in some opposition."
4. CHALK SILVER PORCELAIN WALL AND FLOOR TILE BY THE TILE SHOP
"This silver tile adds edginess to the look without going over the top. The material also has some warmth to it, which works with the other tones in the scheme."
5. PENNY ROUND MATTE WHITE PORCELAIN MOSAIC WALL AND FLOOR TILE BY THE TILE SHOP
"The curved lines of the circles are a beautiful way to add visual intrigue in your home and would work great in a contemporary bathroom."
6. IMPERIAL BIANCO MATTE CERAMIC SUBWAY WALL TILE BY THE TILE SHOP
"The crisp white hue acts as a blank canvas for a variety of other colors, textures and patterns."
7. ANNIE SELKE WATERCOLOR LINES CREAM CERAMIC WALL AND FLOOR TILE BY THE TILE SHOP
'This tile creates a statement and the vertical lines draw your eye upwards. I love this choice for rooms with shorter ceilings, when you want to create the illusion of height."
8. VERTICAL LINES WALLPAPER IN NEUTRAL BY CARRIE SHRYOCK FOR CHASING PAPER
"A beautiful, warm neutral wallpaper pattern that feels soothing yet sophisticated."
9. CROSSING LINES WALLPAPER IN WHITE BY CARRIE SHRYOCK FOR CHASING PAPER
"Another great wallpaper option for a nook or bedroom. It's perfectly simple with a lovely movement to it."
10. PUPPY PILE WALLPAPER IN BLACK AND WHITE BY JEN PETERS FOR CHASING PAPER
"A fun wallpaper for a kids room, this adds the perfect amount of playfulness to a space."
11. LILY KNOB IN HONEY BRONZE BY TOP KNOBS
"This knob is delightful and modern."
12. EDEN KNOB IN HONEY BRONZE BY TOP KNOBS
"This knob adds character and warmth to a cabinet or drawer."
13. VIBRANT BRUSHED NICKEL AND MODERNE BRASS FINISH SAMPLES BY KOHLER
"These sink finish choices create continuity with the door knob hardware, and the metallic sparkle makes a space feel extra luxurious."
14. CHARLOTTE CUP PULL IN HONEY BRONZE BY TOP KNOBS
"Beautifully polished, this hardware is like jewelry for a home. It's a small detail that can make a big impact."
15. CHALK WHITE PORCELAIN WALL AND FLOOR TILE BY THE TILE SHOP
"The pretty, warm white shade of this tile creates balance while really letting the hardware and wallpaper choices shine."
16. METRO BIANCO GLOSS CERAMIC SUBWAY WALL TILE BY THE TILE SHOP
"This crisp white tile allows the bolder elements in the scheme to make a statement."
Homepage photo: A flat lay by designer Anna Franklin | Courtesy of Stone House Collective