This week, a growing number of Gen Z internet users are seeking sanctuary from the stress of popular social media sites by retreating to a more straightforward, wholesome and positive environment: LinkedIn.
Business News
Massachusetts-based retailer Winchendon Furniture is closing after 84 years in operation, Furniture Today reports. The company's history began in 1939 when Richard Ladeau founded the business as Winchendon Custom Upholstery Co., eventually passing along the operation to his sons and grandsons, now second- and third-generation owners. Current owners Joe Ladeau, Ryan Ladeau and Keith Ladeau did not cite a reason for the closure, though they've disclosed that Winchendon's liquidation process will begin October 12, and will include the sale of the company's showroom as well as pieces from brands like Hancock & Moore, Howard Miller, Copeland Furniture and Hickorycraft.
Dirt Media, a newsletter and media platform covering entertainment and digital pop culture, has acquired the design newsletter Sitting Pretty, helmed by GQ and Dwell contributor Tyler Watamanuk. Following the purchase, Watamanuk will continue to author the newsletter—which identifies and analyzes design trends—as it undergoes a name change, adopting the new title of Prune. Under its ownership, Dirt also plans to expand the newsletter's offerings in a similar fashion to its own newsletter's trajectory, introducing Discord channels, related playlists and merchandise. For Dirt Media, the acquisition also signals a greater brand shift, as the company seeks to further develop its newsletter portfolio, with the goal of becoming the "Condé Nast of newsletters."
Gagosian gallery and other prominent art tenants will soon be forced to relocate from 980 Madison Avenue in New York, ArtNet News reports. The news comes after landlord RFR Holdings signed a tentative deal to rent more than 85 percent of the space to Bloomberg Philanthropies, the philanthropic arm of billionaire Michael Bloomberg. The deal, which is conditionally approved pending final approval from RFR's lender, would extend a 30-year lease to Bloomberg, putting it on track to occupy 70 percent of the space by the end of 2025. In a statement to ArtNet News, owner Larry Gagosian said that the gallery is in the process of securing another location on the Upper East Side.
Whole home resource Parker House Furniture has expanded its global presence by debuting a new office and showroom in Binh Duong, Vietnam, housed within a space that was previously occupied by the now-shuttered Klaussner Home Furnishings. The 7,000-square-foot building will serve as a home base for the company's international staff, responsible for tasks like quality control, product development and administrative services. The new location also marks Parker House's first headquarters outside the U.S., adding to a portfolio of properties that includes outposts in Eastvale, California; High Point, North Carolina; and Las Vegas.
A new startup in Norway is turning to seaweed in hopes of introducing a new sustainable material to the furniture industry, Wired reports. Agoprene, an Oslo- and Copenhagen-based biotech company, was launched during the pandemic by founder and CEO Celine Sandberg, who set out to find a bio-based alternative to the oil-based foam used in furniture. When supply chain issues cut her company off from European suppliers, she turned to locally sourced seaweed, developing foam sample prototypes that have earned the company $615,000 in funding from several research organizations, as well as interest from furniture manufacturers, shoemakers and soundproofers. The company aims to introduce its product to the market by the end of the year.
Despite obtaining the necessary education and licenses, many women have struggled to get jobs in the trucking industry due to the absence of female trainers available to onboard them—part of an archaic practice that requires same-sex training, even though such policies were ruled unlawful by a federal judge in 2014. As The New York Times reports, the policies have restricted the share of women in the industry—currently, female workers make up fewer than five percent of truck drivers in the U.S.—and are likely contributing to an ongoing industry-wide labor shortage, particularly for long-haul drivers. In response, three women seeking work in the industry have filed a complaint against provider Stevens Transport with the Equal Employment Opportunity Commission, arguing that the company's training policy unfairly denied them jobs, with the broader goal of reversing the unfair industry-wide practice.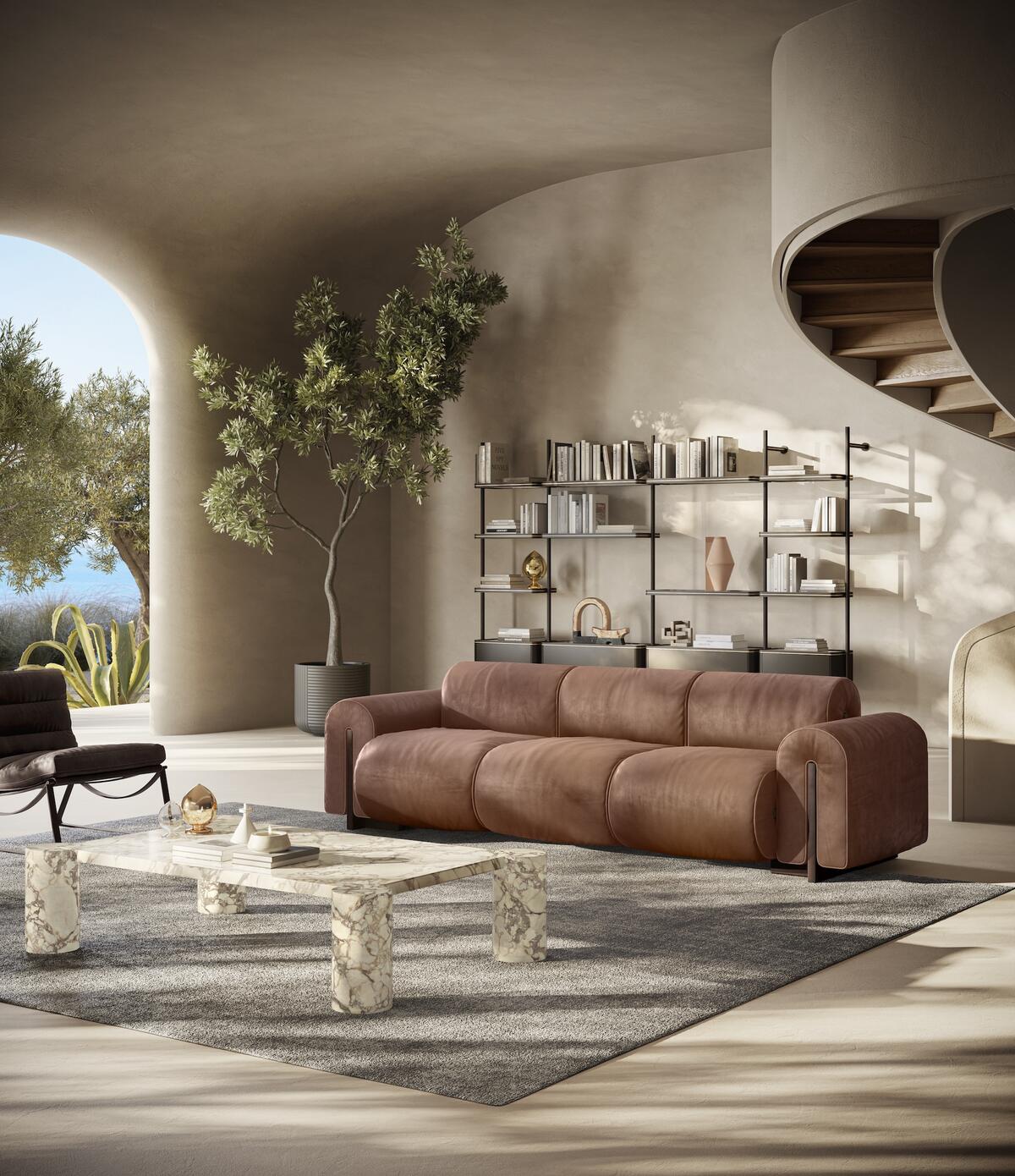 Courtesy of Natuzzi Italia
Launches and Collaborations
Natuzzi Italia tapped Bjarke Ingels Group to design a sofa inspired by some of the firm's most celebrated designs—marking the latest partnership in Natuzzi's ongoing "Circle of Harmony" project, which develops collaborations with artists, architects and designers. The resulting piece, called the Colle sofa, captures the firm's taste for Mediterranean living, and was conceived to provide a space for self-reflection and gatherings.
Apartment Therapy founder Maxwell Ryan collaborated with bedding company Cammie to debut four bed set combinations with colorful shams and duvet covers designed to bring a pop of color to customers' homes. The launch's four color schemes include Yellow Jasmine, Peony Red, Delphinium Blue and Fair Orchid.
Recommended Reading
During the first eight months of 2023, the total damage from U.S. weather and climate disaster events exceeded $57.6 billion, according to the National Centers for Environmental Information—and almost three in five adults reported that they've incurred expenses due to extreme weather events over the past decade, citing home or property damage, higher energy costs, evacuation expenses and more. As Michelle Singletary writes for The Washington Post, it may be time to add extreme-weather expenses to your emergency fund, budgeting based on the climate risks posed by your locale and anticipating resources needed in a crisis.
Long gone are the days of purchasing a dog bed at a local retailer and calling it a day—today's pet owners are collaborating with architects and designers from their home's outset to plan for the best accommodations for their canine and feline companions. For The New York Times, Tim McKeough surveys design professionals on the must-have pet design features clients are asking for today, including dog showers, wall-mounted cat playgrounds, and upscale custom built-in crates.
Showhouses
Atlanta Homes & Lifestyles has announced the location for its 2023 Home for the Holidays showhouse: a 12,500-square-foot residence located in Atlanta's Chastain Park neighborhood, with a wine room, game room, home theater and gym. The home will be reimagined by 22 local interior designers—including Chris Holt, Erika Ward and Kim Regas—before opening to the public for tours from November 16 to December 10. Proceeds will benefit Children's Healthcare of Atlanta.
Anthropologie and Pinterest have teamed up for the launch of the Holiday Showhouse—a fully shoppable home in Brooklyn Heights, New York, set to open to the public this month. Led by creative director and interior designer Glen Proebstel, the space's design and styling takes inspiration from Pinterest holiday trends, and will be tagged with QR codes that drive users to shoppable boards on Anthropologie's Pinterest profile. The showhouse will be open from October 11 to October 15.
Cue the Applause
Dallas Market Center and home furnishings network Art have announced that Karen McNeill is the recipient of the Legendary Leadership Award, part of this year's 24th Annual Arts Awards. In addition to serving as president of the board of directors and chief executive officer of the American Home Furnishings Hall of Fame Foundation, McNeill has remained committed to inspiring the next generation of leaders in the industry. For the full list of Arts Awards finalists, click here.
Call for Entries
Luxury bath manufacturer Hydro Systems is now accepting submissions for the inaugural HS Awards Design Competition, which seeks projects by architects and designers in the United States and Canada that feature a Hydro Systems tub in a bath or spa environment. Winners and finalists will receive an all-expenses-paid trip to the company's facilities in either Atlanta or Los Angeles for a tour as well as a custom-made tub of their choice. To apply before the January 31, 2024, deadline, click here.