Even the most creatively inspired designers can struggle with the financial component of their business. Kimberley Seldon learned this the hard way: While her star shone bright as one of the first design personalities on HGTV Canada soon after it launched in 1997, behind the scenes she was utterly stymied by just how to complete her projects—and she frequently found herself getting (gently) fired by her clients. Her impostor syndrome got so bad that she seriously considered quitting the industry. Luckily, she stuck it out, saved by a few strategic changes to her systems that turned things around.
Determined to help other designers facing similar challenges, she has spent the past two decades giving back to the community by sharing her keys to success with industry colleagues at all different stages of their careers through her online learning platform, Business of Design, and its BOD 15 Step Project Management Strategy. Seldon, who divides her time between Toronto and Los Angeles, spoke with Business of Home about the early days of her eponymous design firm, her brass tacks business philosophy and one of the most important steps in her program for sustained profitability: paying yourself a six-figure salary from the start.
You're well-known from hosting three of your own shows on HGTV Canada, and you run a thriving design firm; what made you decide on a sideline as a career coach?
When I graduated in the early 1990s, there was a terrible recession and no jobs, so I ended up going into business for myself, which was a tragic error. I'm not someone who was highly motivated by money—I was imagining grateful clients and my projects in magazines. I went into it pretty naive. I figured, "How hard can this be?"
Although I desperately tried to make my clients happy, I was failing miserably. Every job started with enthusiasm and optimism, then ended with the client saying, "We're just going to take it from here." I wasn't fired in angry, door-slamming scenes. They were very kind. They could tell I was in over my head. Around the same time, I got a call about a brand-new TV network, HGTV, that was looking for decorators. I said, "Sure, I'll do a couple of episodes, that sounds fun." I quickly landed my own show, and that's when my interior design business went crazy, because now I had this public profile. My phone was ringing off the hook; I had hundreds of clients but absolutely no idea how to get the job done. I felt like a real fake. Yes, I knew how to pick pretty wallpaper and paint. But when the client needed me to actually complete their home design, I couldn't deliver.
That dissonance must have been so stressful: a dream come true to be on TV, and yet you're drowning.
I came to a crossroads where I thought, "I'm going to quit, since obviously I don't have what it takes." But with the help of a coach who had a background not in design but the automotive and banking industries, I began implementing small changes, one aspect of my business at a time. We cleaned up my billing policies, my collections policies—and slowly, I started to see progress. All told, it took me a decade to build a profitable firm.
When a friend asked me to speak to her decorating group about my professional journey, I shared everything. And the wildest thing was, people started crying. They started confessing all the trouble they were having. Until that moment, I'd truly thought, "I'm the only one who can't figure this out." That's how Business of Design started, very organically, more than 20 years ago. And all of that still resonates with audiences today. People come up to me after a talk to say, "I'm so ashamed. I'm exactly where you were in the '90s."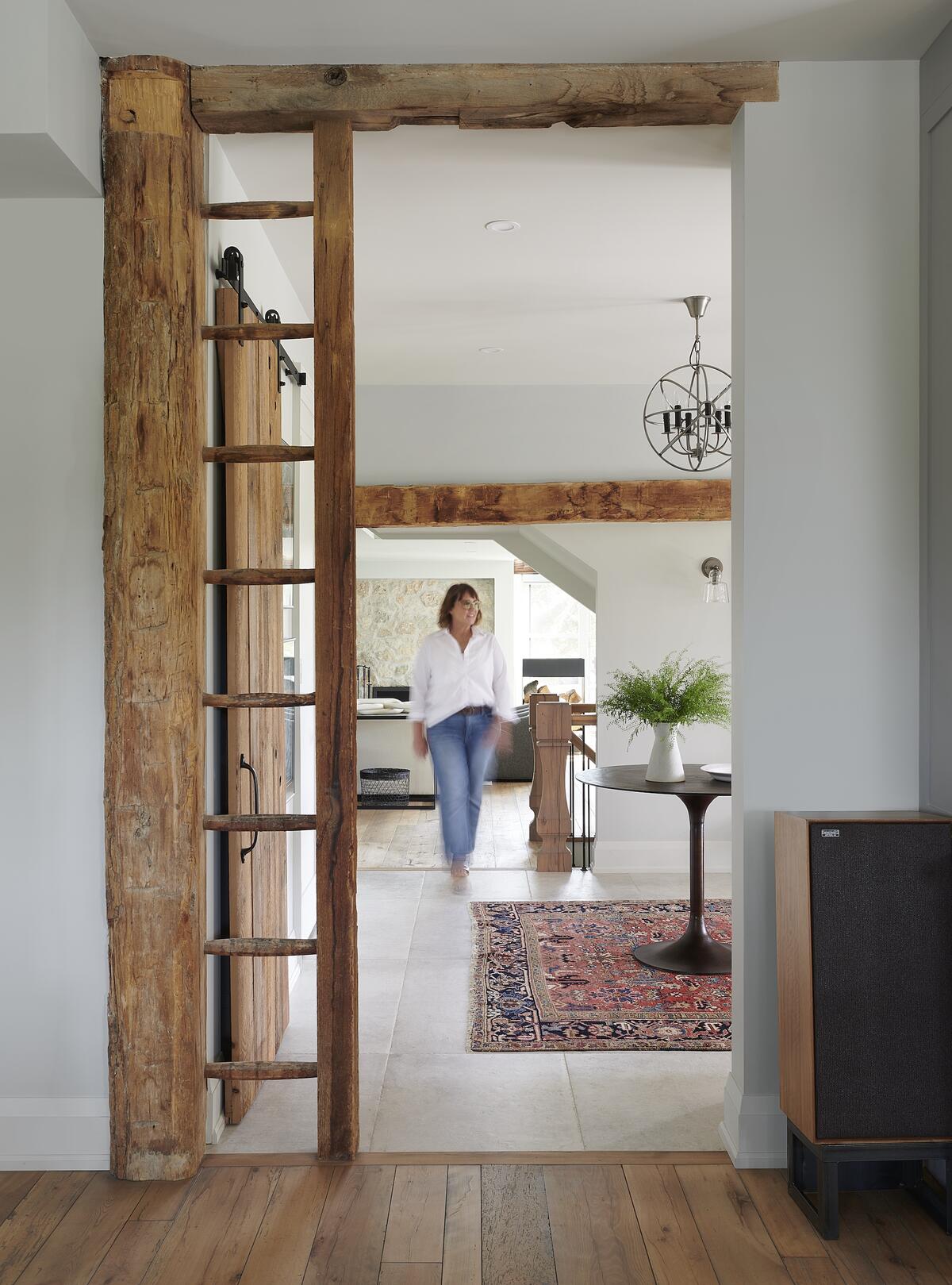 Courtesy of Business of Design
How validating for the designers attending your seminars! Was it all incremental changes that made the difference, or did you experience a seismic shift in your approach to business?
I went into design thinking that 80 percent of my job was creative and 20 percent was niggling paperwork. But it turns out that was totally backward: 80 percent is the protocols, boundaries and strategies I need to run a project in an efficient, linear fashion; 20 percent is creative. The good news is the 80 percent can be completely systematized. Once that's done, you don't have to think about it anymore, and that frees you up to devote your full attention to the 20 percent.
Honestly, mindset is half the battle. Once I understood this, my projects got bigger and better. I went from zero repeat and referral clients to about 85 percent now. I don't ever advertise my firm because I already have more work than I can use.
The first stage of your program instructs designers to pay themselves a salary—with six figures as the target. How can a sole proprietor or small startup make that leap?
One of our industry's biggest challenges is that many design professionals don't take a salary upfront. I regret that I didn't when I first launched, because had I drawn even a baseline of $30,000 annually—the equivalent of minimum wage—I would have quickly realized I wasn't running a profitable business, because I would have run out of money. The impact on my cash flow would have been immediate.
Designers often misplace their emphasis on revenue. Instead of paying themselves once or twice a month, they'll wait until year-end to see what's left over. And what's left over is paltry. I hear all the time, "I make $400,000." I'll ask, "That's profit? That's take home?" And they'll say, "Oh, no, that's revenue." Well, that doesn't mean anything. If you earn $400,000 in revenue but have $400,000 in expenses, you're not making any money.
When you're just starting out, there's generally very little overhead. You should be able to earn $30,000 fairly quickly with one or two jobs. If you're putting in full-time hours—or full-time hours plus, like most of us—and not even making a living wage, something is wrong with your business model.
Still, to go from zero to six figures is throwing down the gauntlet. For designers at the beginning of their career who can't fathom a bimonthly paycheck, are there any alternatives that will put them on the path to fiscal stability?
If drawing a salary before you have any money coming in just isn't feasible, then track your sweat equity: all the resources you use to get through a project, the biggest of which is time. Many people are resistant to tracking time, and that's why flat fees have become so popular. I do flat fees too, but I still track my hours, because I need to know I'm being fairly compensated. Even if you're a brand-new business, you can assign a dollar value to hours spent so that you know how much to reimburse yourself down the road.
Is that the primary way designers underpay themselves, by not tracking their hours?
Even if they do track their time, they then underbill because they're afraid: "What if the client gets mad? I'll shave these hours off just in case." I was the queen of that. At the end of every month, I would live in dread, waiting for complaints about my invoices. Initially, the only tool in my kit for resolving conflict was "don't pay me." All that does is train clients to constantly question their invoices since they know we'll take something off. We need to bill them for the actual time spent on the job. Let them have a reaction, that's OK. But provide them with such good service that they're willing to pay.
What other financial mistakes do designers commonly make?
Setting a fee that's too low from the start. Then you're stuck for nine months to a year and a half working for no money. Not having an adequate contract is another common error. I consider my contract my partner. It's there to make sure I'm staying on track, and it also offers protection for my client. It outlines all my systems and procedures so there are no questions about the arrangement.
How do you course-correct if, in spite of the systems, something goes off the rails?
Something always will. As soon as you think you've seen it all, no, you haven't. Deficiencies need to be clearly itemized in your contract too, so that when they happen, the client knows you will fix it, but at their expense. We have a strict protocol for receiving wallpaper and fabrics, for example, noting what side is up and what side is front, which seems like overkill until a third party installs your wallpaper upside down and wrong side out.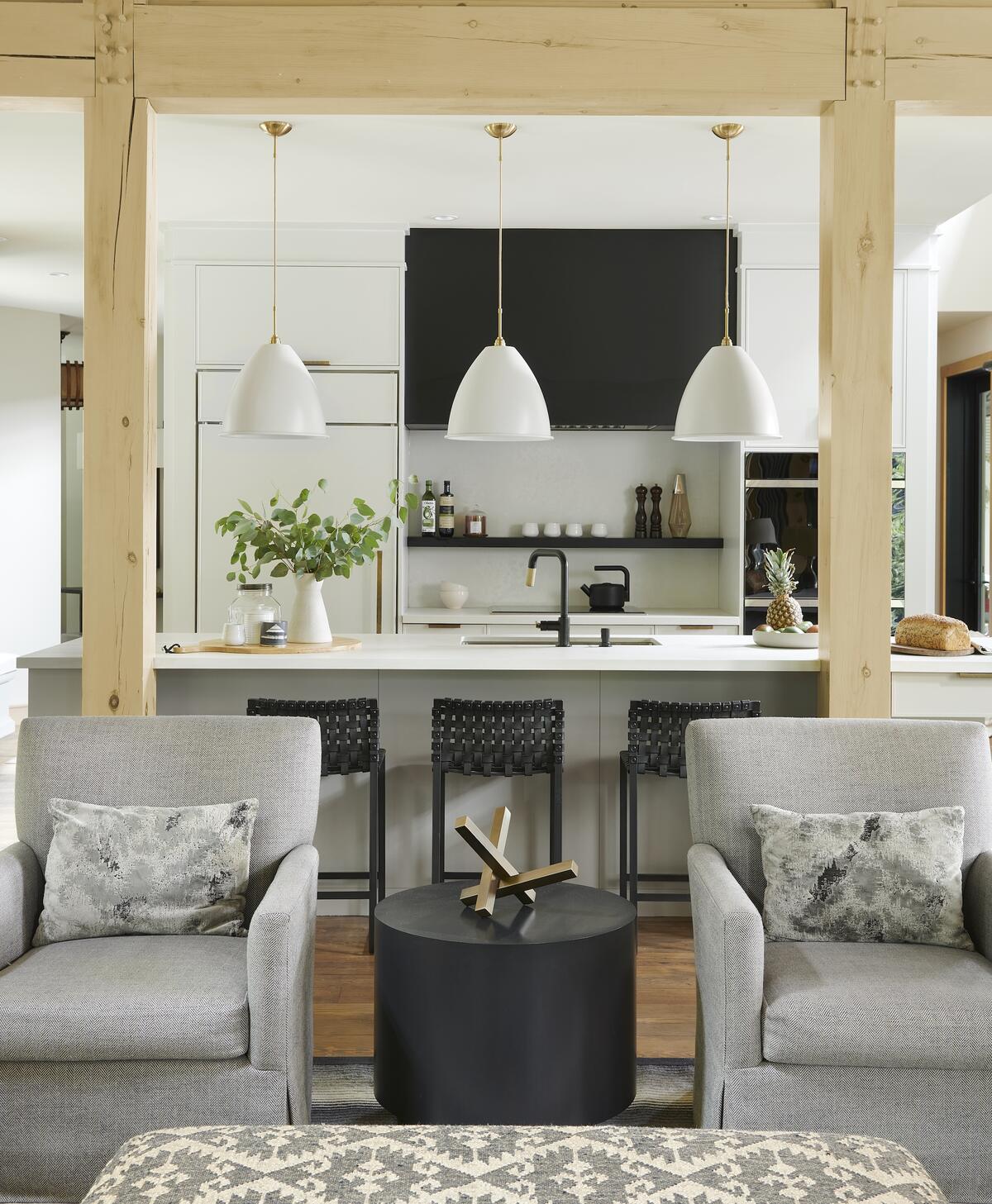 Courtesy of Business of Design
For a residential project outside of Toronto, we just had a luxury-brand refrigerator delivered that we'd waited for forever and a day. When we took it out of the box, there was a big dent in the door. Now we've got to get the movers back, return the damaged appliance and bring in a replacement, and the client will have to absorb any costs involved. Some designers may say, "But it's not the client's fault." It's not the designer's fault, either. I'm not in charge of manufacturing or how the product gets packed.
We were installing a countertop made from a new quartz material in a Los Angeles kitchen. It was pale blue, it was spectacular, and it cracked four times. Four times they had to remake the countertop and bring it in. In a situation like that, I've got to go back to the manufacturer and say, "Listen, we have a problem. This thing is disintegrating in our hands. We're not going to keep paying for it." It caused a six-month delay. We suggested other, better-known brands, but the client wanted that pale blue color. The fourth try was the charm, and she loves it, but I'll never go near that product again.
The heart wants what it wants! Have you ever had to hold your ground when a client experienced sticker shock?
I think we waste a lot of energy worrying about sticker shock when what we should be doing is making sure we have airtight systems in place so that projects run on time and on budget. Being able to get paid without fuss is not a one-step fix. It's learning how to track hours effectively so that when the client reviews them, they understand the value. It's submitting your invoice in a reasonable amount of time with regularity, because billing whenever is easiest for you leaves clients confused and inconvenienced. It's about having a backup plan for when clients don't pay promptly. The more systems and protocols you put in place, the fewer problems you'll have.
These are the systems that make up the Business of Design 15 Step Project Management Strategy?
The BOD 15 are the 15 critical steps from project beginning to project end. Together, they provide the precise prescription for running a job like clockwork. It took me a decade to figure them out, and now they've been field-tested by thousands of Business of Design members all over the world. Once a month we host live sessions where everybody from Nigeria to Ireland jumps on a Zoom call and shares their progress. It's really instructive.
Are BOD Boss Groups an extension of those live sessions?
We have members who have implemented every stage of the BOD 15 Step Project Management Strategy and are managing profitable businesses as a result. They want to keep growing, and we want to support their success. That's how the BOD Boss Groups came about. They consist of members from the U.S., Canada and Australia so far, with more to follow. They meet on Zoom once a month and get together face-to-face twice a year. We have a fractional CFO who works with them to review profit-and-loss statements with the aim of not just increasing profitability but accumulating wealth. We discuss big-picture financial health including topics like succession planning.
Something else we address in the BOD Boss Groups is "we" language. Stop thinking of yourself as a small business—little old me, all by myself: "I just work from home. I'm just a decorator." It isn't just you. You also have a company you outsource your drawings to, vendors you deal with for product. They're part of your team. So start referring to yourself as "we": "our policy," "our firm."
Interior design is a billion-dollar industry, and there's no reason why designers shouldn't be taking a much bigger cut of it. When Business of Design connects you with other designers making those big dollars, it's easy to see where you're leaving money on the table. That creates incentive to pick up the slack and envision how much further you can go.
This story is a paid promotion and was created in partnership with Business of Design.
Hompage image: Interior designer Kimberley Seldon, founder of the BOD 15 Step Project Management Strategy | Courtesy of Business of Design