The 50 States Project is a yearlong series of candid conversations with interior designers across the country about how they've built their businesses. This week, Waterbury, Vermont–based designer Teri Maher tells us about her winding path from hospitality to design, why she prefers taking on second homes, and how she's working toward goals of growing her firm and sourcing sustainably.
What were your earliest memories of being drawn to design?
Many of the men in my family, including my father and grandfather, were ironworkers who worked on buildings and bridges. My dad was working on the Adam's Mark Hotel in St. Louis, where I grew up, and he showed me a picture once of an I-beam where he had written, "Teri's dad was here." I spent summers in New Orleans with my grandparents, and I remember visiting bridges before they opened—my grandmother would put us in the car and say, "Let's go see the bridge," and we'd be the first ones to drive on it. I learned so much from them, and anytime we went on a road trip, my dad would say, "Oh, your uncle so-and-so worked on this bridge," or "Your grandfather worked on that bridge." Bridges are very beautiful structures, and that was what I was surrounded with my whole life.

There's something so cool about having that awareness of the design and function of the built environment around you as a kid.
Yes—and how they have to go underwater to do the structural part. I remember being fascinated with the skills.

As you got older, did that influence what you wanted to do as a career?
You know, it didn't. I loved fashion. Thrift stores are very trendy now, but I was a kid in the 1980s, and I remember going to the thrift stores with my friends and picking outfits to go to a The Go-Go's concert. I would always ask for money for my birthday because all I wanted to do was shop. I loved piecing things together. I remember showing up at a high school party with sequins on—it was the Flashdance period—and I had used extra material to make earrings. But when I went to college, I didn't go for fashion. I was a little afraid to move all the way to New York. Some kids are just not ready to take that plunge to move too far from home, and I was one of them. I studied hospitality instead. I really liked people, and my mom had made a career change working in a hotel. The part of traveling as I got older sounded really great, too. I moved to Telluride, Colorado, right after college, and then to California, and I was in restaurants, fine dining and hospitality for at least 10 years.

What made you want to pivot to design?
It was around 2000, I had moved to Santa Cruz, and I was itching to do something different. Being a child of blue collar workers, I had seen my father, grandfather and uncles go through an apprenticeship, and I thought, "Maybe I should call the carpenters union." I didn't know what to do, exactly, but building things was very interesting to me. So I bought all the tools, filled out the forms for the carpenters union, and I signed up. They told me, "Oh, you have to wait, and you will get a call from someone to come to a job site." I remember buying a cell phone to get that call, but I never got the call.
That work was mostly about framing houses, but I was more interested in furniture. So in the meantime, I found this man who restored old furniture. I worked with him, doing side gigs here and there. Then I found a class on the history of furniture at the UC Berkeley Extension, which was part of an interior design program. At the time, I had no idea that interior design was a career. So I took the class, and I would show up in my overalls because I was still coming from this job installing home vineyards, which was an hour away. I looked very different from everybody else taking the interior design class.
One day, the teacher pulled me aside and said, "Where do you live?" When I explained my situation, she said, "I teach at this other school that's much closer to you, and I think you should check it out." It was a junior college, but it was the only junior college at that time that had an NCIDQ-accredited interior design program. I already had a degree, but this is when community college was like $30 a unit, so I figured, "I might as well check this out." I'm a very practical person like that. So I went and started taking these classes, and I really did fall in love. My kitchen and bath teacher was hiring when I finished the program, and I started working for her. That role required a lot of hand drafting, and I learned the technical side of design—the reflected ceiling plans, and putting all the parts and pieces together. I did that for a couple years, and then we moved to Vermont.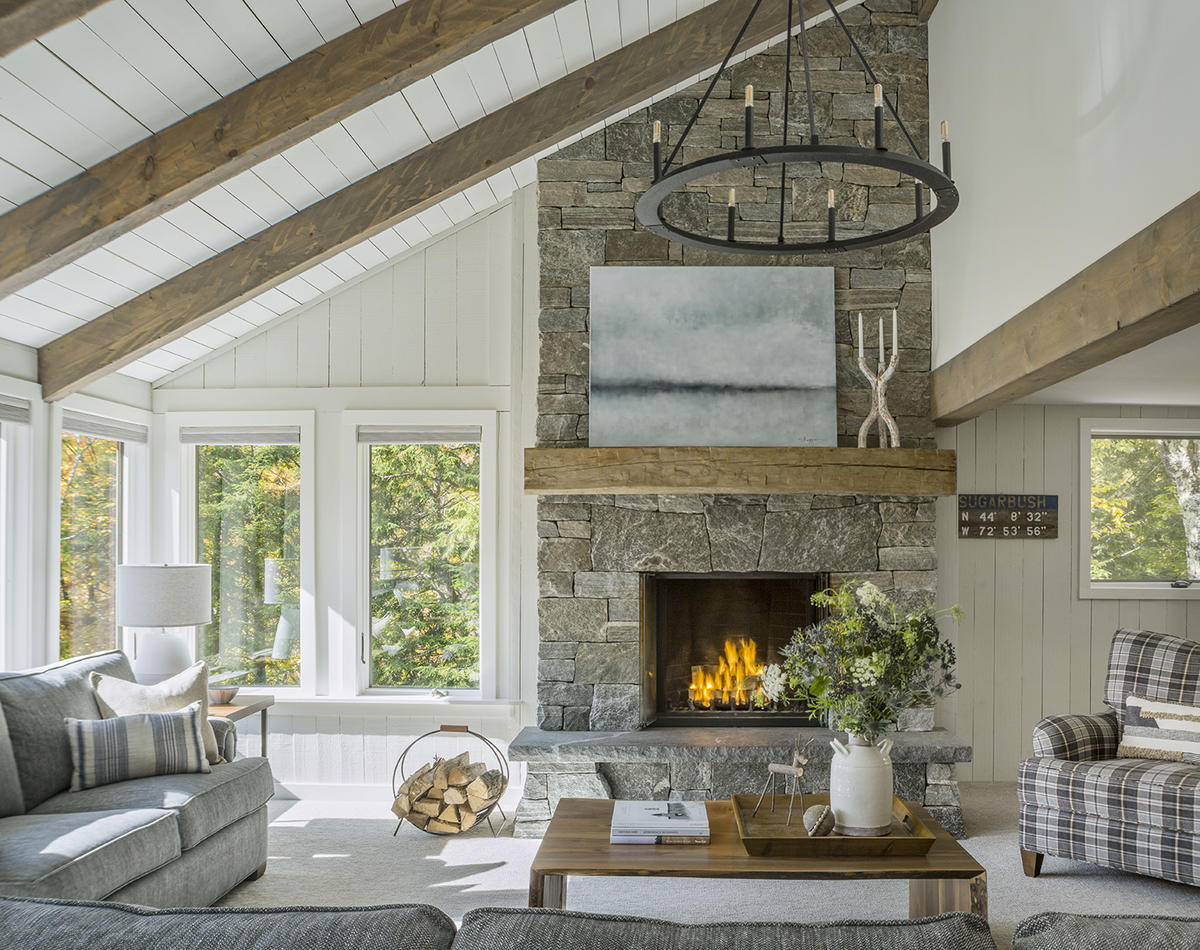 Jim Westphalen Photography
What took you to Vermont?
My husband has a huge family in the Philadelphia and New Jersey area, and we really wanted to be closer to his family after we got married and had our first child. Then we went to a wedding in Vermont, and we decided that it seemed like a great place on the East Coast to raise our child. Of course, we had only visited in the summer! But there's just something about the education here for kids—it's still a little bit old-fashioned, in the sense that the kids take field trips to farms to know where their food is coming from, and to really understand the seasons. We've always eaten organically, so that's been a big part of our life.

To be in a place where the community is mindful about that, did you feel the difference?
We did. Coming here from Santa Cruz was a smooth transition—except for the weather.

What did you find in the interior design community when you got to Vermont?
There weren't a lot of interior design firms. I applied at a few, but I ended up getting a job at an architectural firm, which was great. It wasn't really big—it was a team of eight or nine people—and I was able to focus on that technical side, which I seemed to gravitate toward in the beginning. That was where I really learned about whole houses and the perfection of bringing all the materials together—focusing on details like how the wood meets the stone, and how the drywall meets the window casing. I remember the owner of the business walking me through a project and showing me those little transitions and how important they are. That is the key to really great design.
I worked there for a year, and then the recession came. I was pregnant with my second child, and I got laid off. But I ended up finding a part time job with an interior designer while I was pregnant—she still gave me a job, which says a lot about women—and I learned more about soft goods and upholstery while I was there. She also opened my eyes to different lighting companies, furniture companies, pillows and fabrics. That was really informative, because before I was always drafting.
What finally sparked you to open your own business?
After Hurricane Irene hit [in August 2011], we were all pitching in and helping because our town had been completely flooded. About three months in, everybody was still displaced but trying to keep things normal for their kids. I was talking to other parents and friends, who were saying, "My builders are at the house, and I have to figure out the flooring." There had been a big adrenaline rush during the cleanup, but now they were starting to go into this grieving process. They were exhausted, and they just wanted to be in their house.
That's so heartbreaking—and requires so many decisions when you're just really tired.
You're tired, and you're finally realizing everything that you've lost. The builders were super tired too, so they didn't have time for handholding because they had so many projects. Everybody was building, and they were overwhelmed. So I decided to give back in a small way. I gave a couple of free consultations to help people with their hard finishes—things like paint colors and flooring—and then they could pay after that if they wanted to keep going.

Did those early consultations help launch your business?
It felt really good to get back to designing, and those consults inspired me to go out and do it on my own. I think it proved that I didn't need to work for a big firm, and it gave me the confidence to start my own business.
That said, I still kept some side jobs for my own comfort, but they were all to encourage my career. I remember when I was in design school, one of my teachers said, "It's OK to work at a flooring showroom, or a cabinet showroom, or for a kitchen and bath designer, or at an architecture firm." The idea was that everything you learn, you're going to take with you. As I was starting my firm, I was also working for this woman who had a vintage hand-knotted rug business, and I cherish the knowledge she gave me.
I had a friend who became a realtor at the Sugarbush Ski Resort, which is near my home. Stowe [a town in Vermont known for its ski slopes] had a lot of designers, and I'd worked there before, but there was nobody over on the Sugarbush side. So I made little postcards with some photographs of a few small projects and a list of my services, and that's how I started getting clients. Now I mainly work with second homeowners.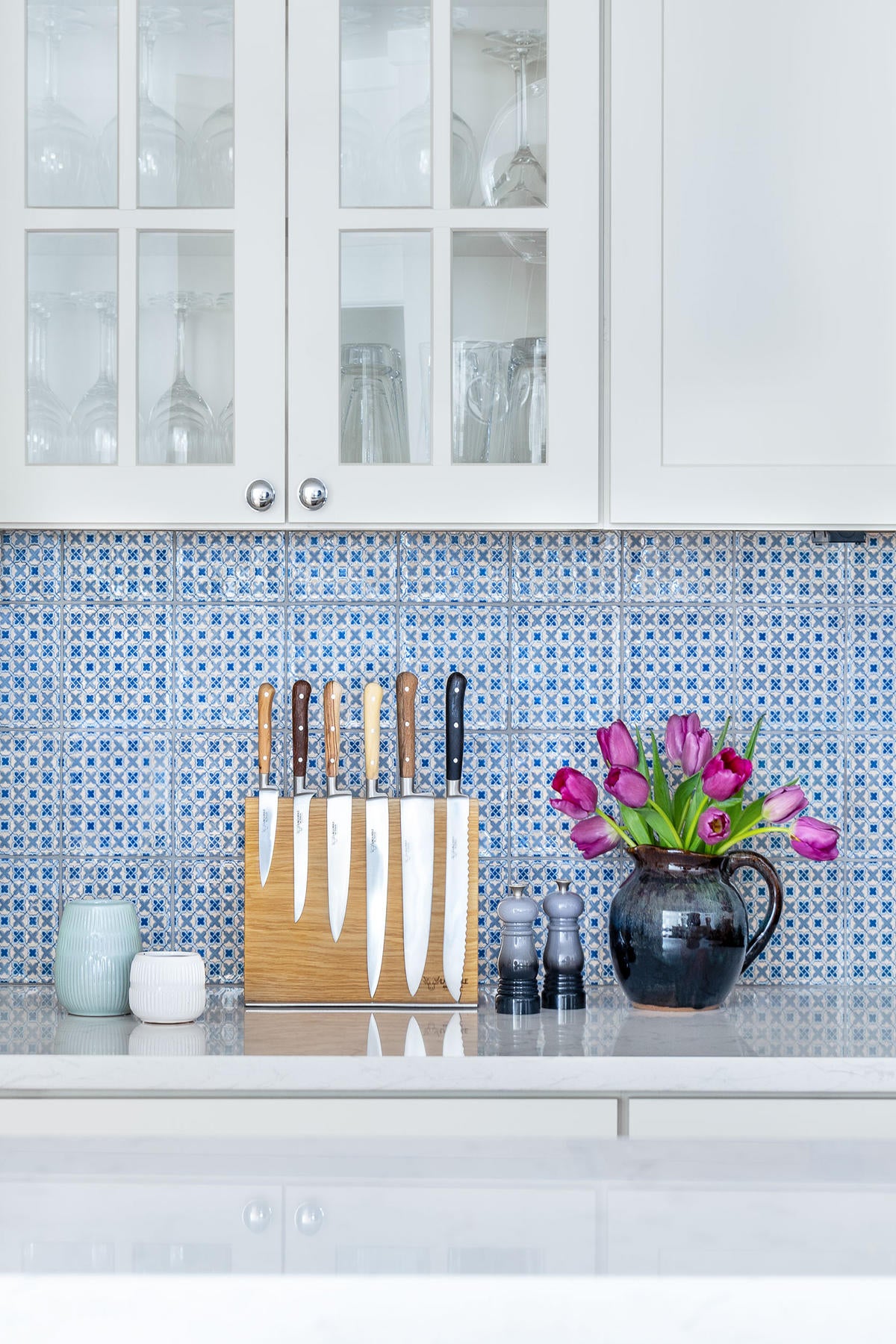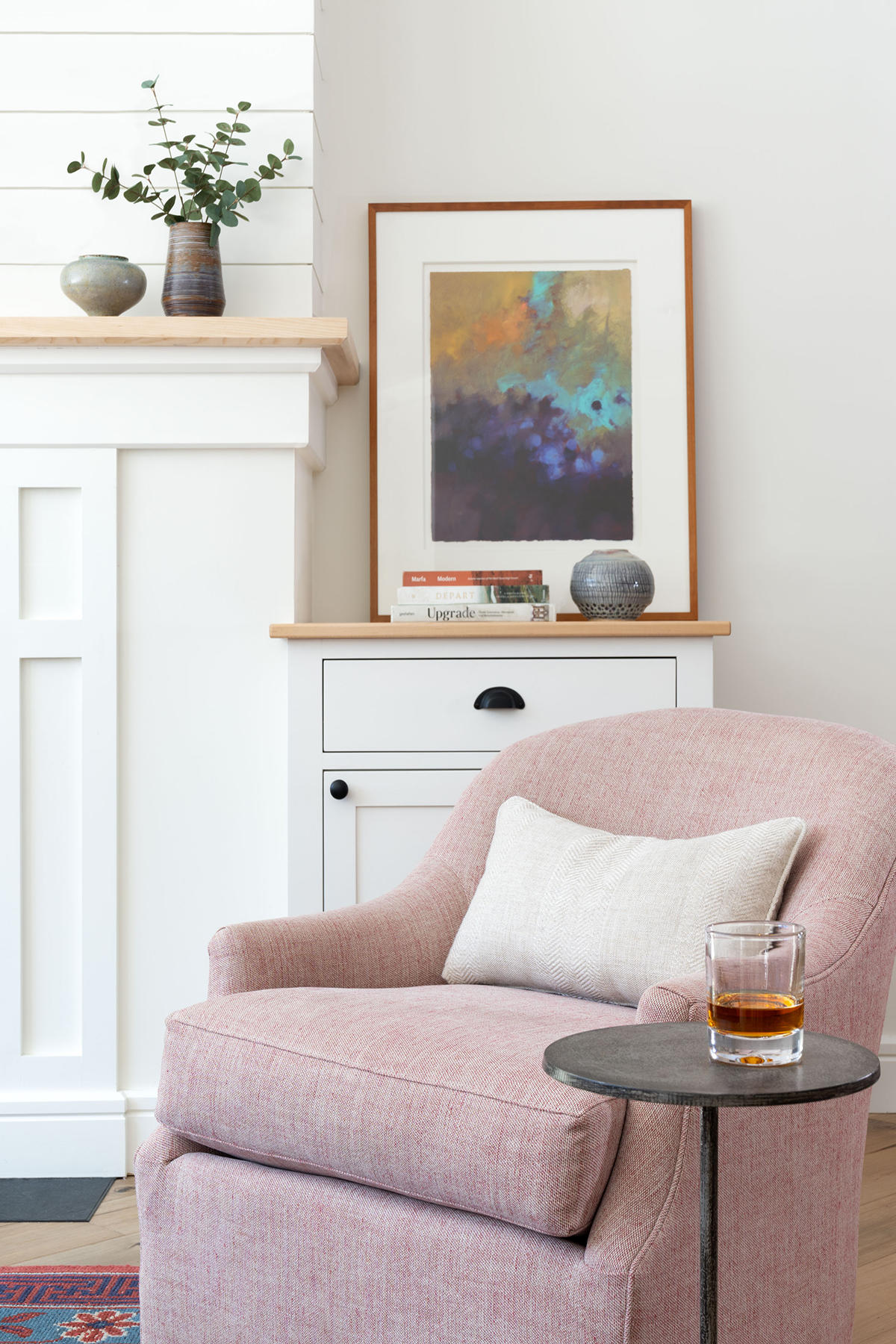 What does the business look like today? How many active projects are you typically working on?
Because it's just me, I'm only working on three houses right now. One is a small guest home: a 1,600-square-foot two-bedroom and two-bath. They are not second homeowners, and they're one of the first clients I've had in a long time that wasn't a second homeowner. They just moved here. One of my other projects is a new construction five-bedroom, five-bath, and then my other one is a remodel of a couple different phases. It started out as furnishing the whole house, and then the client said, "Alright, let's remodel some stuff." The first remodel is the garage, and we're also going to make that into a little guest house. I'm doing two little guest houses, and then there's also some remodeling and new construction happening inside. So just being me, that's kind of all I can take right now. I am looking to hire somebody, and I recently put an ad out.

That's exciting. Is that because you're turning down projects?
Yes. I'm getting one to three inquiries a week. That's good, but it's really overwhelming. I really, really need a team.

What are you hiring for?
I think I need a junior designer, but I'm working with my business coach and she's telling me, "I think you need a project manager." So I think probably a little of both. I would love somebody that can actually do some drawings, because I feel like that bogs me down a lot.
How have you decided what projects you do say "yes" to?
I like the full project. I think it's harder to take a kitchen or one bathroom because there's still a lot of work that goes into it. But if you're working on a full house, it's more efficient. You've got the same client, and you're moving through the house—you're not stopping and starting and drawing up a new contract or anything. So that's kind of where I'm going now.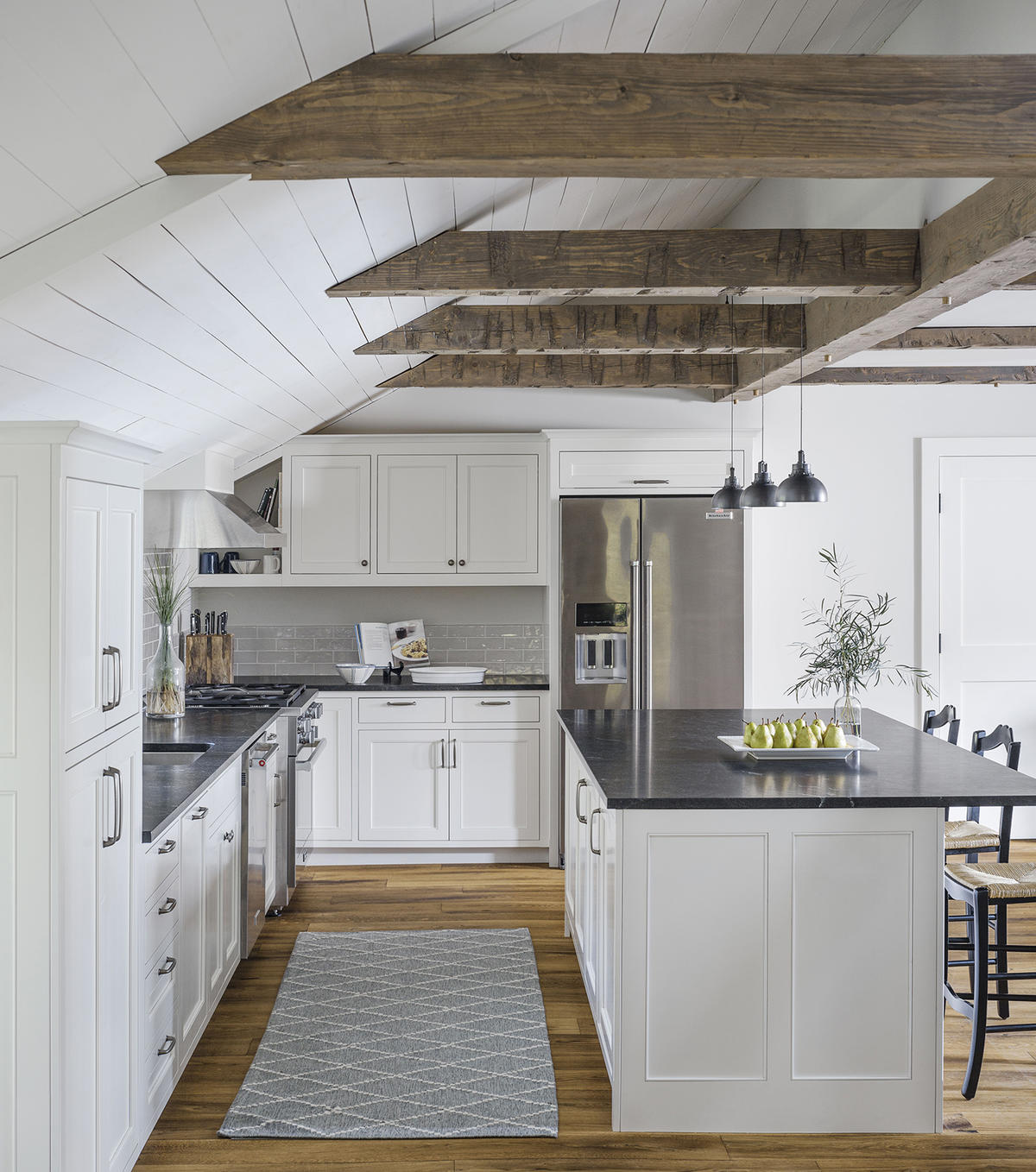 Jim Westphalen Photography
How are second homes different from primary homes?
I really enjoy second homes because the clients aren't there all the time. There's a lot of trust, and it's easier because the clients are happier because they are not displaced. I've never worked on a project of this scale for somebody who just has one house, and I think that would be very stressful for them. I'm assuming people who work with primary residences rent if they're doing a big, full remodel.
Vermont is a very DIY kind of place, so [the self-sufficiency of my local community means I have] a chance to work outside of my community. I like that when I go to the grocery store, I'm not seeing somebody I'm working with. I like being a part of my community, [but] my friend is a teacher, and she said the best advice she ever got was to work two towns away from where you live—it's not too far of a commute, but you're not running into every parent and kid. That was when I started marketing at the ski resort. I can still be "Teri the Mom" and "Teri the Interior Designer," and wear two separate hats.
Where do you shop? What resources are available?
I have a great cabinet maker. He's amazing, and I call him immediately when I know something's happening. He's 10 minutes down the road, and he's very skilled and collaborative. Sometimes we end up building and designing furniture. He's super busy now, but we've done coffee tables, side tables and banquettes.
As far as products, I go to High Point at least once a year to source. I have some vendors who come and see me, but High Point is where I shop for all of my sofas and accessories. I've been working with a rug company here for about eight years, and they are mom-and-pop and very Vermont-y. They install rugs and have this great showroom maybe 45 minutes away. They have great companies like Knot & Co. and really beautiful hand knotted rugs. So that is a great resource for me, and I can get samples from them because they're local. I do have local plumbing showrooms and tile showrooms, but my furniture and lighting are usually sourced at Market.
You mentioned having a business coach. Can you tell me a little bit about that relationship?
Her name is Kim Kuhteubl, and I've been working with her for about five years now. She's really helped me grow.
When did you decide you needed or wanted a coach?
I think I was scrolling through Instagram, and this designer from Texas moved to Vermont, and I just watched her explode. A friend said, "That's how people from Texas are, they go big." Then [the designer] posted that she works with a business coach and gave a sweet review. So I called Kim, and I've been slowly growing. This will be the third time I'm working with her, and she's saying, "OK, Teri. Are you ready to go all-in? No more slow growth. Here we go." She she knows how I work, and she's really helped me recognize my worth as a designer and that what we bring to the table is really important, [along with] getting paid for what we do. Because I started on a volunteer basis, a lot of times I felt like design was a gift instead.
The other great part [of the coaching] is that it is a virtual year-long class with people from Canada and America. You've got your little group of five people, and you meet every two weeks. It's really nice to network outside of Vermont because it's small. There are a lot more interior designers here now than when we first moved here, which is great. I love and welcome every one of them. Coming from the Bay Area and being able to network with designers all the time, it was so fun. When you go to High Point, just being surrounded by designers is like, "Oh, I love all of you." I'm just so happy that there are more designers here now, because it [helps support] that feeling of worthiness.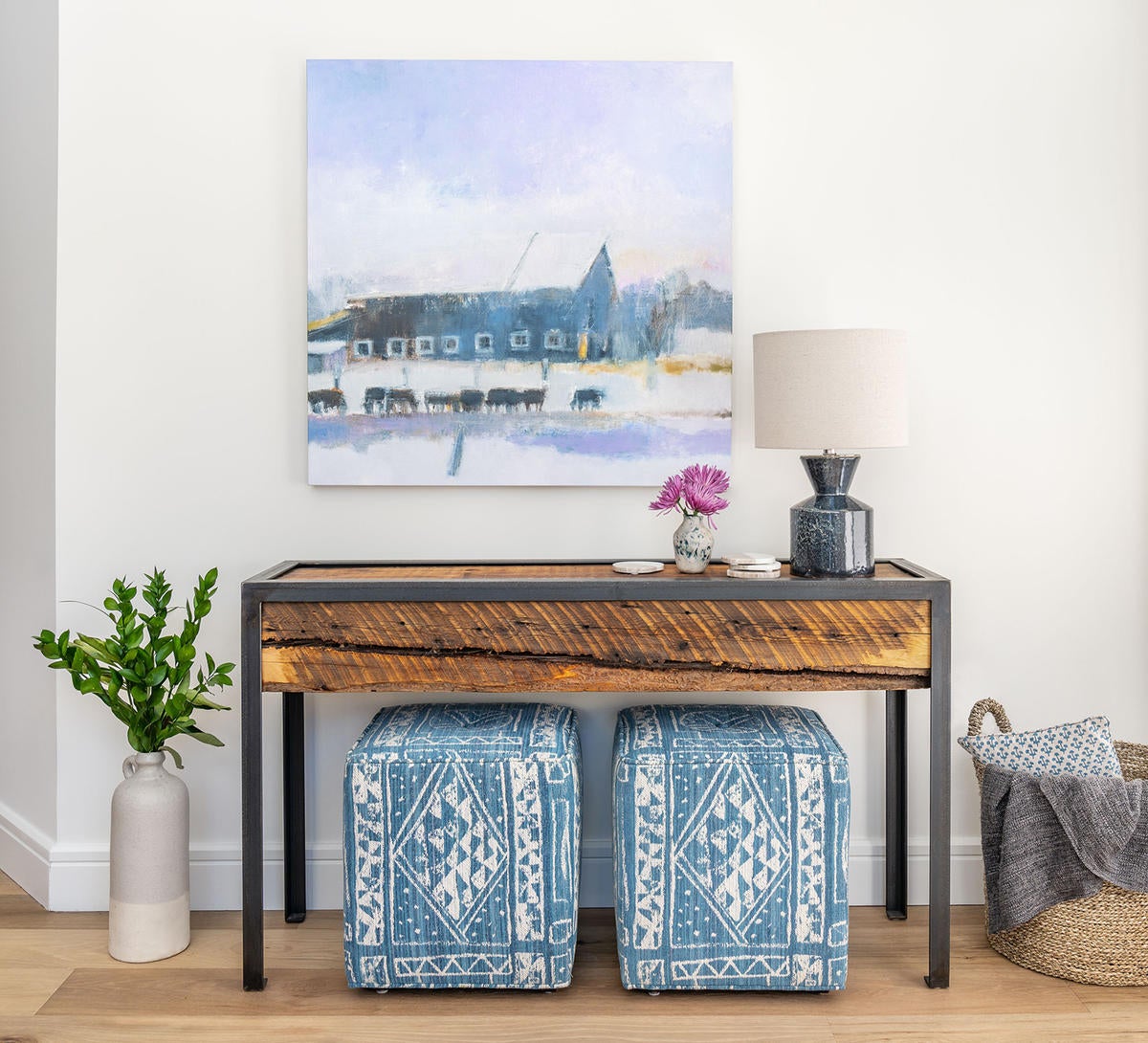 Lindsay Selin Photography
How have you changed your approach to pricing?
I used to do a low hourly rate and a higher markup on products. Now, I prefer to do a larger hourly rate and a smaller markup on product because it is the knowledge that they're buying. It feels good to earn it for your time and knowledge. Then there's still the admin fee to put all of the stuff together—I bill hourly for the admin, but it's an admin fee, not a design fee.

So you have two hourly rates?
Yes, I also have one rate for admin and construction management fee, which is a little less. If I'm just checking in on the job site, or I'm making sure the tile came in and it's not broken—it's not really design. That's construction management, where we're problem solving with all the subcontractors right there. But when it comes to design—sitting at the drawing board and coming up with concepts, color schemes and products—that is a higher hourly rate, because that's my intellectual property.

When you made that shift, were clients fine with you raising your rates?
When I made that shift, I knew which clients would understand. You have to talk about money during the first call just to be clear and open from the beginning. It's just more efficient [that way], and maybe I'm not the right designer for [some clients] because they're looking for something [that costs] a little less. If they're looking to remodel their kitchen and don't want to pay both my fees, I'm happy to refer them to someone else.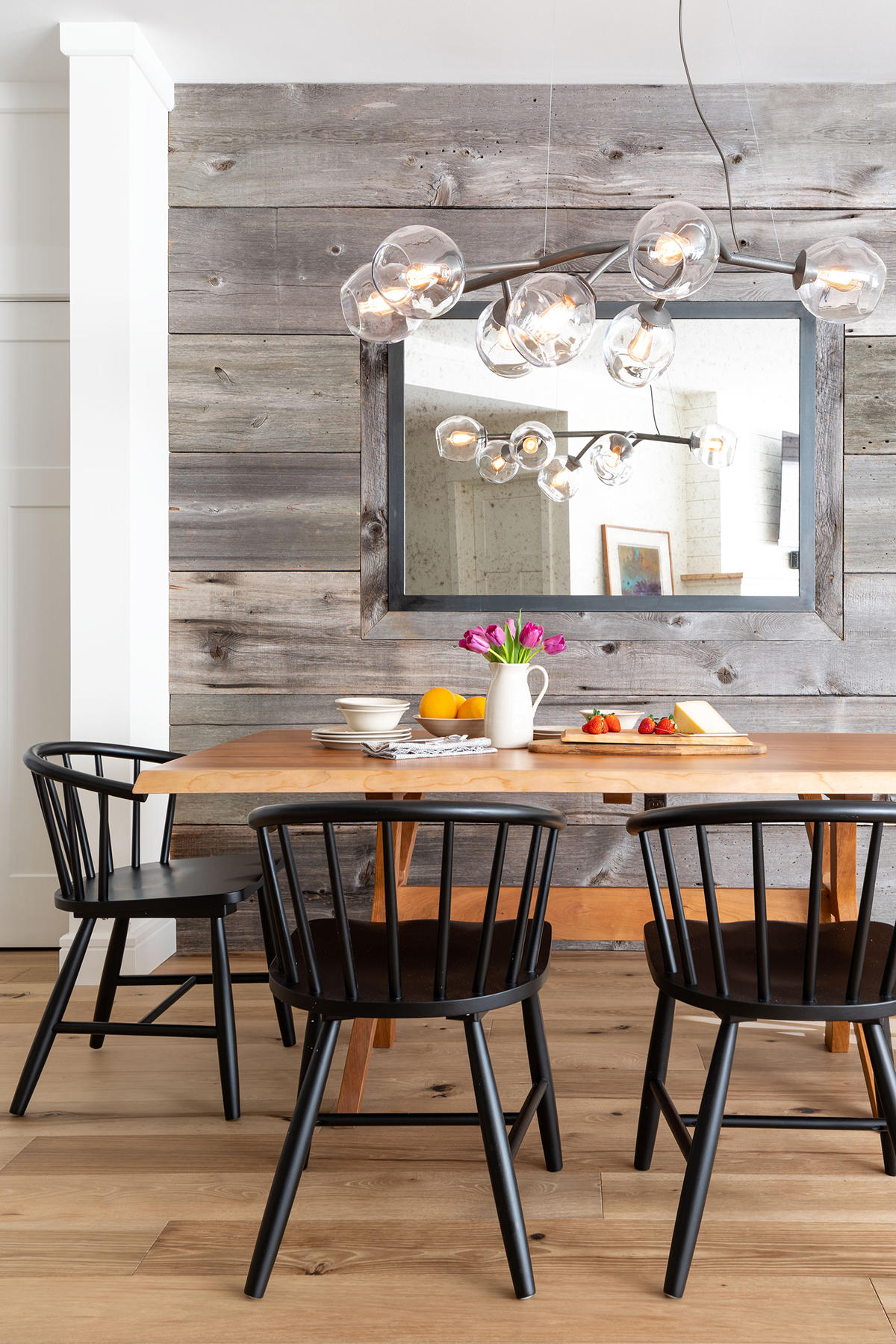 Lindsay Selin Photography
Where do you see the most opportunity to grow?
I really want a team. Doing all of the remodeling plans myself is a little much. I would like to work with an architect to be more efficient so I can take on more jobs—an architect that's willing to collaborate and be a team player. I would also like to have a junior designer and a project manager on my team.
I also want to focus more on sustainability. I tend to specify more natural materials—that is very important to my company, and a low carbon footprint. So if I'm sourcing stone, I usually try to get something that's from the East Coast. I use a lot of Danby marble for countertop or stones that come out of New York and Pennsylvania. The same goes for wood—I try to source mostly oak, walnut and anything that I can get firsthand. The builders and cabinet makers I tend to work with have sources that are sustainably forested. I really try to give people materials that last and fit their lifestyle. It's not just quick or fast furniture. I try to find quality products and have a low carbon footprint.
What does success look like for you?
Instead of having three projects, it would be great to have anywhere from six to eight. [I'm interested in] expanding into a different area too. A lot of clients also have a beach house somewhere like Martha's Vineyard, and [I'd like to] grow my team and be able to take more on. With kids, we haven't traveled as much, but I would love to start sourcing products and traveling more to places outside High Point—the Paris flea market, or design week in Milan.
Success to me is also just doing really good work, not disturbing the planet, and building things that last. A lot of my clients are families with dogs and kids, so just giving them a place where they can enjoy Vermont, and we didn't hurt the landscape while doing it, that really does speak to me.
To learn more about Teri Maher, visit her website or find her on Instagram.