Brent Comber may not have taken a direct path to his woodworking practice, but since the beginning of his winding design career, his native Pacific Northwest landscape has been a constant variable in all that he does.
About four decades ago, Comber's career began in garden design. After a few years in the industry, Comber founded his own Vancouver-based design-build firm in 1998, specializing in artful landscape design, with a mostly residential client base. The foundations of his artistic perspective, which now inform his wooden furnishings and other designs, were laid during this time. Inspired by the natural surroundings of British Columbia and Japanese design principles, Comber's gardens were serene compositions in their own right.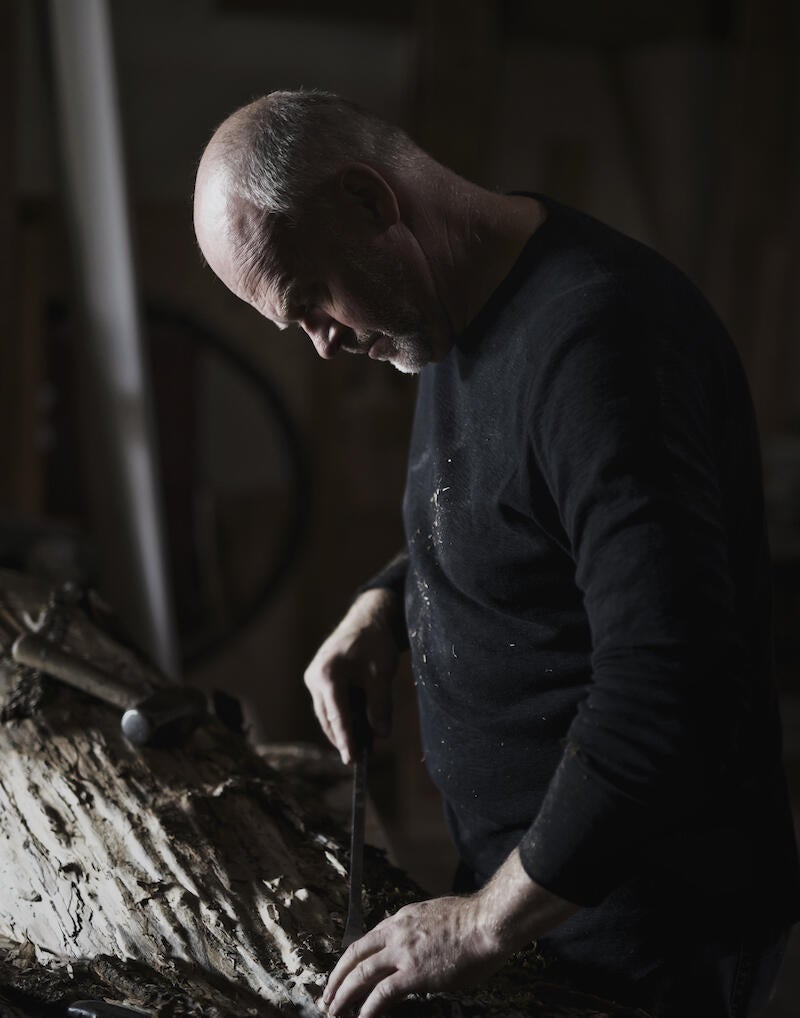 In the first few years of his garden design practice, Comber continually came up against a shortage of options to furnish these outdoor spaces in line with his aesthetic vision. "I was interested in creating private moments, in borrowing on distant landscapes," he tells Business of Home. "I couldn't find any furnishings that were sympathetic to this kind of view." He began carving designs out of wood beams, and incrementally, those pieces took on a cohesive, artistic spirit—though Comber was slow to label himself as anything more. "I wouldn't claim I was an artist, but I was making art forms—pieces out of timber, making benches that I would put in the gardens."
Comber has always been handy, and as he learned the woodworking techniques necessary for his growing furniture design practice, a great deal of the process was trial and error. His garden business informed the furnishings, and vice versa. Comber brought his pieces to furniture showcases in cities like San Francisco and New York—in the latter, one of his benches was snapped up by French industrial designer Philippe Starck and was the first domino to fall in Comber's path toward a dedicated furnishings business. What had, up until then, been only a side gig showed potential to become the main event. And around 2008, Comber's garden design business was phased out, and art and design became the sole focus.
Comber's wooden furnishings possess a raw, elemental feeling that comes from the simplicity of form and the prominence of his chosen material—reclaimed wood from local Vancouver sources. "I would buy their lumps, chunks and blocks," he says. "I love getting wood in that form, since it provides me with the scale [I need] and also character. Wood from a lumberyard is sort of sterile, and [it feels] fake to me." Born and bred in the Pacific Northwest, Comber also appreciates the connection between the environment and his material palette, as it tells a story linked to his own. "​​Place-making is very important to how I think about the work," he says. "That's what inspires me. Indigenous materials are what interest me. Not that I have anything against teak or mango or any wood found in other countries. I just have no connection to it. I like the smell and the feel of wood that I used to climb on as a kid at the beach."
Some of Comber's pieces—like the Daylily chair or the Drum side table—highlight the natural cracks and striations in a given piece of wood; others, like the Soma collection of furnishings, offer a more polished selection of pieces, but even then, the beauty of the wood serves as the focal point. In addition to his interior furnishings, on the art side of his business, Comber still creates outdoor and indoor sculptures from wood, each one taking shape in response to the story he wishes to convey and the character of the wood itself. And true to his storytelling ethos, Comber doesn't release furniture collections—he prefers to design by commission or by creating a small stock of designs that form the base of his practice.
For much of his career, Comber's clients discovered his work through trade shows—but in recent years, more people have found him online, through word of mouth or Connection, a large-scale sculptural light installation in Seattle-based apartment agency Ren's lobby. Together with his team of nine other woodworkers and designers, Comber is working on six to eight pieces per month of various scales, most often with architects and interior designers.
Even with a global register of clients, at the heart of Comber's practice is the inspiration he draws from the place he has always called home. "I think of it as energy and subtleness and geography—the rugged, unprocessed beauty of the Pacific Northwest," he says. "I'm not saying parks don't inspire me, but I like where land and ocean meet, where you're getting weather patterns that accumulate over many miles of ocean and lash into vegetation and hillsides. And I try to capture that in my work."
If you want to learn more about Brent Comber, visit his website or Instagram.
Homepage image: Brent Comber in his Vancouver studio | Gryphon