The 50 States Project is a series of candid conversations with interior designers across the country about how they've built their businesses. This week, Jackson, Mississippi–based designer Betsey Mosby tells us why it's never worth deviating from her process, why she doesn't set her prices according to the local market, and about the surprising perks of running a bridal registry service in her retail shop.
When did you realize that design could be a career?
I always wanted to be an interior designer. I looked at a lot of schools and interior design programs, but at the end of the day, my whole family went to Ole Miss and I ended up wanting to go there too. My dad is a small business owner, and he really encouraged me to get a business degree, which I am so thankful for. I graduated with an undergraduate degree in accounting, got a master's in tax, and went ahead and got my CPA. Like, how far from what I do today could I be, right? After that, I worked in Big Four accounting in the Memphis area for two years—and I hated it. It was 2008 and 2009, right as the economy was crashing, so it was such a nice thing to fall back on, but I did not love it.
After that, I did a short stint in customer relations for a bank, then went to work for a boutique commercial real estate company. I was doing the budgeting, but I ended up doing a lot of selection, as well, as I got into it, and that was my foray into the design industry. I would create the budgets for the projects, then pick the hard finishes that fit within those budgets, and so that was my first real [design] education.
At each pivot point, did you know that you were picking a job that would inch you closer to design work?
Not at all. I did intern one summer for a couple of designers down at the beach, and I always wanted to do design, there's no question about that, but I didn't know the path to get there. I married my college boyfriend, and when we moved from Memphis to Jackson in 2012, he said, "You know what? Just go for it." There was a designer in Jackson named Annelle Primos who I worked with for a little over a year, and she was so great to me. It was like the best education ever. I don't say that to be disparaging to a degree, but I learned so much working with her, and she was such a wonderful mentor to me.
What pushed you to make a change?
I got a huge commercial project in 2014, and I went out on my own to do it. Annelle gave me her blessing—her firm was not really set up to do commercial work, but she wanted that for me. Then I found out I was pregnant the next day. I always say the timing of it was so perfect because I don't think I ever would have gone out on my own any other way.
Why not?
Being an accountant first, I'm very Type A and business-minded—I guess you could call me conservative when it comes to decisions like that. But I knew that having a commercial job would keep me afloat for a while. I mean, if I had known that I was pregnant, I would have never gone out on my own. It's just so funny to look back and see how all that works.
What did those next six months look like?
My pregnancy with my first child was a nightmare. Not long after I found out I was pregnant, I was on bed rest. My daughter was born 10 weeks early, and she was totally fine—I was very fortunate in that way—but the whole pregnancy was awful. I mean, I'm very much a mover. I never sit still. So it was the worst punishment ever to not be able to move or plan for a new business, a new office, all those things. But it also forced me to hire my first employee right out of the gate, which I never would have done otherwise, and it was just so great. I was young, she was right out of college, and she hung in there with me. Whatever I needed after the baby came—even if I just needed her to babysit for a few hours—she helped me develop and evolve. By the time my child was one, we had outgrown that first little office, and we needed more help.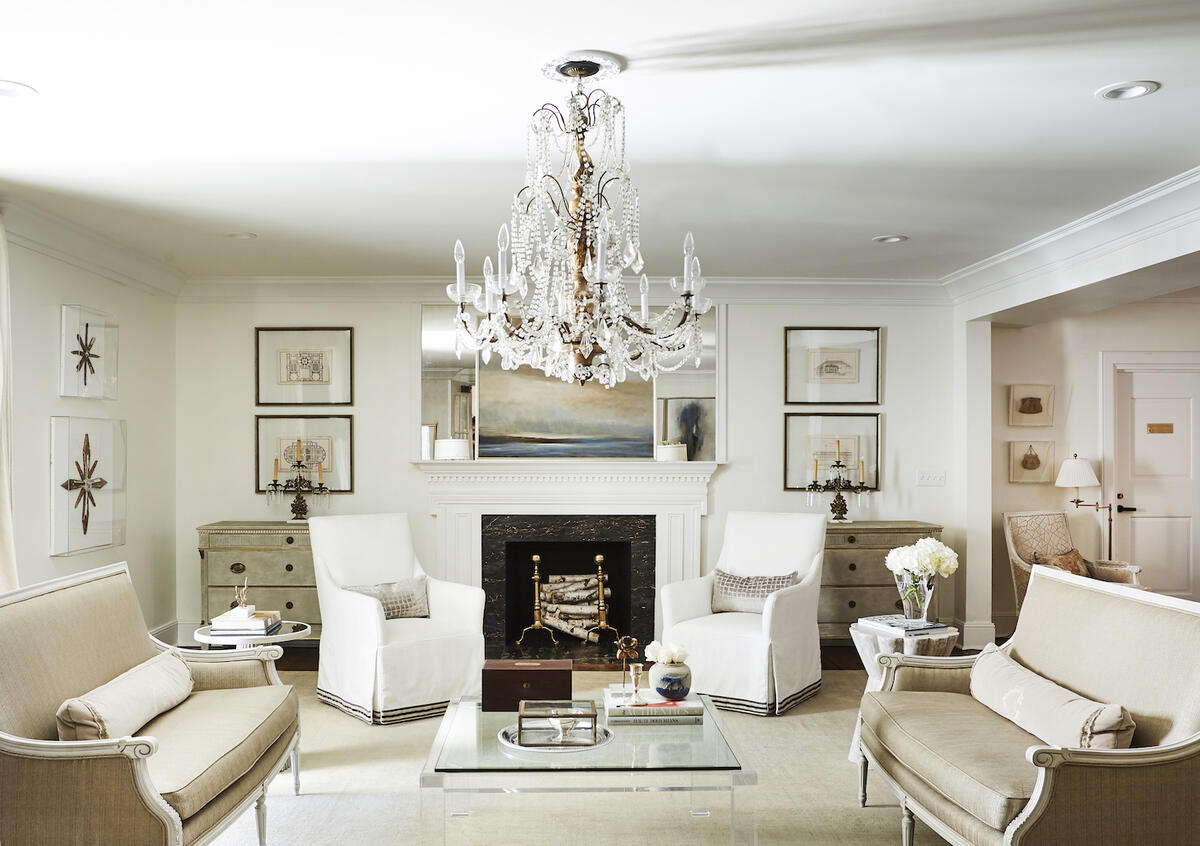 What does the firm look like today?
It's a lot larger. We've moved offices a couple more times, and I now have six employees and two interns. I also have a retail store connected to my studio—it started as an antiques and art showroom, and then a good friend joined me as a partner to turn it into a full-blown retail store with a bridal registry and high-end gifts. The business is set up as two different entities, and I split my time between them.
What made you want to start the retail component?
I moved to this larger office that had a small showroom four years ago. At first, I just put antiques and art in there; people would come in and shop and we would be working in the back. But although Jackson is the largest city in Mississippi, compared to any large city in any other state, it's a small town.
A good friend came to me and said, "Let's add gifts and bridal to the store"—and I love all the entertaining and tabletop things, too, so it was appealing to me. The store next to us had just gone out of business, so we blew into that space. She became my business partner in the retail component, and we took my little concept, multiplied it by 50, and then opened the doors in February 2020, just as Covid was about to hit. It was an awful time to start a retail store. I feel like we're just now getting our groove.
What is that groove?
We still have antiques and art—there are several artists that we represent—but we're also the purveyor of brands like Herend and William Yeoward. We are the big bridal registry in town, which sounds so Southern. The bridal component is so interesting because I know a lot of areas of the country don't really do that anymore, but in the South, you still register for china and crystal and all the things.
It has also opened up another aspect of my business. I mean, as I'm talking to you, I'm in Rosemary Beach, Florida, doing a whole-home install—and as part of that, I've also supplied them with all their plates and wine glasses. It's given me access to everything that you touch in a home, down to the candle. Historically, I would go shopping at another retail store to buy all the coffee table books and accessories needed to finish a space, but now I just kind of go to my warehouse and load it up.
Has that noticeably impacted your bottom line?
I think it does. That's a part of the business that I'm just now really dialing into because we've finally gotten it to where I could. Lead times with Covid were so bad—it was terrible for the design world, but it was that way for china, too. If I wanted to order a 12-piece place setting from Juliska, it could take nine months to come in, so I couldn't do that, you know? I mean, I could think through a sofa a year in advance, but it's kind of hard to think through a teapot that far out.
It also helps my client because I can control the markup. If a person does a whole home with me, I'm happy to give them a discount on their dinnerware. It's good all the way across the board.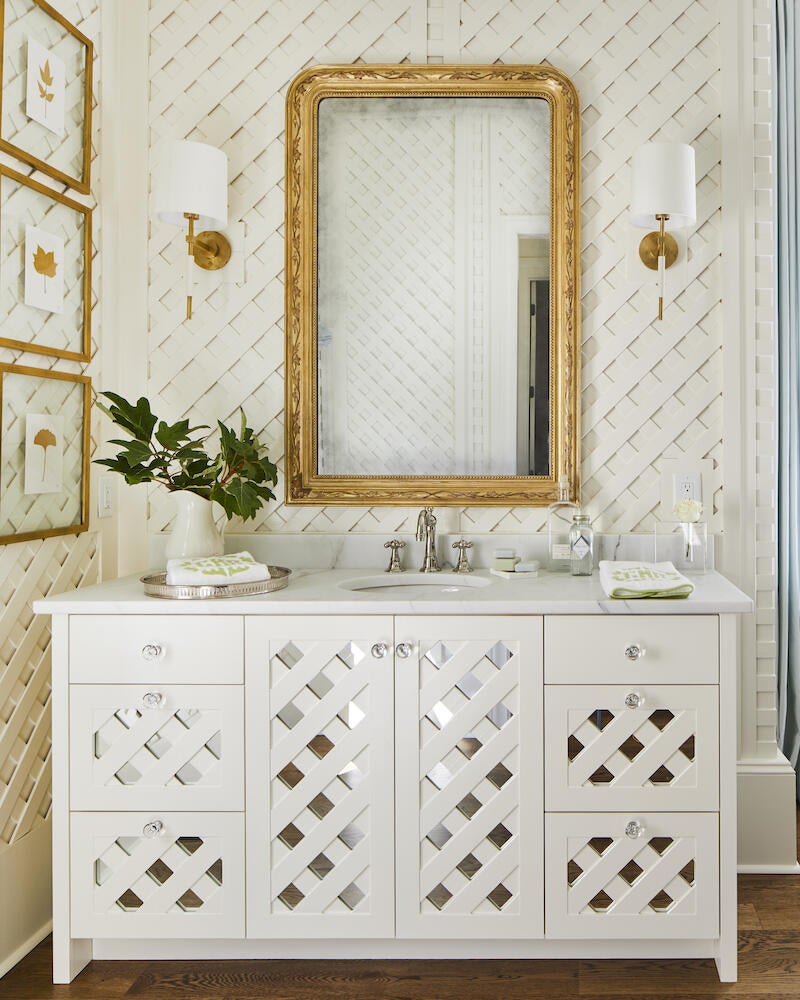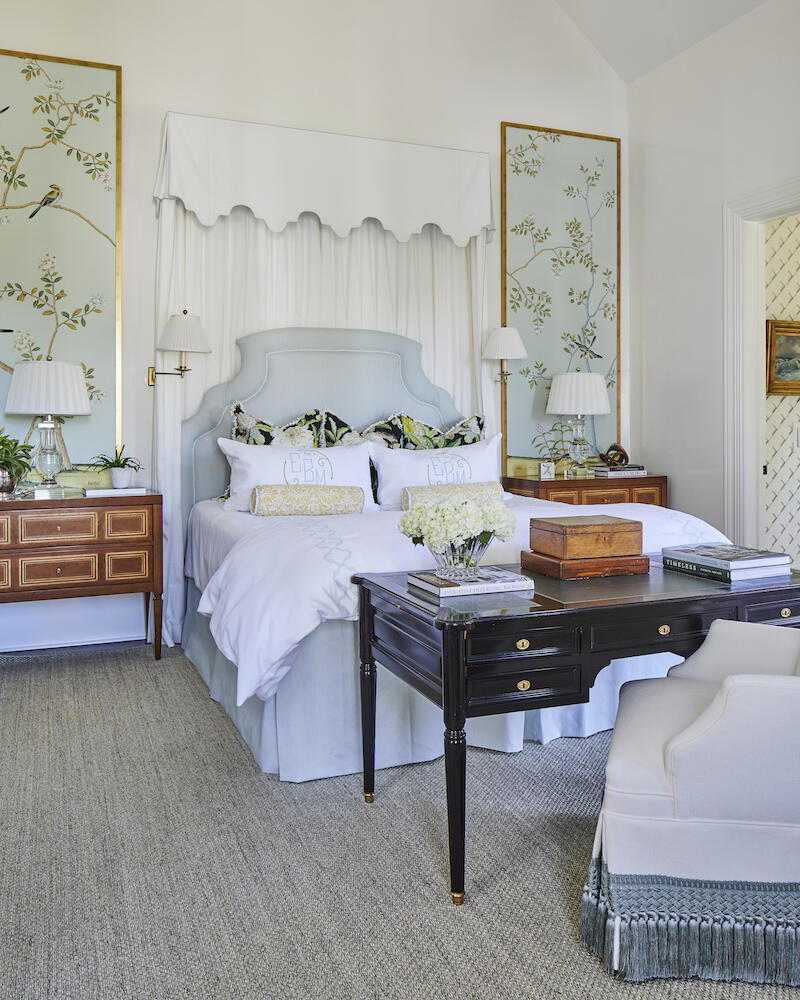 How have you approached billing for your work?
I try to provide a financial benefit to using us in addition to the creative benefits. We basically do a discount from retail for purchasing, then we charge a flat rate for finishes because hourly scared so many people. I could tell them, "OK, my bill is going to be X," and they wouldn't care. But they'd be furious if they had no idea what to expect and got the bill [for that amount]. I've tried to remove the anxiety that comes with using a designer because I do think it's such a misunderstood industry—it's not clear-cut. Almost every designer I know prices differently; there's no business model that is [shared by] every design firm, so I understand the confusion.
So is there a design fee, or are your fees all tied to product purchases?
There is a design fee. I learned early on that if I didn't charge for that—for my expertise and my knowledge—then it really wasn't appreciated or valued. Any time that I go outside of my process—like, if I haven't charged the design fee for a friend—there's been a problem every single time, and it's usually that they didn't really value the information that they're getting. That's a hard pill to swallow because I am a people pleaser. I do not like contention. And I absolutely hate charging for my time—I don't know why, but it's just not comfortable for me. But anytime there's been a problem, it was usually because we did not institute our standard process and that person did not appreciate the value because they weren't paying for it.
When you think about your billing methodology, how much did you have to invent on your own and how much were you pulling from experiences you'd had?
That's a hard question because I'm always changing things and trying to make sure my process is right. It's trial and error. But I've always wanted to provide products at a discount from the retail value. The percentage has changed a little bit, and my own fee has increased, but that methodology has pretty much been constant.
Because of my financial background, I always want there to be a financial incentive. I think that's important. People need to feel like they're not getting taken to the cleaners, and to feel like they are getting a great value. Now, there's a fine line—if you discount too much then you're not appreciated. So I'm always kind of toeing that line of figuring out the best price. It's hard to know what's "market value" because there's really no such thing in this industry. But I do a lot of work outside of Jackson, so I don't price for the area that I'm in. I price for what I consider to be my value to a project. And I do think that that is a tough thing to figure out.
You know Ashley Gilbreath in Alabama?
Yes! She was the very first designer to be featured in this column.
Was she really? Well, she's a great friend of mine. We've been friends for years. I had her book signing last week at my store, and she was telling me all these new things that I need to be doing that she'd learned from her business consultant. She was like, "You've got to multiply that design fee times X." I don't know about that. She said she was so scared—and then the first time she did it, the client didn't blink. I think women in general have a much harder time recognizing and charging what we're worth.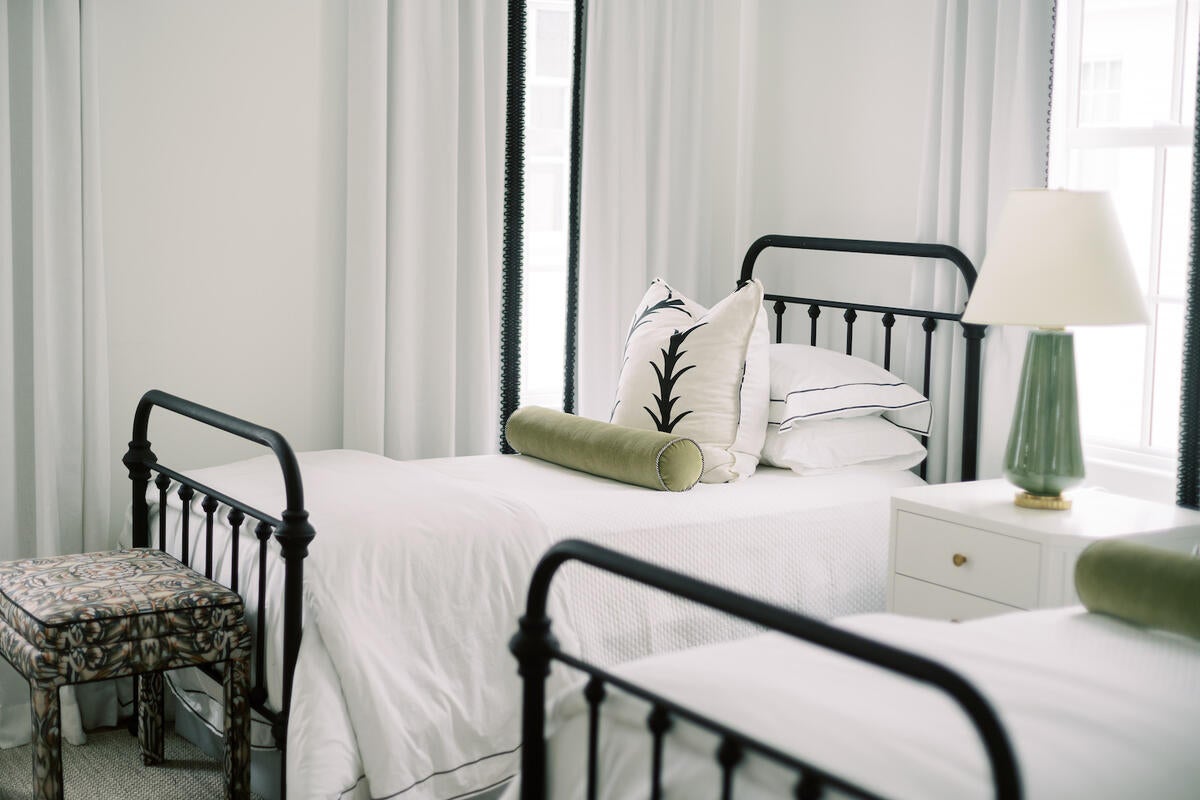 How do clients find you initially?
I'm not a marketing genius by any means, but I see a lot from Instagram. I don't post as much as I used to because now it's a lot more work than just snapping a picture and sharing it, but I enjoy sharing that part of the process.
Now on Instagram you are a video producer and a this and a that—it's a whole thing.
Right! And I enjoy watching other people's videos. I know I need to get better at that. But if a ball is going to drop, it's going to be that. Anyway, to answer your question, we've gotten a lot of work from social media, and it's great because that means they're inspired by my work—they're well-acquainted with what we do.
We also get a lot of work through word-of-mouth. I've had the great fortune of having amazing clients. Of course, there have been some bad eggs in there, but that's [the case] with anything. That is the part of it that is the most humbling to me—it's always such an honor to me when people reach out. Sometimes their project doesn't line up with what we do—whether it's their budget or that our process wouldn't be right for them—but I still always try to say, "But really, thank you for thinking of me." Sometimes we're just going so fast, and I'll have a long day and get home and my assistant will say, "We got these inquiries today." And it just makes me feel so good because it's always such an honor for somebody to think of us, whether or not it works out for us to do their project.
I love that attitude. That's such a beautiful way to think about it.
What's hard is that sometimes people don't want to give you a budget—either because they're afraid that if they tell you X, you're going to spend every penny of that, even if they don't need to spend that much, or they're afraid they're going to say a number that's way too low and I'm going to say, "No, I can't help you." The best advice I can give someone who's embarking on a project is that you need to have an idea of what you can afford for a minimum output. And, look, maybe that won't be your whole house at once—maybe that will mean that there's a phase two down the road. As long as people are honest about that with me, and their initial budget will work with our process, we'll do that, then we'll come back and do a couple of the bedrooms next year, or add another layer later. Generally, what I find is that they have no idea what to expect.
I have a client who, when I asked her for a budget, said, "We can do whatever we need to do." And I said, "OK, but we need to establish what that looks like." Because there is always a budget. When she came back to me, she had added up what she had spent on her current living room—pieces she had purchased from different retail places—and I couldn't believe it. I was like, "Oh, my gosh, this is highway robbery." None of it worked together. She wasn't happy with it. But I was so impressed that she took the time to do that, because most people have no idea what they've spent, even in their current home. I certainly don't! That's another reason that a budget is scary: They're willing to spend what they need to, but that number kind of makes your stomach hurt. We just landscaped our yard, so I can totally relate—when you're looking at it by the piece and not the whole, it's not quite so overwhelming. So there is some psychology in figuring out what the hang-up is.
What makes you say yes to a project these days?
The number-one thing is a project that we can be excited about because without a doubt I do my best work for projects that are fun. And yes, not everything's fun—even for the best client in the world, writing a work order is not fun, so I don't say that to be ignorant to the fact that at the end of the day, this is work. But we have had some great clients who are just so anxious, and who have a really hard time trusting, and it's just not as enjoyable. I don't want to spend seven hours getting ready for a presentation, only to have them come in and then pull up a Pinterest picture and say, "Really, this is the fabric that I wanted." There's a difference between [bringing in] inspiration and trying to control the process.
I'm not opposed to you having a picture in your head. I'm not going to copy a picture—I'm not even going to copy my own picture—but we will take your vision and make it yours. And if there's a fabric you have loved for your entire life, we absolutely want to use that. But we want to know that before we work on your project. A lot of people will pop up in the eleventh hour and say, "I love everything you pulled, but I've always wanted my nursery to have [Colefax and Fowler's] Bowood in it." And it's like, "Well, that doesn't match anything."
We had someone recently who saw a Lee Jofa fabric on a pair of chairs while they were traveling, and they just loved it. But she worded it so beautifully: She said, "We don't have to use this exact fabric, but I want something that evokes that feeling." We ended up using that fabric on the back of some game chairs, in a totally different way than how she had seen it, and I love that so much more than drilling Pinterest for 17 hours and sending a document of, like, "OK, this trim on my daughter's vanity in this color, and this paint color." That's not design. And if you want to do that, you don't need a designer. You're not going to work well with someone that's there to guide you toward the best products for yourself, because you're going to try to control it.
We're probably all guilty of that in some way or another. I was probably 100 percent guilty of it with my yard—I was like, "I want a hedge here," and he was telling me, "Well, the water drains out there, so you can't have that there." I don't know what I'm talking about, but I think it's human nature to want to say, "This is what I want."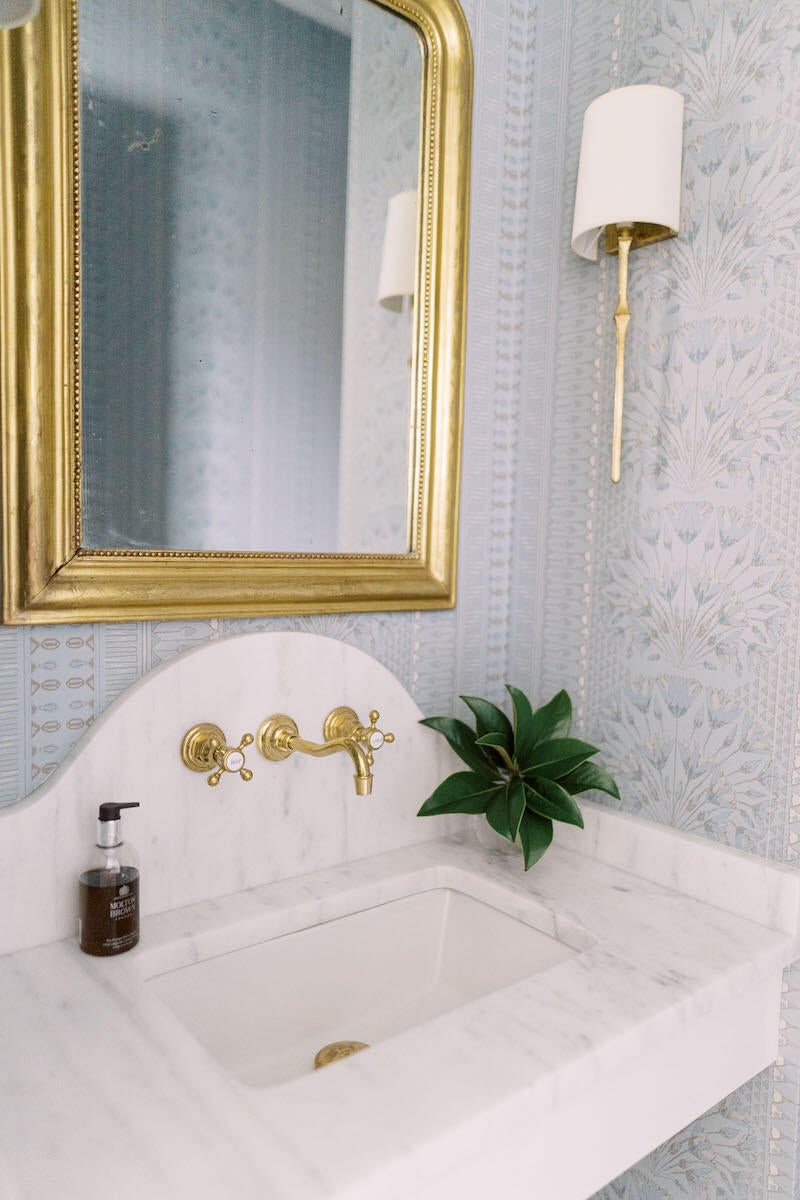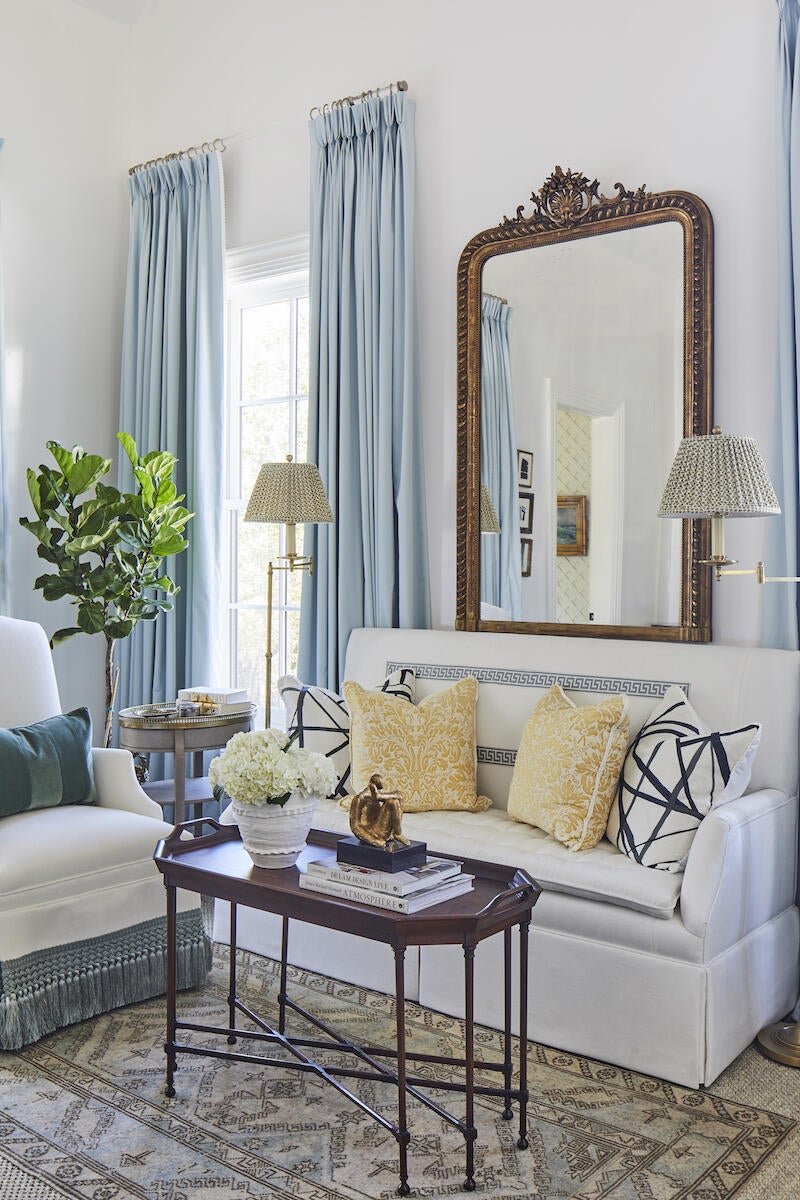 It wouldn't be the 50 States Project if I didn't ask you about Jackson and about the design community in Mississippi.
Jackson is a beautiful old Southern town. Like a lot of Southern towns, there are great parts and sad parts. There are a lot of older homes that are being restored by younger people, which is a beautiful thing. In some of the larger cities like Atlanta and Nashville, they're tearing down these beautiful old homes with so much character and building a high-rise, but there's not a lot of that in Jackson. There's actually not a lot of new development here, because it's pretty landlocked—there's development in the suburbs, outside of the city limits, but in Jackson, you're pretty much going to buy and renovate something. I also appreciate that there's not too much of one thing—there's not a trend where everyone on a street is painting the house white and adding black windows, or all the things that can be beautiful in the right application but that are so overused when they're trendy.
There are some great designers in Jackson—several ladies that have been here for years that have been doing great work, including my former employer Annelle Primos. There are also several young designers that are coming on the scene and doing great things. What's nice is that everyone has their own perspective—there's not a lot of copycat design. Some are super modern. Some love color. And I think that's a great thing for everyone to have a different voice.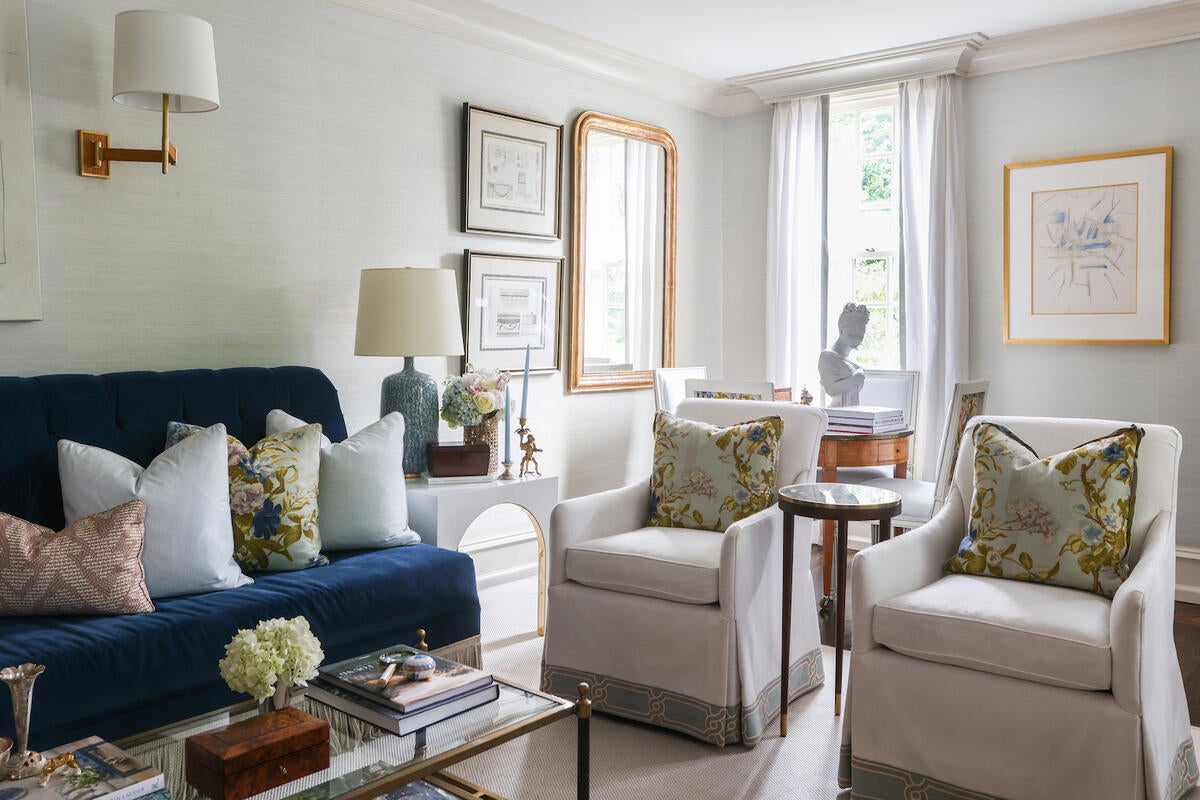 What is one thing you know now that you wish you had known when you were starting your business?
A designer who's going out on her own called me last week for advice, and I said, "The number-one thing I can tell you is to set boundaries because you will be the best version of yourself when you have them." It was funny because she said, "That's your best advice? I thought you were going to tell me the best computer program to use." And I said, "Well, that changes every two years, so you'll just have to research."
I know I'm fortunate to have this career, but I also really need to protect my own time off and my boundaries so that when I'm at work, I can be energized and be all there. It can be tough because people get home and start thinking about their house, and that's when they might start texting you. I always say, "If it's about work, try to email me," but there are always a few clients that will text you every detail. Cutting that off is a constant battle for me. I'm a people pleaser, so if someone needs something or has a question, I like for it to be answered. But that means I'm constantly working, and don't think I was prepared for that side of [this job]. I knew there'd be a lot of work, and I'm not afraid of hard work, but I don't think I knew how much time the communication would take at night after my kids went to bed—or that when you're a small business owner, you're never [completely] on vacation. You might [technically] be on vacation, but someone's always reaching out to you.
That's the part I work on the most, and that I wish I'd known upfront, because I think if you have that perspective from the beginning, you can set better boundaries. I don't want to be rude, but I'm like, "You cannot text me questions at 8 o'clock at night and expect a response—you absolutely can't." But sometimes that line gets blurred the most with people who are friends. We might be texting about something totally different, but now all of a sudden they're asking when their powder bath wallpaper is coming in, and I'm like, "Well, I don't actually do that, but someone on my team does." Now I have to pull up the sheet and look it up, or email myself to have someone check and tell her the next day.
You wouldn't text your lawyer at home and say, "What do I do about this?" But it feels like the line is really blurred in this industry, and I wish I'd set myself up better from the very beginning to absolutely not compromise on that, because I don't want my kids to grow up thinking that my phone and my computer are more important than them.
When you look at the business you've built, what are you the most proud of?
At the end of the project, when a client tells me, "I can't believe I get to live here." That just makes you feel so good—that's the ultimate compliment and the goal for each project.
What does success look like to you today?
Work-life balance. I love the Jackie Kennedy quote, "If you bungle raising your children, nothing else you do well matters very much." I think about that every day. Because I wake up excited about what I do. When I start a new project, I know that I'm doing what God intended for me to do. I love the process of helping somebody create their home, which [holds] their memories. Those sweet memories I have of my grandmother's home, and my parents' home—it's such an honor to me to create that for people. But I think for me, success truly means having that in my own home. I'm fortunate to be able to do something that I love, and I have a lot of help—I have a great nanny and a huge team, I'm not doing it all on my own. But at the end of the day, I want to be there for my kids.
Success is showing them, and especially my daughter, that I'm doing something I love. The world is definitely different than [the one] I grew up in—my mom didn't work; my mother-in-law didn't [either]. And I think it was hard for both of them to understand why I would choose this very fast-paced career. But I want my daughter to see there is no shame in choosing to love what you do. I think it adds so much value to their lives to see me doing something that I love, and excelling at it. Work doesn't have to be this mundane eight-to-five way to get through life, and I hope that's what they'll see in me.
To learn more about Betsey Mosby, visit her website or find her on Instagram.