The 50 States Project is a series of candid conversations with interior designers across the country about how they've built their businesses. This week, Yarmouth, Maine–based designer Leandra Fremont-Smith tells us why she wishes she had started hiring sooner, how being published in a national magazine transformed her career, and why prepping her clients for bad news is part of her process.
Did you always want to be a designer?
I grew up in Essex, Massachusetts, a small town north of Boston, with two parents who were in the industry. It's kind of the antiques center of the North Shore—back in the day, everyone would go antiquing on Sundays. My mom is a specialist in French antiques and had an antiques store on Charles Street in Boston; my dad has a huge knowledge of colonial American antiques and he restored historic buildings in Boston—the moldings, the wallpapers, all very true to what was appropriate for that time. My parents had beautiful antiques, and we were always going to museums in Boston or New York, so I'm sort of trained that way, but I did not think I would go into this field.
I always liked clothing. I designed a tennis line when I was just out of college—I worked with a Fila designer and was about to go to production with it when my husband, who owns a ski and snowboard company, moved his business to Maine. When we got here, I was hired at L.L.Bean to help with their soft goods line. It wasn't really the style that I was doing but it was a good way for me to meet people. And I'll tell you, I don't use a ton of their things in my interiors, but they have great bedding.
When I was there, the woman who ran home for L.L.Bean came to my house once and said to me, "You know, you should really go and do interior design." I was like, "Really?" So when I had my first child, I ended up going back to Boston Architectural College—I didn't complete all of it, but I started getting jobs immediately. So I've been doing it since my daughter was 1, and she's almost 18 now.
Where did the first client come from?
People would just come to my house. Or people from L.L.Bean—not executives, but the head of merch or whatever—would refer me. And then because I'm from the North Shore in Boston, a lot of friends were referring me there. We have a lot of—not "summer people," but people who come up mostly for the summer and then maybe holidays, so my name would get out there via a friend's parents whose house was in Maine, but they went to Florida. I also have a ton of ties on Mount Desert Island, so I started doing work up there as well. It was definitely mostly referrals.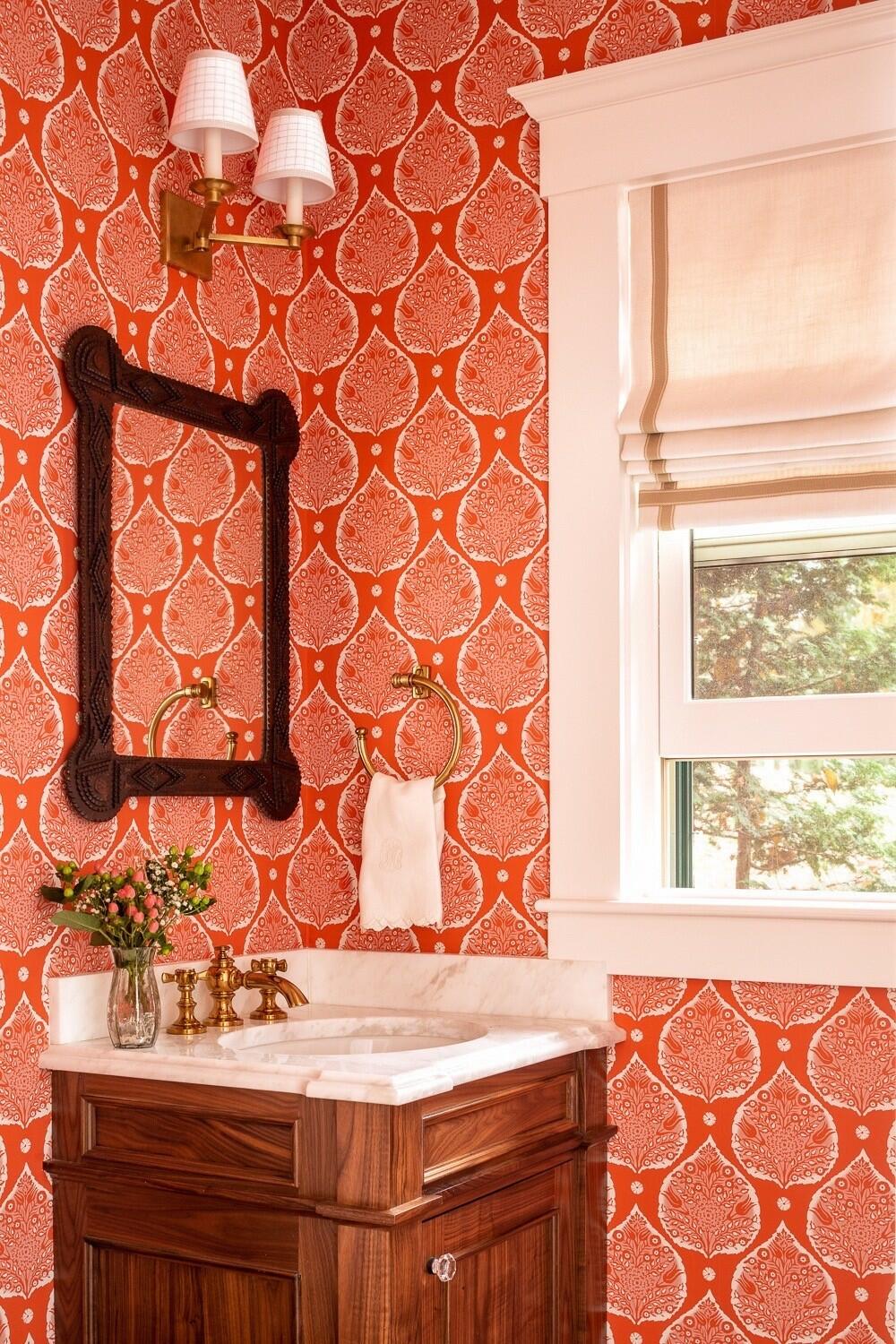 Was there a moment where you made the conscious choice that this was going to be your business, or did it happen more gradually?
It turned from a hobby into a full-on occupation when I got my first really big project about eight or nine years ago. At the time, I had two small children and a great office in the barn. It worked for me—I wanted to be there for my kids when they got off the bus. We have great design publications here, like Maine Home+Design, Decor Maine and Down East, and I was always in those magazines, and that was great. But I got this really big project on Mount Desert Island in Northeast Harbor and we ended up redoing the entire house. I got a full-time employee then, and I was really nine-to-five-ing it and then some. And then part of the house was in House Beautiful, and then it was published in New England Home. I did a tented ceiling there that blew up—everyone loved that one.
Do you look back and see before that was published and after that was published as different phases of your business?
It just exploded from there. I did another house after that for someone else, and that was also in House Beautiful. And when you get published in those larger publications, it really does put you on the map.
When did you realize you needed to start hiring?
I had part-time assistants, maybe three days a week, for the year or two before that job, but it was very part-time. I realize now that I should have done it sooner—I don't know why everyone does it later! I was trying to balance between my kids and—you know, we're a very active family. My husband owns a ski and snowboard company. We live in Maine, and we're always on the water. We travel a lot. We ski in the winter. I was just trying to keep a balance where I wasn't going to be at the office all the time. I didn't want to feel as responsible and miss spending time with my young family.
When you made that first full-time hire, what were you looking for someone to take off your plate?
When we do a full new build, we usually work with an architect; sometimes I'll bring in a kitchen designer, sometimes I won't. So I hired my first employee to get the drawings and renderings out to the millworker, to help me adjust the shop drawings, and to help with all of the electrical plans. She also helped with all of the orders, which is just a lot to follow up on. I also do a lot of custom furniture—I've always done that, all the way through—and I needed help keeping track of all the details. Like, which fill is going here? Which sofa needs to have the webbing replaced? Things like that. I actually wish I had hired two people just to get things moving a little bit faster.
Why two?
I've had two full-time employees for the last two or three years now—a project manager and an assistant interior designer—and then we always have an intern to run around picking up lamps.
My project manager is in charge of client communication. She goes into each project and does the finishing schedules, the floor plans, mockups and renderings, and she helps with millwork drawings. And then my assistant interior designer does all of our purchase orders. As I said, we do a lot of custom pieces, so she's really the PO girl. She'll also order in fabrics, keep our library organized, and make sure that all of our client baskets with all of their samples are up to date and help pack us all up and make sure we have everything we need for our meetings. She also does client communication too, which is important. We have a lot of houses where our clients are not there during the year, so it's a lot of scheduling and then making sure that the caretakers are there so the plumber can get in, or things like that.
What does your workload look like right now?
That's always like a tricky question, because you could have one really big project and that's plenty. Right now we have 14 projects at different stages.
How do you decide what you say yes to?
I have to love the house—I have to be able to connect with the space. And it has to be a good client connection too. Since the pandemic, my first conversation with clients now is definitely like, "There are times when I'm here to be the one that will deliver bad news to you." I always say that to them. I go, "Look, 85 percent of my job is managing orders, dealing with product and quality control." It's a lot more work to get things done, and some of the products just will not come in on time, and I'm going to be the one to help them come up with a solution.
I tell them that if the sofa we've been waiting on for seven months shows up and the delivery goes badly and something gets broken, we'll figure out a repair—but I warn them so much more now at the beginning of all of the things that could happen, just to be prepared. And if I'm finding that if a client isn't meeting me where I need them to communicate with me, we may not proceed after our first phase is done. Or I say to them, "Because you haven't been communicating with me, these things are not going to be complete."
What is it that you need from clients, communication-wise?
I do a lot of projects where I only see the client in the summertime, so it's important to have a weekly meeting—or a monthly meeting when things are not as busy—to stay on schedule. I call my schedule a school year: We meet with the clients in August and start doing the scheme work and the discovery process. By October 15, I want full commitment on everything we're ordering. By the time December 1 comes, we need to have all of our orders in—everything. And especially if I'm doing custom pieces, I need to have all of that approved well in advance. And whether they're moving on Memorial Day weekend or June 1, I definitely want things installed by May 15—or May 1, really. And then July is punch list month.
So often when I talk to designers, they say that the saving grace in their workflow is that projects are at different phases. It's staggered, so you're heavy on one project but light on another. But what I'm hearing from you is that yours are really happening in the same phase basically all at the same time. Is that correct?
That's absolutely correct. These are summer homes, so I have nine months to do it. It's a lot. But we also have other projects throughout the year for people living more locally or in Boston. I do work down in Palm Beach, and I'm working on a project out at the Yellowstone Club [in Montana].
How have you adapted to that "school year" cycle in terms of your creativity?
My favorite season here is the fall—it's so beautiful here in Maine—and so it works well that the real push for a lot of our projects is during that time. And then we place our orders, but we're still also designing furniture pieces and trims are coming in, which is still creative. After that is fabric and window treatments, and I do really thick and detailed window treatments—I always put a little flange edge at the top of my pleats and we'll have a tape on the leading edge. That's usually at the beginning of January. Plumbing and lighting is in January too. And then we get into pillows and any sort of leftover little things like ottomans and some antiques that we might find. So it is always creative, it's just in a different way throughout the year.
It's so interesting to think about pacing a job that way. Switching gears, though, can you tell me about the design scene in Maine and how that impacts the way you shop?
We have a lot of great resources here—tile stores, kitchen design studios. Portland has really taken off, so there's a pulse here, but it's not an out of control pulse. It's relaxed, but it's so creative. There's this more modern coastal cottage look—a great low-key Nantucket or Hamptons vibe—and then you've got the modern farmhouses and some very traditional design. My style is much more about brighter colors. I love to use a lot of trims. I have some clients who really like to keep things clean, which I can do, but they see the tear coming out of my eye because I can't use a cord on something. For those clients, we'll use pattern in a smaller way, on pillows instead of the headboard, or on a small chair instead of the two larger wingback chairs. There's a good balance here. And if you need to go somewhere, you can either drive down to Boston or the airport here is 25 minutes away.
You opened a studio recently. What was the idea behind that space?
Basically, my husband said, "If I see another FedEx box or fabric pull on our doorstep, I am going to have a heart attack." But, honestly, I wish I had done it a little bit sooner. I have this great window where I do a different design every month, and it's been a really fun way to connect to the community. People love the windows.
You're either going to hire an interior designer or you're not. If you're not the type that is going to, then you just love the window for what it is. It just makes everyone happy, you know? But then I've had people who love the window, go to my website and look at my work, and then reach out to me and say, "I love your window," and they want to work with me. Sometimes I just can't take their project, but I'll always refer them to someone else. I don't see this being a retail space—we've already filled it up with our offices—but we'll occasionally do a pop-up and it's a great space to entertain.
How have you approached billing for your work?
We bill hourly—it's $250 an hour for me, and then my employees are $75 and $125 an hour. Sometimes if it's the three of us working on something in the office, I'm just billing for my time. But if we're all on an install, we're billing for all of us.
Is there ever client pushback about the hourly billing?
Yes. There's always an Achilles heel for something. It could be our travel fee. Sometimes it's shipping and freight. And then when we do have larger meetings, sometimes clients are very particular about who is at the meeting and getting billed for who's there. There's always something they are sensitive to, but we work through that.
What is the biggest thing you wish you had known when you started your business?
The best advice I could give anyone is to have a bookkeeper. Beyond that, I'd tell myself to get my studio sooner, and not be afraid to hire more help sooner. If you're just starting out, take the leap to get whoever you need to work for you in line right away, because all it's going to do is help you to be organized, and help you live your life better in a personal way.
One thing that I know to do now with all of my installs is I always have a cleaning company on site. I hire them for the furniture install day, because we install a lot this time of year and there's pollen everywhere.
What does success look like for you?
Balance. Having balance with my projects, and in my studio, and at home with my family. These projects and these families become part of who you are, right? So there are all these different needs with your clients, and they become so important to you that it can feel just as important as your own family. You're really stepping into someone's personal bubble, and you have to be able to manage that for them. I really need to make sure that I have my clients covered so I can also be there for my family.
To learn more about Leandra Fremont-Smith, visit her website or find her on Instagram.