With design offices in Dallas, Seattle and Los Angeles, the duo behind Pulp Design Studios are now rolling out a new branch of their company: a real estate development arm dubbed Pulp Properties.
For the new venture, partners Beth Dotolo and Carolina Gentry are starting off with both commercial and residential projects, including a multi-unit commercial space in Dallas and an iconic Meiselman house in Palm Springs, which they plan to renovate and list on Airbnb as a shoppable vacation rental. "Financially, we were interested in creating long-term investments and diversifying our business," says Dotolo. "But we also wanted to be creative in new ways."
The commercial space in Dallas's Oak Cliff neighborhood will serve as Pulp's new Texas headquarters, while also housing several women-owned businesses, including a vintage store, a photography studio, an art gallery and a clothing retailer. "We've always wanted to own our office space," says Gentry. "And this space, which was perfect for us, kind of fell in our laps—we were approached by someone we knew. It's two buildings with four different suites in an up-and-coming neighborhood. We liked that we would be part of a community, and close to the Dallas Design District."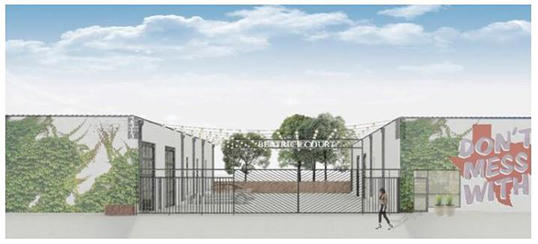 Courtesy of Perdue Realty

The pair recently began renovating their new office and hope to replicate this Dallas model in Seattle in the coming years, purchasing another multi-unit building where they can both have an office and attract local businesses. "We love the idea of being able to support creatives, especially fellow women-owned businesses," says Dotolo.
They view their residential property in Palm Springs, which they hope to finish renovating by early 2022, as an experiential hospitality venture and something of a design lab for their growing team. "Palm Springs is pretty central for us—just about a two-hour flight from both Seattle and Dallas, as well as a two-hour drive from our L.A. office," says Dotolo. "From a design standpoint, it's a fun place to flex your muscles. There's so much inspiration there and such a rich design history, when you think about midcentury modern and desert modernism. That sense of bold reinvention and exploration is why we chose Palm Springs for our first immersive hospitality experiment."
Gentry and Dotolo are working with a property manager in Palm Springs to get the rental off the ground and maintain the house. Their vision is to make the home easily shoppable for guests—so if they're drawn to, say, a specific pillow or candle in the house, a QR code would allow them to purchase it.
Dotolo says that she and Gentry are looking at the residential project as their own mini showhouse and are giving themselves creative free rein. "We obviously have to think through usability, because this is a rental. So, how will things wear through all that turnover? But outside of that, we're excited to just do what we want," she explains. "No one is living here full-time, so we can do what we like. So far, we're loving not being constrained."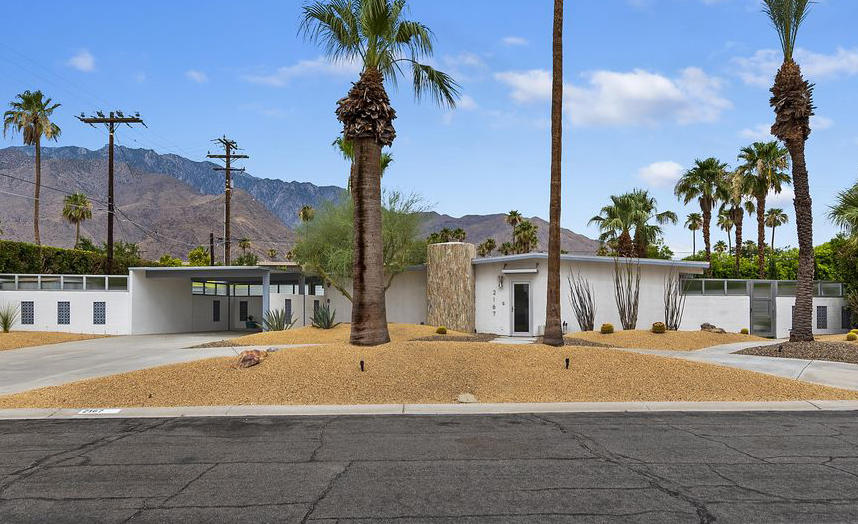 Courtesy of Pulp Properties
Because there isn't a traditional client, Gentry and Dotolo say that they've been able to give their design staff more ownership over the Palm Springs project, and they have let them take first passes at some of the design. "They're taking it just as seriously as they would for a regular client, but we are able to let them be more involved than they might be on our studio design projects," says Gentry.
The rental model they're testing in Palm Springs is ultimately what the pair see as the future of Pulp Properties: a collection of micro-branded vacation properties throughout the country, with an eye toward locations in the Southwest, Wyoming and New York City. "We like the idea that, even if people don't have the means to hire us, they can go to this Airbnb that we own and experience our work that way," says Gentry. "It's a chance for us to cater to a different audience, put our stamp on something and stay adaptable."
Homepage photo: Carolina Gentry (left) and Beth Dotolo at the site of their new commercial property in Dallas | Photo by Cody Ulrich