Late last year, Teddie Garrigan got a funny note in the mail. It was certified letter from Swedish bedding brand Hästens informing her that the Dallas shop she owned with her daughter Courtney, Coco & Dash, could be in serious trouble.
The letter laid out a somber accusation. Hästens, the official bedding supplier to Sweden's royal court, apparently had a legal claim to what it called a "blue check design"—essentially, blue buffalo checks. According to the note, Garrigan's shop was selling an item that infringed on its intellectual property.
That was news to Garrigan. Coco & Dash is a high-end retailer of home goods, offering up a mix of lighting, antiques, decor and few stray pieces of furniture—it doesn't sell mattresses, Hästen's signature product. However, the store did have one item in blue buffalo checks: a custom sofa Garrigan had commissioned as a playful nod to the pinkish-purple pattern Gloria Vanderbilt had deployed in her iconic home.
The piece, which retails for $13,500, isn't one of Coco & Dash's bestsellers. In fact, the Garrigans mainly installed it because it looked great in the shop (and popped on Instagram). Nonetheless, that single sofa was enough to attract the attention of Hästens, which demanded that Coco & Dash not only stop selling the item, but "provide a full accounting of all products sold bearing the Hästens Check Designs." Should the Garrigans refuse to comply, the letter warned of dire consequences. If the case went to litigation and the court found that Coco & Dash had willfully produced a "counterfeit," damages could range up to $2 million.
In essence: Hästens was threatening to sue a small store in Texas, potentially for millions of dollars, over a single sofa. Of course, for the lawsuit to work, the Swedish brand would have to prove that it had a legal right to the exclusive use of the pattern. The company was, in effect, saying it owned blue checks. Does it?
There's no way to know how many purveyors of blue checkered upholstery have received a threatening note from Hästens. The company did not return a request for comment on this article, and there is no public database that collects cease and desist letters. But this is not the first time Hästens has pursued legal action over the pattern.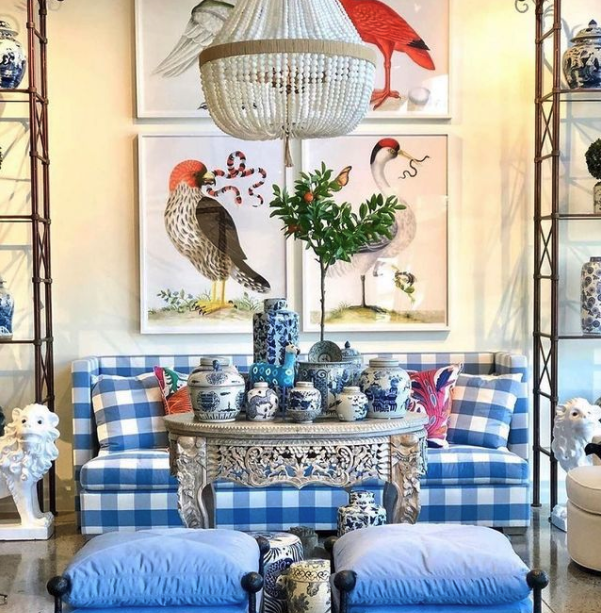 In 2017, the brand brought a lawsuit against California-based mattress brand Kluft alleging that its trademark had been infringed. The offending product was a line of mattresses that featured the telltale blue check pattern on its sides. Hästens cried foul and the two companies went to court, though the case was settled before it reached a trial. (Kluft did not respond to a request for comment.)
The lawsuit with Kluft hinged on Hästens's legal ownership of blue checks as a trademark—a notion that might cause the casual observer to scoff. But given that Kluft and Hästens are both makers of high-end mattresses, the case was not absurd on its face. However, in 2020, the Swedish brand went to court again, this time against Texas home goods retailer Caitlin Wilson. (In a strange coincidence, Wilson's brick-and-mortar shop is down the street from Coco & Dash.) The offending items Hästens used to headline its lawsuit? A blue pillow and a roll of fabric.
Wilson fought back in court, arguing that blue gingham originated in the 17th century, 200 years before Hästens was founded. Furthermore, it had been used as everything from the material for Dorothy's costume in The Wizard of Oz to Marianne's dress on Gilligan's Island—to say nothing of the hundreds of other retailers who were producing the pattern as bedspreads and pajamas. Still, the lawsuit progressed through the court system, and eventually settled before reaching a trial.
Underpinning these lawsuits is a surprising truth: Hästens does, in fact, have several trademarks related to blue buffalo plaid. The company has successfully filed with the U.S. government to claim ownership of at least 11 registrations for a checkered pattern.
A typical example: U.S. Registration Number 3,813,053 is for a pattern of blue, white and gray squares on "furniture, including beds, bedsteads and bedroom furniture; mattresses, spring mattresses, pillows and down pillows … and woven textiles, namely, sheets, towels, bed blankets … bedspreads, bed linen, bed clothes, including blankets and pillows cases."
Hästens, it seems, had done its homework.
A quick refresher course on intellectual property law: In simple terms, copyright protects creative works, and trademark protects branding. The lyrics to "Be Our Guest" from Beauty and the Beast? They're copyrighted. Disney's logo? That's a trademark. (When Hästens applied for a copyright on its favorite variation of blue checks, the application was rejected.)
Trademarks are supposed to protect specific brands and labels. The idea that a pattern as common as blue checks could be considered a defensible trademark struck several experts consulted by Business of Home as strange.
"It's crazy to me that someone could register a trademark as something as generic as a blue check pattern for something like clothing or bedding," says attorney David Adler, an expert in intellectual property law in the design industry. "The pattern has been used for centuries. I'm shocked that they could get [the trademark] to begin with."
Christopher Sprigman, an attorney and NYU professor who studies how intellectual property law can have harmful anticompetitive effects, was more blunt. "This seems insane," he says. "Every time someone makes a blue gingham napkin, they're going to get a cease and desist? It's ridiculous."
That Hästens was able to successfully register such a broad trademark is perplexing. Using it to pursue lawsuits against small retailers like Coco & Dash, on the other hand, makes a kind of cutthroat sense.
Once a brand has obtained trademark rights, it has what's called an "affirmative duty" to defend it—that is, scour the marketplace for alleged copycats and pressure them to back off. Given that hundreds if not thousands of brands offer textiles and upholstery in a blue check pattern, Hästens has its pick of targets. And if the primary goal is to rack up settlements to bolster your trademark, what makes more sense—pursuing legal action against a large, well-funded company like Serena & Lily (which, like many others, sells blue checkered bedding), or a small Dallas home goods shop?
"I think what Hästens wants to do is get decisions or settlements that stretch the ambit of their trademark rights, so that when they go up against some of the bigger people who can afford to fight them toe to toe, they can say: Look, we've gotten settlements—we've gotten people to stop making a gingham couch!" says Sprigman. "[Companies] start with beating up on the little guy, and then showing pictures of the little guy you beat up to the bigger guy. It's the way it works."
"Trademark law is a weapon for bullying," he adds. "That's often what it amounts to."
All of that brings us back to Coco & Dash and the Garrigans. Though she's a lifelong design aficionado, Teddie Garrigan herself is a relative newcomer to the home industry. Her early career was in politics and crisis management, she then spent time in the Middle East, working with companies trying to establish business operations in a complex environment. All of that to say, Garrigan is no stranger to conflict. When she received the letter from Hästens, her first instinct was to fight back.
"We were stunned," she says. "But my first response didn't come from fear. I've been adamant about this since the moment we got the letter: It makes no sense … Courtney and I are going to fight this."
Though it's a small retail operation, Coco & Dash isn't entirely defenseless. Garrigan's husband, Daniel Garrigan, owns a Dallas law firm that has represented the store's legal interests. In response to the letter, Garrigan's office filed a lawsuit in federal court asking for a declaratory judgment against Hästens—essentially requesting a preemptive ruling that no infringement had occurred and that the Swedish brand's trademarks themselves are invalid.
Though her attorney is in the family, Garrigan says that the lawsuit will cost Coco & Dash significantly. The store will be paying for a process server in Sweden to serve the Hästens corporate office with the lawsuit, and will pay for attorney fees as the case continues. If it drags on, the costs will stack up—to say nothing of what would happen if Coco & Dash loses at trial.
Such considerations are often what prevent smaller companies from fighting back against trademark threats, no matter how strongly they may feel in the right. "Here's the advice they typically get from their lawyer: We could fight this. Chances are we might even win. But it may take a quarter of a million dollars," Sprigman explains. "You might get attorney's fees reimbursed, but you probably won't because the Lanham Act [the section of U.S. law concerning trademark infringement] says you only get that covered in exceptional cases. That's the reality."
Garrigan says she's driven to pursue the case partially on purely moral grounds—"I've always hated bullies," she says—but also with the greater good of the industry in mind. "We talk all the time about supporting the design and home furnishings industry. We can't say that and then tuck tail and run when we get threatened with something that might cost some money," she says. "A lot of people have focused on this one sofa, but this is a big issue for the whole industry … if they can go after us, they can go after other small retailers. What's to stop them from going after designers?"
Legal experts are inclined to agree. Adler says that aggressive enforcement of copyrights and trademarks has gotten increasingly common in recent years, a phenomenon that's at least partially a byproduct of COVID. "The last two years, e-commerce went from being hot to completely on fire. That's pushed people to be aggressive in defending their brands," he says. "There's a lot more stuff going [up] on Instagram, Facebook and TikTok, [and] if you're a legitimate brand owner, it becomes difficult to police. But in this case, it just seems weird to me. Again, I'm surprised [Hästens] was able to get the trademark in the first place."
The broader effect on both the home furnishings industry, and eventually the consumer, says Sprigman, could be damaging. "Does Hastens really want to clear the market out of people making gingham couches? Is that really what they want? If so, that's insane," says Sprigman. "No one should be able to grant that right—it's a terribly damaging right to grant. It's anti-competitive and anti-consumer."
"I've got a blue gingham dress shirt," he jokes. "I wonder if I'm getting a cease and desist?"
Homepage photo: Courtesy of Coco & Dash