Last month, office furniture giant Herman Miller unveiled a new retail concept: A handful of small, targeted locations that give customers a chance to try out the brand's signature task chairs in person. Clocking in at just 1,500 square feet—about the size of a Starbucks—the stores will be focused entirely on seating. Ergonomic experts will be on-hand to help find a posture-friendly fit. For the COVID-wary, there are one-on-one video appointments available.
All of the above fits neatly into the present moment—brands shifting to experiential retail, an intense focus on the home office, and pandemic era-flexibility. In other words, Herman Miller's new stores themselves are not shocking. Where they're located, on the other hand, may come as a surprise. One might assume that the natural location for such a concept would be near other furniture brands or home goods stores. Not so.
"We're looking to position the brand next to other brands that speak to people who care about their physical performance or the performance of the products that they're using," says Debbie Propst, president of retail at Herman Miller, who has overseen the opening of the first two locations in New York and Los Angeles. "In Hudson Yards we're next to [men's activewear brand] Rhone, for example. We're looking for adjacencies like Lululemon."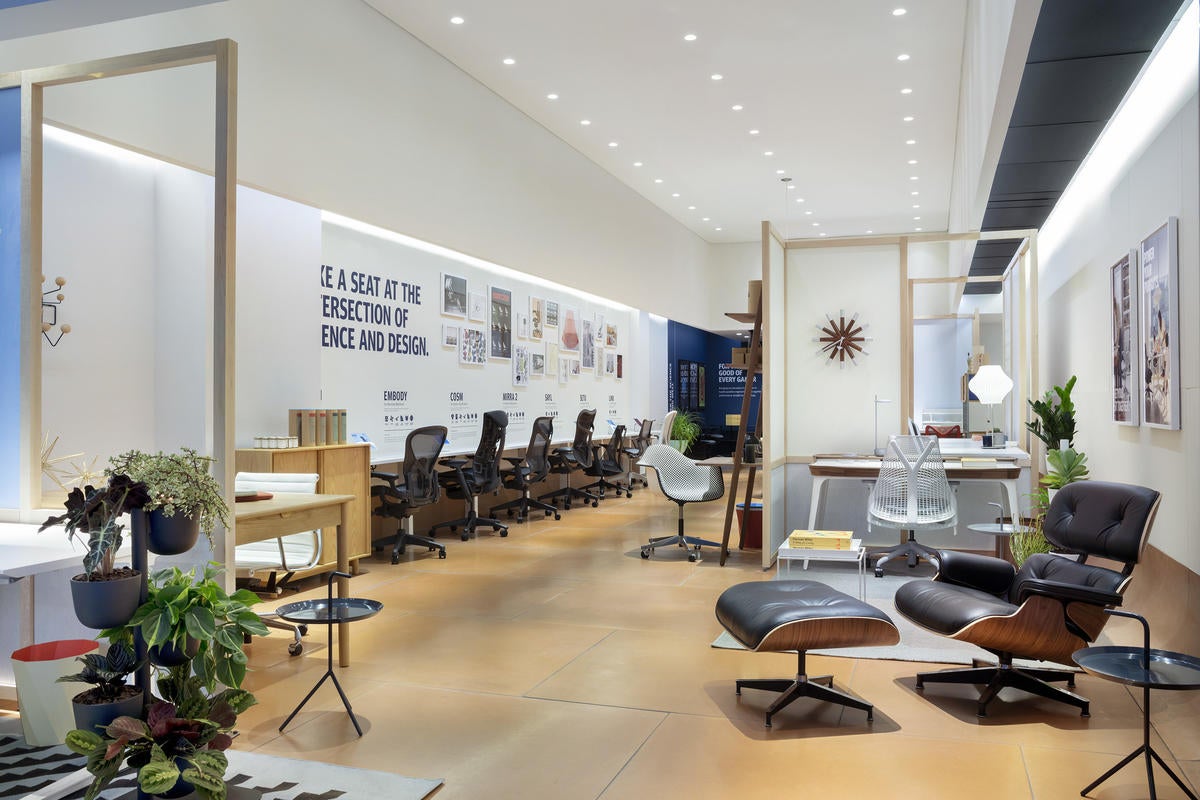 Courtesy of Herman Miller
Selling task chairs next to athletic gear is only a small part of a bigger strategic shift Propst has been navigating since starting at the company in January. Her bigger-picture goal is to get Herman Miller to learn a new language. The company has long had a strong voice in the world of commercial design. The problem, says Propst, is that it had been using the same approach to reach out to the average consumer.
"We've gone to market with a business-to-business vernacular in the past, where we've focused on materiality, construction and features of the chair. The big shift with this particular go-to-market strategy is that it's really focusing on the consumer benefits of the chair—health, wellness and productivity," she says. "In the same way that the mattress category has gone to market focused on the benefits of a great night's sleep, we're taking that approach with our seating [by focusing on how] having great posture while you work lowers your resting heart rate, lowers stress levels, improves your cognitive output."
That change was already in the works in January, and the company had already been betting on a shift to an increase in working from home. Of course, they didn't expect it to come quite so fast, or for the reasons it did. Like in so many other industries, COVID has sped things up—a lot.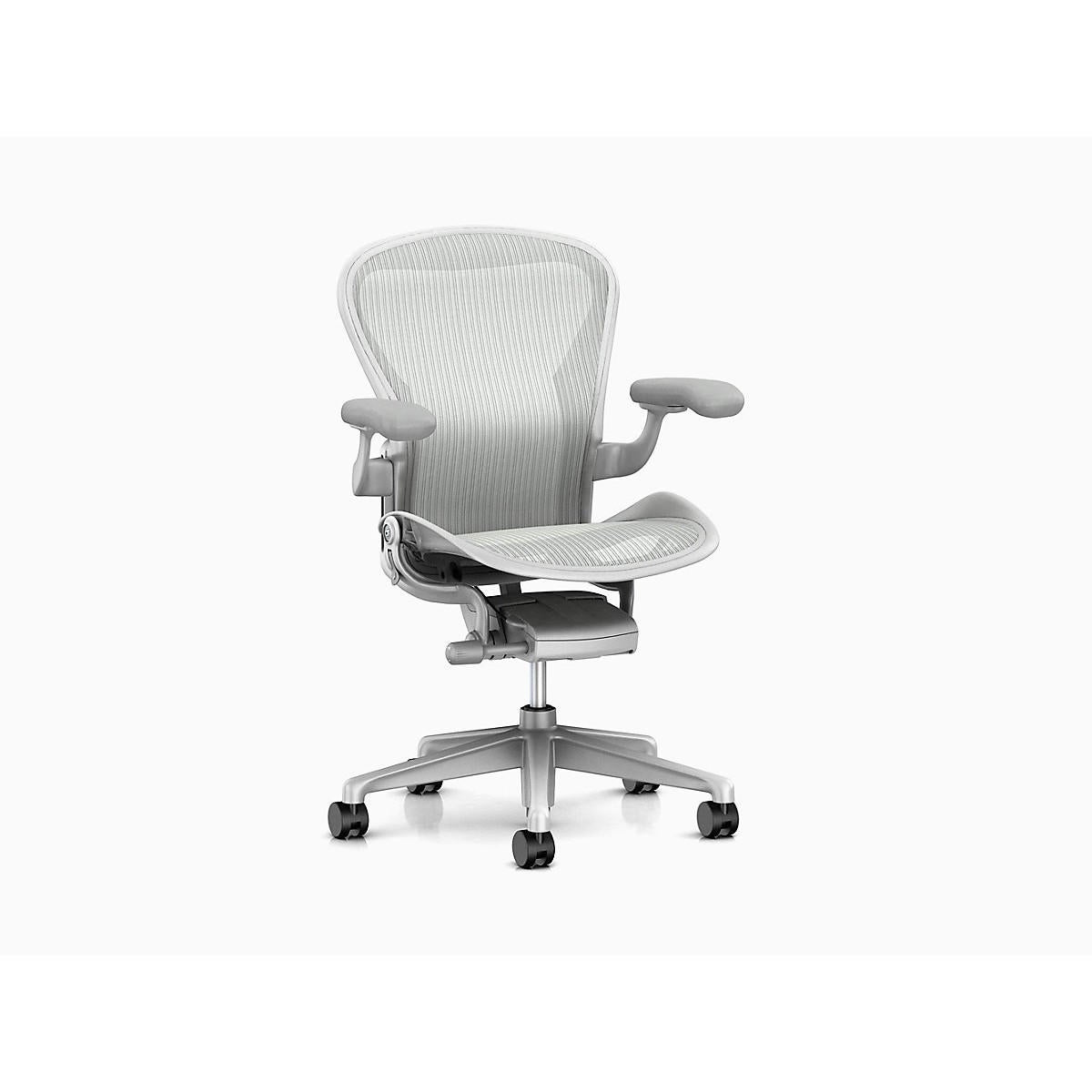 In the race to make its seating a home office must-have, Herman Miller has plenty of advantages. The company's Aeron chair has long enjoyed a reputation as both an ergonomic marvel and a kind of status symbol. It is found in recording studios, hip design agencies, and executive boardrooms the world over. (Funnily enough, it was also the chair of choice for this year's vice presidential debate.) On name recognition alone, Herman Miller is certainly well-positioned to appeal to homeowners. A record-breaking summer, with retail sales up nearly 300 percent over 2019, was proof of that.
But there are challenges, as well. Herman Miller's performance chairs are not cheap—the Aeron retails for around $1,000 in its base configuration, and other models extend up to $1,500 or more. That price tag places the company's selection beyond the market for late-night impulse buys. Combine that with a good deal of consumer apprehension around buying office furniture, and the need for an in-person sit test becomes clear.
"Our chairs are an investment, and if you're investing $1,500, people will value a chance to try it out in person," says Propst. "For most of us, an ergonomic specialist or a procurement team at the companies we work for made the decision about what we're going to sit on for 40 to 50 hours a week. [During COVID] is often the first time customers are buying our product themselves, and it's not territory they're necessarily as comfortable in."
The new stores—and Herman Miller's bigger strategic push—are generally aimed at consumers, but Propst says that the company has residential designers in mind as well. There are a surprising number of customization options available for such a performance-oriented product, including designer-friendly materials options like Maharam wool. Plus, she points out, designers these days are increasingly tasked to address wellness-related issues as much as they are aesthetics.
Whether pitched to customers or designers, however, Propst says that the new retail concepts and the bigger strategy they serve is here to stay long after the effects of COVID-19 subside. "We believe that there's tenure beyond the pandemic in this product category and the positioning we're going after," she says. "The consumer today cares more than they ever have about personal wellbeing, and articulating the benefits of having great posture and 'getting your sit together' is going to be valid beyond the current increase in demand."
Homepage photo: Herman Miller's new retail concept in Los Angeles | Courtesy of Herman Miller