Something I've come to understand: When industry insiders gossip about what's right or wrong with the state of shelter media, they're often reacting to the most recent celebrity on the cover of Architectural Digest. (Here's a cheat sheet: A Kardashian—it's bad. Anyone else—it's getting better.) Point being, we tend to take the temperature of design publishing based on a handful of well-known magazines, or the digital disruptors threatening to dethrone them.
Lost in that conversation are newspapers. It's too bad, because the big national papers are quietly doing some of the best design coverage around. Though The New York Times canceled its home section in 2015, it continues to sneak smart design stories into its pages; in T Magazine, it offers up stylish indulgence that could compete with anything from a glossy shelter title. But in conversations I've had recently, the paper that seems to come up again and again for its home content is a little bit of a surprise: The Wall Street Journal.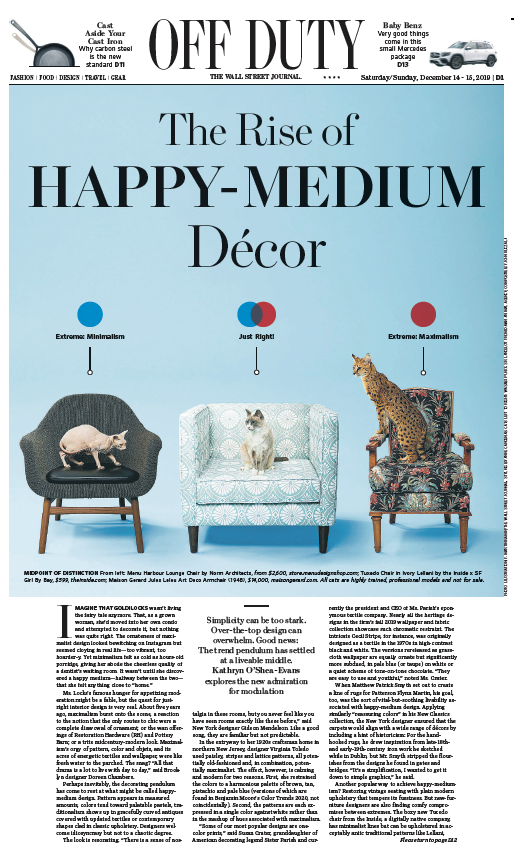 The Journal does design in a few different ways. In its regular coverage, it will often tackle complex home-related subjects with a nuanced eye—last year's story on the bittersweet surge in business for Black designers in the wake of the George Floyd protests was a particularly strong example. However, the Journal's shelter content is mostly anchored around its weekend style section, Off Duty. There, the paper runs witty, idea-driven home stories defined by a compelling mix of indulgence and irreverence—the hallmark of a great Off Duty design story is that you want to read it as much as you want to savor the pictures.
For that reason, writers love it—when they can place a story. Design writer Kathryn O'Shea-Evans told me that it's a tough pitch. "It's incredibly hard to get a story approved there," she says. "Everything has to be beautiful, yes, but also has to be full of design lessons and something the average person could do. It can't be about unachievable megawatt architecture."
Designers love it, too, though for a different reason. Marika Meyer, a Washington, D.C.–based designer who has been featured in Off Duty, says that appearing in the Journal has a unique cache and has gotten her work. "People expect me to be in the shelter magazines," she says. "But they're reading the Journal in their everyday life—to have me invade their business reading, it takes on a different level of importance and significance, and I'm amazed by the texts and emails that come in. [For my father], it definitely has legitimized what I do."
To find out more about why America's financial paper of record is so invested in interior design, BOH spoke with Catherine Romano, the design and decorating editor of Off Duty.
Tell me a little about your background.
I've been in publishing for a long time—mostly in women's service magazines and men's magazines like Details and Maxim. [Off Duty editor] Dale [Hrabi] and I helped launch Maxim.
One of the reasons I think Dale hired me [at Off Duty] is that I have a strong service background and a strong editing background. But I was new to the interior design beat. I'm still learning about interior design—I didn't have any previous experience in it.
This is a little off-topic, but what were the early days of Maxim like? Wasn't it a little snarkier when it first started?
It was irreverent. It wasn't snarky. There's a distinction there—it was the mid-'90s, and snark was all around us. In the U.K., the lad magazines had overtaken the women's service magazines, which was a big deal. There were no lad magazines in the U.S., but Men's Health had made a little incursion into being more relatable and more mass-market than Esquire and GQ.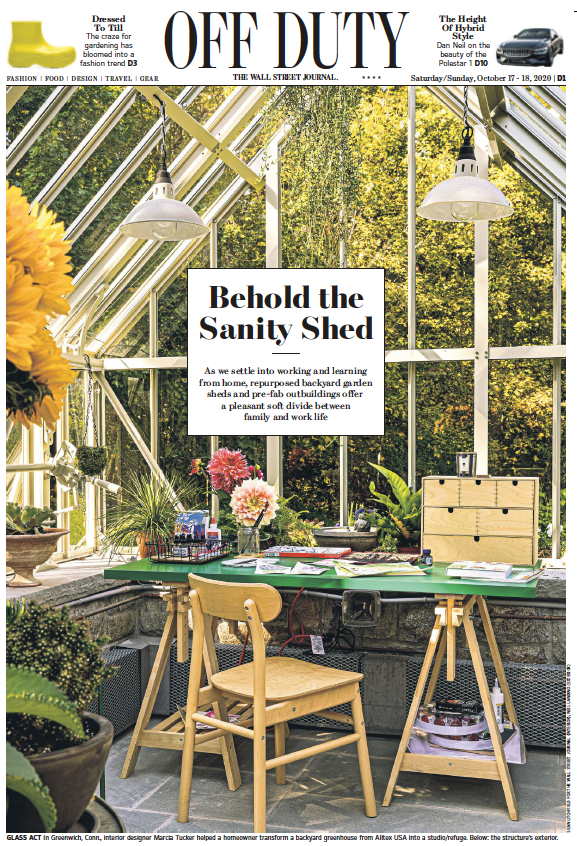 [Men's magazines] were quite rarefied, even Details. ... It didn't speak to the firemen. The conventional wisdom in the U.S. was that those guys don't read. Dale was working for Felix Dennis, who was the publisher of Maxim. I was, at the time, the executive editor of Cosmo. They wanted to know whether it was viable to launch Maxim in the U.S. I wrote this memo [saying it was]. The timing was actually perfect. Maxim came in, and then a year later, all the other lad magazines came in.
Right. I remember there was an explosion.
It was a wide-open hole in the market. It was like being on a rocket ship.
It launched while I was in high school, and I remember my girlfriend at the time was obsessed with Maxim. She was probably not the intended target audience, but it indicated that the magazine was in the culture.
Yeah. But also because, despite the male hetero thing, in terms of its approach to everything, it was really—
It was funny.
Yeah. It was really the same mashup that we have here, getting back to Off Duty. It has the same somewhat irreverent tone. We make sure that we sound like we know what we're talking about, but we don't want to sound like we take everything—or ourselves—too seriously. There'll be a reference to a technical design term like passementerie squished up against a reference to the Flintstones. It leavens it a little bit, so it's more relatable and accessible and fun.
Completely.
That was one reason I think Dale hired me—he knew I could get that voice. But the other reason that he hired me, I think, is that Off Duty is a service journalism section. We come at every idea asking ourselves, "What is the reader going to get out of it that they can apply to their lives?" That's one of the reasons we cover very little architecture, because so few of our readers are in the middle of planning to build a house. We would rather give them information that they can apply to their lives in the next week.
Before you got there, what was your perception of the shelter media world? Did you read any of the big-name design magazines?
I didn't immerse myself in them very much. I read them when they were around. I don't know that there was anything quite like what we are doing. There was certainly service stuff and there was certainly the other end of the spectrum ... about what was beautiful and now. But I think we filled a hole in the market. There's room for all of those things in the market. But I think that Off Duty was different.
Strategically, why do you think The Wall Street Journal is interested in doing home and design coverage?
To broaden the readership and subscriptions to more women and younger people. Also, one of the things about our coverage is although it's aspirational, it's not so aspirational that it makes people feel excluded and just turn the page.
What have some of your big hits been?
One of the biggest successes was when I first started running the Michelle Slatalla column, A Matter of Life and Decor. She wrote a column [in April 2018] about really despising kitchen islands, which got a big response out of people. Michelle argued that it made a kitchen look like a sports bar. It was a really successful story.
During my tenure, what has dissipated are the super clean lines, minimalist modern decor—and it's given rise to maximalism. Now the pendulum, of course, is swinging into the middle. I lined up a story about maximalism that did very well, and a story about color returning to the kitchen that did quite well, and color returning to the bathroom, because most of those spaces had started to have a very white, clinical look to them.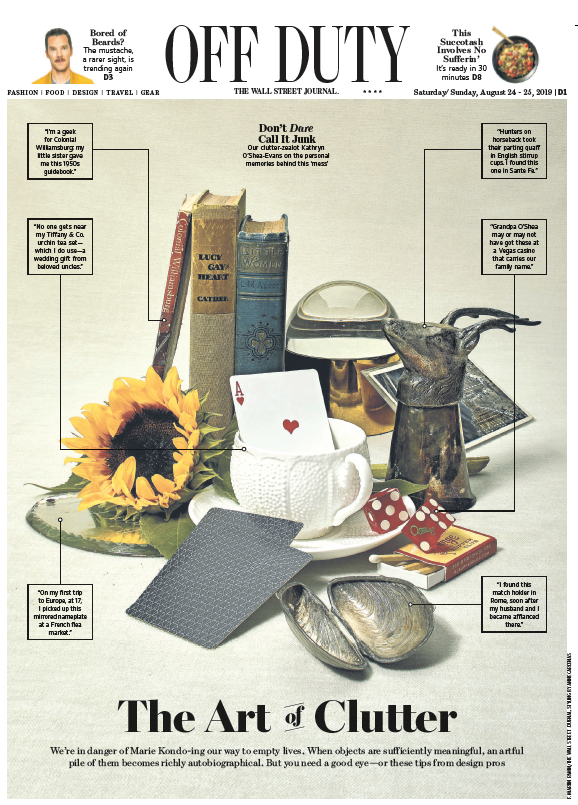 What's your philosophy on making an article about a home more than just "This is beautiful"?
We try to find the theme, the strategy, the goal that [the designer] was looking to achieve. A while ago [we wrote about] a beautiful little New York apartment that managed to look like a palace. The goal was to make a small apartment look large, which was a successful article because everybody wants to do that. The analysis of each room looked at what they did in that room to achieve that goal. Those stories naturally have a better spine and narrative to them than—it makes them good stories.
There's pressure from Dale and myself to not repeat the same old advice we've heard over and over again. Also, I think one of the things that makes the coverage good is that I didn't start out in the design world. I ask the questions that my reader would probably ask: "What do you mean?" or "Why did you do that?" or "Why does that work?"
I asked one of your writers why the section was so good, and one of the things she brought up was the fact that because it's a newspaper, there's a stronger sense of journalistic integrity than at shelter magazines, where there's often pressure to sneak advertisers in, and writers can accept freebies. Do you think that makes a difference for coverage?
That's a super important aspect of our coverage. It's very much independent and journalistic. Nobody at the Journal can accept gifts over $25. Nobody can take you out to dinner. Even the appearance of a conflict of interest is anathema. We are pretty strict about that. I think it makes better coverage.
I think about this a lot, because the culture of the shelter world is that people just send you presents without asking. Does that ever come up?
We've got a whole system for it. We can't accept gifts, because we have to send them back—we've got a form letter that goes back. Logistically, it's a pain in the neck, but it can be done and it has to be done. We have a fairly large standards department full of lawyers and journalists. You just don't do it. Even our writers' contract indicates that writers cannot have accepted junkets or gifts in the process of writing stories for other publications.
I imagine it being difficult to find people who aren't part of that system on some level.
I've had writers say, "I'm not in a position in my career right now to be able to do that"—to be able to refuse those things and write for us. It is difficult, on that level, to find writers who are really honest. I mean, it's very hard for us, of course, to find out whether they're actually accepting gifts. But it's in our contract. It's in the letter that we send out. We do everything we can.
Do you feel like it really makes a tangible difference to have these standards for a world that is kind of fluffy and lifestyle-y in terms of its coverage?
Well, I mean, I don't know if you'd call it fluffy. I mean, it's The Wall Street Journal doing lifestyle. It's part of maintaining credibility across the board. It can't be that all of the folks covering hard news are super conscientious and diligent and then the features people are completely on the take.
What are some things that you want to do in the months and years ahead?
As we gradually shift toward things being delivered digitally, it actually requires more art, more photography. I'm looking forward to being able to be more thorough. The print page is wonderful. I still love print. But it's much more limited than online. I look forward to being able to expand the visual coverage, to be able to show more before-and-afters, or the progress of things that you just can't fill up a page with.
Process stuff and multimedia can be incredible online.
That is the sort of thing that I'm looking forward to, making it experientially fascinating. Delivering the same service, but doing it in ways that are really fun.
Homepage photo: ©Sean K/Adobe Stock