In January, Annie Selke broke the news on the Business of Home podcast that her suite of companies—including Pine Cone Hill and Dash & Albert—would be offering free shipping to wholesale partners. The program, a rarity in business-to-business transactions, was part of an effort to build stronger relationships with brick-and-mortar sellers that the company sees as its core customers. Now, Annie Selke Company is taking another big step in that direction, drastically scaling back its own online promotions and breaking up with any e-commerce partners who refused to follow suit, including Houzz, Neiman Marcus and Horchow.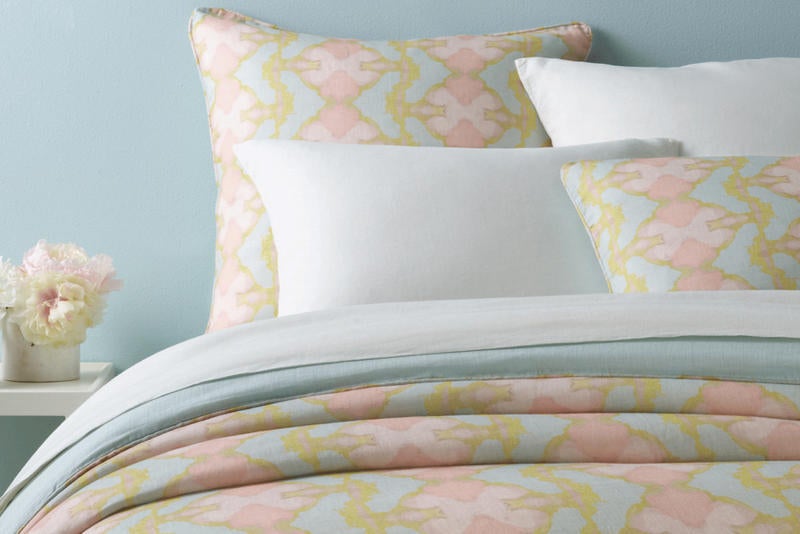 The change is effective immediately, but internal discussions have been percolating for some time. Like many manufacturers, Annie Selke has explored a variety of partnerships to take advantage of the e-commerce boom, but in recent years the company's leadership started to see online ubiquity as a net negative. "Once you really started to look, you could find our products on sale online at any point during the year," Kevin McDaniel, vice president of business development, tells BOH. "One retailer had our products on sale 65 percent of the time." The constant promotions were dragging down the brand's aspirational image and—more importantly—they were causing Annie Selke's brick-and-mortar partners to get showroomed.
"We have been shopped on occasion," says Cody Ables, CEO of multi-line to-the-trade showroom Codarus, referring to the practice of customers finding promotional prices online, while in a shop. He carries Annie Selke products in all five Codarus locations (his traveling reps sell the brand as well), and has worked with the company for 13 years. "The great thing about Annie Selke is that she listens to traveling reps and brick-and-mortar showrooms. She heard us, and listened to the kinds of challenges that we were facing."
The solution to those challenges was simple, but risky: Reset Annie Selke's entire online presence. To start, the company decided to radically scale back the promotions it offers through its own e-commerce platform. "It will at least be cut in half this year," says Monica Cleveland, chief marketing officer. "We want it to be a special thing when we're on promotion." The next step was trickier: making the brand's own promotions consistent across all platforms. That led to some tough conversations.

A lot of our partners said no, and that's fine. They were surprised when we did, in fact, end the relationship and walk away.
—Kevin McDaniel, VP, business development, Annie Selke
"We made it very clear that we're going to dictate when our products can be on promotion, and that everyone else can have them at that same price during those times and only those times," says McDaniel. "A lot of our partners said no, and that's fine. They were surprised when we did, in fact, end the relationship and walk away." According to the company, the new terms led to the severance of the majority of their e-commerce partnerships.
McDaniel acknowledges the risk inherent to such a move, but says the decision was made on principle. "Revenue was not part of the equation through the majority of the discussions," he says. "This is really about supporting our partners who helped grow this company." For many companies, such talk might come across as puffery. Annie Selke, however, is known for its strong culture (this is a place where employees receive two weeks off and a $3,000 bonus at 10 years of employment, in order to have what Selke calls "life-affirming experiences") and close, long-term relationships with business partners. It's the kind of place where ethics-first decision making is hardly a rarity.
This is not to say that finances played no role in the conversation. McDaniel acknowledges that Annie Selke will "take a short-term hit" but says the shift will pay off in the long run. "We think we will come out ahead," he says. "We'll have a much higher retention and growth rate with our wholesale partners … to be able to come to them and say you're not going to be in competition with anybody online—the feedback we've already been getting has been amazing."
Ables concurs. "Brick-and-mortar locations will absolutely love this," he says. "We've already seen an uptick in sales. And I think this will cause others to make Annie Selke their go-to source for rugs and textiles. There's a lot of competition for that category, and this will make the choice easy."

Not every company is as strongly positioned to walk away from the Houzzes and Amazons of the world.
Annie Selke hasn't completely wiped the digital slate clean. It will still be working with a number of online retailers who agreed to the new promotional terms, including Nordstrom and Wayfair (the brand will likely move over to Wayfair's upscale platform, Perigold, in the near future). The company is also currently in negotiations with One Kings Lane. And of course, Annie Selke will still conduct business through its own e-commerce platform, where it offers free shipping (and a trade discount) to designer customers as well as wholesalers.
Indeed, the company sees designers, its fastest-growing base of customers, as another crucial audience for its new e-commerce strategy. "The feedback from the interior design community echoed what we were hearing from brick-and-mortar customers," says Cleveland. "If their clients can find certain things online at discounted values, that undercuts them." Both she and McDaniel are betting a move toward across-the-board price consistency will be a deciding factor for designers who have long been fans of the product.
As for what this shift means for the oft-discussed future of retail, it's too early to say. Not every company is as strongly positioned to walk away from the Houzzes and Amazons of the world, and the move may not yield the results Annie Selke is hoping for. This could be a tipping point toward a new e-commerce model for high-end home goods, or it could be the exception that proves the rule. For the time being however, retailers and designers with disruption fatigue are applauding.
"This is a big deal," says Ables. "It levels the playing field."