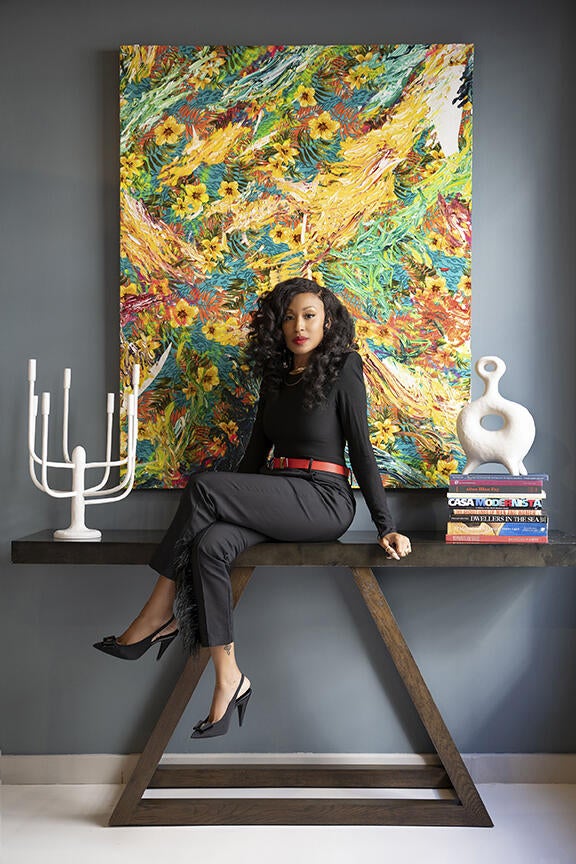 Courtesy of NeKeia McSwain
Imagine: "Champagne is flowing. Business is taking place—the intertwining of old money and new, of wisdom, wealth and celebrity. Off in one corner, Rihanna holds a meeting. Her kids are at home, of course—there's no daycare at the cigar lounge, though we do have a few private rooms in case any of the clientele want to make out away from prying eyes. The elevator doors open, and I enter wearing a floor-length, ostrich feather–festooned black gown. By now, I've lost those last five pounds, so the dress is perfection on me, I'm really feeling snatched. I thank everyone for coming out to celebrate the opening night of my members-only club; thank the cover band for the jazz standards. Rihanna takes the stage. She performs a song, then announces to the crowd that she'll be partnering with me to open a similar venue soon in another part of the world. I'm thinking Paris."
In describing this vision, NeKeia McSwain sets the scene for a seductive and ultraluxe champagne-and-cigar lounge—located, she says, maybe in Manhattan, maybe in Cape Town. It's a space the Denver-based interior designer gamely imagined using samples supplied by Material Bank. From gold-studded ceiling tiles to ornate crown molding, fur-upholstered wingback chairs to burgundy marble flooring, free samples for every single product she sourced arrived in one convenient box from the platform, which offers industry pros access to thousands of brands across every design category.
"Material Bank is the ultimate innovator," says McSwain, who was introduced to the service through her association with Black Interior Designers Network. By consolidating so many products in one easy-to-search platform, then providing samples overnight, Material Bank solves two common business problems with one box: "Before, when I had to visit different showrooms, the challenges were finding the time and confirming availability," she says. "When you're in a crunch and can get memos in hand the next day to compare colors and textures, you realize how truly important Material Bank is."
Discovery is another plus. "A good 80 percent of the choices I made for my champagne-and-cigar lounge are brands that are new to me," says McSwain. "Because I browse by product, it's quite serendipitous. I'll have a vision in mind, and knowing that I need leather for a chair, for example, I'll sit and filter leathers until the perfect one pops out at me. Then it's on to stone. Before you know it, I've got an amazing combination of materials that fit perfectly together to complete a project—as well as an awareness of all these different brands." Aside from the fantasy lounge she manifested for Business of Home, she's currently sourcing from Material Bank for a real-life custom build in Atlanta.
Below, McSwain talks through each sample in her Material Bank box, explaining her selections of rich red hues and plush, touchable textiles that set the tone of the lounge. She envisions it as the ultimate immersive escape, an exclusive yet chill club where guests can relax and indulge: "Delicious food, top-tier champagne and cigars, vibey music: All the luxuries of life are served on a silver platter." Best of all, you're on the guest list. "Just hop a flight, first-class Emirates to Cape Town," says McSwain. "I can't wait to welcome you there."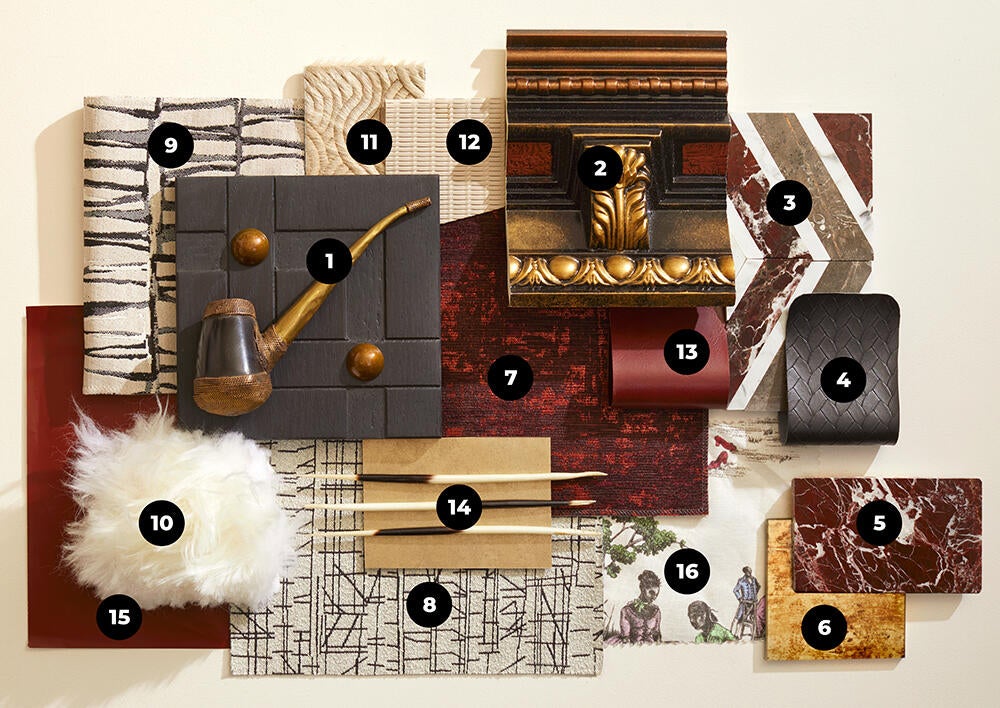 Courtesy of Material Bank
1. Jamie Beckwith Nailed It Noir with Matte Gold Nailhead Wood Tile
"When walking into a space, I look up. We're always looking down—at the floor, at our feet, at our phones. We need more reasons to look up. I wanted paneling that would be striking as well as subtle enough to suggest the idea of nobility. This carved wood tile has a clean but detailed feel—enhanced by the embedded matte gold nail heads. Can't you just imagine it overhead? The black-and-gold hand-made pipe is a memento from my travels in South Africa."
2. FAD Hand-Painted Crown Molding in Antique Bronze/Olympic Gold/Antique Copper
"Regal AF. Transitioning from the amazing noir wood ceiling panels with the nail heads, the metallics in this molding create a true 'crown.' The colors tie in to the Sheila Bridges's toile on the windows, and the fact that it's hand-painted makes it even more of a must-have. Pure wow."
3. Tilebar Mezzo Bordeaux marble mosaic tile
"The majority of the wallcovering, beneath the black faux leather, is this mesmerizing geometric mosaic tile, made from Russo, Saint Laurent and Calacatta marbles. The depth of color, the bordeaux paired with white and gray, picks up on so many of the other elements in the room. I love layering textures and prints. Since the ceiling and the top section of the wall are both dark, solid colors, it's time for me to bring pattern into play."
4. Anzea Plastic Basket Bogus Bushel wallcovering
"For just the uppermost portion of the walls, this faux woven leather will serve as the background for light fixtures and framed artwork. I'll incorporate leather-fringed, brass-framed sconces, pendants and chandeliers from my collection with Ngala Trading Co. to elevate the space to a whole new level of sexy. Whether it's the oxblood red or classic black, the colors work perfectly."
5. Artistic Tile Breccia Vino stone flooring
"This wine-colored marble tile with white veining extends the color palette introduced by the Mezzo Bordeaux mosaic tile on the walls to the flooring. So luscious."
6. Sicis Vetrite in Boheme Brown
"Long seamless slabs of this tempered, satin-finished glass cover the countertops and islands, with tiles of it wrapping their bases. It somehow magically supplies the lightness and reflectivity found in glass but also the depth of its nuanced amber-brown color."
7. Momentum Textiles Grandeur UPH in Sangria
"In lieu of traditional upholstered backing for the banquettes, bolsters in this plush velvet fabric will be attached to the wall by two wide leather straps, one on each side. It's inspired by trends I've seen on my travels, in both kitchens and nightclubs, and it's a good way to incorporate additional product into a scheme. Mounted bolsters offer cushioning and support without diminishing the impact or obstructing the view of the bordeaux mosaic tile the way a whole banquette block would. They let me keep the stone surround consistent throughout the entire space."
8. & 9. Bernhardt Random in Chalk and Brentano Raku in Smoke
"These two materials pair well together for banquette seating without overwhelming the space because they're from the same color family. The Bernhardt Random zigzag pattern introduces some movement beneath the bolsters. As for the Brentano Raku, it's right there in the colorway name—Smoke. Clearly a fabric destined for a cigar lounge! This pattern mimics the crackled surface and rough brushstrokes of traditional Japanese pottery, but the look is quite avant-garde and abstract. It's also a Sunbrella performance textile, so it can stand up to all the excitement."
10. Moore & Giles Auckland sheepskin hide in Ivory
"This longhaired sheepskin is awesome to upholster the huge, freestanding wingback chairs I picture in front of a ceiling-dropped fireplace where two guests are deep in conversation. Not ideal if you fall asleep with a lit cigar in hand! But for the aesthetic, and the feel, it's really cool. The epitome of lush, it offers a soft counterpoint to the leather that's everywhere else. Let's also use it on the chaises in the private rooms."
11. & 12. Foglizzo Luce Rutabaga leather upholstery and Foglizzo Veneziana Perforated Leather in Ivory Sand
"On the exterior of the barstools, the custom laser-engraved Luce haired hide displays a sinuous pattern. For the interior backing of the stools, the stamped nubuck of Veneziana gives the impression of being woven like a miniature Venetian blind. Together, they make such an interesting complement to the sheepskin wingbacks and add to the overall tactility of the environment. Leather, hide, fur: I'm bringing in natural materials everywhere!"
13. Silver State El Dorado in Wine
"A great solid oxblood for the ottomans."
14. Moz Designs Skinz Aged Gold decorative metal
"For the shelving behind the bar area, Moz Designs' Skinz decorative aluminum sheeting provides the perfect gilded support for champagne bottles and other liqueurs. So good, so rich, so golden. The porcupine quills are organic decorative objects, also from my time in South Africa."
15. Benjamin Moore Cottage Red
"Fabulous lacquered walls in this rich Benjamin Moore red, decorated by artwork in ornately carved frames similar to the crown molding, line the entries and passageways leading to restrooms and other private areas."
16. Harlem Toile de Jouy in Multi White via The Shade Store
"Shelia Bridges's iconic pattern is now part of the permanent wallpaper collection of the Cooper Hewitt Museum and has been exhibited all over the world. It more than deserves a place in my champagne lounge. I'd use it as a windowcovering: triple-fold-pleated, floor-to-ceiling stationary panels. Sheer, to filter in ambient light from the moon, adding to the illumination along with candles, the fireplace and the soft glow from my fringed leather pendants and sconces. Toile de Jouy exists in many different colorways, but the lighter base of Multi White pairs with the creams of the mosaic wall tile and seating fabrics while still featuring notes of blue, pink and green that are all its own. I'm picturing huge bubble windows with simple black framing that double as doors, pivoting open onto the patio and views of the city. Cheers!"
This story is a paid promotion and was created in partnership with Material Bank.