When the geography no longer fits the name, well ... change the name. At least sort of, anyway.
Nebraska Furniture Mart, the home furnishings retailer with just four stores—but four very ginormous stores—is rolling out a new branding initiative that adds the "NFM" initials to its full name. The move, first seen in the group's store in suburban Dallas this fall, makes sense—especially given the fact that three-quarters of its locations are outside the state of Nebraska.
Founded in 1937 by Russian immigrant Rose Blumkin in Omaha, Nebraska, the company gradually grew from its original footprint to a store of giant proportions—more than 450,000 square feet at last count. The retailer eventually caught the eye of Omaha neighbor Warren Buffett, who bought the store from Mrs. B, as Blumkin was known, in 1983. (The $60 million acquisition was a handshake deal: "We did not get an audit. We did not look at the property records. I just said, 'Mrs. B, do you owe any money?' and she says 'no,' and that was it," said Buffett at the time.) While Mrs. B's descendants continued to run the operation (her grandson, Irv Blumkin, is the current CEO), Berkshire Hathaway's checkbook allowed it to expand to additional locations in Des Moines, Kansas City and Dallas between 2001 and 2015.

The moves raised the question of how to market the Nebraska brand to out-of-state shoppers. While the full name has adorned these stores, the retailer has now added the NFM logo. "The last time the company had a new logo was 20 years ago," Nora Gomez, chief merchandising officer, told the Dallas Morning News last month. "What does Nebraska mean to Texans anyway?"
But don't look for the Nebraska name to go away anytime soon, NFM's community and public relations manager Andy Shefsky told Furniture Today. "We've been phasing in that new logo in conjunction with our existing logo," he said, adding that the branding is part of a company-wide "NFM" rollout and that there were no immediate plans to replace the existing store name in Texas or any other markets. "We're not doing away with our existing logo in any immediate future. We're really testing to see how people receive it."
But what shoppers across the chain will also see is a new private-label furniture and accessories program under the 37B brand that targets millennials. While the retailer has done house-branded programs before, this is its first widespread, cross-category collection that includes dozens of products from furniture to home decor to electronics and housewares.
Named as an homage to Mrs. B and the year the store was founded, 37B is clearly focused on the new generation of shoppers. Like many furniture retailers, NFM believed it was lacking in offerings for this demographic. "We weren't addressing the millennials, who are now 36 percent of home buyers," said Gomez. The program is geared toward shoppers who look to retailers like Target, West Elm and Living Spaces, "but don't want to shop where mom and dad shop."
NFM is one of four regional furniture operations owned by Berkshire Hathaway; the others are Jordan's in New England, Star in Texas, and R.C. Willey, which is based in Utah. Last month, Berkshire disclosed in a regulatory filing that it had invested $211 million in another home retailer, RH—a significant vote of confidence in the company, but one that made it only a small shareholder. Relative to the size of Berkshire Hathaway's home furnishings group, its stake in RH represents a miniscule portion of its overall portfolio.
But one can look at the NFM branding initiative as a possible sign that there's more to come from this operation. The retailer has been quite prudent in its expansion efforts. While it has not announced any new locations, it could be getting near to another addition—it's been five years since its store in Dallas opened.
Whatever the name over the front door—Nebraska Furniture Mart, NFM or some variation of the two—any new store would be massive, with the potential to do as much as $1 billion a year in sales once it gets up to full speed. And as when New York City's fabled 47th Street Photo moved to 45th Street decades ago, or Kentucky Fried Chicken ventured far beyond its home-state borders, the name over the front door is ultimately much less important than what's inside.
____________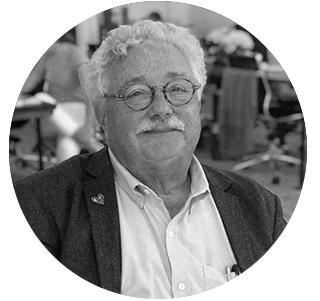 Warren Shoulberg is the former editor in chief for several leading B2B publications. He has been a guest lecturer at the Columbia University Graduate School of Business; received honors from the International Furnishings and Design Association and the Fashion Institute of Technology; and been cited by The Wall Street Journal, The New York Times, The Washington Post, CNN and other media as a leading industry expert. He was also a guest on the BOH podcast, and his Retail Watch columns offer deep industry insights on major markets and product categories.
Homepage photo: NFM's 37B collection | Courtesy of Nebraska Furniture Mart