Did you attend last month's Collective Design fair? If you did, you might have jumped into artist Alex Schweder's expansive, ad hoc installation featuring Alcantara, a soft microfiber that evokes suede. Titled "Davenport Yawn," that art project is the latest in a series developed by the Alcantara brand, which has also worked with MAXXI in Rome, Palazzo Reale in Milan, Aurora Museum and K11 in Shanghai, Victoria and Albert Museum in London, Petersen Automotive Museum in Los Angeles, and Teatro Regio in Turin.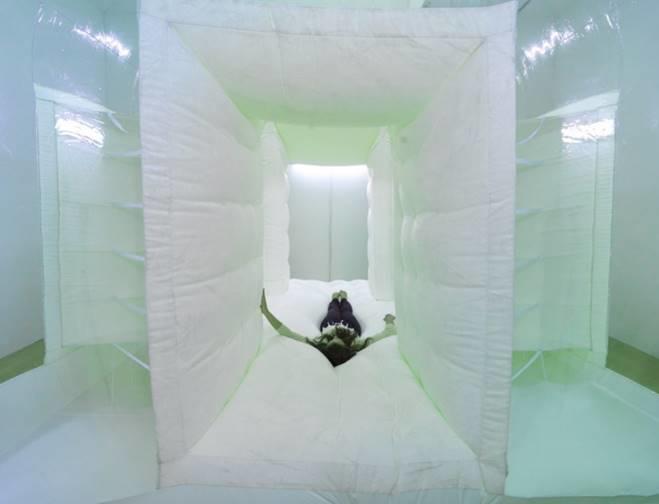 Explains Schweder, "This artwork offers the gift of respite to fairgoers. Two at a time, each reclines on a furry, sofa-like form. Shortly after their heads hit the pillows, air begins to fill the soft, suede-like surface they walked upon to reach the center. Sparkling Alcantara continues to engorge; the sofas and their supine guests slowly rotate toward each other. Full now, the inflated forms have turned the backs of the sofas to form a momentary bed where strangers face one another intimately. Exhaling begets the end of this short closeness. Rotating in silence, returning to two, this room's shimmering yawn beckons two more into its embrace."
Following the installation, Alcantara chairman Andrea Boragno talked with EAL about why he's making a greater push into the home market.
You've worked with big names like Minotti, Ligne Roset, Dimore Studio, Leolux and Cappellini. How did those relationships come about?
We have an established relationship with the major clients from interior design, since we are able to feature everyday life products with extreme customization and cutting-edge solutions. In particular with the mentioned brands, we developed together iconic projects during the past Milan Design Week. ... We have already been working with other prestigious partners for 2018, but we cannot reveal their names for now!
We also have an established relationship with the design community worldwide, since Alcantara has become an integral part of the creative process of artists and designers around the world. For them, Alcantara represents a source of inspiration and a way to fully express their creativity, returned to Alcantara through new ideas and tailor-made solutions. Today, the global design community fully understands the potential of Alcantara and its ability to constantly reinvent itself. This mutual contamination of ideas is one of the keystones of [the company's] competitive strategy.
Tell us about your expansion into the home market. Why is this the right space?
The U.S. market currently accounts for 16.4 percent of Alcantara's global sales. The company's net sales have risen from €64.3 million [approx. $79.1 million] in 2009 to €187.2 million [$230.6 million] in 2016. Operating profits ... increased from €7.9 million [$9.7 million] to €45.1 million [$55.6 million] during the same period.
More and more companies are turning to Alcantara for its functional, emotional and technological qualities, and its strong commitment to sustainability. The growing lifestyle appeal of Alcantara is one of the reasons why we have announced a five-year investment program totaling €300 million [approx. $369.5 million] in order to double the company's overall production capacity.
What is on the horizon for 2018?
We are facing an increasing market demand, from fashion to automotive and consumer electronics. Our global partners well know they can count on Alcantara's commitment to increase its brand awareness worldwide, to globalization, to research and development, and above all to sustainability, which is an important driver of our competitive strategy.
The company has been extremely successful in increasing the market demand in the last years. ... [The] five-year investment program ... will be implemented in 2019. For 2018, we will have a production capacity nearly saturated.