When a new social media platform kicks off—spawning its own class of influencers, trends and viral content—it is almost guaranteed that brands looking to capitalize on the new audience will soon flock to the site as well. Since it caught fire during the early days of the pandemic, TikTok has become the nexus of all things new in online conversations. Have any home brands tapped into that firestorm yet?
According to a recent study from internet marketing service Hey Discount, certain home brands have descended on TikTok—and some have harnessed the platform's power better than others. Ikea tops the chart as the number-one most-loved homewares brand—at 5.6 billion views, the Swedish retailer soars above the next most popular brand, Anthropolgie, which has 111.4 million. Behind that, West Elm has netted 67.1 million, Wayfair has 58.6 million, and Zara Home is at 31.5 million—followed by brands Society6, Next, H&M Home, Not on the High Street, and Marks and Spencer.
Each retailer's TikTok video content varies, but many tend to favor instructional elements—a few months ago, the platform extended its maximum video length to 10 minutes, which has further opened up possibilities for detailed DIY content. Ikea, for example, features videos on how to make a mobile meal prep station, a standout centerpiece and a DIY movie screen, while West Elm offers how-tos on propagating plants and creating a living room/dining room combination space. Other popular content forms include behind-the-scenes tidbits—things like Ikea's playful interview with Ingka Group CEO Jesper Brodin or a tour of unique design features at Anthropologie's headquarters—along with celebrity room tours and creator partnerships, such as West Elm's video collaborations with botanical influencer @PlantKween.
From a practical perspective, major retail brands would be remiss to write the platform off as a passing social media craze—the hashtag #TikTokMadeMeBuyIt has been viewed more than 17 billion times on the platform, with a stream of viral products regularly converting to sold-out sales.
Seizing on emerging online spaces has always been a no-brainer for Natalie Ebel, co-founder of New York DTC paint brand Backdrop—but figuring out how to best engage audiences on platforms like TikTok is another story due to the unpredictability of the site's algorithm. The site had been on Ebel's radar since its founding in 2014 as Music.ly (before rebranding as TikTok in 2018), when it gained popularity for short-form lip-syncing videos and its use of trending sounds. The designer was exposed to the platform after a 14-year-old family friend gave her a tutorial during a Thanksgiving get-together. "I was like, 'Teach me, I want to learn, let's do this together,'" says Ebel. "And then I was like, 'Oh, this is a real thing, I really need to put my head down and get into this.'"
For the digitally native brand, Ebel says social media is where their core audience dwells: Backdrop's consumer base is already savvy to online shopping—50 percent of customers buy the paint without sampling the color first. After watching TikTok grow in popularity and observing the kind of content that took off, Ebel narrowed in on a few areas of success: Videos that were fun and playful are a safe bet for anyone; for brands and creators, in particular, the platform is an opportunity to showcase products and "real" people who buy and style them.
"I have an in-between skin color, and I can never find the right foundation shades or lipstick shades, so I would always go to tagged content on beauty feeds or look at real people, because you don't want to see Photoshopped swatches," says Ebel. "I think that's the same for paint. People want to see real people using it in a real space."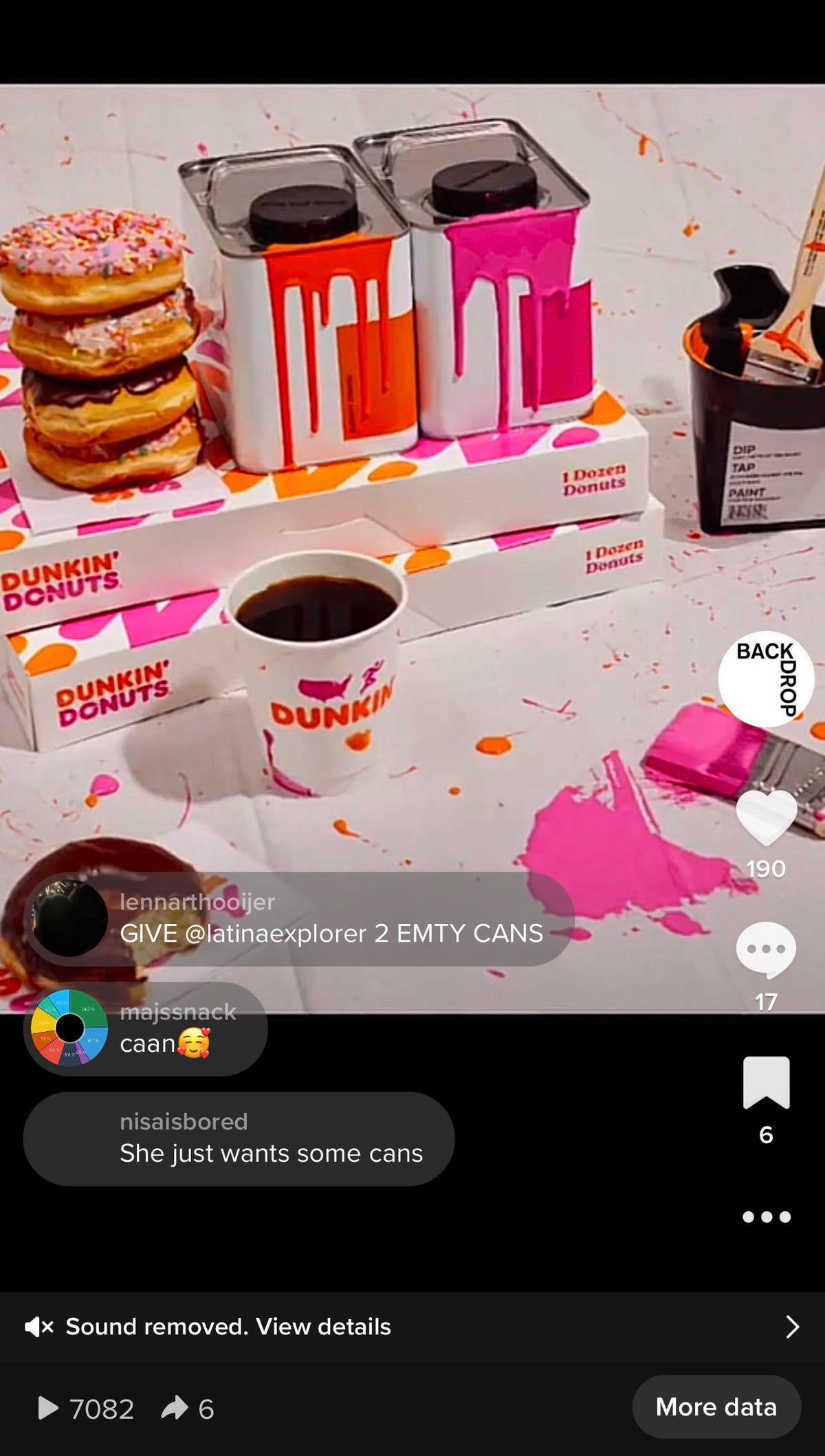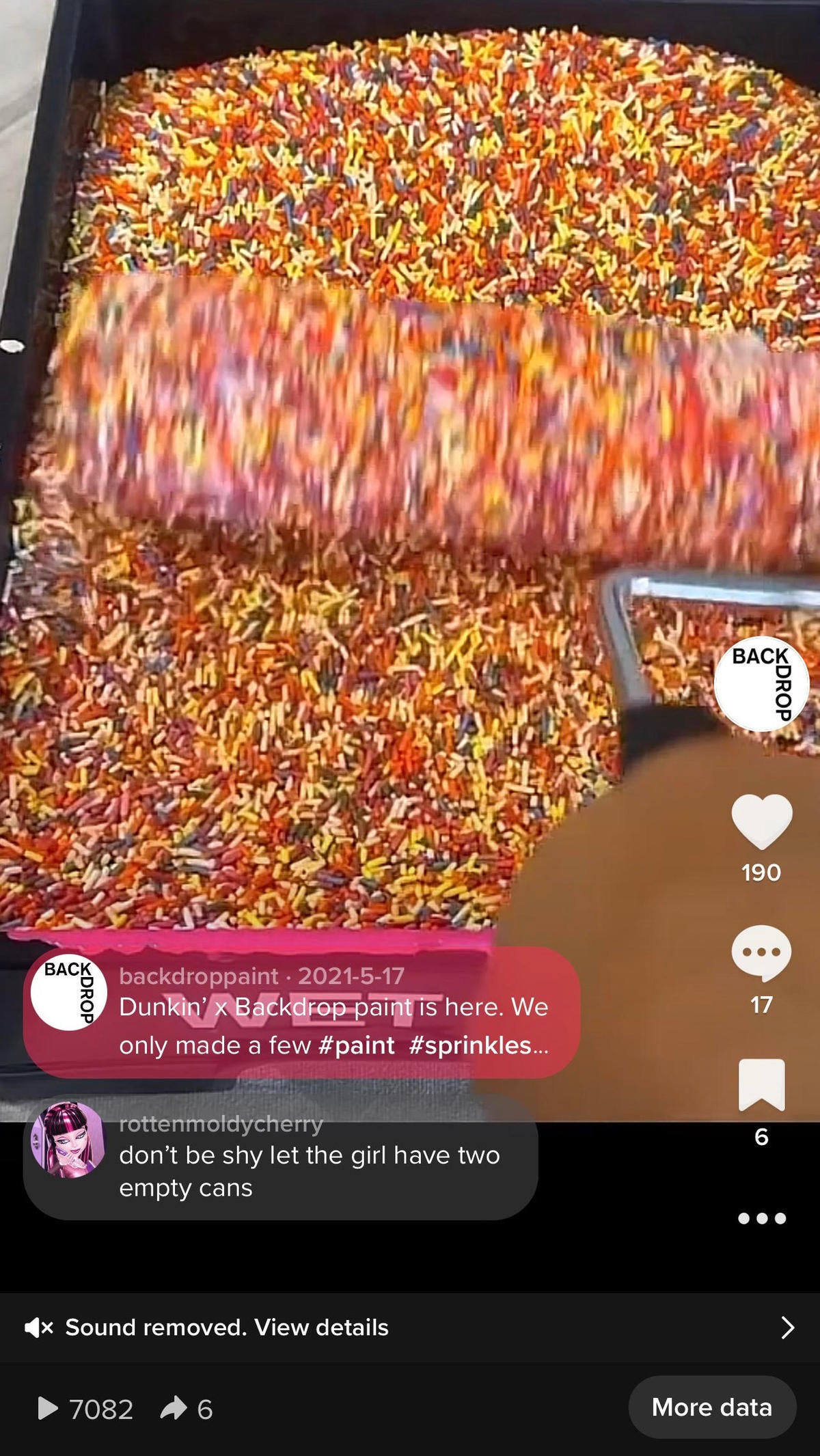 Last year, Backdrop launched its account with a video showcasing its collaboration with Dunkin. The clip shows a paint roller with the capsule collection's vibrant pink hue rolling over a tray of multi-colored sprinkles—at more than 7,000 views, it is still Backdrop's most viral piece of content. Beyond showcasing the company's playful side, Ebel says Backdrop focuses on engaging with the home-centric community on TikTok by partnering with creators like interior design influencer Julian Thomas (@marfastewart) and reposting users' videos featuring the brand's products—content opportunities that allow Backdrop to trickle down to relevant users and potential consumers.
When it comes to trade brands, the TikTok space is a little quieter—though some companies are beginning to join the platform with growing success. Kravet has been dipping its toes into TikTok, with chief marketing officer Kim Fasting-Berg noticing that brand awareness on the platform began with other industries and has since made its way into home. "When TikTok started, the beauty, fashion, food and travel industries found a natural entry point," says Fasting-Berg. "With the emphasis on home in the last 30 months, the interior design industry is now hitting its stride."
As more designers flocked to the platform, Kravet found itself being tagged in organic content on a regular basis. With the company investing more in its video strategy, the team plans to develop more unique content across TikTok and its various social media platforms, along with supporting brand partners as they share their own stories. "While a lot of content we're seeing now is primarily DIY, we see a lot of room to work with and support our designers to tell their stories, surface the incredible projects they've created using our products and expand education around the design trade industry for consumers," says Fasting-Berg.
For interior designer Annie Elliott—whose own TikTok account has amassed 33,800 followers and 363,000 likes since launching in April 2021—it makes sense that trade brands have ventured more slowly onto the platform. For design professionals like her, new product information typically comes directly from the brand in the form of email newsletters and presentations or at events like High Point Market. While retailers like West Elm can speak directly to end consumers through TikTok, trade brands may be there for the same reason Elliott is—to expand brand awareness, engage with users and have fun. "TikTok is not the resource for me that I think it is for people who are not in the industry," she says.
Elliott began posting on TikTok at the behest of the social media consultancy she hired last year—initially, with the purpose of growing her numbers on Instagram, which she thought should be top of mind among her competitive set. Instead, she has found fast popularity on TikTok for her lighthearted mix of quick-hit videos, including "Design Challenge" quizzes and product spotting for set designs from TV shows like Inventing Anna and Only Murders in the Building. "When I see my daughter's thumbs scrolling through TikTok, I'm like, 'Oh, my God, you have like a second to make an impact,'" says Elliott.
Beyond trying to engage users, Elliott has not found it useful to labor over how to master the platform through intensive or long-term social media strategy. It is a sentiment Ebel echoes—for brands that want to do well on fast-moving, trend-focused platforms like TikTok, diving in headfirst may be the best bet.
"The narrative with any social media platform is you just have to do it. A lot of brands overthink it—try to put together a strategy, use an agency, have all these analytics," says Ebel. "You kind of have to jump in because I don't think there is a formula yet. Everyone is figuring it out."
Homepage image: From Backdrop's collaboration with Dunkin | Courtesy of Backdrop