In our series, What I Love, we're asking designers to build us a mood board of what's inspiring them right now.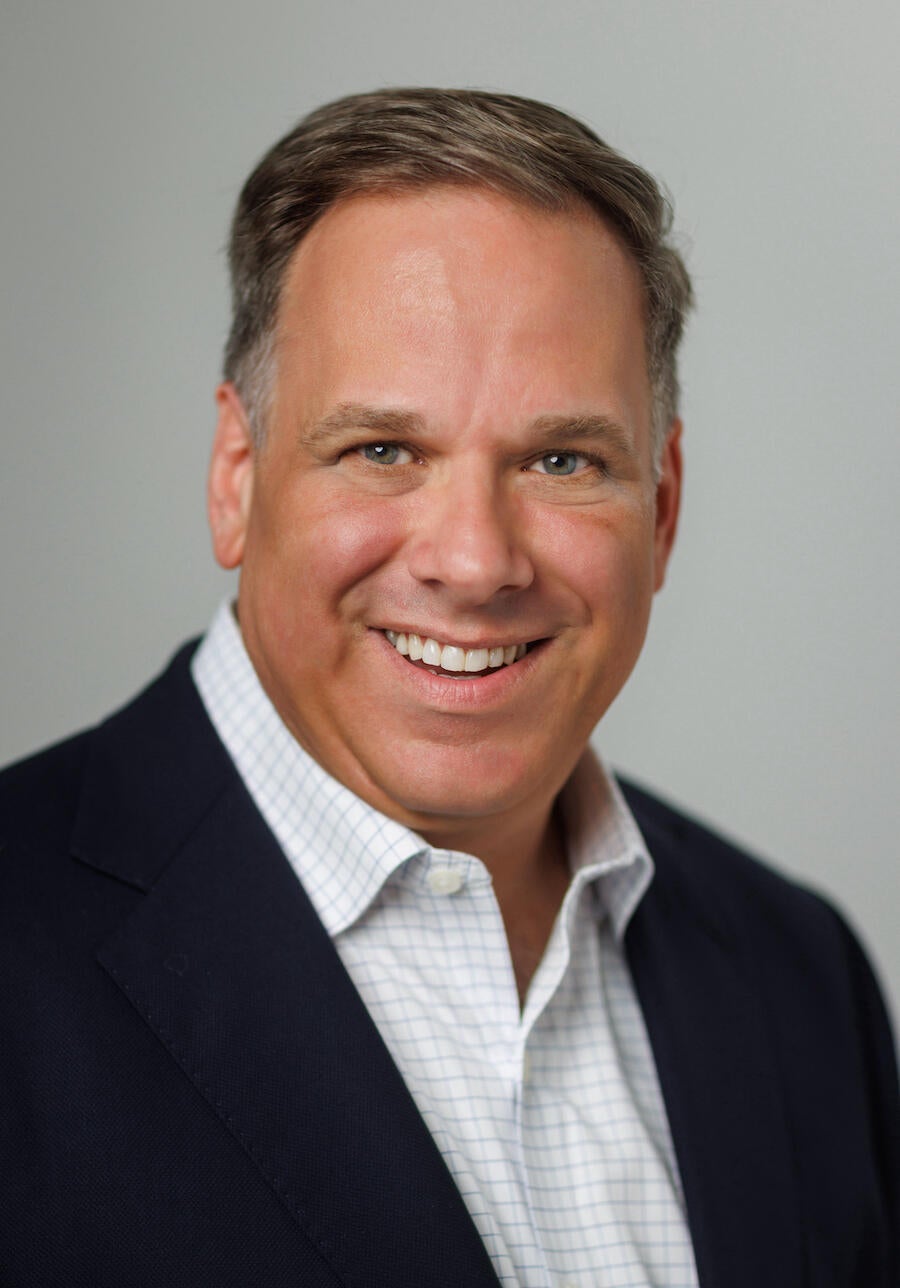 John Cialone doesn't shy away from color. The Chicago-based vice president of Tom Stringer Design Partners prefers bold saturated hues over soft, muted shades. "Growing up in tropical South Florida and being the son of a farmer, I am inspired by the rich colors of water, foliage and citrus," he tells Business of Home.
His current mood board is no exception. Brimming with vibrant blues, lush greens and bright oranges, Cialone employs a mix of simple patterns and natural materials that allow the colors in the palette to shine. "I gravitate toward clean lines and handcrafted pieces," he says.
An assortment of playful prints infuse the design with pops of levity, while a sumptuous range of touchable textures in neutral tones help balance out the scheme. "Like South Florida, the mood of my flat lay is joyful and sophisticated with a sense of casualness," says Cialone. Here, he breaks down the details—from botanical epingle upholstery swatches to leather cabinet pulls.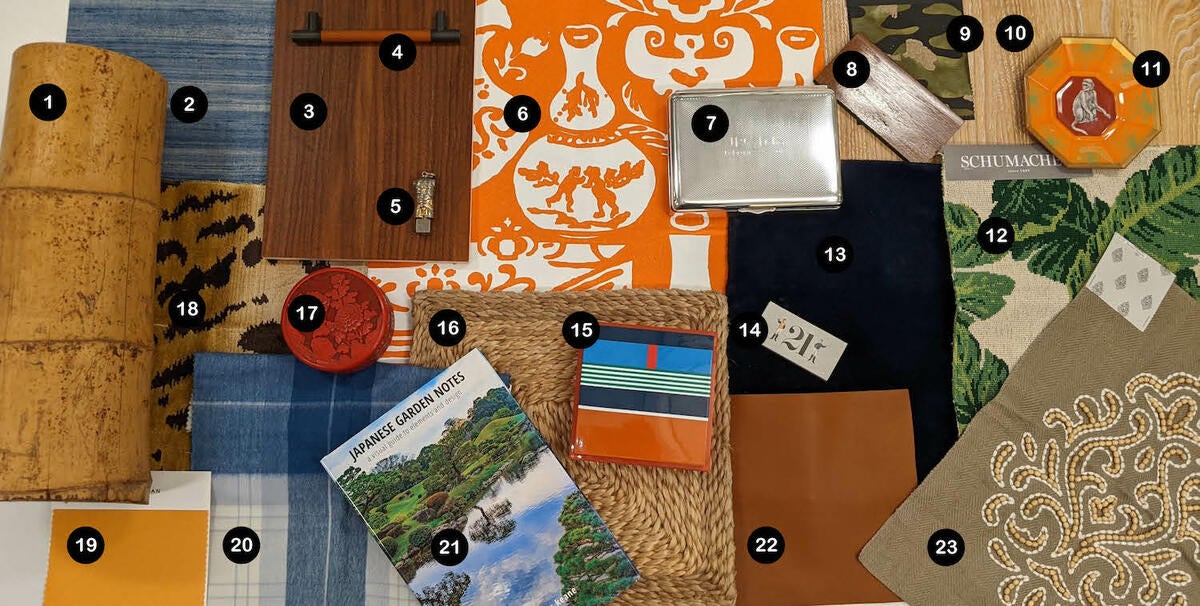 Courtesy of Tom Stringer Design Partners
1. VINTAGE BAMBOO TRUNK
"My family farm grew bamboo in Delray Beach, Florida, and I use this preserved trunk as a vase for orchids in my house."
2. WILD SILK WALLPAPER IN BLUE BY THIBAUT
"Both practical and beautiful, this faux silk is a vinyl wallcovering from Thibaut. Its texture makes it very hard to tell it's vinyl, and the color of blue is both light and dark."
3. CUSTOM SAPELE WOOD SAMPLE BY RAB GROUP
"This custom sapele wood sample by the RAB Group, a cabinetry vendor, is all I want for my own closet."
4. BARREL D STITCH OUT RECESS LEATHER CABINET PULL BY TURNSTYLE DESIGNS"Cognac leather is classic and has an equestrian feel. It's rich and gets better with age with a great hand feel."
5. MINI DAVID SCULPTURE BY MIGUEL BERROCAL AT 1STDIBS
"This was a gift from me to my spouse. We collect Latin American art, and it's both a tiny sculpture and a puzzle of multiple pieces."
6. THE VASE WALLCOVERING IN ORANGE BY CLARENCE HOUSE
"Want to make a powder room bold? This wallcovering at Clarence House is a favorite of mine.
7. CUSTOM STERLING SILVER MONOGRAMMED BOX
"A close friend presented this to me when I was married. She bought a vintage piece and had it monogrammed for us—a treasured gift, and I love the texture on the top."
8. CUSTOM WALNUT WOOD SAMPLE BY DESSIN FOURNIR
"Warm walnut with a lacquer finish, like this custom sample by Dessin Fournir, is appealing both for furniture and built-ins. This one is from a company no longer in business, but I keep it as a reference for my ideal color tone."
9. CAMO ISOLE FABRIC IN ARMY BY FORTUNY
"The allure and mystery of Fortuny makes it one of my favorite lines. This one in green is equally matched by one they do in blue, which we have in our office as pillows."
10. CHENE CERUSE WALLCOVERING BY NOBILIS
"Wallcoverings can achieve a lot of looks. This one reminds me of the pecky cypress you see on walls and ceilings of Florida houses. It's a great look, especially if the architecture of the space or the budget does not allow for the real thing."
11. VINTAGE JOHNNIE BROWN'S DISH
"There was a place on Worth Avenue in Palm Beach owned by Dede Shields called Johnnie Brown's. Johnnie Brown was the pet monkey of famous society architect Addison Mizner in the 1920s. I love this little reminder of South Florida."
12. TROPICAL LEAF EPINGLE FABRIC BY SCHUMACHER
"In my dream house, I see this beautifully woven leaf epingle fabric (think machine-made needlepoint) as a sofa in a chocolate brown lacquered room."
13. 6119 FUREVER FABRIC IN ONYX BY PINDLER
"Something about the hand of this faux fur is enticing. I could do an entire sectional in it to create a 1970s speakeasy in my next house."
14. VINTAGE 21 CLUB MATCHES
"Many of our favorite restaurants in New York are no longer around, but we have great memories of spending time at 21 Club."
15. VINTAGE HERMÈS BOX
"Lacquer ware and small boxes always attract me, and I bought this one in Palm Beach when I saw how it combined the blue and orange in a Mondrian-like pattern."
16. CUSTOM SEAGRASS RUG BY WATSON SMITH
"I never get tired of the texture of seagrass, and I first used a version of this from Pier 1 in a college dorm room of mine (it shed like crazy). Now we use better versions, like this custom design by Watson Smith, that take an elegant room and knock it one step down to a room that is more approachable."
17. ANTIQUE LACQUER BOX
"Chinese cinnabar is something I collect. This brass-and-enamel box was a gift to me from friends and it sits at my bedside."
18. YEAR OF THE TIGER FABRIC BY SCALAMANDRÉ
"This bold silk velvet is woven in Venice and has a narrow width. It reads both contemporary and traditional to me."
19. PRIMA ALPACA SOLID FABRIC IN DAYBREAK BY SANDRA JORDAN
"The color of this alpaca from Sandra Jordan screams fun to me while also being synonymous with luxury."
20. PRIMA ALPACA PLAID FABRIC IN PERIWINKLE/SHADOW BY SANDRA JORDAN
"The softness of alpaca, the color of the plaid and the quality of the weave makes this an ideal choice for drapery or pillows."
21. JAPANESE GARDEN NOTES: A VISUAL GUIDE TO ELEMENTS AND DESIGN BY MARC PETER KEANE AT AMAZON
"I would love to work on a project with Marc Peter Keane, a master of Japanese garden design. This book is a work of art."
22. NAPOLI LEATHER SAMPLE IN WHISKEY BY EDELMAN LEATHER
"All cognac leathers catch my eye, and Edelman is my favorite vendor for their quality and customer service."
23. BEADED DAMASK FABRIC IN 985 BY TRAVERS NEW YORK AT ZIMMER+ROHDE
"The hand-made nature of this beaded damask fabric [by Travers] would be amazing for drapery."