Its brand partners include HGTV, Design Within Reach, Serena & Lily, APT2B, Anthony Baratta, Loloi, and Kathy Kuo—as well as newly added outdoor furniture brand Arhaus. It's got 75,000-something reviews in the App Store. What is it? Design Home, an app that promises to be "a relaxing, fun game that allows you to live the life of an interior decorator."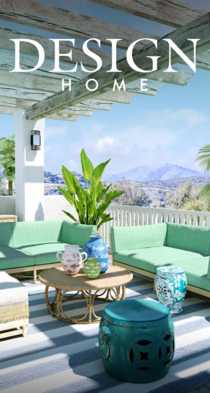 The app invites users to design individual rooms with specific requirements, and compete against other users for the most popular design. If you're not already playing, you may be in the minority—Design Home's 1 million daily active users, who are located across the globe, played some seven billion minutes last year and designed over 600 million rooms total.
"We are thrilled to kick off the New Year by partnering with Arhaus to bring their stunning furniture pieces to Design Home's 1 million daily active users. We strive to keep the platform fresh with the latest trends in design and look forward to continuing that throughout 2018," says Mark Van Ryswyk, senior vice president of studio management at Glu Mobile, which acquired the app in 2016.
EAL discusses the app's wild popularity with Van Ryswyk:
Tell us about the evolution of Design Home. How did it come to be? Was it in response to app user demand?
In early 2015, Crowdstar decided to build Design Home as a follow-up to the hit mobile game Covet Fashion. Both products were developed in response to a very underserved audience in mobile gaming: women. Design Home's success can be attributed to our unique approach of blending reality and gaming in a creative way that allows players to experience high-end furniture and decor products in photorealistic rooms. Our daily challenges stretch the imagination and reward players through discovery and teach them through play. The demand for the app has been relentless, with 1 million players participating each day—and they've designed more than 700 million rooms to date!

How does Design Home work with interior designers? How can designers get involved?
At present, our players are the interior designers! I can't say much about our plans for incorporating real-world personalities into Design Home, such as connecting with professional interior designers. But stay tuned.

The interior design and home decor market is ready to embrace the future of digital technology.

How does Design Home work with manufacturers/home furnishings companies? How can they get involved?
All of the furniture in Design Home is modeled after real-world branded items. We've partnered with numerous household-name furniture and decor brands, like Arhaus, Serena & Lily, Kathy Kuo Home, Design Within Reach, Apt2B and many others. We work closely with each partner to ensure that every item in the game is just right. New furniture and decor items are added daily, with over 8,000 pieces currently live in the game. Our goal is to offer our players the best of what's available in the interiors market, so we're always open to working with the right new partner.

What does the success of Design Home tell us about the state of the interior design industry?
The interior design and home decor market is ready to embrace the future of digital technology. When this journey first started, some companies were hesitant to engage with what was, at the time, a far-fetched concept. Re-creating items in digital 3-D for a mobile design experience was not an easy sell when the team hit the road in 2015 and attended High Point Market in North Carolina.
We're thrilled that Design Home has since been embraced by professionals and novices alike. It's exciting to hear from players that Design Home has opened them up to the world of interior design. Whether they're learning new decorating techniques and styles, bettering their creative skills or applying something from the game to their real lives, we take pride that Design Home has an impact. With enhancements to the game on the horizon, we believe that we've only scratched the surface.