Brand reps from West Elm and direct-to-consumer mattress company Leesa gathered in New York City for an important meeting in Manhattan earlier this month, but the socially conscious brands weren't there to talk business. Rather, the teams met at The Bowery Mission for a giving event, part of their mission to better serve their communities as part of their partnership.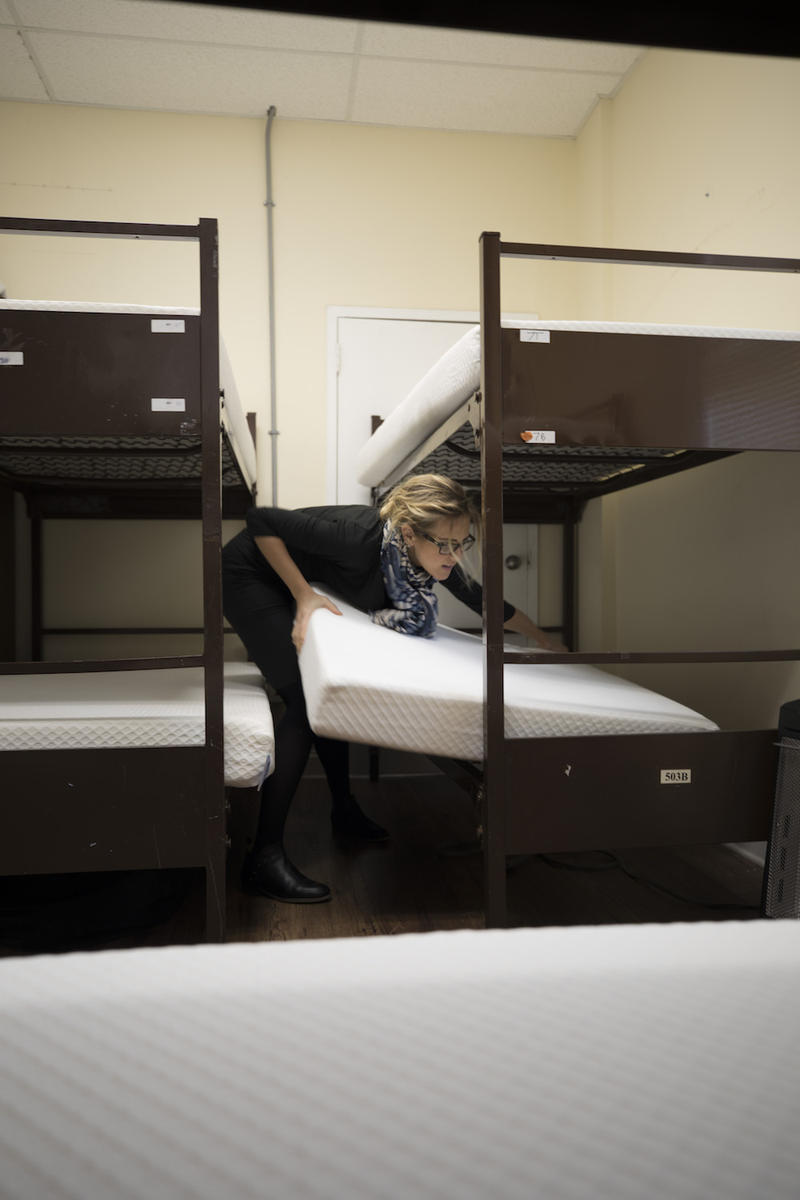 Since its founding in 2015, Leesa has honored a One-Ten Program, a social initiative that donates one mattress for every 10 sold to people seeking refuge from homelessness, domestic risk or human trafficking. To date, the brand has provided more than 22,000 mattresses to nonprofits across the country.
It was that same social ethos that caught the attention of home brand West Elm, who launched a retail partnership with the mattress company earlier this year. "When you meet people who are like-minded and want to put the same impact on the world as [our brand], the work becomes exponential," says Nancy Tsuei, West Elm senior vice president of merchandising.
As part of the agreement, the community-focused brands committed to hosting 10 giving events together—The Bowery Mission event marking their first. Following a tour of the shelter facility, team members from Leesa and West Elm unboxed mattresses, made the beds and served lunch to residents.
"It changes the whole trust dynamic when we have people come in, have a great meal, and then they can actually sleep in a setting that's safe and comfortable," says David P. Jones, president and CEO of The Bowery Mission. "Let me tell you, that's an accelerator when you go to have the conversation to build trust."
Family first, the community, then business. That's always been the blueprint for Leesa, says co-founder and CEO David Wolfe. "When you start a company in your 50s, it's not just about measuring your success by how much money you make and how many mattresses you sell," he says. "But you also measure your success by the impact you've had on the world."
It's a season of giving and receiving for Leesa, which raised $23 million in second-round funding earlier this year. Notable socially conscious entrepreneur Blake Mycoskie of TOMS contributed, while One Better Ventures, headed by Seventh Generation CEO John Repogle, led the investment. The Series B funding more than tripled the company's first-round of capital raised in 2015, and forecasts predict Leesa will exceed $200 million in sales by next summer.
"We are humbled and invigorated by the extraordinary response Leesa has received in such a short period of time, and we are excited to use this round of funding to broaden our reach to customers and influencers alike as well as expand into the retail category," says Wolfe. "We always say we're in the business of dreams more than we are the business of sleep. In order to get the most out of the place that you sleep—the mattress—you've got to get your mind into gear, so I see our brand evolving to helping people understand the role that better sleep needs to play in their life."