In an effort to stay relevant in the age of e-design, home decor digital natives The Mine and Wayfair are adding new digital tools to their respective ensembles. The just-launched programs include a visualization app and 3-D download capabilities.
Design app Envisioned by The Mine allows solves the client concern of what a product will look like in the home. After selecting an item from The Mine's product catalog, the user will be able to access camera capabilities to view the digital image to scale within the home. Users can then share a photo of the rendering or purchase the product conveniently within the app. The augmented-reality tool debuted in the Apple store in October, available to iPhone models 6S and newer.
"Our customers come to The Mine for a seamless, high-touch shopping experience that combines design-inspired home furnishings with a personal concierge level of service," says Michelle Newbery, the company's president. "With our new app, we're taking this virtual showroom a step further to build customer confidence before they buy."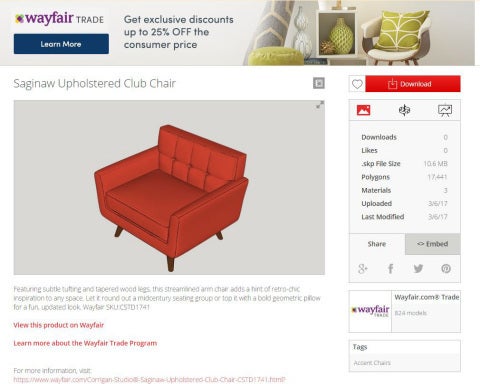 Following the success of its own room visualization app feature, Wayfair is now introducing downloadable 3-D renderings. An added incentive to the Wayfair Trade program, the project management tool allows trade professionals to export 3-D models of Wayfair products to rendering platforms like 3DS Max, Maya, SketchUp, Revit and AutoCAD.
"We want to provide designers with accurate, digital 3-D representations of our products to better enable their design workflows," says Shrenik Sadalgi, director of engineering at Wayfair Next. "Once a designer knows what products they're interested in, they can simply click on a button on the product page to download its 3-D model."
The option to download, which is available in FBX and DXF formats, builds upon Wayfair's 3-D model library, which launched earlier this year.