There's a lot of fabric out there. And as digital printing gets better, it's growing increasingly easy (and inexpensive) to make more of it. But slashing lead times and prices comes at a steep cost: the loss of high-touch, handmade textiles. Portland, Oregon–based designer Deepali Kalia has built her entire business around the irreplicable value of handwoven block-printed Indian textiles, with an in-house team of artisans spread across Delhi and Jaipur that her sister, Nanu Khanna, manages from India.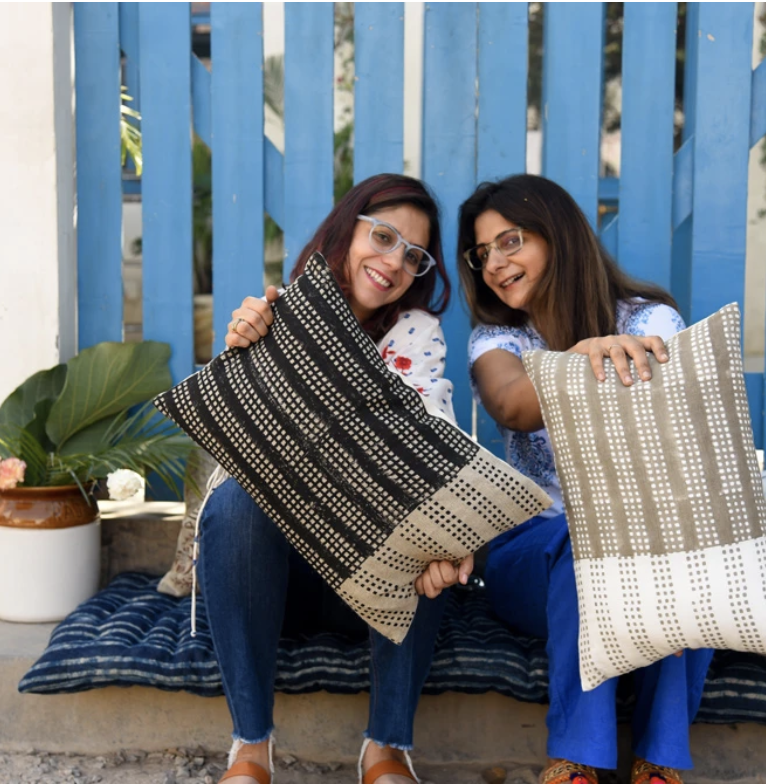 Courtesy of Filling Spaces
Born and raised in India, Kalia brings a different perspective to the often westernized, romanticized perspective on Indian textiles. "Sometimes I would laugh when people said, 'Oh, the jolly print that I saw in the windows of the [Taj] Mahal,'" she says. "I was like, 'We don't live in the Mahal!' They haven't lived the Indian life—when I came to the U.S., people were like 'Oh, my gosh, block printing, what's this!' Growing up, block printing was something that every house had. That was the style and that's how it was."
Before Kalia moved to the United States 19 years ago, she had been immersed in the high-paced Indian fashion market, working with designers from all over the world to design the textiles for their collections. Her marriage brought her to Portland, where she began working at a fabric store, then a tile store, an antique shop and a drapery workroom. Shortly thereafter, she made the decision to return to textiles and design. She enrolled at the Portland Community College to get her interior design degree, and in 2008, began designing patterns for her own textiles.
At the same time, Khanna had just finished school in India. Kalia asked her to help launch the business, so she got to work finding local Delhi artists and artisans that would bring her sister's designs to life. "We started with a 10-by-10-foot garage space and one artist," says Kalia. "The funny thing is, Nanu and I went to a landlord who looked at us and said, 'Two girls? Starting a business?' and backed off. He didn't want to give us a space. We were standing there, like, 'What are we going to do? We have our first employee coming over and we don't have space for him.'" So Khanna called a friend, who allowed them to lease her garage space. It was there that the sisters' new venture, Filling Spaces, began producing block-printed textiles using fabrics made from traditional Indian handloom techniques.
With production underway, Kalia turned her attention to the American market and found that her textiles—while singular in their ethos and production—were being pigeonholed into the world of "Indian-inspired" textiles. "When I started, it was hard to break into the world of John Robshaw and all those big designers," she says. "I didn't want [people to say] 'Oh, it's like John Robshaw!' I wanted it to be Filling Spaces that is creating something pure—it's not screen printing or just a copy of a block print. We're keeping the essence and the traditional motifs, but [creating something new and] bringing a modern touch to it, so it doesn't look like somebody picked it up from the bazaar in India."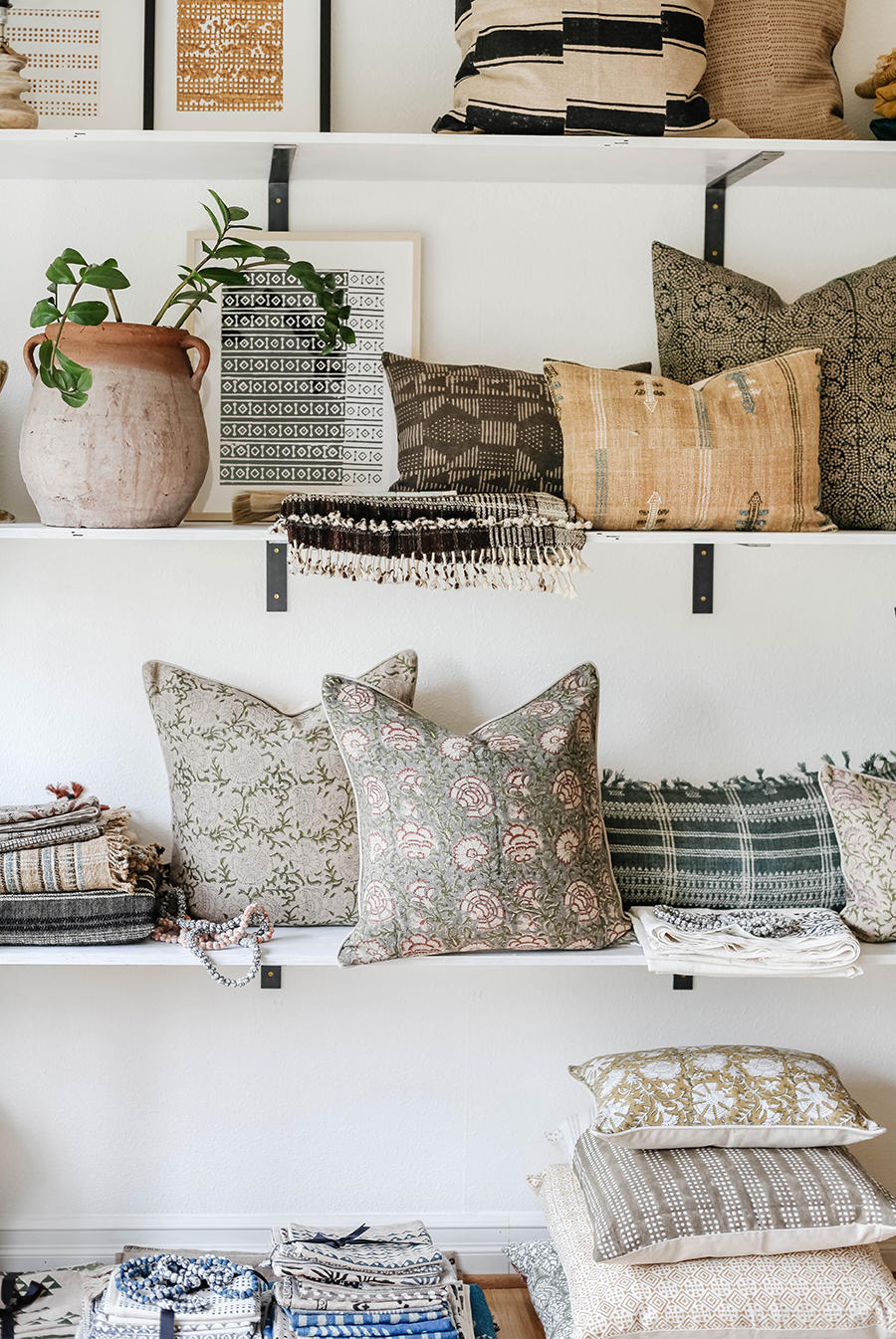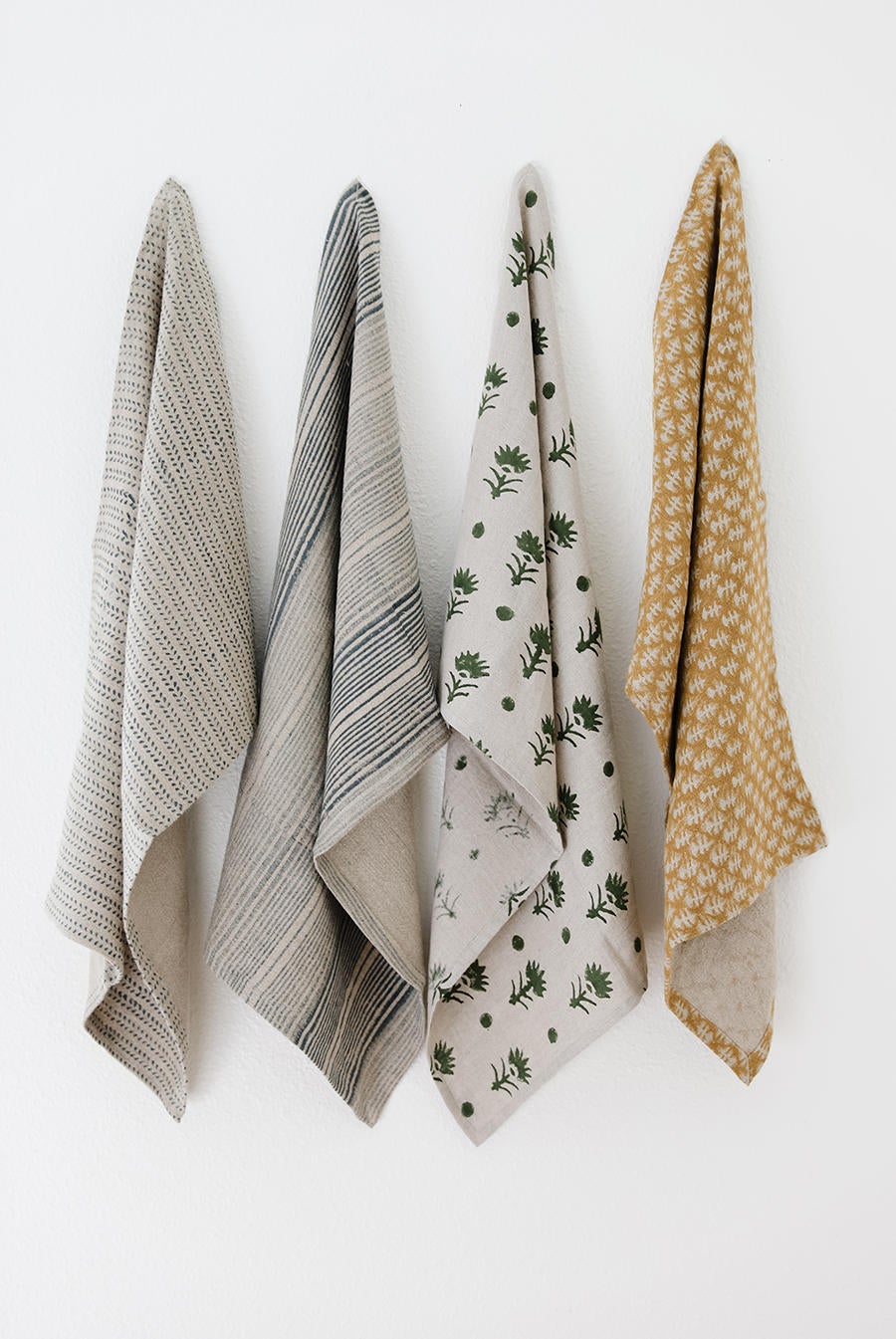 Another aspect that sets Filling Spaces apart from its larger competitors is that by hiring 13 India-based artisans as employees, Kalia and Khanna eliminated the need for a middleman. "Growing up, I saw how mistreated people were in export houses, and it was important for me to make this a partnership between the people [behind] this beautiful craft," says Kalia. "It takes hours for someone to actually handweave a shawl, [but] big fabric companies don't know who is touching and making their fabric."
The personal relationships that the siblings have developed with their staff have remained strong throughout the pandemic, as well. When the business started in 2008, Kalia was traveling to India every three to four months. As her family grew, she pared back her visits to twice a year, but due to COVID, she couldn't travel at all this past year. FaceTime and phone calls, which were always important tools, became essentials. Despite the challenges of producing the 2020 line remotely, Kalia says it's the company's best collection to date. "Everybody was putting their best into it thinking that because I wasn't there, they were responsible for it," she says.
Last year was a banner year for Filling Spaces: It received a record number of orders through its wholesale clients—spread across individual designer boutiques that sell the brand's pillows and soft goods, but also the Toronto-based showroom Memo, Fritz Porter in North Carolina, and Style Revolutionary in Australia—which proved difficult to keep up with. In addition, the company signed on with Anderson Somerselle's new eponymous virtual showroom, which launched in January. "We were looking for more showrooms to do our fabrics, but we've been so busy with the product itself, so when Somerselle approached us, it was so perfect we couldn't say no."
And while there are a lot of high-touch businesses out there feeling the pressure from faster and cheaper digital alternatives, Filling Spaces has no intention of changing its approach to textiles. "We strive to bring beautiful, hand-quality designs and craftsmanship to our collections," says Kalia. "Imperfections are the charm and the beauty—all these artists have employment, they can feed their families. This is our business, and not everybody is my customer, but our customers appreciate it very much."
Homepage image: A display of pillows made from Filling Spaces's textiles | Courtesy of Filling Spaces