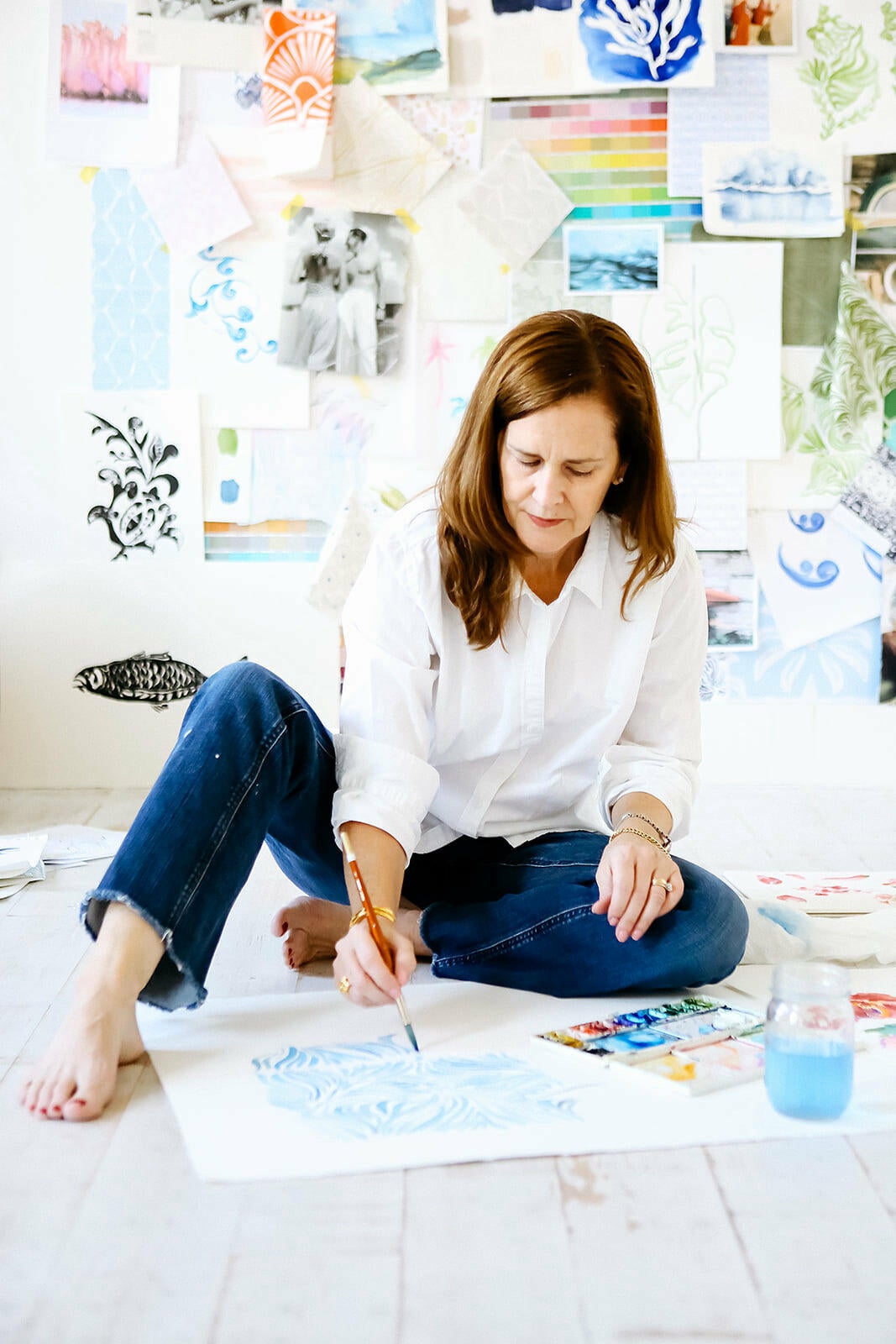 Victoria Larson relies on patterns to tell a story. The Annapolis, Maryland–based textile designer uses paint and block prints to create wallpaper motifs that both capture and conjure up memories. "I'm heavily inspired by the halcyon days and the fleeting magic of childhood summers," she tells Business of Home. "That sense of joy and freedom at hurling yourself into the air, splashing through the surface and being enveloped by the soft, warm, salty water. The wonder of running through the grass barefoot chasing fireflies. I want to convey a sense of joy, peace and play."
Raised in the Chesapeake Bay area, Larson grew up surrounded by—and enamored with—the coastal landscape. In college, she studied business at the University of Maryland before working various marketing jobs at nonprofit and event organizations throughout her 20s. It wasn't until she reached her 30s that she felt a strong pull toward interiors. "I quit my job, started working for a design firm and attended Maryland Institute College of Art at night to earn a certificate in interior design," she says.
Everything changed when she began traveling the world with her professional sailor husband, sketching and painting scenes from the various coastal towns she visited. "I traveled with my big camera and small sketchbooks and watercolors," she says. "While my husband raced, I explored the region we were in, sketching memories and details."
After her twin girls were born, Larson took a job designing patterns for a children's swimwear brand and fell head over heels for textiles. "It was something I could do and still stay at home with my girls," she says. "Having come from the interiors world, I knew what was missing in the market and how to work with designers—so I started thinking about printing designs on a larger scale."
In 2010, she launched her namesake studio with a collection of six hand-screen printed fabric designs inspired by her international travels—and printed grasscloths and digitally printed wallpapers not long after. "As much as I love the hand-screen process, digital printing allows my watercolor to translate to the wallpaper with all of the little irregularities and happy accidents of the original," she says. "That's the beauty of watercolor, after all."
All of Larson's patterns begin with a watercolor sketch—often based on a drawing found in one of her old travel sketchbooks. "After scanning [the image], I start to play with that sketch in Photoshop until I have a good repeat worked out," she says. "I may then print, rework by hand and scan again—I'm much more fluid when I hand-sketch, so I rarely paint or draw right into Photoshop."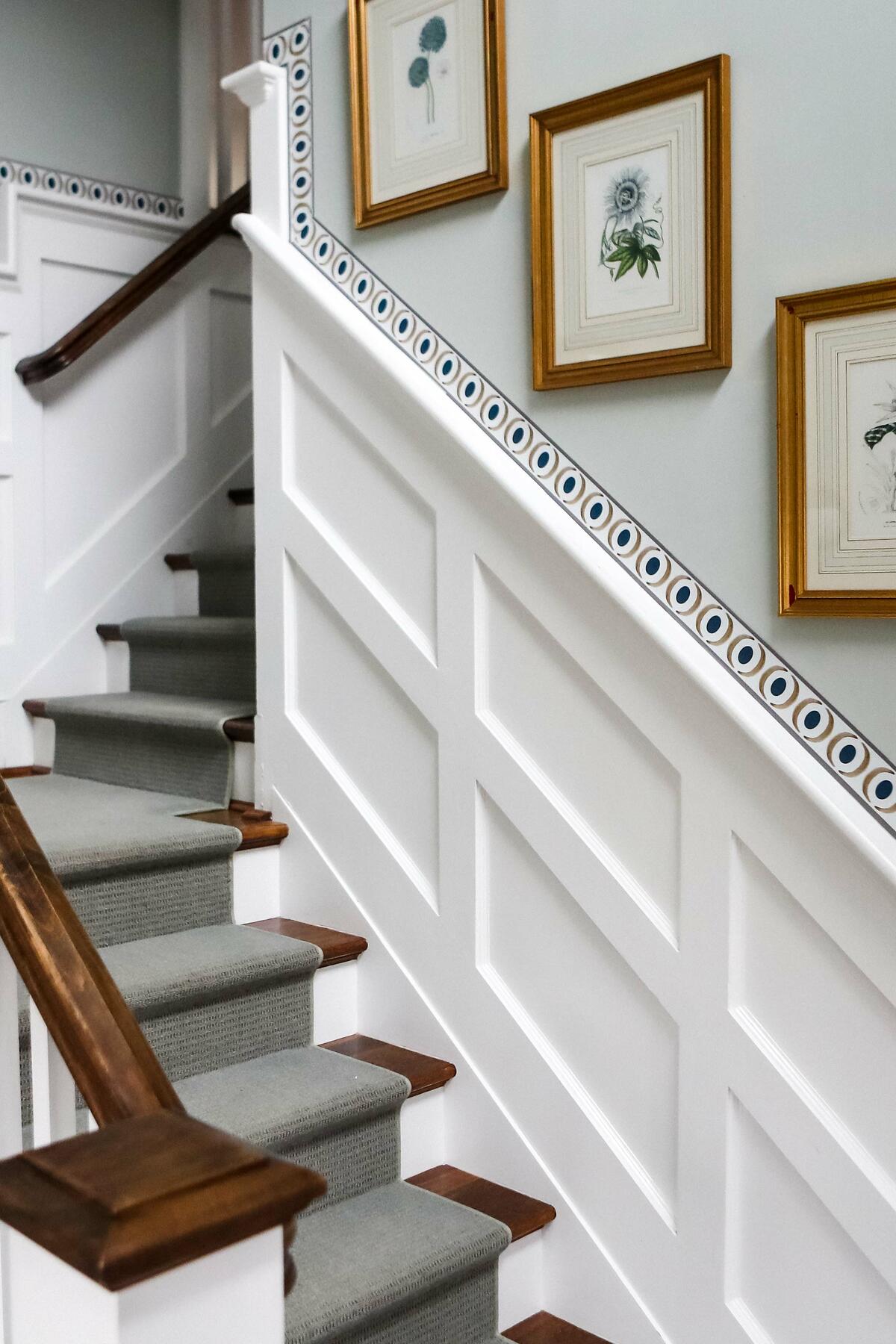 Whether it's a creek near her home or one of the far-flung places she's explored, all of Larson's designs draw inspiration from the seascape, in turn showcasing a medley of fluid lines and rhythmic, organic shapes. "Part of what I'm trying to convey in the wallpaper is an overall sense of texture instead of a specific motif," she says. "I want my designs to suggest, not inform."
In April, she released Heritage II, her third collection of fabrics and wallpapers for Stout Textiles, as well as a line of three wallpaper trims—including Volute, B Square and Ovolo—in multiple colorways that mimic classic architectural moldings. "The trims are meant to be played with to create whatever the designer imagines," she says. "To be used like wood trim to create dado rails and panels, or to follow the wood trim all around the baseboard and doors. They can also be inlaid with wallpaper like embellishment on the leading edge of a window panel."
This fall, she plans to launch a new wallpaper series inspired by her recent travels to the French Riviera and hopes to one day introduce fine art prints into her portfolio of products. "My mission is to create wallpaper with soul, style and approachability," she says. "To offer a heritage product that is not only timeless in design, but made to last the test of time using the finest papers."
If you want to learn more about Victoria Larson, visit her website or Instagram.