In Business of Home's series Shop Talk, we chat with owners of home furnishings stores across the country to hear about their hard-won lessons and challenges, big and small. This week, we spoke with Nebraska-based interior designer and retailer Lorele Lesoing.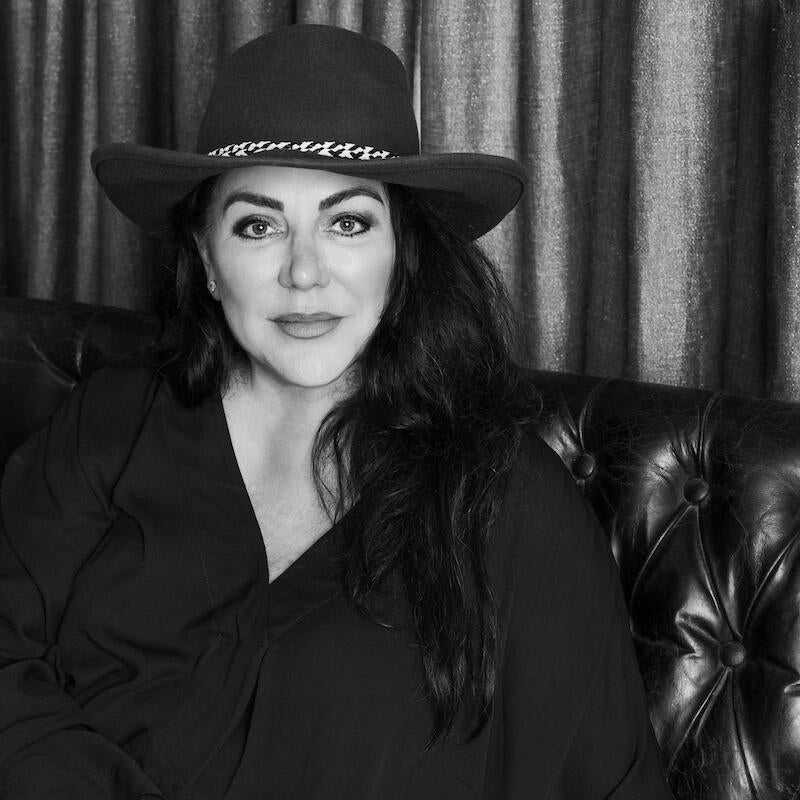 Courtesy of Lee Douglas Interiors
In addition to serving as the founder, president and lead designer of Lee Douglas Interiors Inc., Lesoing operates two showrooms in Omaha and Lincoln, Nebraska, as well as a more intimate store with 11 themed rooms inside a 100-year-old home in Lincoln. Lesoing's services are vast and include not just interior design but new builds, remodels and consultations. Since launching the business in 1989 and the first storefront in 2001, she and her team have built out a dedicated client base in a place that she says too many dismiss as a flyover state. Ahead, Lesoing discusses finding balance among all arms of her business, how she competes with big-box stores, and why traveling to markets remains invaluable.
What was your career like before the stores?
I was in corporate insurance for quite a while and was virtually the only female in the field. I always dabbled part-time in what I really wanted to do, but I wanted to be able to pay the bills. After I made a firm decision to switch, I started working out of my home as a small interior design company. I got frustrated giving everybody else the business and not having the inventory at my fingertips that I thought my clients needed, wanted and deserved. That's when I decided to open the storefront.
What is the general aesthetic or vibe?
The vibe is one that we want to be separate and apart from anybody else. That's part of the reason I opened a storefront; I just couldn't see the vibe I wanted in the other stores around me or in the franchises. I wanted to be able to hand-pick things. We try to do some things that have shock value in the stores, just to get people's attention and get them to come back. Then we try to do mainstay products that appeal to the masses and are very functional and useful, but we surround them with interesting items. In terms of the layout, we try to present a look that's livable but really unique, with items [set up] in ways that you wouldn't normally think to use them.
How much do you cater to the trade?
When I started out, that was one thing that I felt was uncomfortable—going into other interior design shops and trying to have people validate you as a designer that they wanted to work with. I gave a lot of people a lot of business, but I always felt awkward going into stores because I felt like people were trying to sell me what they wanted to sell. When we opened this shop, it was one of my goals to make it very designer-friendly. We try to give them what they need. We try to help them. Often we're doing their drawings, their Photoshops, we price for them, we file their claims, we deliver, we pick up—we do anything that they want.
Some designers want it to be a secret that they work with us, which we get. If that's their need, we stay on the outside and let them shine. We work as directed. I think it's important for us to be broad-based and support the design community as much as we can.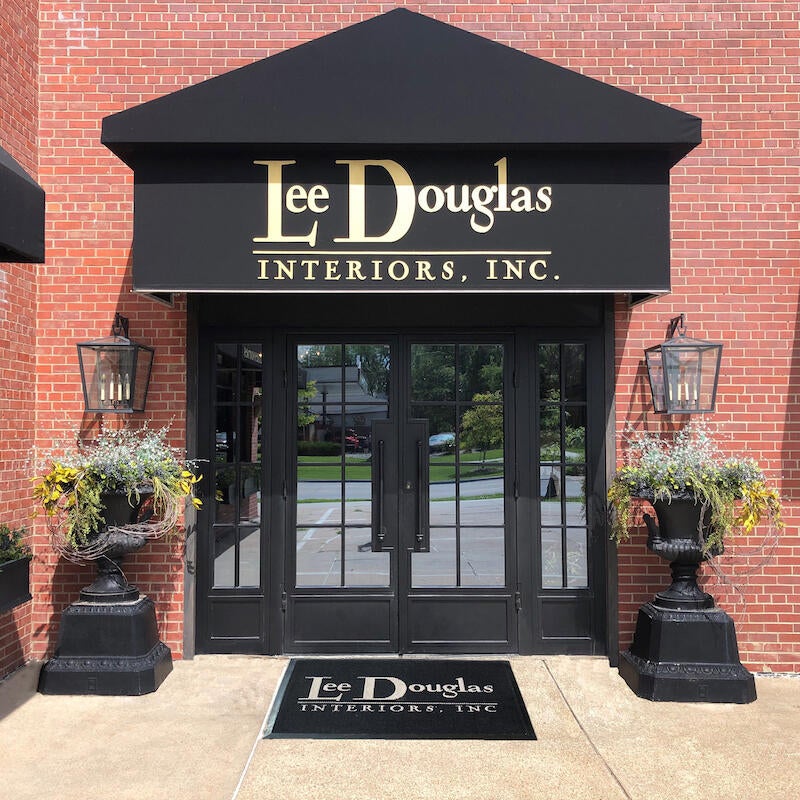 Courtesy of Lee Douglas Interiors
Is there an object or a category that you can barely keep in stock?
We try to not keep anything in stock. I want [the inventory] forever changing. In terms of some of our furniture frames, there are a couple vendors that we try to always keep in stock because they sit well, but I'd never bring anything back in the same fabric. I want it to look new and fresh every time they come in. It might be the same frame, but it's going to be in different fabric, in a different position in the store. It's going to have different throws or pillows on it, and it's going to be coupled with different chairs.
Do you have a favorite vendor, or a vendor you've cultivated a great relationship with over the years?
I would say that CR Laine is one of our vendors that we're just friends with, and they support us well. Rowe is one of our great vendors. MT Company, Verellen. When I don't have a great relationship with somebody, I don't continue the business. We have great relationships, or we move on.
What is your approach to sourcing? Is it markets or e-platforms like Faire?
We try to attend every market we can. [For 2023,] we've already mapped out every market, from NY Now to Round Top in Austin for individual pieces, to High Point and Dallas next year for holiday and lighting. Any market we possibly can, and any market we can afford. It's important to me to get the designers there with me. You see the vendors go, "Oh, here comes the tribe from Lee Douglas."
I source for the store, but it's important for those designers to sit on frames, to touch the materials, to see the linen on a shade of a lamp, to feel the weight of an accessory. You can't do it right unless you're there. Yes, we buy from Faire. For our lifestyle store, The Loft by Lee Douglas, we buy from Faire because I've seen enough accessories that I can bring stock in by sight. Having said all this, it's really important that we're here for our clients, too. It's a balancing act. We aren't leisurely market people that go for a week. We fly in, we have great dinners, then the next day we run. Three days, and we come back to work.
How do you balance all the elements of your business: the showrooms, Loft, remodeling, designing? How do you divide your energy?
It's hard. The older I get, the harder it gets. I'm a working designer. I am still responsible for an income line into the stores. We meet every Tuesday morning as an entire company, not just the design teams, [for status updates:] What are your numbers? What worked last week? What didn't? What are your claims? How do we fix them? Accounting's involved, operations, marketing, the warehouse guys. I have a great staff, and we spend a lot of time hiring.
I have two people on my team [who pick up where I leave off after] I do all the design selections. I disperse a lot of requests to other designers but try to stay involved. Then I have an amazing management committee of seven people, and we all just share the load.
I don't have a real good work-life balance. I just live and eat and breathe this business. My husband can attest to that. He often says, "Shut it all off!" I'm a seven-day-a-weeker, definitely.
I really appreciate that answer because I feel like that's the honest one! How do you handle hiring and finding staff, especially as labor has been an issue the past two years?
Hiring has been really difficult. It's not that we've needed to replace a lot of positions, but we're growing. I've found that the employment market is really demanding right now. We throw the ad on social media or on one of the employment platforms, then we do a phone interview on Zoom so we can see reactions and passion. Our operations folks start the process. If a candidate makes it past that, then we involve the people that they'll be working with.
We do group interviews. We also make it very clear to candidates that they're interviewing us as much as we're interviewing them. Then we decide if it's a good fit or not. The market is so slim, in terms of people who want to go back to work after the pandemic, but we're getting there.
Courtesy of Lee Douglas Interiors
What about the other big recent issue, inflation?
It's really important for our clients to trust us. I've built a business with clients who are still with me after 25 years, and they know that I'm not going to overcharge them. If prices are going up, we do explain why they're going up. Clients also know that I'm not going to charge them unless it's an expense that I'm incurring.
I spend a lot of time teaching the design teams about the value of trust in clients—how to respond to clients, and how to share [contextual] information on costs and not just throw numbers out. Then, when a price does go down, you take the opportunity to say, "This actually went down in price, so we're going to credit you." Then they trust you for the rest of your life.
Do you ever worry that people are going to "shop" the store, looking at the brand and then buying it cheaper online?
Some design teams, especially the younger ones, are exposed to that. They'll come to me and say, "What if they look online, and we're more expensive?" My answer is always, Make yourself invaluable. My clients don't shop me, and that's because I've trained them to know that I'm going to be fair. If something's higher, I'm going to approach it with respect and try to match that price. We don't usually have to do that because number one, we have unique product, and number two, we don't spend a ton of time trying to hide things from them.
To me, it's about establishing the value that you're getting. You can go online and buy that. If you need to return, it's going to be problematic. If there needs to be a claim filed, that's going to be problematic. If there's a delivery issue, it's going to be problematic. I mean, we baby our clients. When something comes in, the warehouse sends the design team pictures of that product from every single angle. If there's a nick, we file a claim with that vendor. We tell our clients, "We are inspecting for you. We are filing claims for you." We track. I have one full-time person that exclusively tracks orders. If we find out that an order has been backlogged, we get on the phone and try to figure out why. Our clients are getting good, timely service. If they want to [shop], that's not our client.
Can you tell me about a specific challenge to operating in your area?
I'll give you an example: We have an art show every year at Christmastime where we have a broker from Baltimore who flies in, and we flip original art and get it custom-framed. Just last week he said to me, "You've built a business that is one of the best I've ever seen from anywhere I've traveled. I thought this was a flyover state!"
I guess we don't get the credit we deserve sometimes in Nebraska. If a client who's new to the area comes in, they'll find out quickly that we know what we're doing and that we can source from the same places that the coasts can, and at a price point that's probably better. Nebraska gets a bad rap for being a farm state, like that's all we do. I guess in a lot of people's eyes, we're not as refined or elite as some of the coastal shops. People are always surprised when they get here, but we have to get them here. That's the hardest part. Here, there are big-box stores where people can just go and buy a couch, and that's good enough for a lot of them. Our percentage of [residents] who work with designers would be considered smaller than in larger cities.
Courtesy of Lee Douglas Interiors
You've been fighting the big-box stores for a long time. How do you feel about the future of independent businesses like yours, especially after the pandemic?
I think people feel more comfortable here because it's a more intimate setting. People want to feel special; they want to feel important. I think those folks will always stay loyal to us.
Honestly, it's going to be harder on the big-box stores than on us. When we went through the pandemic and realized we were short on merchandise, we bought a lot of things that we normally wouldn't just to get them in the store. The big stores with the sales now, they brought in containers of junk just to give people something to sit on. Now they're stuck with them because people didn't want them. We can handle it because we have a tighter control on things. It was mayhem for those folks. Yeah, I don't envy the box stores; I wouldn't want to be one.
You can be more nimble.
Somebody in the insurance industry told me, "If you have the Titanic and a tugboat right next to it, it takes a long time for that Titanic to turn where a tugboat can just turn on a dime. The advantage of the Titanic is once it gets turned around, it's a monster heading in one direction, but the tugboat can turn and turn and turn and turn." Our whole business philosophy has been, "Let's try this. If it doesn't work, let's try something else."
I know retail is just one of your hats, but what is your favorite day as a shop owner?
If I could be on my floors, merchandising—and creating vignettes that shock people, or that they love, or that they want to jump in and lounge on, or that they have never seen before—that's what I would do every day. And train designers. My perfect day would be to come in relaxed gear and move furniture around my floor, and set it up so my designers can sell.
Homepage image: Lesoing tries to always keep some of the same frames in stock because they sit well, but she never brings anything back in the same fabric | Courtesy of Lee Douglas Interiors