The 50 States Project is a yearlong series of candid conversations with interior designers we admire, state by state. Today, we're chatting with Amanda Reynal, who left a design job at storied New York firm Cullman & Kravis when she moved to Des Moines, Iowa, in 2001, and founded her own firm soon after. She talks about the importance of travel to her design process, why she recently relaunched her blog and how opening a retail shop changed her firm.
You launched your firm in Des Moines in 2001 after starting your career in New York. What brought you to Iowa?
I grew up in Long Island and Connecticut, went to college in Connecticut, and was working in New York. My husband got headhunted for a job in Des Moines when I was pregnant with our first child. We were living in a one-bedroom apartment with a huge Labrador retriever and he kept showing me the real estate websites—you know, what a lovely house we could get with four bedrooms for the same price as our New York apartment, where we were preparing to build a wall for the nursery. That's how he got me to Des Moines.
Was there a big culture shock when you made the move?
At first, the transition was challenging. I had worked very hard there to get to where I was at [New York interior design firm] Cullman & Kravis, and I really loved our clients, my peers and our projects. Everything was going really well, and I never thought I'd leave the New York tri-state area. But we moved to Des Moines, and I started Amanda Reynal Interiors soon after—almost 20 years ago now. And luckily, I got invited to do the master bedroom suite at a designer showhouse here, which is how I was able to launch the business and transition so quickly into a completely new environment.
As everyone in our industry knows, we're nobody without our trades; they're the people who make it all happen, they take our designs and make them a reality. And through the showhouse, I was able to meet installers and upholsterers and decorative painters—all of the people I needed to have in my Rolodex to make it happen.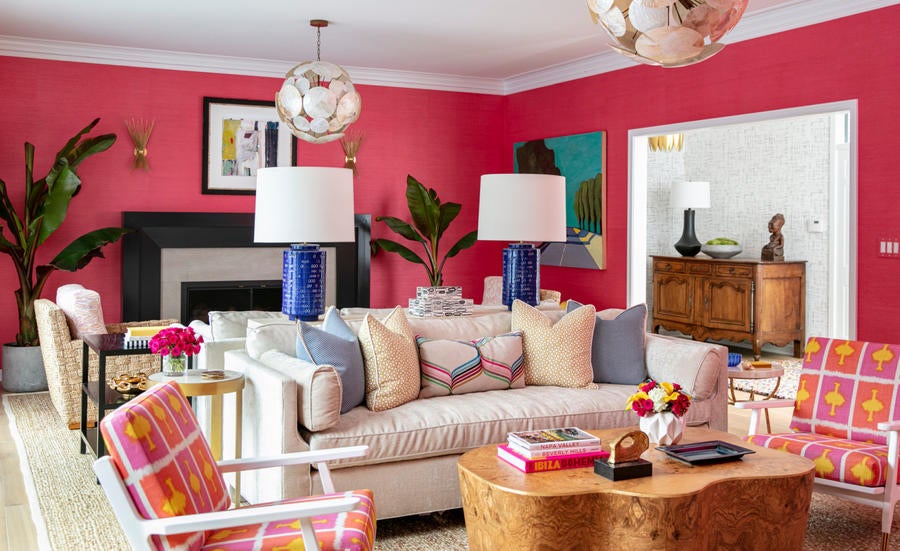 Was it people you were looking for to do your room, or the trades who were working throughout the house in general?
Both! Throughout the process of doing my own room, I met a lot of talented trades. Then, while installing the showhouse, I met the people working on other designers' spaces as well—designers who had come from Minneapolis and other places [throughout the region]. It was a great opportunity for me to figure out the climate of the design world in Des Moines in 2001—which, by the way, is different. It's grown a lot.
Coming from Cullman & Kravis to Des Moines—was there a difference in what the clients wanted? And how has that changed?
One of the things I learned at Cullman & Kravis was attention to detail—how to design a space in a very high-end, handmade, well-thought-out way, with curated artwork and fine furniture, but also in terms of scale, patterns and finishes. I took all the skills that I learned working in New York and applied them to what I was doing for my clients here in Des Moines. I was very young at the time, and my clients were young too, so I sometimes had to reinterpret the customized, one-of-a-kind [approach]. I had to really research vendors at different price points to make sure that I wasn't sacrificing design style or quality, but to work within a more conservative budget.
What has changed about Des Moines in the last 20 years?
We moved to London for three years, then came back to Des Moines in 2006. By then, the city had started this incredible evolution and growth within its downtown area. New buildings were going up regularly by world-famous architects—a library by David Chipperfield, an incredibly beautiful park with blue-chip sculptures in the center of downtown Des Moines. We now have a building two blocks from my studio by Renzo Piano. The city became this incredible example of what a young, up-and-coming, midsize city could be.
When I first moved here, I thought there was nowhere else in the world to live besides New York, so it was really challenging. There was no Starbucks. So many of the things I had taken for granted weren't here. But over the past 20 years, the city has grown so much artistically and creatively. There's a great food scene, there's a great art scene, and there are a lot of people who have grown up in Des Moines, moved to big cities and then come back. Companies are also choosing to use Des Moines as their home base and bringing in a very diverse group of well-educated and design-minded people. As a result, the client base has gotten a lot more savvy. It's been wonderful as a designer to have clients who really want the services that I can provide.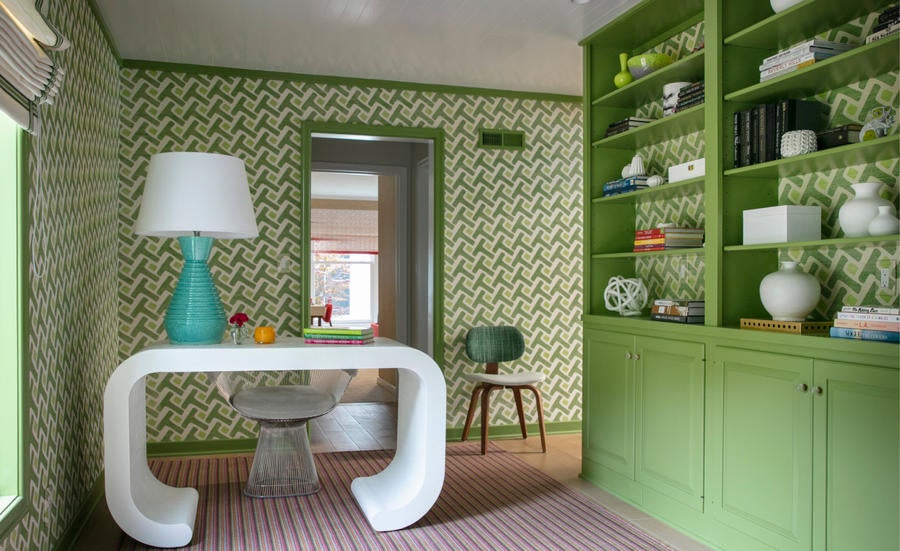 What types of clients and projects are typical for your firm these days?
We're mostly high-end residential, doing full construction or remodels from conception to completion. We're taking on some really beautiful old houses with younger families moving in. I also have a lot of clients that I've had for 10-plus years, so for them it's more decorating than construction. They're all really lovely people that I feel grateful to continue a relationship with. They've become friends. We're going to the weddings of two of their children soon—well, maybe, if they don't get canceled! It's been a great experience to be able to run a small business in a town that is growing, and where the arts are very well-respected.
How many projects are you working on at one time?
Currently, we've got three construction full-house projects going at once, three smaller ongoing design projects, and then old clients will pop up. We're not really taking smaller projects right now, just because we've got big ones, but that's not saying that we never do—it really just depends on what we're capable of at the time.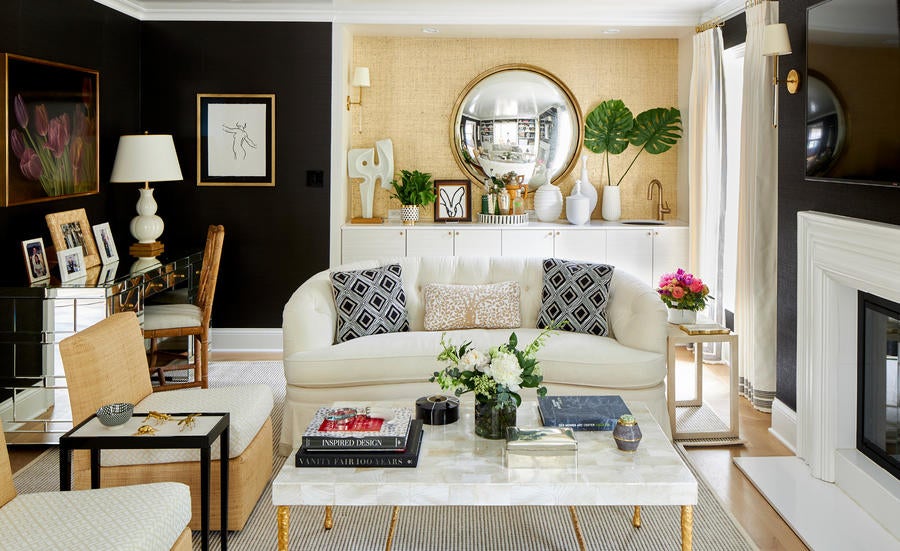 You run a shop as well. How did you decide to include that as part of the design studio?
There aren't a lot of brick-and-mortar shops in Des Moines catering to the interiors world, and I felt like there was a space for it—it just seemed like a natural extension of what I do. It's also a really nice thing to have a shop full of accessories I can use when I'm styling a project, or doing an installation and need to draw from things that are in stock. I try to carry product that's not available in other places locally so that it's a really well-edited and original selection.
Does it bring in new clients—people who walk into the shop and fall in love with what you do?
That was the goal when I opened the shop three and a half years ago: being able to showcase our aesthetic. I don't think we've actually gotten any big projects from having the shop, but my long-term goal is for it all to be very symbiotic. My clients shop in my shop a lot, and I know they love walking through the shop to get to the studio for meetings. It also offers us a way to be face to face with the community. I'm in an up-and-coming area that's not heavily foot-trafficked—yet.
So is the hope that the neighborhood will develop around you and be ready for what your shop has?
The neighborhood has historically been full of art studios and lofts. This old warehouse building was being renovated with retail spaces and apartments above—and it's less than two miles from my home, which is a huge luxury. It's right in the heart of downtown Des Moines, just not the main shopping area. Now we have really great neighbors—a coffee shop, a restaurant, a hair salon—and we're starting to get more traffic. At the same time, if it were too crowded I'd have to rethink our business plan, because we'd need a totally separate shop manager. Right now, if someone walks in to shop, we can handle it together.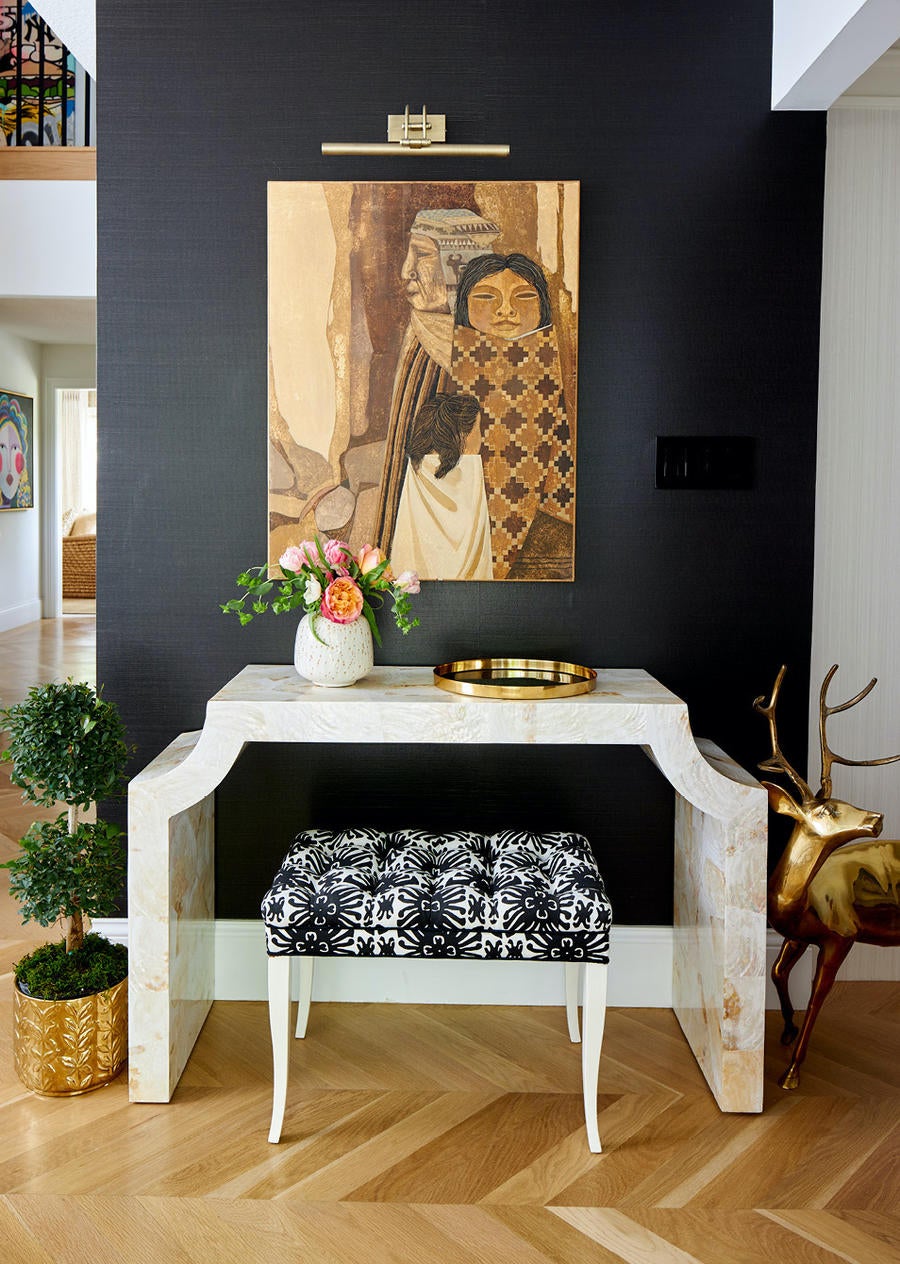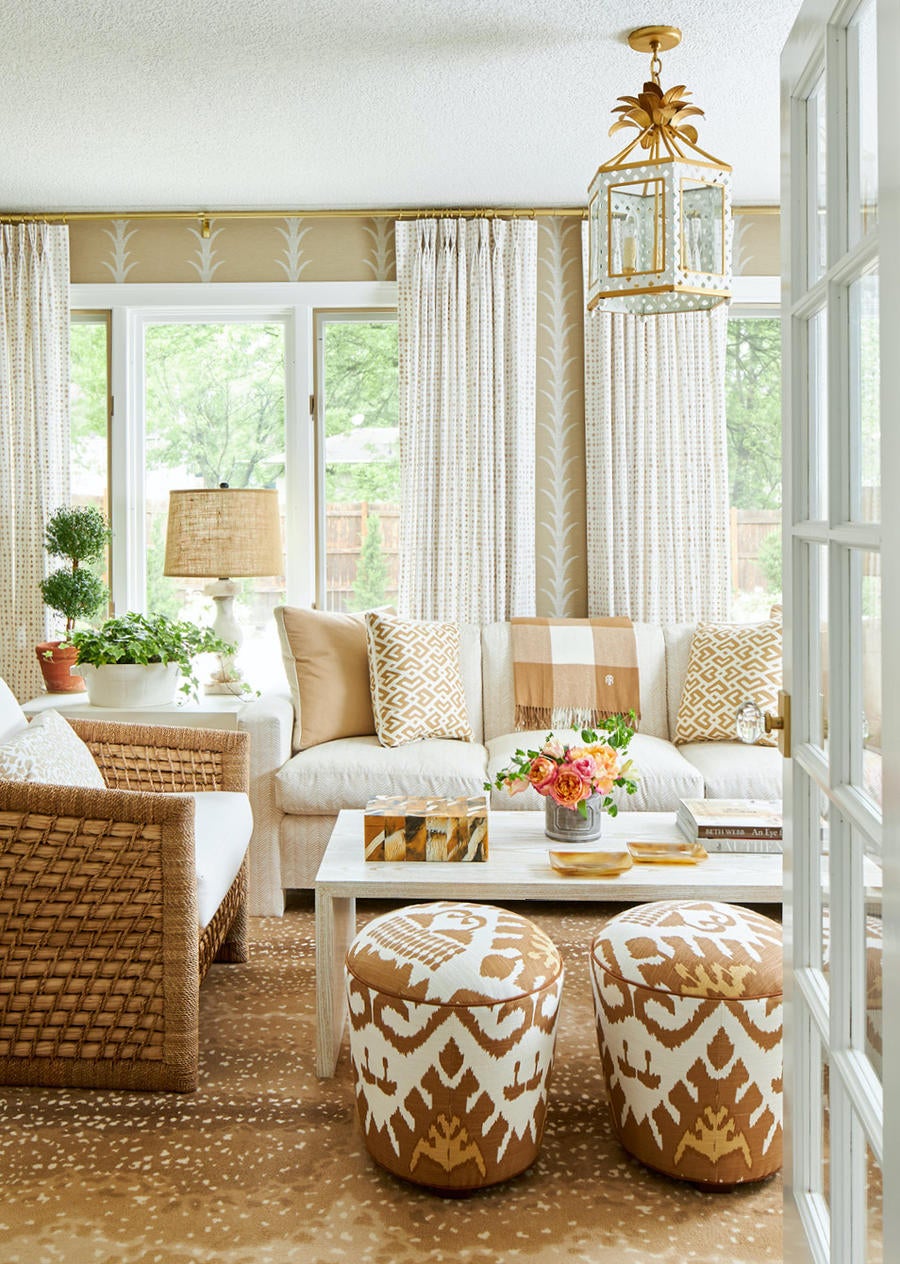 What does your team look like?
Right now our team is pretty small. It's just me and one other full-time design assistant, and then I outsource a lot. For specific drawings, website development, all the digital stuff, bookkeeping—I work with freelance talent for those things. I also have two interns who go to Iowa State University. There's a great interior design program there, so we're lucky to always have really talented students to help us as well.
How have you changed what's important to you over time in terms of the composition of your team?
I had to learn to delegate. Everyone says to do what you do best instead of trying to do things that aren't within your skill set, but I like to be involved in everything. I like to pick every trim! What I really want to do is all the designing, but I'm also a stickler for writing, for how all of our paperwork is done—I've developed a system that I want to make sure stays in place, but I've had to step back from a lot of the administrative things so that I can concentrate on the designing, meeting face to face with clients, being there for them, meeting with contractors and doing the part that has my name on it, which is making the selections and designing.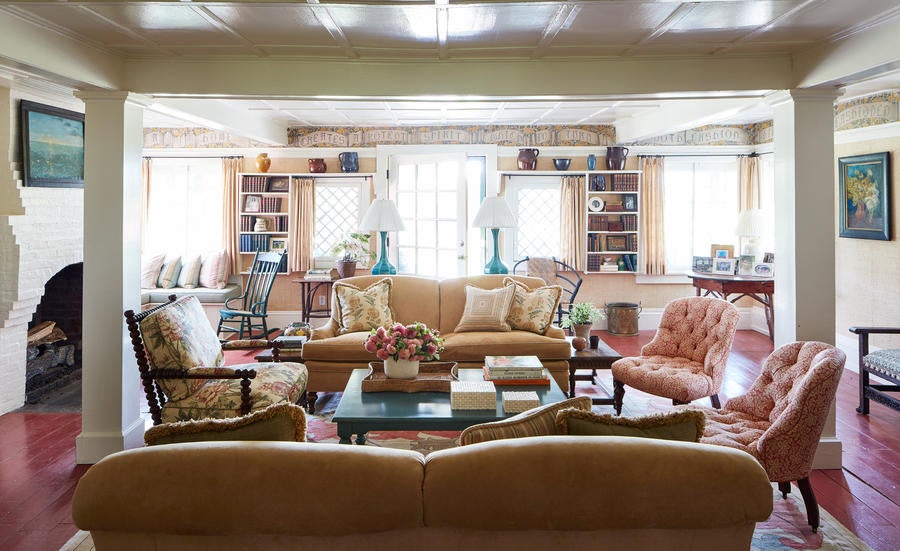 What are the closest resources for you?
The closest resource is Minneapolis, but weirdly, our region is divvied up—some of the showrooms we are assigned to are in Minneapolis and others are in Chicago, so it really depends. We talk to showrooms in both places, but when I physically go, I love shopping at The Mart in Chicago. And I have to say, I'm a New York girl, so when I'm back in the city, I'm always at the New York Design Center and the D&D Building. When I'm in Los Angeles, I love all of the showrooms in West Hollywood, down on La Cienega and Melrose. I think that's something I offer my clients that not a lot of designers here do: I travel a lot—not just to High Point, but to other cities with a design presence, and make a point of seeing how the same showroom in L.A. might be styled completely differently than it would in New York. I'm taking the vocabulary of the different coasts and using that to hone my own style.
Why is travel so important to you?
Des Moines is a great city day-to-day to live and work in. But the old adage "The eye must travel"—especially as a creative, I feel really strongly about that. I've also been in the Design Leadership Network for a few years, and because I don't have a close-knit group of peers in Des Moines, my friends and peers are around the country. We've been supporting each other heavily throughout this pandemic around how to manage small businesses, [but we also] travel with other designers and go to design markets, and it's really enriching. I always come back inspired and with new sources to offer my clients that I would not be able to offer them from just reps coming into the studio or shopping on the internet. It's a whole other category of design resources that are available.
Apart from the coronavirus, what are the biggest challenges you're facing?
My biggest challenge has been to make sure that we stay relevant. That means being able to provide our clients with the best possible product that will stand the test of time, but also staying relevant within the design industry. This may be my own insecurity because I'm in a secondary, or even tertiary, market, but I want to make sure that when I finish a project and install it, it is 100 percent forward-thinking and relevant.
I've also recently relaunched my blog so that I can share what I'm seeing and thinking, as well as shoppable things along the way, with people who aren't our clients. I've also added online shopping to the site—that has been in development for many months, but I really wanted to make sure I got it right. The interior designer of today is expanding into more of a lifestyle brand—I hate to use that word because it's almost become a cliche, but people do look to me for fashion, table settings, entertaining ideas. Sometimes it's as simple a question as "Where do you shop?" or "Who's the wedding planner that you use?"
My clients and even my Instagram followers are always reaching out about something in a picture that I didn't even notice and they want to know where it's from or how I did it. I haven't quite figured out to monetize all of this, but I feel like it's a part of Amanda Reynal Interiors that I can't ignore. It was just screaming for attention. So I've been focusing on that as well.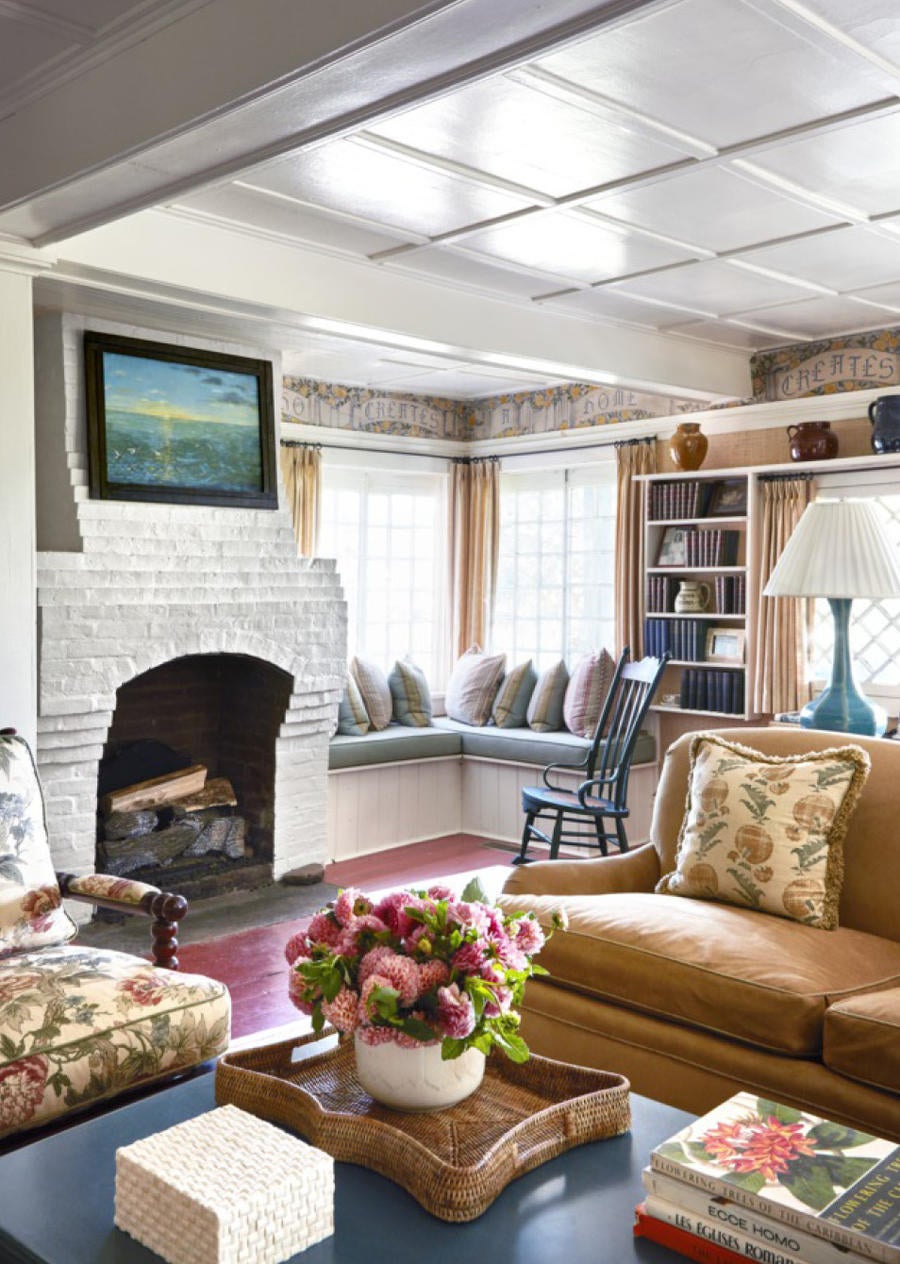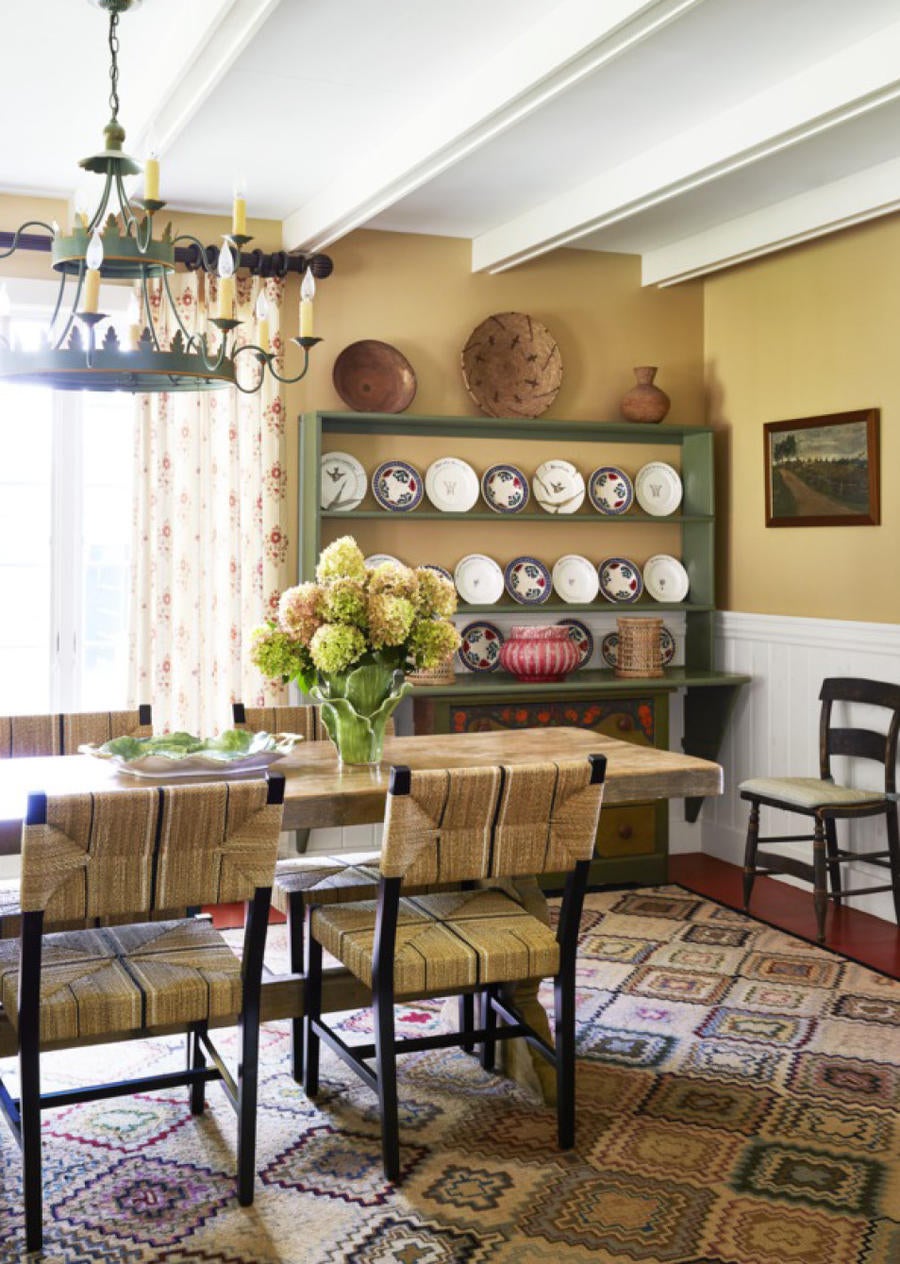 Is this the resurgence of an existing blog you had before?
I had a blog that I was writing maybe once every couple of weeks a few years ago. Then it kind of fizzled out—in part because I was so busy, but also because so many blogs were so beautiful and I didn't want to do something that wasn't the quality I thought it should be. I kind of let it go until I had time to focus on it. When I realized that my website needed updating, I knew this was the right time to make sure that the infrastructure was there so that I could go back and think about what I want to address so that I'm creating original content that other people aren't covering. I always want to keep pushing myself to make sure that I'm addressing the needs of my clients and finding ways to stay relevant and creative and at the forefront of our industry, instead of just following trends.
How do your clients typically find you?
Through word of mouth, mostly. Des Moines is a fairly small city, so chances are, people who might be [looking to] hire a designer have been in a home that I've worked on. My clients have all been extremely gracious and lovely in terms of sharing my name, so I feel super fortunate that the pipeline has always been good. So far, touch wood.
I've been really fortunate to be published in a lot of national publications, including House Beautiful and Traditional Home. Many of my clients either saw a magazine article—or, funnily enough, one of my current clients found me on Instagram.
Did you ever see an immediate result from that media coverage?
There's nothing immediate besides the feel-good factor—the recognition and the street cred of seeing your work and your projects published. But I think there is definitely a longer-term benefit because, especially with the internet today, the images are floating around. People see them, and hopefully they're credited properly and it comes back to you. I have had a lot of people reach out after seeing a project that was published two or three years ago. It definitely helps with maintaining not just a regional or a local presence, but more of a national credibility for my work.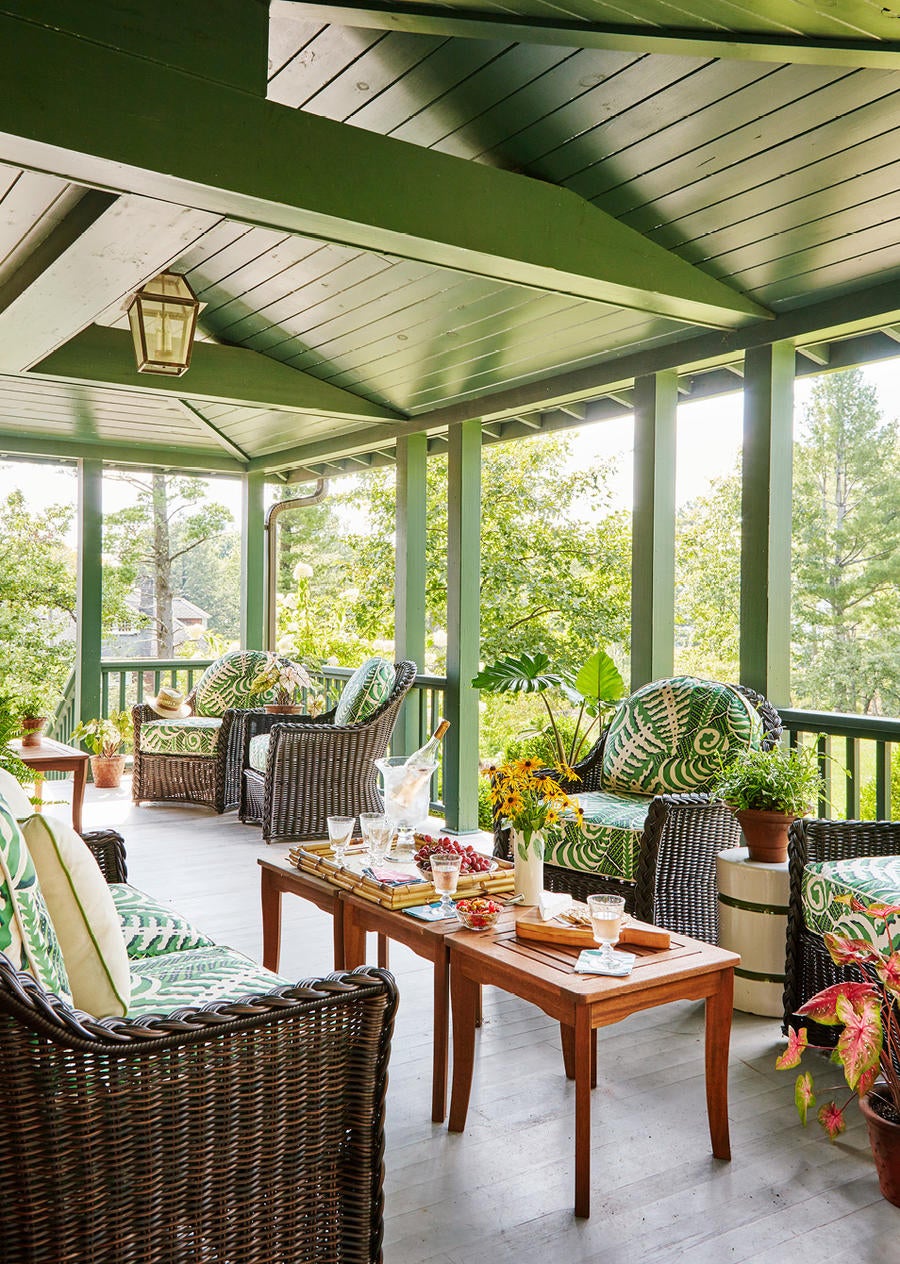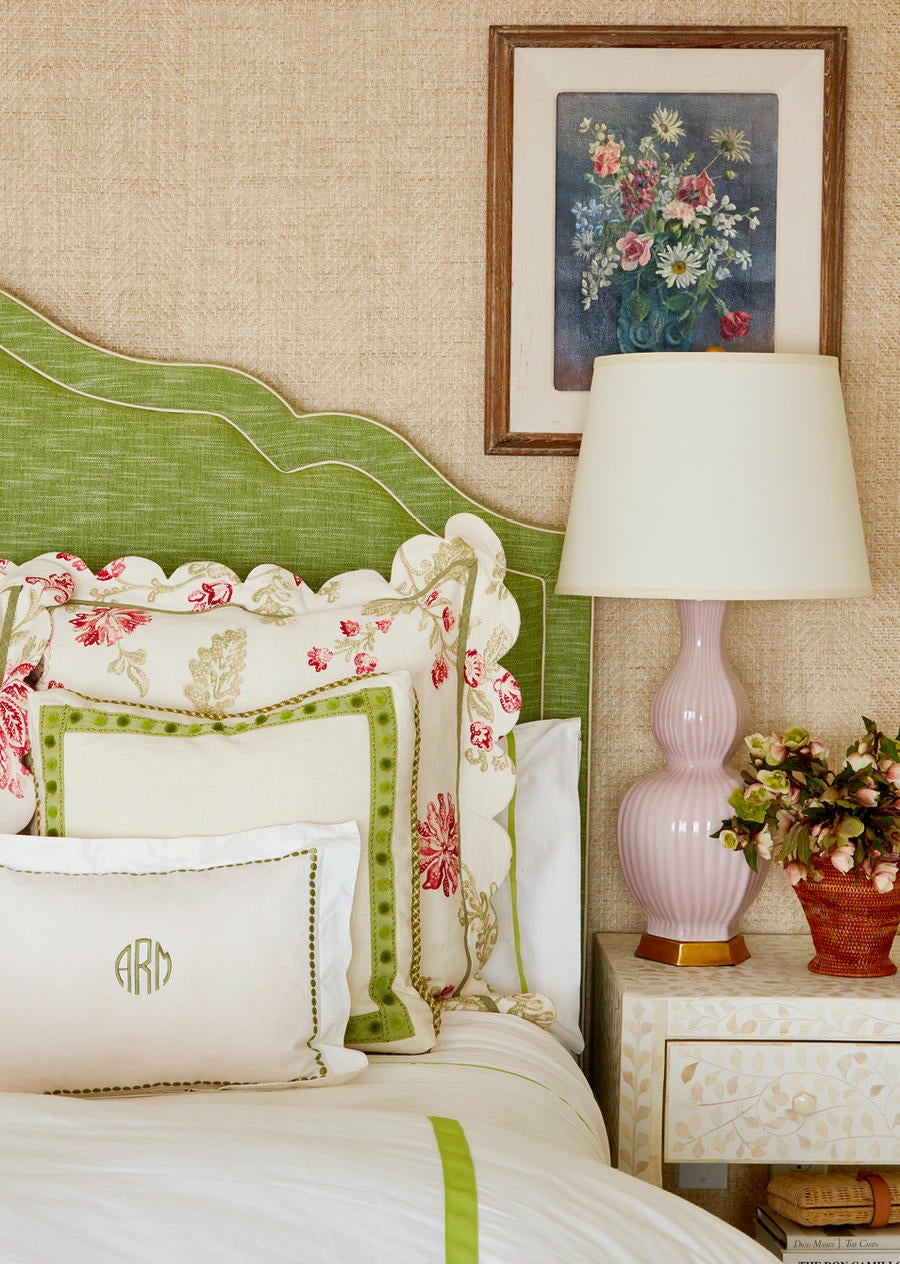 Was getting published an important goal of yours as you were building your business?
I would say yes. When I was at Cullman & Kravis in the early 1990s, we were responsible for shooting our own projects with a professional photographer and submitting them to Architectural Digest. I learned how to style a shoot—flowers, accessories, camera angles, all of that—and it was such an amazing learning experience. At Cullman & Kravis, we always shot our work as soon as a project was installed. Because that was ingrained in me from an early point in my career, I've always done it [with my own firm] as well, whether or not the project is being published—at least for scouting shots and my own portfolio.
That had to be such an incredible, formative experience.
It was an amazing time. The antiques, the art, the level of detail on upholstery and trim—those are all things I prize now. There's so much to learn about what we do besides just making a pretty space—whether it's relationships with clients, or how to explain why they need contrast welts in their sofa, or why we're designing window treatments a certain way, and why things cost what they do. I feel like I'm constantly apologizing for how much things cost! But there's also a reason they cost that much. In the long run, they're going to forget what they paid for something, but if it's done right, they're going to love it forever.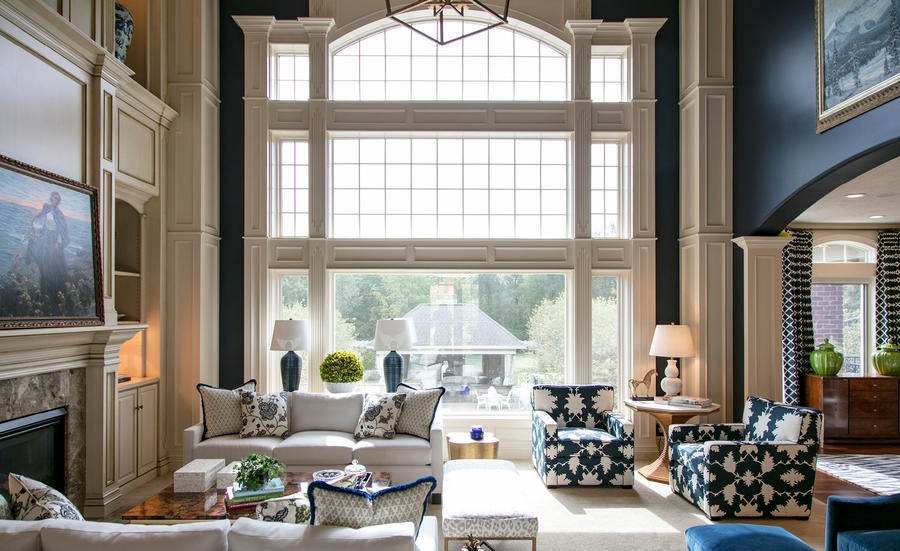 How do you navigate conversations about costs with a client?
It's never easy, but I think being positive and upbeat as you explain how we've taken their budget and allocated it in certain ways so that we can really make the most of it [goes a long way], and if there's something that I feel really strongly about, hopefully a client will agree.
One thing I've really learned in recent years is, if someone doesn't give you a budget when you start a project, [you need to] ask them for one—or just create one anyway. It takes extra time, but once we have the furniture plans and the floor plans, we plug in every piece of furniture with a high and a low of what it could cost. If we show them a budget with a high and a low before we start and they're OK with the numbers, then when one item comes in really high, we're able to find something at the lower end [of the range] for another item [to balance out the cost].
The way we work, we do an estimate for every single item. Every pillow, every chair, every sofa. Some designers give a price for the whole room and then a list of what they're ordering, but our clients see what every single item they're buying costs. That can often lead to sticker shock—but if a pair of lamps is expensive, or a pair of sofas is expensive, we've balanced it with end tables that are reasonable to stay within budget.
Why is it so important to show that client the price tag for those objects?
That's the way we've always done it, and I think it instills a level of trust. I don't want there to be any surprises or unknowns that could be questioned later. If a client can sign off on every single thing—they see what it costs, what it's made of, the size, the dimensions, and how it fits into their room scheme—then the finished product isn't going to be something that they didn't understand or weren't prepared for.
We talk about fees and have a letter of agreement that the client signs before we begin, and we discuss our fees openly. Clients know that we are marking things up, they know what our hourly rate is; everything is very clear to them in advance. We always suggest creating a budget for each space as part of the first phase of the project. That way, if they look at it and say, "Can you bring the living room down $10,000?," we can work on doing that while we're making our selections.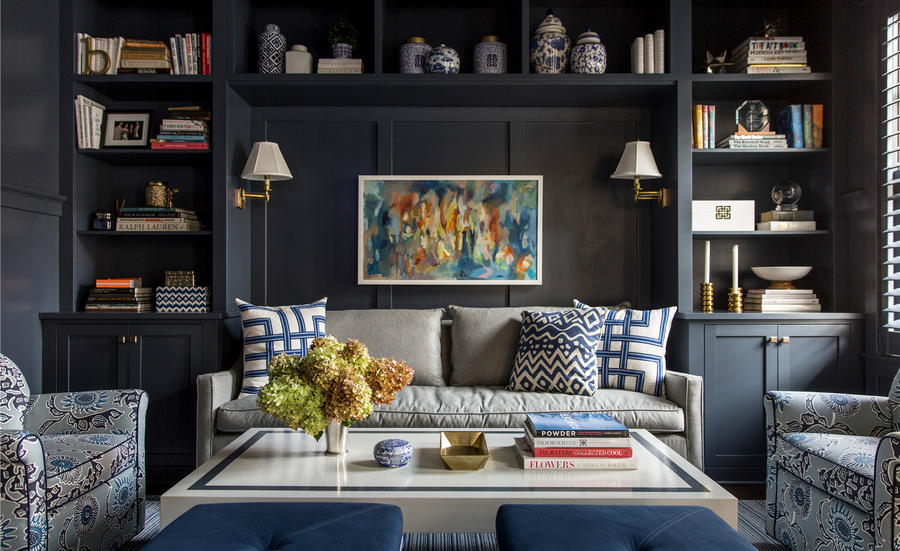 How do you describe your aesthetic? What are people coming to you for, in terms of look and feel?
My aesthetic is very distinctive here in Des Moines. My friends will text me and say, "I just went to a cross-country team party at this house, and I just know you must have had a hand in it." I use a lot of color, which people seem to be afraid of here in the Midwest—[I've found that] the mindset can be very conservative in terms of palette. But my clients often come to me because they want the color, and that makes me so happy. Balancing the use of color with function and comfort is my mantra. But it becomes colorful—not on purpose; generally, it's just a byproduct of what I'm drawn to.
Are you feeling the crunch of the shutdown right now?
I feel grateful that our projects are still moving forward. I mean, we have clients that want to move into their houses and the builders are still on-site. Construction is happening here, so that's keeping me busy. Retail-wise, we're feeling the crunch. The shop is shuttered right now. Luckily, we have our online shop going, but it's not as great as having events and seeing people, so that's been challenging. And of course all of the design industry event cancellations have been a real challenge because everybody wants to see all the new launches and lines. It's springtime, it's the time of new beginnings, but we're all sort of on hold.
What are you most excited about for the future of your firm?
I'm excited for all of us to come out of the pandemic and live in this new reality that's been created while we were all at home for a couple of months. Everyone's terrified right now, but I feel really optimistic and confident that this has only reminded us how important our dwellings and our personal retreats really are.
To learn more about Amanda Reynal, visit her website or find her on Instagram.