Radnor, a collective of brands in a series of residential pop-ups, isn't just a genius merchandising and marketing play. It is also former Future Perfect collaborator Susan Clark's answer to the brick-and-mortar conundrum: expensive real estate combined with declining showroom traffic.
Radnor's first-ever installation, "Materials Interiors," is open now until June 30 at The Bryant, David Chipperfield Architects' new condo in midtown Manhattan. In it, Clark curates pieces from design-world darlings like Egg Collective, Workstead, Oyyo, Pat Kim, PELLE, and Farrah Sit—as well as her own newly launched line.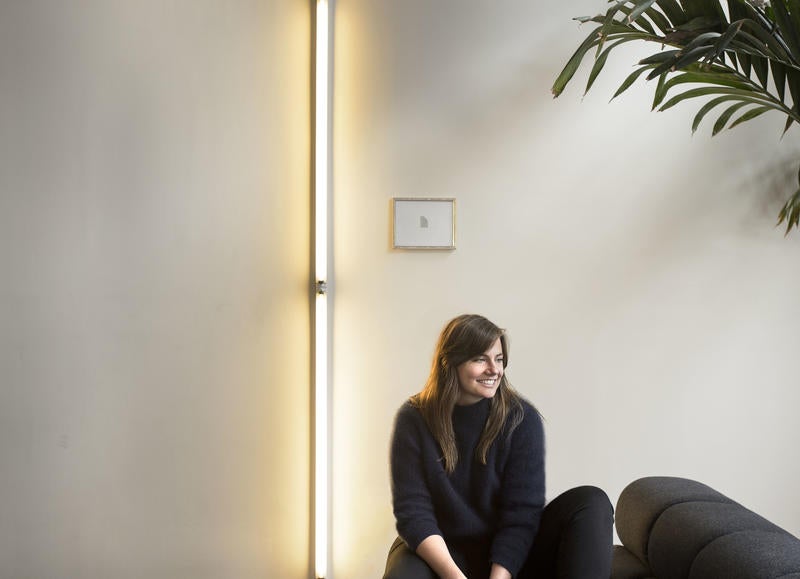 Radnor's inaugural installation emphasizes a sense of collective thinking. "As a creative, community is essential. I want to always be surrounded by different perspectives, aesthetics and thought processes," Clark tells EAL. "The exchange of ideas and community is also one of the primary reasons I decided to not proceed with a brick-and-mortar." Instead, the installation found its home in this luxe two-bedroom discovered through the Brick & Wonder real estate platform.
"The true challenge was to find a space that not only enhanced the work, but also spoke to this livability and consideration to the process of making in design," she explains. "The moment I saw the space layout, especially the terrazzo-clad walls and herringbone oak floors ... I knew it would be the perfect space for our co-curation."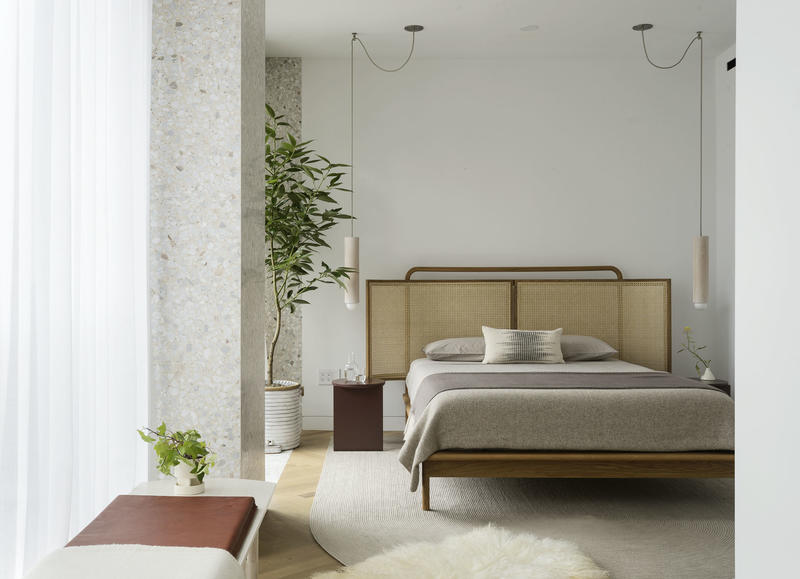 Radnor—named after Radnor Lake State Park in Nashville (Clark is a fourth-generation Tennessean)—launched in 2016 with a lineup of independent designers from around the world, each one creating handcrafted goods and sharing a philosophy of "accessible, elevated living." It carries lighting, furniture and home goods, working with designers on exclusive, limited-run lines (available at the installation) as part of its newly launching Radnor Made brand. And it consults on sustainable business models, representation, sales support and other issues with clients like Calico Wallpaper, Stillmade, Sawkille Co. and more.
"Radnor is something I have been working towards for years," explains Clark. "I wanted to build and/or create a platform that combines the creative process of making, along with the community dynamic of support."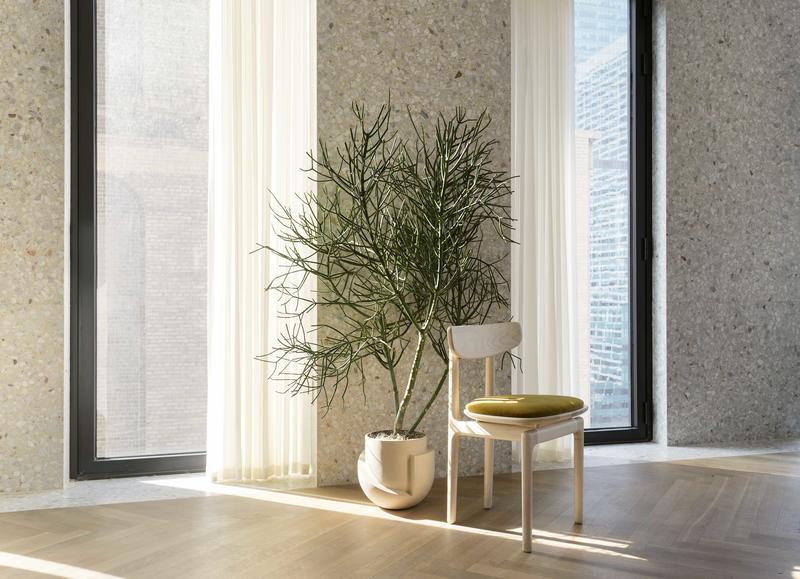 The role of craftswoman is one she has trained for: Clark studied traditional crafts with a focus on glassblowing and metal fabrication, at the Appalachian Center for Craft before becoming "consumed" with a focus on weaving. (Evidence of that obsession is found in the installation, where she's releasing a series of single-origin handwoven coverlets and throws sourced from nomadic herders on the borders between Ladakh and Tibet, made with 100 percent cashmere and Matka silk and wool.)
She also worked as a professional glass artisan for several years, before realizing "design was another language I needed to learn," moving to New York to attend Parsons, and ultimately, working for a number of interior, architecture and lighting design studios.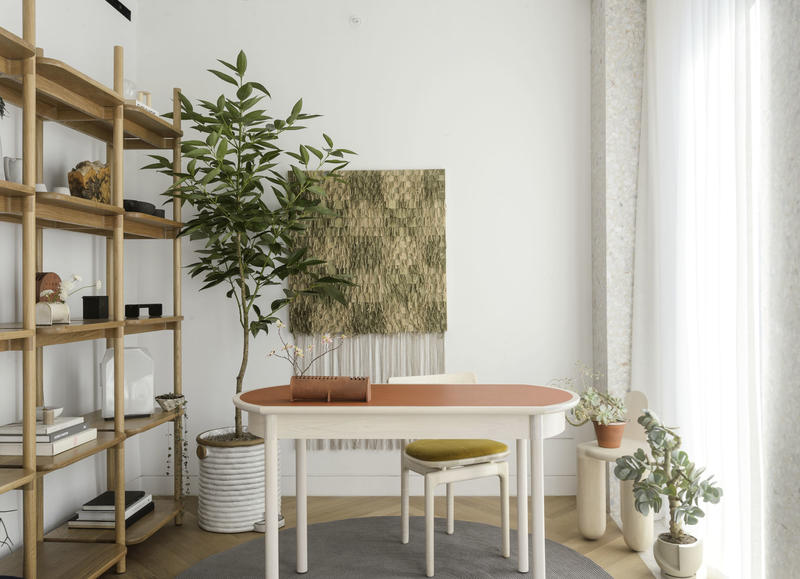 She remembers a lecture at Parsons on the absorption of environmental materials that continues to influence Radnor's philosophy on collaboration. "The lecturer was explaining how the items we live with 'shed,' and we, in turn, are absorbing these small particles. She showed a list of all the 'ingredients' in a typical wall-to-wall carpet that was in her home for several years. The lecturer had then taken her own blood test, revealing she, too, had a high amount of the exact same toxins in her," recalls Clark.
"This idea is something I have always held on to when speaking on the importance of well-made design: If materials literally become a part of us—even just by passively living with them—this really highlights how important it is for us as designers who are actively creating these impactful objects, to question and engage with material in our designs."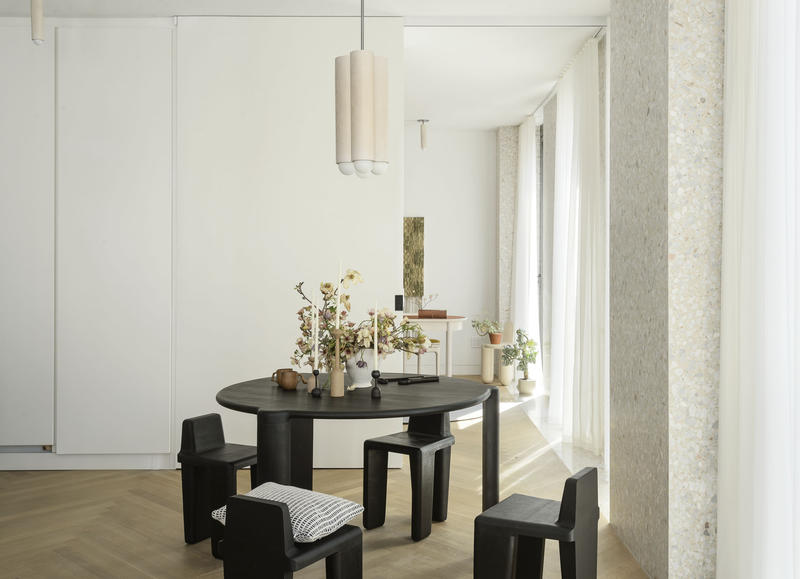 To that end, Clark is using "Material Interiors" to unveil limited-run Radnor Made collaborations with Bunn Studio, a newly founded New York outfit led by Louise Sigvardt and Marcus Hannibal, and Adam Rogers, founder of Portland, Maine's AR:S design studio, in addition to pieces from Radnor-represented designers. Visitors will spot work by artist-ceramicist Julianne Ahn and Montreal woodworker Loïc Bard; paper-light wooden spoons dreamt up by Marie Eklund, a former drummer turned craftswoman; selections of Stockholm studio Oyyo's hanging woven art; and Egg Collective's sleek marble living-room table. The works are available for sale online.
All these collaborators, says Clark, were "sought out as they all carried one key value: a true understanding for the process of making, and the value of the given material to the core design of their work."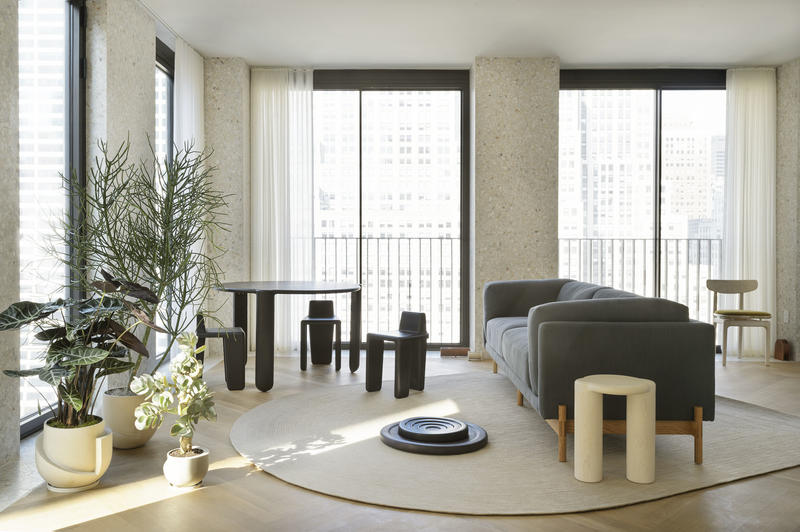 The next installation will appear in a to-be-determined California locale, with a new round of work by Bunn Studio and Adam Rogers.
"Material Interiors" runs through June 30, by appointment, at The Bryant, 16 West 40th Street, New York.