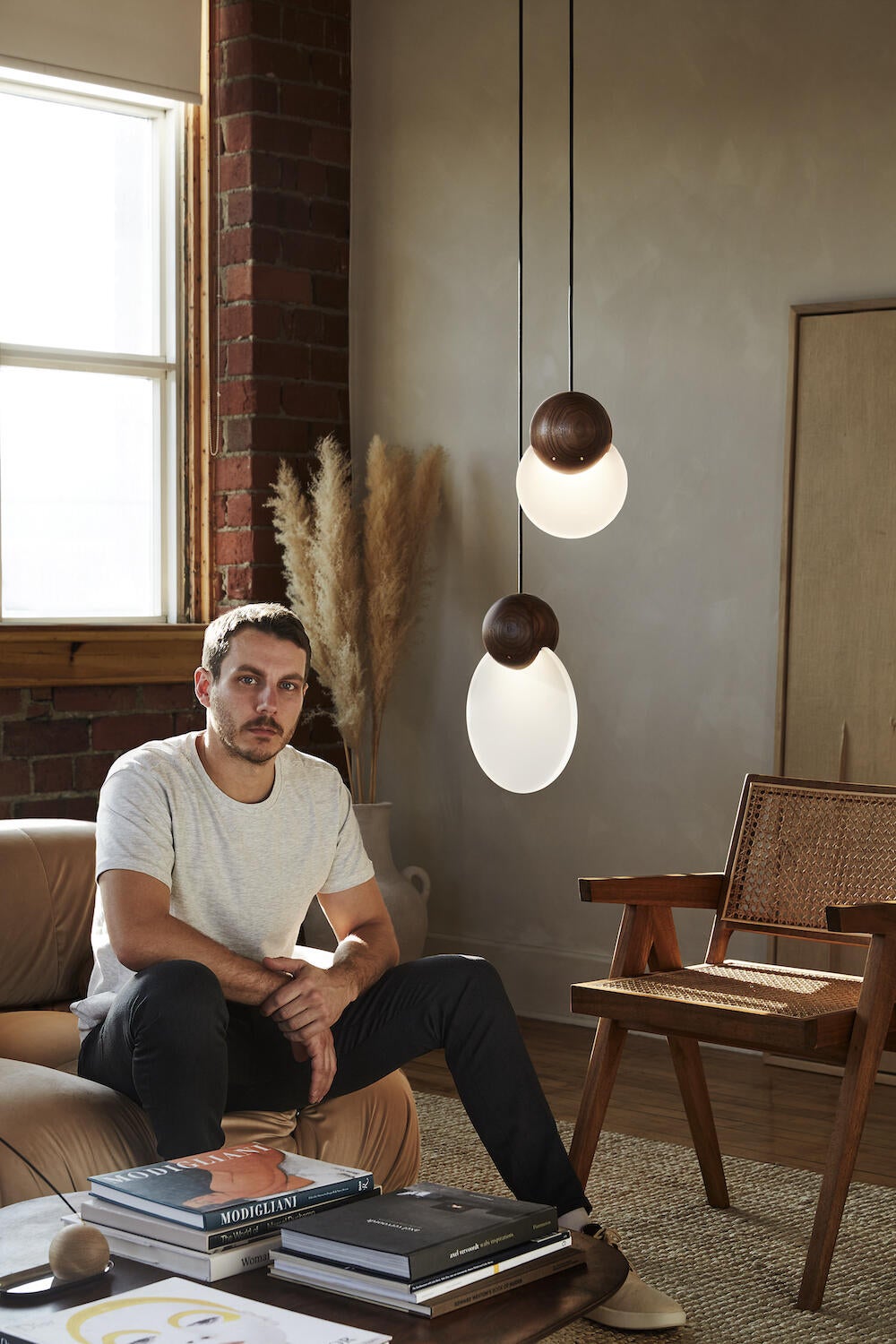 Courtesy of Hollis+Morris
Mischa Couvrette likes to craft sophisticated objects out of raw materials. The Toronto-based founder and designer behind Hollis+Morris enjoys distilling a design down to its most basic form to highlight its composition. "I've long been inspired by abstractions of the natural world," he tells Business of Home. "I'm fascinated by the idea of making something out of nothing."
His first major design project provides a compelling case in point. After earning a degree in environmental design and marine biology from Dalhousie University in Nova Scotia, Couvrette purchased an old, broken-down steel sailboat and spent two years transforming it into a seaworthy vessel. "It was essentially my crash course in industrial design," he says. "A million little pieces had to come together in order for us to sail off into the sunset—and I was hooked."
Couvrette spent the next year sailing to Central America before returning to Canada with a clear head and career goal. "I left the sailboat in Guatemala and came home with a new purpose in life to design and make things," he says.
In 2014, he launched Hollis+Morris at the Interior Design Show with a small line of hand-made, minimalist pieces including a simple side table composed of metal and hardwood. "My experience with the aforementioned metal boat, combined with my appreciation for solid wood, resulted in a functional yet elegant piece that utilized the best attributes of each material," says Couvrette. "The colder, less inviting metal was used as bracketry to showcase the elegance and beauty of the oak and walnut."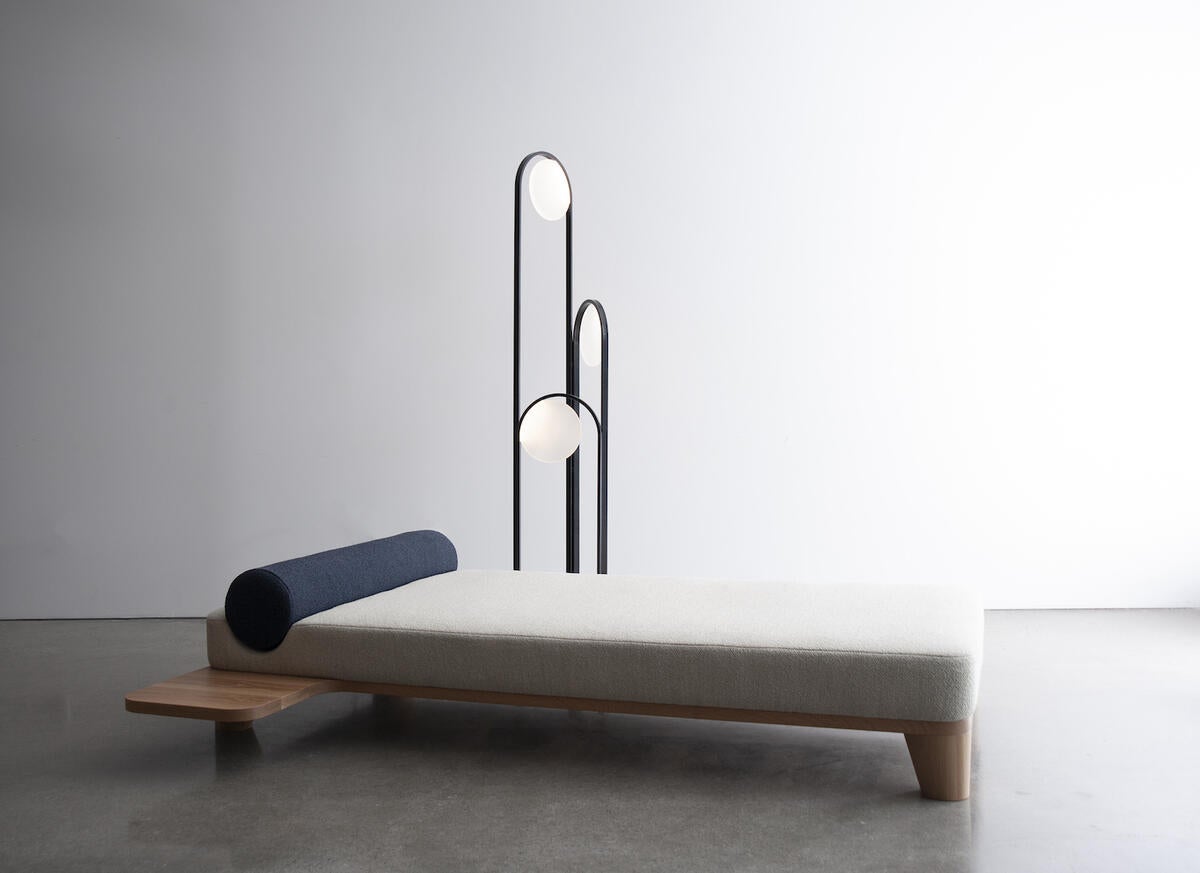 Courtesy of Hollis+Morris
What began as a one-man operation out of a two-car garage has since grown into a sustainability-focused furniture and lighting design studio with a 4,000-square-foot facility and a team of 25 young craftspeople. "The early trials and tribulations of a new business came relatively easy to me, as it was much easier to build a table with four legs on dry land than to drill a hole in the bottom of a floating vessel," says Couvrette. "Those years influenced how I view the world of design as an 'outsider' and sparked my desire to create functional, hand-crafted pieces that leave people inspired."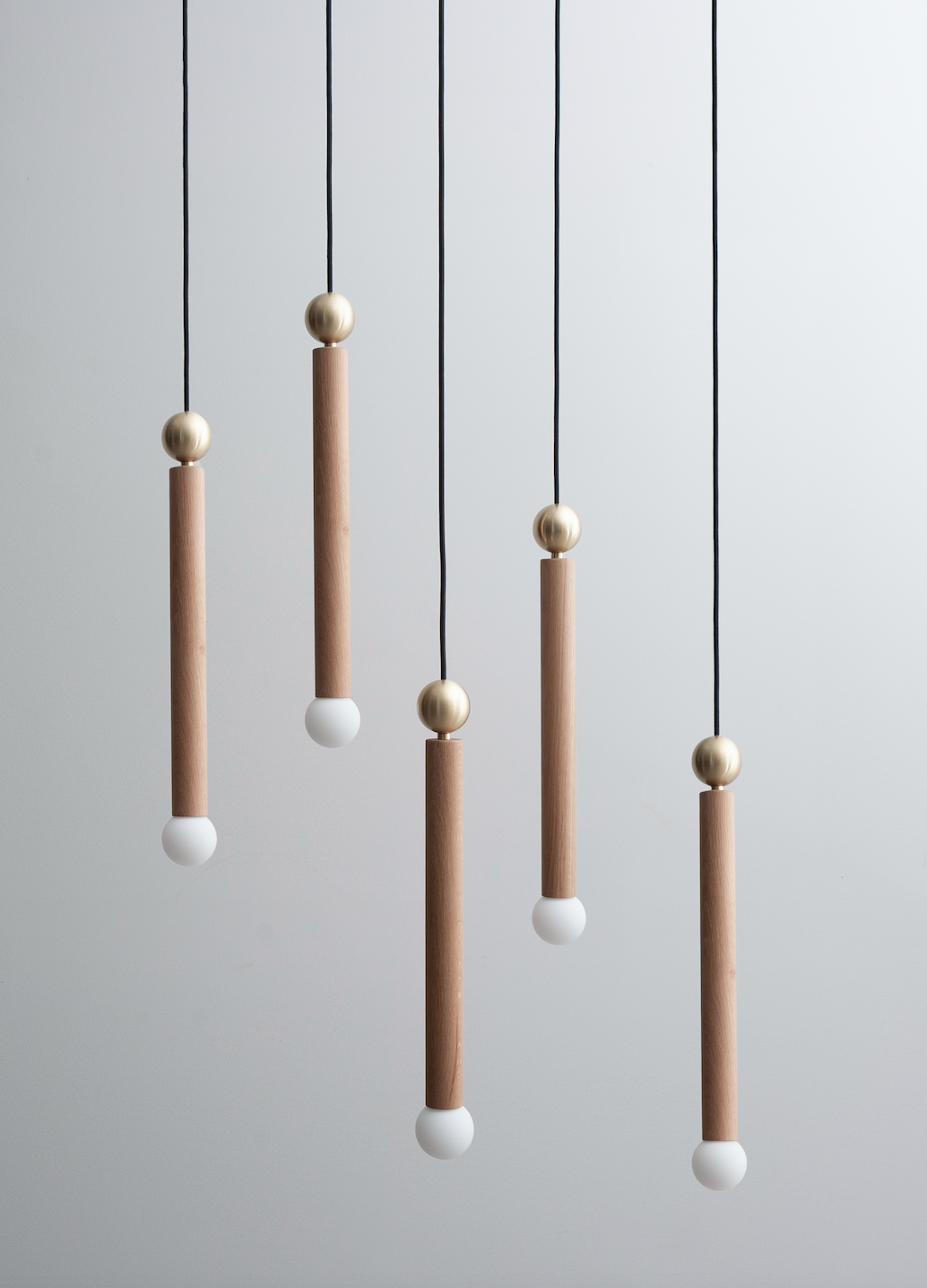 Courtesy of Hollis+Morris
Most of Couvrette's designs begin as rough sketches, which become full-scale mock-ups before he and his team forge them from locally sourced materials such as solid wood salvaged from renewable forest streams. "I love the feel of natural materials as a maker because of the way they can simultaneously convey both strength and malleability," he says. "The variation and unpredictability of the outcome is that much more rewarding."
Hollis+Morris's latest collection, Scope, pays homage to the various phases of the moon and features three streamlined lighting designs, including the orb-accented Constellation, the curvy Ellipse and the two-toned Apogee. "The pendants can be configured in different ways to create a custom solar constellation," says Couvrette.
Currently hard at work on a bespoke interior design project with architecture firm Passage Studio, Couvrette also has plans to debut Hollis+Morris's first-ever upholstered furniture series in the coming months. "We are a young business with lofty ambitions, but they all boil down to the same core elements," he says. "Our mission is to spread awareness of the beauty of locally produced items that put sustainability at the forefront."
If you want to learn more about Mischa Couvrette, visit his website or follow him on Instagram.
Homepage photo: Mischa Couvrette with Constellation pendants by Hollis+Morris | Courtesy of Hollis+Morris