In Business of Home's series Shop Talk, we chat with owners of home furnishings stores across the country to hear about their hard-won lessons and challenges, big and small—to find out what they see for the future of small industry businesses like theirs.
This week, we spoke with Teddie and Courtney Garrigan, interior designers who also own a shop called Coco & Dash in Dallas. The mother-daughter duo opened the store in 2014 after noticing a dearth of independent decor shops in the area and have since created a destination with their airy interiors, bold contemporary pieces and eye-catching antiques. Here, they discuss the difficulties of working with family, their very specific customer and the number one enemy of small businesses today.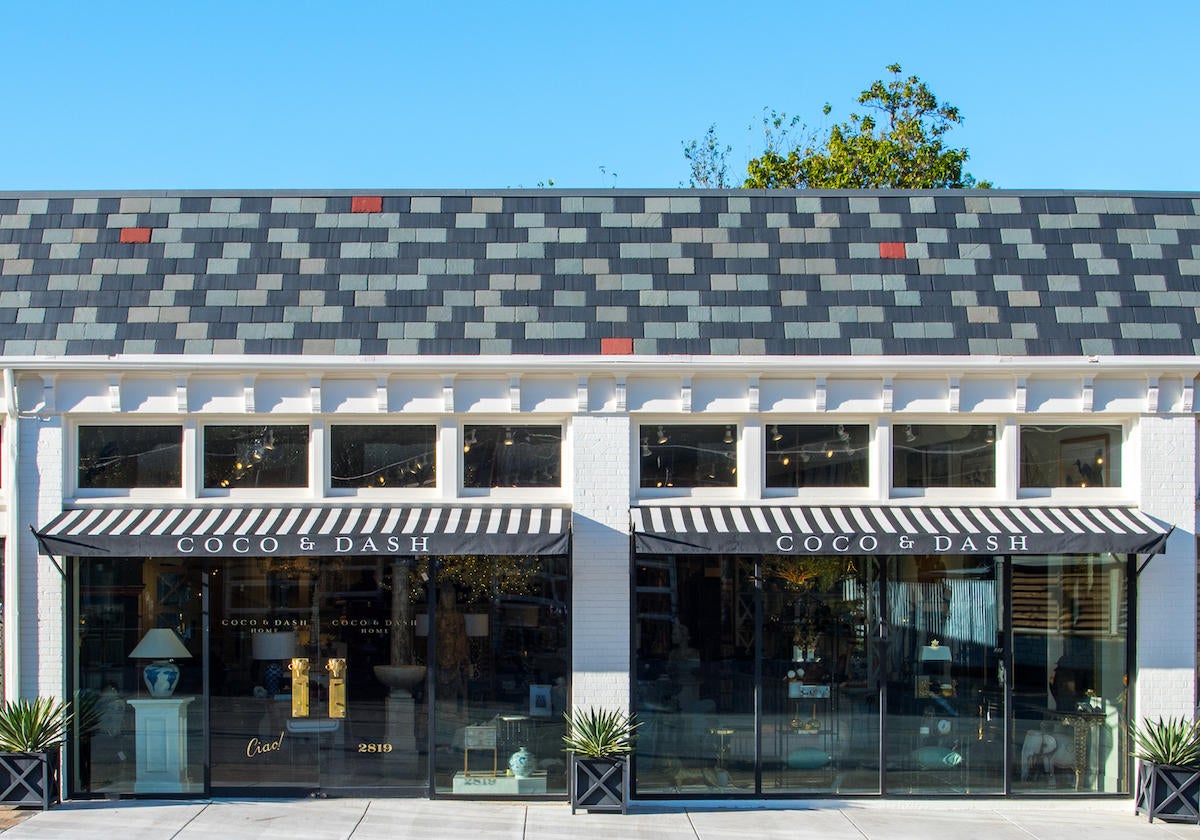 What were your professional backgrounds before the store?
Teddie: My degree is in political science, and I worked as a political and corporate strategist. I was senior advisor to the mayor of Dallas and that led me to business strategies, and I worked with C-level executive companies. My area of expertise was conflict resolution and crisis management. When I was working for the mayor, I also owned a store in Dallas, in the '80s, when I was in my 30s. I grew up a military brat—I went to nine schools in 12 years, twice in Europe for extended periods—so home is very important to me, how it can give us such a great emotional bumper against the world. I always loved architecture and design; it's the same story you hear from every person in this industry, where I would rearrange my mother's furniture.
Coco & Dash was actually Courtney's idea. I'd been working in the Middle East and South America, and I was tired of traveling. She and I were on a trip somewhere, and we were in the car, and just out of the blue she said, "We should open a little shop." I was looking at magazines like, "OK!"—not really listening.
Courtney: Literally, we started planning it on that trip.
Teddie: The next thing we knew, 18-wheelers were pulling up, unloading stuff into the shop. A year later.
And Courtney, what was your professional background?
Courtney: I have a degree in counseling. I specialize in addiction. I started to pursue a master's, then I ended up getting married and having babies. I love my children but often wanted to be doing something creative. With a girlfriend, I started a children's art school. When the economy tanked back in [2008], I closed it, and people had always liked how I had designed it, so that led to professional organizing and space planning. I started doing more closet design.
Teddie: You're just very visual.
Courtney: I'm a very visual person. Then here we are today. It seemed so weird to go from counseling to retail; it comes in handy when you're helping married couples make a decision.
Did you think that Dallas was lacking a store like this?
Teddie: Absolutely.
Courtney: That was our whole impetus. I was moving into a new place, and I wanted new things that really represented me and my style. I realized very quickly that I couldn't find it here. It was either Crate & Barrel or—
Teddie: Pottery Barn.
Courtney: All the big-box stores. I like going to consignment stores and finding cool old pieces. Mom always had the house beautifully decorated, and there were antiques and interesting things. I wanted things that were creative too.
Teddie: People are under the impression that Dallas is a major market and that there are a lot of home decor stores here, and that is just not true.
Courtney: Apart from the big-box stuff, there's really only a handful of independent home—
Teddie: Just three or four shops.
Courtney: Dallas is huge, so it's spread all over the place. We're in [central] Dallas, where it's hard to find something other than a Restoration Hardware.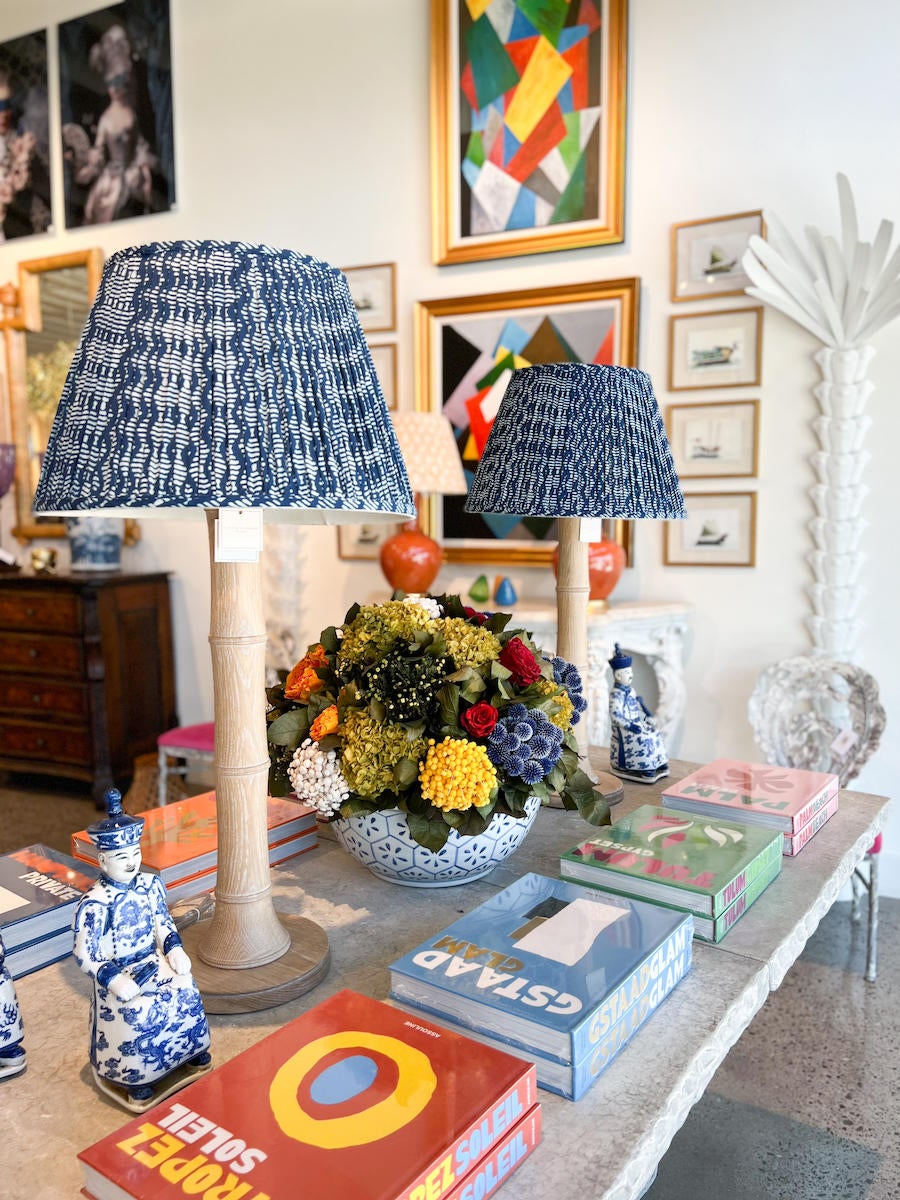 What is the vibe of the store?
Courtney: Colorful.
Teddie: Sophisticated and relaxed.
Who is your typical customer?
Teddie: We have a combination of retail shoppers and designers. Not just from Dallas; we have customers and designers all over the United States. We also have people who are aspirational shoppers—they want to start with something that they're going to have for a long time, that is a better quality than they might find in a big-box store. They're looking for high-quality home decor and excellent customer service, because they know that we're a higher price point. Generally, we don't have a ton of walk-ins. We're not even open on Saturdays anymore, because we're in an area where there are a lot of restaurants and bars [as opposed to other shops]. We have a retail design studio where customers can buy furniture, wallpaper, bedding, lighting, all that kind of stuff. We carry every brand you can think of.
Do you have a favorite vendor, or a vendor you'd like to shout out?
Courtney: Of course, but we're not going to tell you who! We only work with vendors who share our same values and principles. Just as important to us as design and quality is the caliber of a company's leadership.
Teddie: We love Highland House. We love Currey. We love Chaddock. But they're companies that really do have very good business principles.
I'm going to ask you to play favorites again: What are each of your favorite items in the store right now?
Courtney: The pagodas. We just bought these tall antique pagodas, and they're really pretty, and big and heavy.
Teddie: They have little bells on them.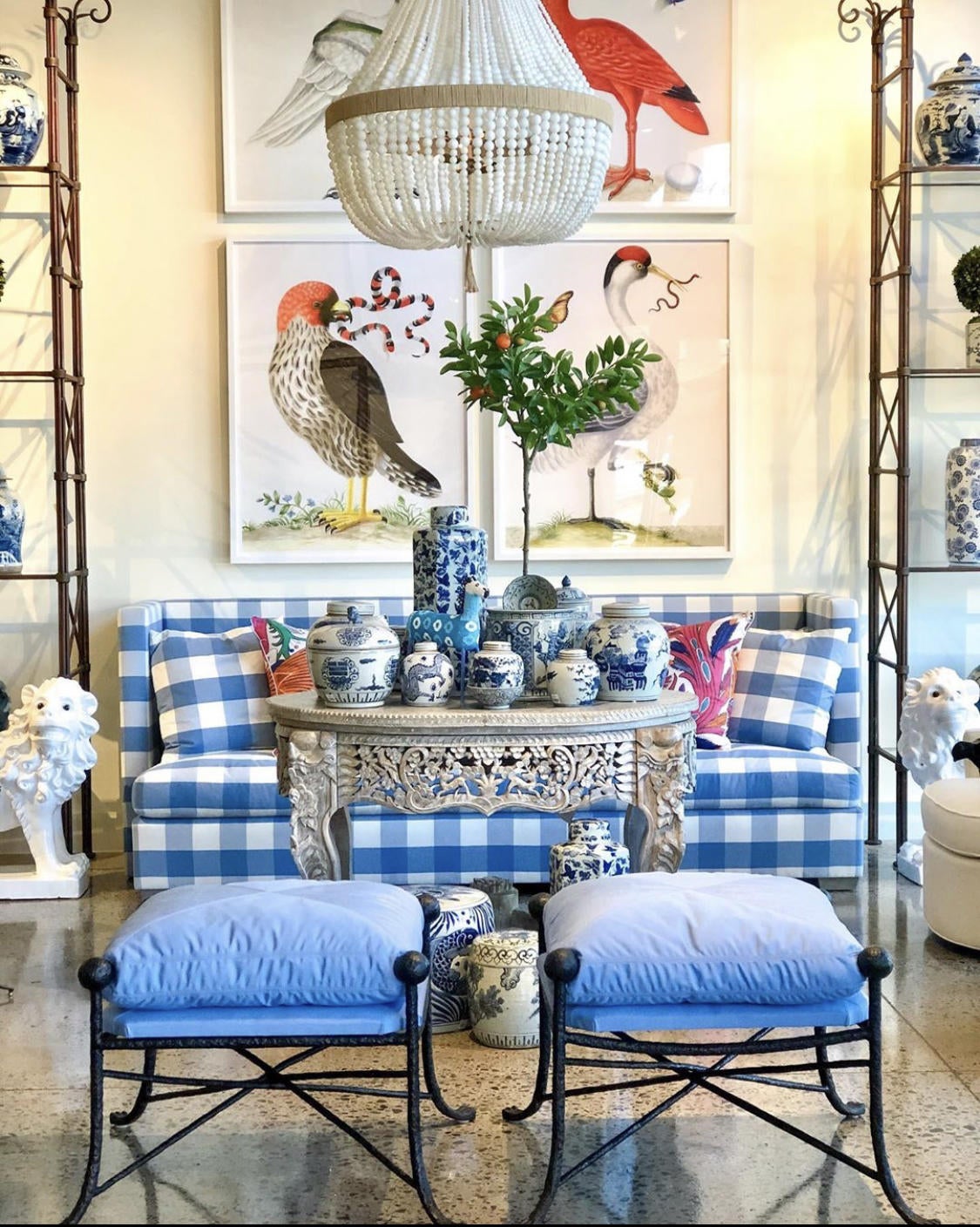 Courtney: They're just really freaking cool.
Teddie: For me, we have this quite famous blue-and-white checked sofa in our store. I don't know if you're familiar with that story?
Oh yes, I remember that!
Teddie: Yeah, the sofa's my favorite.
Is there an object that flies out of the store, or a category you just cannot keep in stock?
Teddie: They're called the Mimi pillows, velvet pillows in these really vibrant colors with contrasting welts. We sell out of those.
Courtney: We make them custom, and we're getting ready to do them in linen as well. We don't typically do a lot of reordering, with the exception of books. We try to keep things pretty fresh and original. If we do find a good seller, like a[n art] print, we might buy a couple at a time, but then we'll let it rest for a while. We want people to feel like they're getting something special every time they come in and know that they're getting something not everybody else has.
Is there advice you'd give yourself if you could go back to opening day?
Courtney: I would say not working with your mother. [laughs]
Teddie: I had already owned a store, and we knew this was slow and steady wins the game. I don't think we had unrealistic expectations. We just had simple rules—like we don't sell trendy stuff. We sell things we love and that we would put in our home. I mean, if I could afford to have an in-house CFO … but that's not [realistic] for small businesses.
Courtney: I don't think we hired our first employee until we were four years in.
Teddie: That doesn't mean we didn't make mistakes.
Courtney: We made plenty.
Teddie: Oh, we're the queens.
What is your biggest everyday challenge, and what is your biggest existential challenge?
Courtney: I go back to my previous statement, which was working with my mother.
Teddie: And working with my daughter. I think that is the biggest challenge.
Courtney: I say that jokingly. The truth is we have a very close mother-daughter relationship, but what people don't realize is business relationships are entirely different. One of the biggest obstacles we had to overcome was that we had to understand each other's working style.
Teddie: Courtney's more laid-back than I am.
Courtney: I'm a little more chill—"Let's just see what happens"—and Mom's like, "Make it happen. Do it now. Why haven't you answered the email I haven't written yet?" Very go-go-go-go-go.
Teddie: I know that about myself. I accept that. That's true.
What about existential concerns?
Teddie: Retail—first it's going away, then it isn't. I think bad retail is going away. Retail as we know it is changing and probably will not in our lifetime change back. I think our biggest challenge is being able to afford a place in this major market; real estate development kills so many businesses. It isn't the internet; it's real estate development. We're on Henderson [Avenue], and on that stretch of about a mile, in the last probably eight years, there have been 18 or 19 small businesses that have gone. They're gone because of real estate development. I mean, our rate doubled.
Courtney: They didn't just raise it. They actually doubled it.
Teddie: We have yearly reviews of where we are, what we want to do, what we need to change, so we're comfortable looking at that. It doesn't look pretty for little businesses. There is a solution; it just has to start at the city council level. I'll probably get back into politics before long.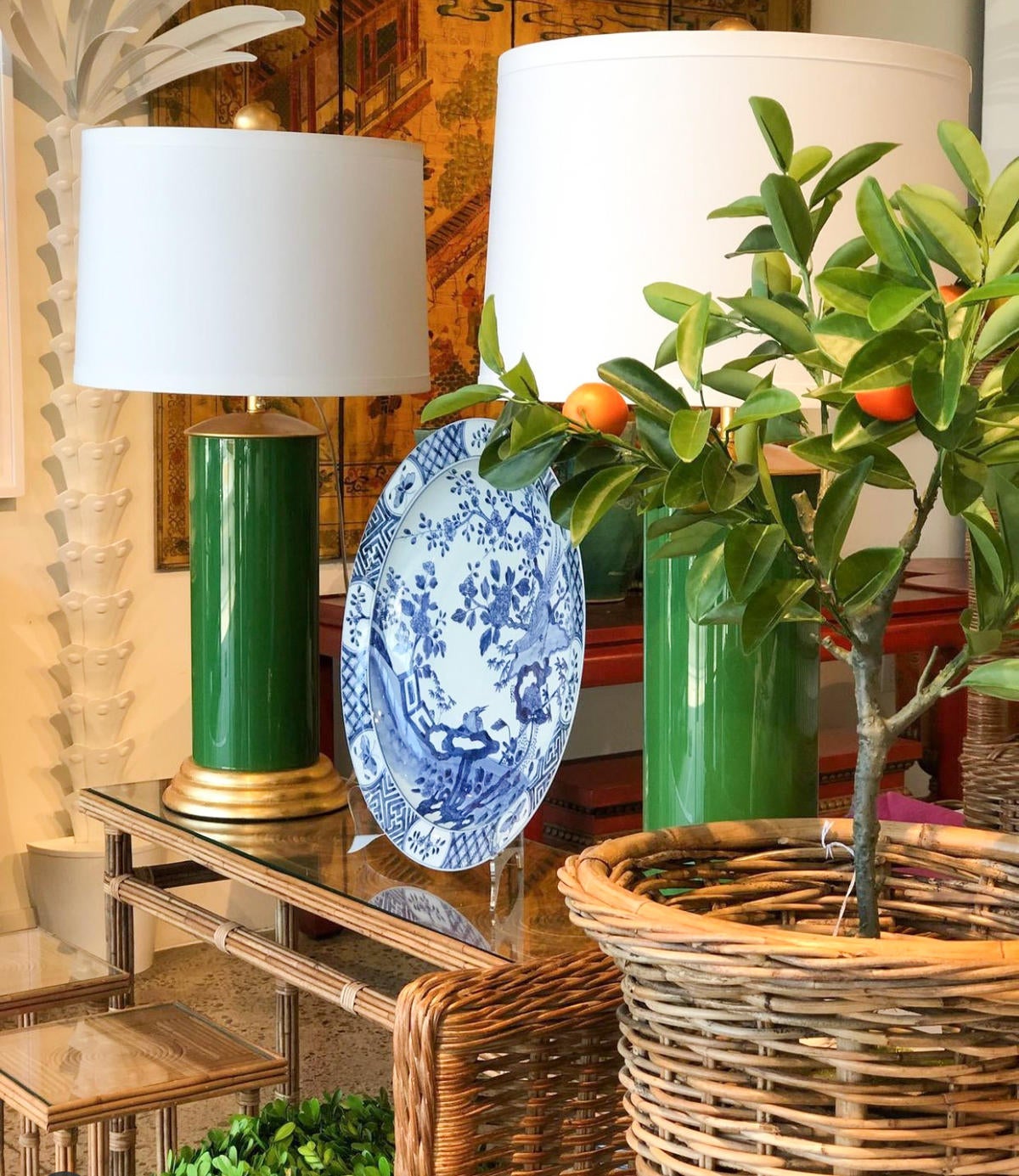 I usually ask what's the specific challenge of your city…
Courtney: It's all about real estate.
Teddie: It is insanely expensive.
How do you convey cost to customers? If they see a price tag that blows their mind, how do you approach that?
Teddie: One of us is always talking to customers. We absolutely share why something is exceptional. But really, I think the truth is that people come here because we are a destination shop. We're not in a mall. We're not something that somebody's just going to stumble upon, for the most part. We don't ever try to convince somebody to buy something.
Courtney: I am probably the worst salesman. I've literally said to people, "You know what? Think about it." I don't try to push. It makes me uncomfortable. If you like it, you buy it.
Teddie: We're, like, this close to saying, "Take what you want, and put your money on the counter." We want people, whether they buy something or not, to be glad they came in here, and feel comfortable and welcome, and know that we stand behind everything they purchased from us.
What's a great day as a shop owner?
Courtney: A great day for us is just when we get to be creative and something comes together, like if we're working on a design project or—
Teddie: Or with nice people.
Courtney: Just working with a nice customer makes it fun.
Teddie: The truth is, 99 percent of the people we work with are nice. That is important to us.
Homepage image: Courtney and Teddie Garrigan, owners of Coco & Dash in Dallas | Stephen Karlisch