Co-working spaces have long been populated by workers on the transient end of the spectrum, whose daily duties allow for a more flexible workplace than the typical corporate compound. Still, the pandemic's shakedown of the traditional office structure hasn't left the sector untouched—in recent months, members of co-working facilities have returned from months at home with new expectations for their shared spaces. Pre-pandemic, commercial design was already morphing into something more comfortable and residential ("resimercial," some call it). After upwards of 18 months spent at home, the bar is even higher for offices to retain elements of at-home comfort while also providing more dynamic, collaborative work spaces.
To begin to address those demands, co-working giant WeWork and furniture rental company Feather have partnered on a new program allowing tenants to choose the decor best suited to their shared space and working style. The initiative rolls out in more than 35 major markets across the U.S. this week following the success of a pilot program in New York, which began nearly a year ago.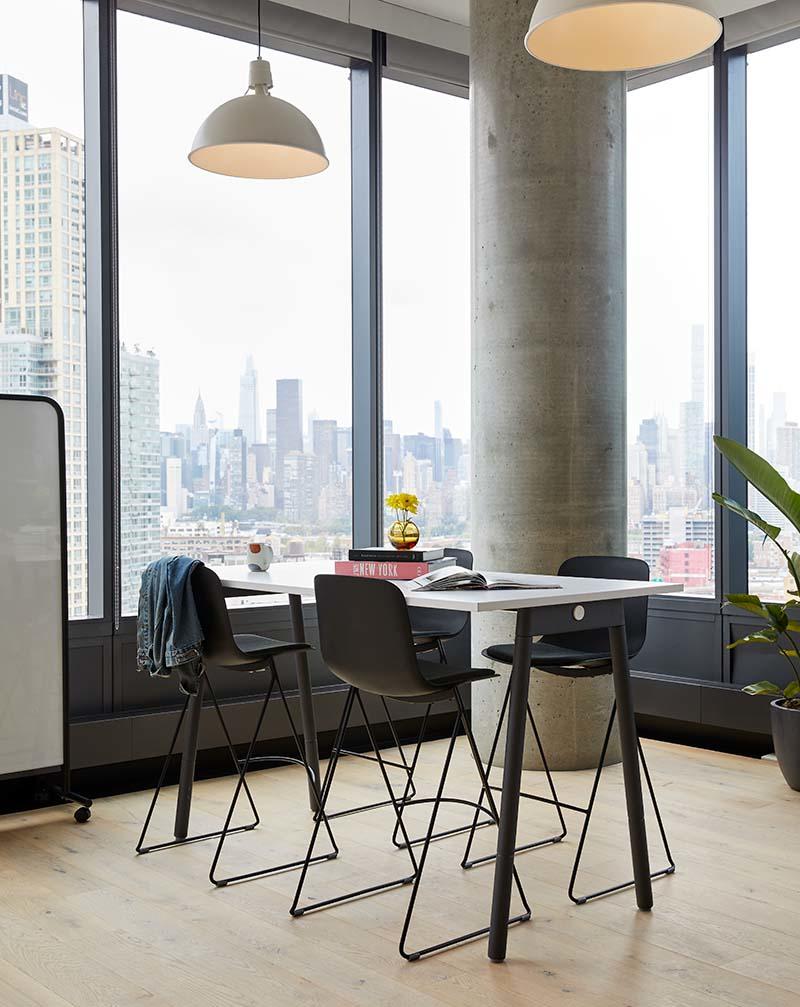 Through the partnership, WeWork members must first access an online build tool to specify the physical parameters of their workspace—including city, building, floor, room shape and number of employees. From there, the tool recommends an office layout and a selection of Feather furniture to fit the space. Alternatively, members with a larger workforce (20-plus employees) can shop the Feather catalog directly to customize their spaces, or choose from a collection of curated office bundles and a la carte furniture—including desks, chairs, whiteboards, sofas, cabinets, coffee tables and bookcases—for which the company provides full-service delivery and installation.
"The experience is seamless, flexible, and ultimately reduces the resources required for a company of one or more than one hundred people to outfit a custom office," says WeWork vice president and global head of design Ebbie Wisecarver. "With access to Feather furniture rentals, WeWork members can tailor their workplace experience by creating spaces that reflect their needs and further facilitate collaboration, connectivity and productivity among teams."
According to Feather's chief operations officer, Ilyse Kaplan, the initiative was, at least in part, a response to the work-from-home wave triggered by the pandemic—along with the resulting shift in attitudes toward what work environments should look like. When businesses dispatched their employees to work remotely for an indefinite period, those individuals packed up and settled down in new cities and areas altogether. Now that in-person work is reentering the picture, larger companies are looking to create hub systems through co-working locations—and to encourage employees to meet their localized colleagues in person. Employers utilizing such models began reaching out to WeWork for enhanced decor and office configuration options.
Once Feather had been tapped for the task, the partners assessed post-pandemic work habits to get a sense of what employees are now seeking from their office decor. After time spent at home, they're less amenable to being "sardined" into rows of cubicles—shifting the focus to ergonomic pieces like standing desks and high-end chairs, or sofas and dynamic workstations for collaborative work.
Additionally, Kaplan views the furniture rental process as a way for companies to adapt to hybrid work as it evolves, while avoiding the financial and environmental waste accrued from outfitting a traditional office. With 8.5 million tons of office furniture ending up in landfills each year according to the EPA, the rental system could provide a more sustainable route for employers who will likely need to continue to recalibrate working conditions in the years to come. For the typical co-working clientele, it's a match well made.
"So many folks who are at a co-working space are really looking for that flexibility—it's a different behavior than just signing a lease for five years and saying, 'I definitely want to be in this place,'" says Kaplan. "So getting that incremental level of flexibility and customization through the partnership really feels like a win-win—it's exciting because it makes sense for all of us."
Homepage image: Inside a WeWork space outfitted with Feather furniture | Courtesy of Feather