In 2015, Robert Wright was on assignment in Morocco working on a rug-shop-themed photo shoot for footwear brand Soludos, where he was marketing director. The rugs inspired more than just the brand's next marketing campaign. "Long story short, no one on the crew, myself included, really worked that day—we all fell in love with these beautiful creations," says Wright. He went back to the shop later that day, spent time talking with the family who owned the business and spotted an opportunity. "Our idea was: 'Let's celebrate this beautiful craft, and see what we can bring to the table.'"
The encounter led Wright to launch direct-to-consumer rug company Beni Rugs in 2018. He's not the only one who saw potential in the sector. In recent years, a handful of businesses, including Salam Hello and Ouive, have popped up, looking to apply a DTC model to the Moroccan rug industry. The upside is considerable—the Moroccan craft market now exceeds $2 billion in sales annually—and rife with the challenges of taking a centuries-old approach to rug production and tailoring it to the appetites of the U.S. market.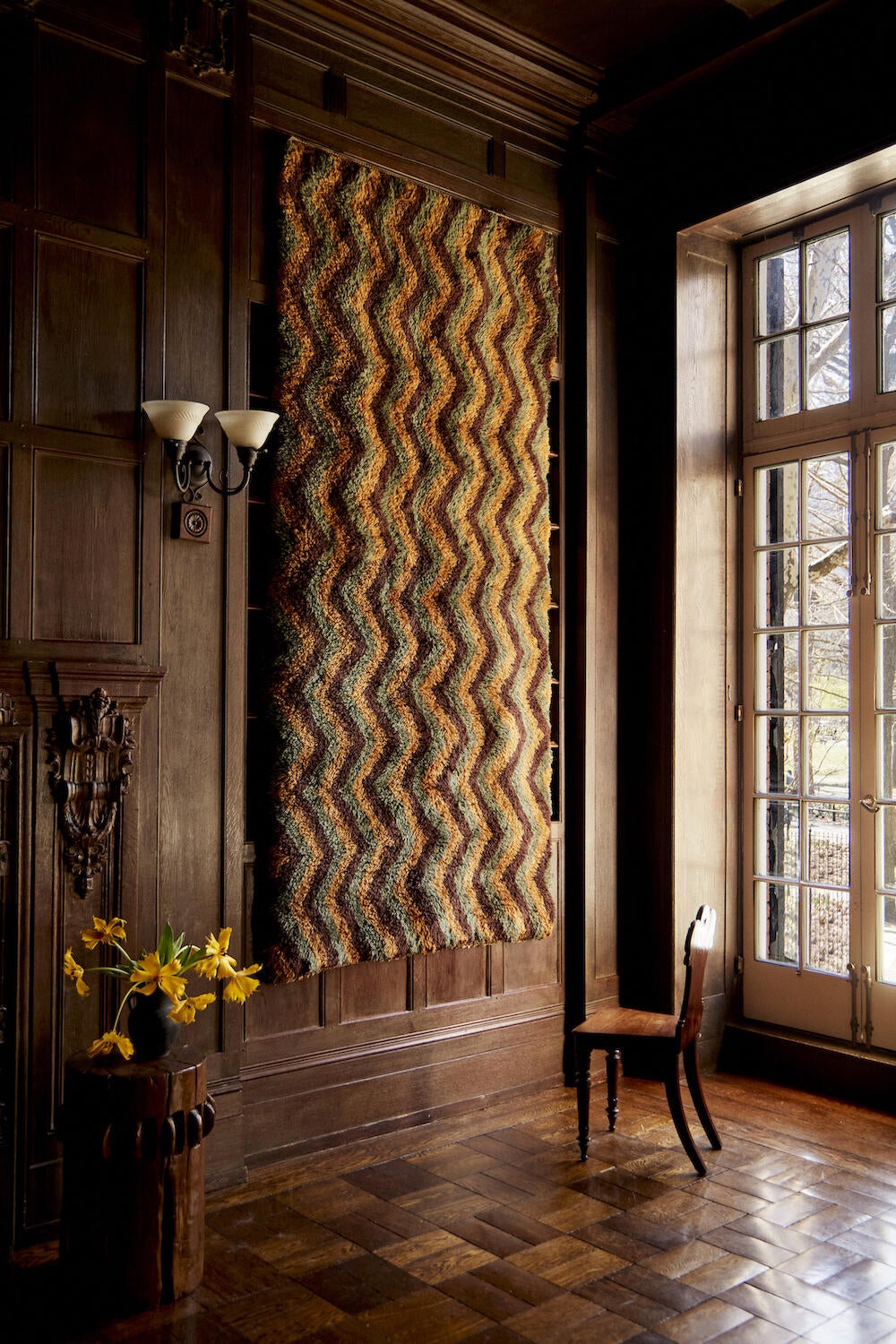 The "cut out the middleman" ethos of DTC brands seems like a natural fit for the category, as the rug trade in Morocco has traditionally operated as an endless series of handoffs between maker and market. In most cases, female artisans in rural areas weave on home looms with locally sourced materials, including hand-spun wool purchased from nearby shepherds and natural dyes made from plants and herbs. Their craft is a combination of their own artistry and regional styles, like the diamond-patterned Beni Ourain rug style made by Amazigh tribes in the Atlas Mountains. When the product is finished, artisans sell to middlemen who transport rugs to local markets; from there, a series of similar transactions occur, transferring the products to ever-larger markets in larger cities—at ever-higher prices. When all is said and done, artisans operating this way receive an average of 4 percent of the profits on each rug—if a piece sells for, say, $8,000 at a market in Marrakech, the weaver might earn just $320 on their work.
For a generation of entrepreneurs straight out of the e-commerce boom, the industry seemed rife with untapped potential. Much like DTC brands had cut out the retail middleman in U.S. markets, entrepreneurs like Wright saw a chance to cut out the literal middleman in the Moroccan rug industry—while also tailoring their offerings to the U.S. market and providing better financial conditions for artisans. So far, the strategy has worked well for the young companies. Between 2019 and 2021, Beni Rugs experienced triple-digit growth, which has only declined slightly to double-digit growth in 2022 as the pandemic has cooled home sales. Ouive, founded in 2018, has seen 33 percent growth in revenue since its first year in business, expanding from an inaugural line of vintage rugs into its core offering of made-to-order rugs, along with moving into new categories like home goods and fashion. Salam Hello has also expanded, debuting an experiential trip for tourists to visit its weavers in Morocco and more recently introducing a collaboration with General Assembly.
Cutting out the middlemen has an obvious financial benefit for entrepreneurs, but it fits neatly into a consumer culture where shoppers are ever more curious about the story behind their purchases. "Trying to live in a more connected world by connecting the end user to the maker—I think that's going to continue to gain in popularity, and people are going to seek that out more," says Mallory Solomon, co-founder of Salam Hello. Her site takes pains to draw a link between the end product, a rug and the artisan who made it (often, pieces have names such as "Fadma's Indigo Trellis Hand-Knot").
The idea is compelling. Getting it to actually work is tough. Beni Rugs launched in 2018, but according to Wright and co-founder Tiberio Lobo-Navia, it took nearly three years of prior groundwork to bring the company's idea to market. "When we first approached our Moroccan partner and mentioned that we wanted to create a company that would [offer made-to-order] custom Moroccan rugs, the look on his face was pure disbelief—I think he actually laughed at us," says Wright. "The industry in Morocco just never operated like that."
As the company gained traction, the pair decided to go bigger: Instead of just re-imagining the rugs, they also wanted to rethink the production process. In 2021, that led Beni Rugs to open its first "mini studio" in Morocco—an 8,000-square-foot space outside of Marrakech that houses a weaving team, quality inspection and raw materials processing. Of course, there's a reason vertically integrated models hadn't already been implemented in Morocco: Artisans are scattered in rural areas across the country, often in mountainous regions, and are commonly responsible for childcare and household duties. The company's solution has been to bus weavers out to its facilities, along with providing benefits like health care and childcare, with the ultimate goal of establishing satellite studios for farther-flung villages.
Other U.S.-based rug exporters have gone straight to the source by partnering with weavers who work from home or from regional studios, choosing instead to travel to collect rugs for export. Solomon and her co-founder Abdellatif Mouhsine began research for their company by scouting the villages and regions with a rich weaving history, then embarking on a journey to meet weavers who wanted to join their DTC venture, launched in 2019.
"As we were traveling, we would meet a friend of a friend, and then that friend of a friend's cousin had an aunt—we might go there and talk with them and realize, 'Oh, they specialize in this specific technique,'" says Solomon. "We've grown those relationships and cultivated them, and that's how we've organically grown the network."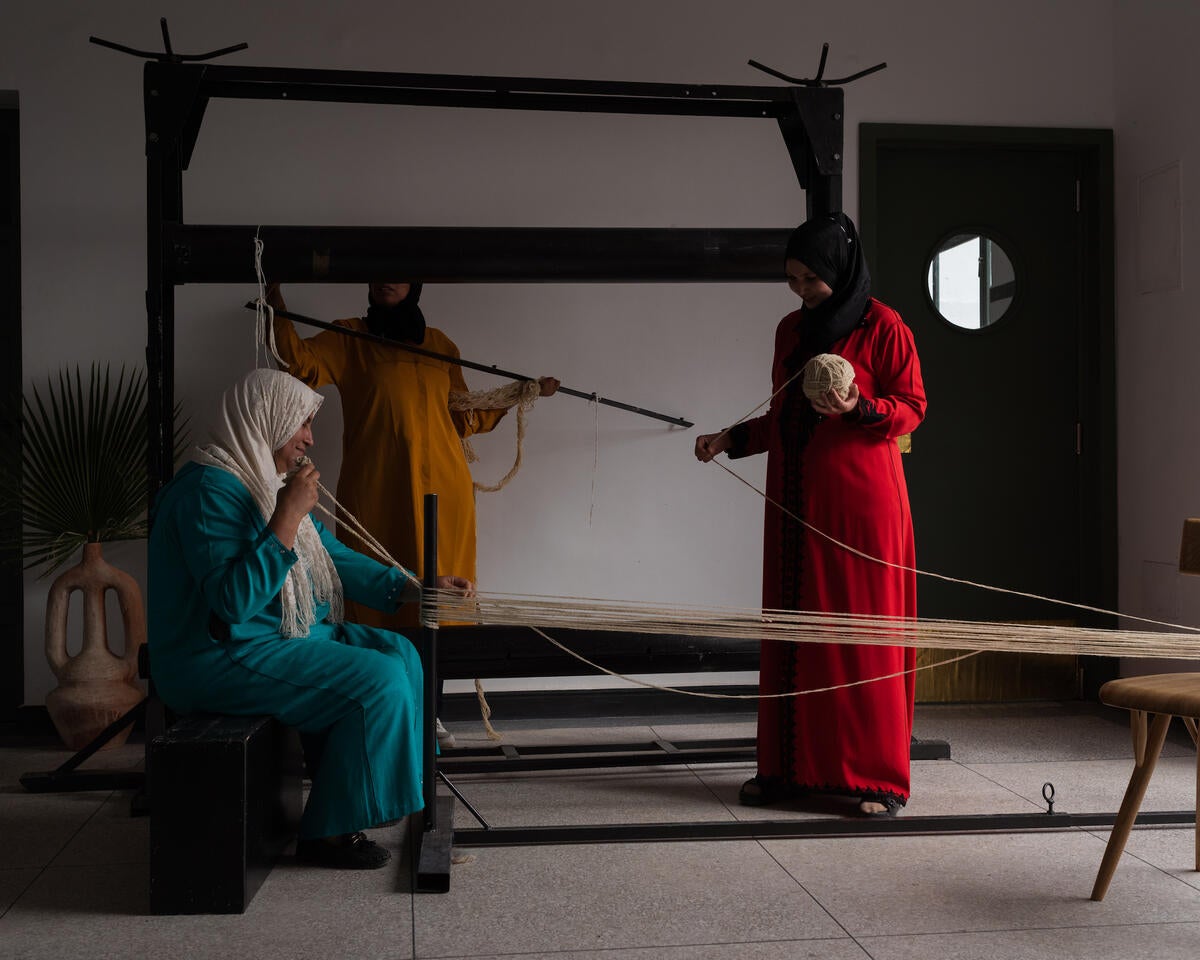 Ouive, launched by founder Kristina Williamson, uses a similar method but also partners with entire collectives—up to 20 and 30 weavers who operate in their own shared space, and liaise with Ouive's local representatives to coordinate the design process for specific orders. The company prioritizes flexible timelines, giving artisans the space to complete their work while balancing family time and other obligations, and also factors in their creativity by offering two main product lines: a made-to-order collection and a ready-to-ship collection of the weavers' own creations.
When determining pricing and compensation for Ouive pieces, Williamson pays weavers a per square meter rate agreed upon between local production partners and weavers based on the difficulty of the weave and design—a similar price to what she might otherwise pay when buying wholesale in a shop in Marrakech. While the company then factors in its own markup based on operating expenses, the majority of the wholesale revenue goes to the company's weavers. "For us, it's not about increasing our profit by going directly to the weavers," says Williamson. "It's the same for us to spend a certain amount per square meter in Marrakech—but I know that amount is going to the weavers, [rather than the middlemen,] and that's the way it should be."
Others believe it's possible to make the rug trade even more direct, by cutting out exporting companies entirely and helping the artisans sell their work directly to consumers. Organizations like The Anou Cooperative—a weaver-owned group founded in 2013—have found ways to help artisans claim ownership over the design process and profits by managing their own sales.
To overcome high rates of illiteracy among artisans, as well as language barriers that keep them from tapping into foreign markets, Anou created an online marketplace that artisans can navigate using only pictures and symbols to upload photos of their work for sale. Anou also hosts financial literacy workshops for its weavers, helping them learn how to properly factor in their time and labor when pricing their product.
"These are the people making crafts that Morocco is known for, and these products are present everywhere—in magazines, in Airbnbs, in hotels, in movies—literally everywhere," says Hamza Cherif D'Ouezzan, the Fez-based marketing director of Anou. "Except the artisans today in Morocco are living miserably."
For weavers, the monetary benefits of the cooperative system are substantial: Instead of making what Anou clocks at an average of 4 percent of the profits on their work, they collect 80 percent, with the remaining revenue funneled back into educational programs and infrastructure for the cooperative. Beyond its website and online marketplace, the company's success in recent years has prompted it to open a brick-and-mortar retail store in the northeastern Moroccan city Fez and begin development on a carbon-negative wool mill elsewhere in the country. So far, the organization counts more than 900 artisans as members.
Anou is also able to partner with brands in the U.S., including Unilever, World Market and ZZ Driggs—the latter of which teamed up with Anou's artisans for a rug collaboration earlier this year. As ZZ Driggs founder Whitney Frances Falk explains, her best experiences shopping for Moroccan rugs involved visiting the country herself, accompanied by a veteran rug dealer and translator who could help her navigate conversations and negotiations with the weavers.
But that was personal shopping—from a buyer's perspective, the experience is much murkier. Falk describes how U.S. demand for Moroccan pieces reached a fever pitch just before the pandemic, after beginning to climb roughly 15 years ago in tandem with the rise of wellness culture aesthetics, where Moroccan rugs are paired with low-slung furniture and meditation pillows. With the subsequent influx of new players and Etsy sellers in the industry, she explains, it was hard to find the same transparency she felt when dealing face to face with the artisans themselves—though she says working with Anou helped. "It's so hard to move up in the scale of business but still have that earnest, authentic transparency," says Falk. "It was great to partner with Anou on a collection of rugs and [share] their amazing story."
Cherif D'Ouezzan believes that the artisans who make up Anou will always be the ones who drive the success of the Moroccan rug market—not American brands. "Today, you're going to come and build this business in Morocco, but tomorrow, you're going to go and visit India and fall in love with it, and go and build a business in India," he says. "The people that have interest in this market and will sustain it over time are the artisan community, and that's why it's really important that the artisans themselves own the business."
The relationship between Moroccan craft and consumers abroad is complex, with roots that date back more than a century to French colonial rule, which lasted from 1912 to 1956. In 1917, the French protectorate in Morocco established two craft institutions: one designed to support local markets and independent craftspeople, and one geared toward satisfying the European and American markets. "[The latter] wanted to fantasize the product, make it a bit perfect and a bit exotic," says Hamza El Fasiki, a U.K.-based artisan, educator, author and expert in Moroccan craft.
That same year, the French protectorate invited American author Edith Wharton to the country—a visit that produced In Morocco, the first English-language travel guide to the country, which presented it as a destination for adventure in vignettes tinged with dated exoticism. ("If one loses one's way in Morocco, civilization vanishes as though it were a magic carpet rolled up by a Djinn," she wrote.) The increased export of Moroccan goods and boost in Western tourism contributed to a rising interest in the country's artisan-made carpets—design icons like Le Corbusier and Charles and Ray Eames deployed the rugs alongside their modernist furniture, while renowned decorator Billy Baldwin put a room carpeted with the recognizable Beni Ourain rug on the cover of his 1972 book Billy Baldwin Decorates.
"The consequence of these things is that we're still having a separation between the craftsperson who's making the carpets, and the person who is making the carpet [while] conscious and aware that their market is European and American," says El Fasiki.
Even today, he explains, there are two main differences in the ways weavers work: some work independently and serve the local market, and some create for international markets, mainly by working for foreign-exporting companies. The difference comes down to a couple of factors: the design process (U.S. exporters often give weavers aesthetic parameters to suit American tastes); and the marketing, which sometimes channels Moroccan stereotypes to target a U.S. audience. "The stories, the way they do the marketing, it would never work with Moroccans," says El Fasiki. "[The American exporters] use exotic narratives—like flying carpets and stuff like that."
Sometimes, he says, those stories tend to sideline the artisan rather than highlighting and celebrating their role as a one-of-a-kind creator. "The carpet is being marketed outside Morocco, which is very good because Morocco needs foreign currency—it's good for the economy, good for craftsmen," says El Fasiki. "The bad part is that it's not very fair. The craftsmen are not connected to the world, not part of that narrative—just weaving the carpets without even an Instagram page or anything."
The situation places the industry in a difficult position. Foreign markets like the U.S. are a key source of revenue for Moroccan rug-makers, and American consumer behavior is different from that of Moroccans, so companies with American ties are well-positioned to facilitate sales—yet that system still divorces artisans from direct profits.
Another complicating factor: The population of weavers in Morocco is dwindling. That's partially thanks to 1990s labor laws, which protected children from working in foreign-exporting carpet factories—but in the process also disrupted the tradition of craft apprenticeship at a very young age. Beyond that, the Moroccan government began encouraging families to send their children to school and pursue higher education in the latter half of the 20th century—but since crafts are considered working-class vocations, El Fasiki explains, it's not common to study weaving in Morocco like one might study fine arts in university in other parts of the world. Plus, many of today's Gen Z and millennial Moroccans are simply put off by the profession, particularly by the idea of low pay and poor working conditions with very little recognition for their work.
Counteracting this trend is part of the appeal for this new wave of DTC companies. For example, Beni Rugs has found success in recruiting weavers from the younger generation by structuring its work environment like a regular office job—women work nine to five, are no longer responsible for every step of the production and sales process, and receive reliable compensation that's twice the national average in Morocco. Anou, meanwhile, has approached the issue from the other end of the supply chain: Artisans are given the skills and ability to connect directly with a foreign market, allowing consumers abroad to get to know the weavers behind the rugs they're purchasing—for example, each weaver's name, portrait and biography are shown alongside their products on the organization's online marketplace.
One thing all parties agree on: In a changing world, the Moroccan rug industry needs to evolve not only to serve a new generation of consumers, but also to improve conditions for its makers. Otherwise, the industry is liable to lose its artisan population—and can expect a time-honored craft tradition to go along with them.
Homepage image: Inside Beni Rugs' studio in Marrakech. | Courtesy of Beni Rugs