For Martyn Lawrence Bullard, the past is always prologue—perhaps never more so than when he is creating designs for a centuries-old material. "I look to the past because the past informs the present in everything that we do," he says. "For more than 2,000 years now, tile has been the ultimate tool for divine, delicious pattern." In his third and latest statement-making collection for Portland, Oregon–based tile manufacturer Ann Sacks, the internationally celebrated designer recalls the mosaics of Rome and Constantinople in all their intricacy and richness. "I love the historical documentation, the Etruscan, the 18th century. With Eutopia, I've brought it into today."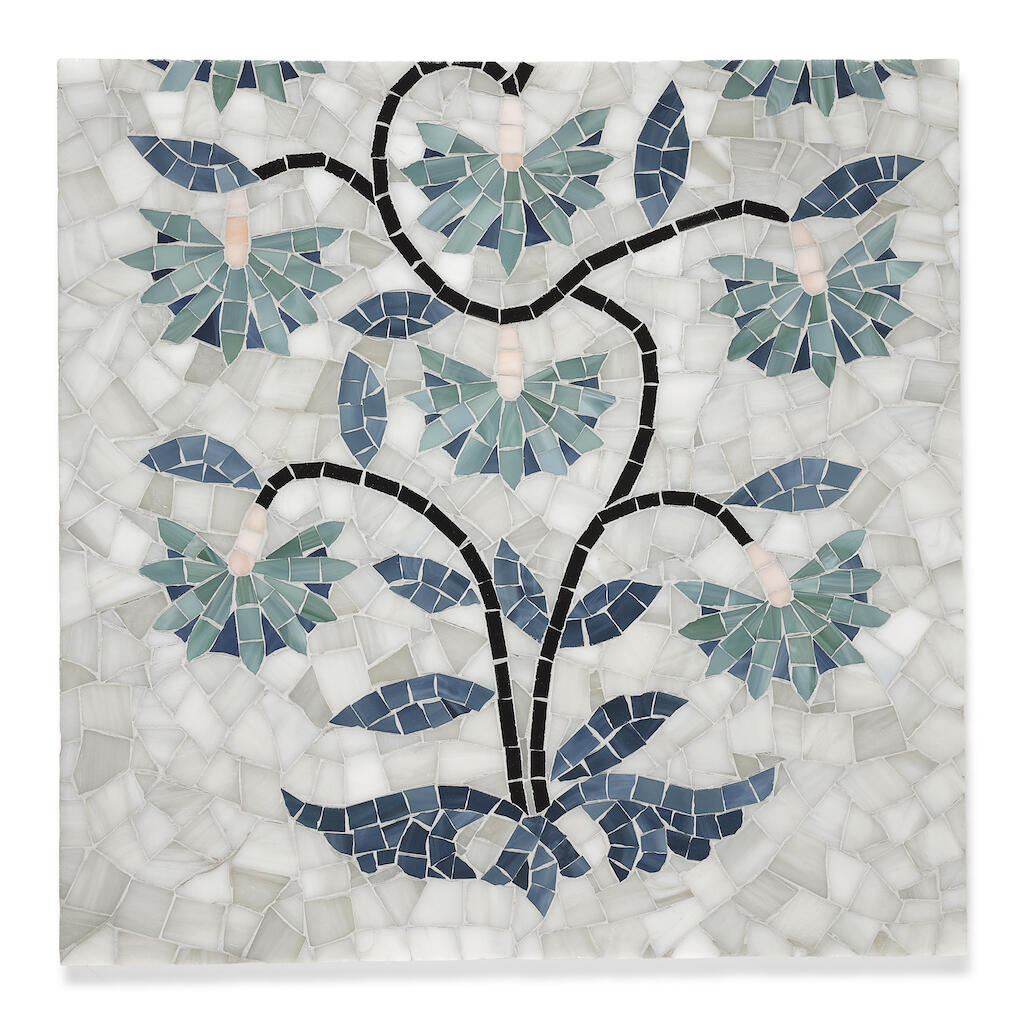 The glittering collection of glass mosaics is available in five motifs, including the twining, leafy branches of Pagoda Vine, the blooming chrysanthemums of Ottoman Trellis and the hypnotic floral fans of Sultan's Garden. "They remind me of the beautiful tile work at the Topkapi Palace in Istanbul, of the first time I traveled there and how blown away I was by this fantastical place," says the designer. Evoking semiprecious stones, the hand-set patterns include nuanced shades of jade, labradorite, obsidian, rose quartz and marcasite. Each can be custom-ordered in 49 hues with one of two finishes, the highly reflective Glossy or subtly matte Sea Glass. "Of course, I went wild choosing the whole spectrum, the kaleidoscope of it all," says Bullard. "With 49 colors, the world is your oyster." The finishes, he continues, add even more dimensionality: "Sea Glass is soft and elegant, while Glossy catches so much light."
To hand-craft the collection, artisans in the United States employed pietre dura, a decorative technique perfected during the Italian Renaissance that creates complex textural patterns through the placement of small marble pieces in a multitude of colors. Eutopia features fragments of cut glass as its medium instead, inlaid to form the elaborate botanical repeats of each motif. An almost imperceptible grout line allows for a continuous application that appears nearly seamless, no matter what size the space. "You can feel that the mosaics are hand-set. It's really bringing old-school craftsmanship into the home again in the most modern way. And the use of glass is amazing because you get this depth, you get this sheen, you get such luster," says Bullard.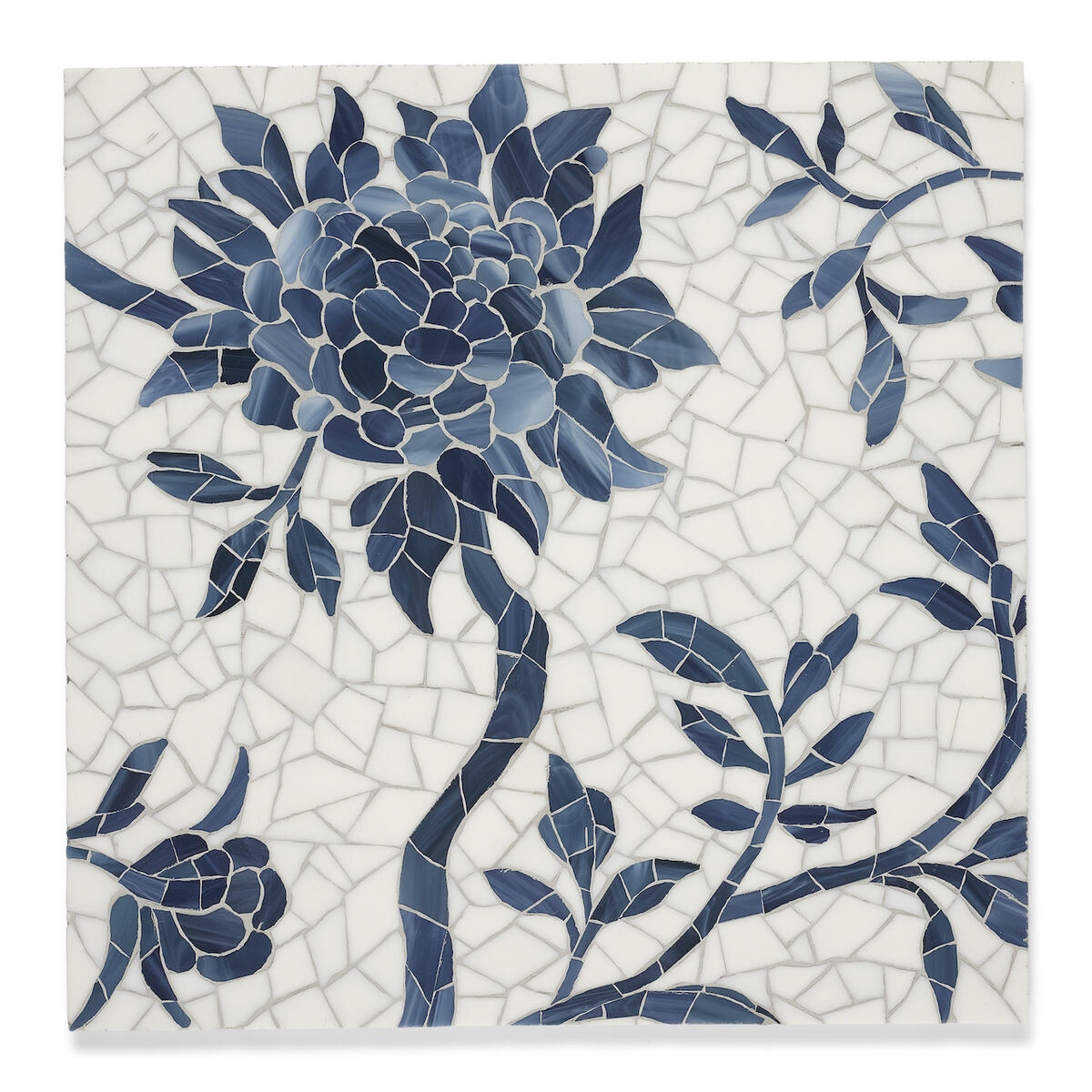 With patterns to rival artwork, Bullard envisions the tiles in a range of places, from a kitchen backsplash or a fireplace surround to a full bathroom or a floor treatment in lieu of a rug. As far as the designer is concerned, when it comes to interiors, not even the ceiling is off-limits—after all, there's historical precedent. "Let's not forget, tile can look super sexy on the ceiling. In the 16th, 17th, 18th century, the bulk of the money for an interior was spent on the ceiling design," he says. Bullard's idyllic visions for the Eutopia collection extend to the outdoors too: "I love the idea of lining a swimming pool with Ottoman Trellis, one of my personal favorites. Picture a sparkling pool tiled in white glass with beautiful blue chrysanthemums trailing throughout. It would be like the pool of an emperor's harem. Imagine diving into this extraordinary floral fantasy." For customers who are not yet at the stage of tiling their ceilings or pools, the designer suggests that even a few tiles, well placed, can make a statement. "This collection has a scale that makes sense from the smallest New York apartment bathroom to the biggest swimming pool in Bel Air," he says.
Later this month, Bullard will introduce Eutopia and discuss his previous tile collections for Ann Sacks at Design Chicago.
This story is a paid promotion and was created in partnership with Ann Sacks.
Homepage image: The Pagoda Vine mosaic tile pattern from the Eutopia collection | Courtesy of Ann Sacks