This week in design, homeowners are finding gardening opportunities in unlikely places—including rocky outcroppings. Whatever happens next, stay in the know with our weekly roundup of headlines, launches and events, recommended reading and more.
Business News
Direct-to-consumer furniture brand Article has announced a layoff of 216 employees, amounting to 17 percent of its team. In a statement posted to LinkedIn, co-founder and CEO Aamir Baig pointed to the pandemic-induced e-commerce boom as a factor that contributed to a temporary surge in growth for the company—one that has become unsustainable now that online purchasing has returned to pre-COVID rates. "Put simply, we were living beyond our means," wrote Baig. "I needed to resize our business to restore our position of financial strength."
After Shopify reported a second-quarter net loss of $1.2 billion this year, the e-commerce platform announced that it was laying off 10 percent of its workforce, or about 1,000 employees. As Retail Dive reports, the decision resulted from Shopify's rapid expansion during the pandemic's e-commerce boom and will mostly impact recruiting, support and sales positions, as well as "over-specialized and duplicate roles." The news is just the latest in the e-commerce sector's recent losses—a survey conducted by market research firm Ipsos has revealed that e-retailers were twice as likely as brick-and-mortar retailers to report they were unprofitable, with 70 percent of retail leaders saying that decisions to increase e-commerce during the pandemic were carried out in "less-than-optimal" ways.
Warner Bros. Discovery—the owner of streaming services HBO Max and Discovery+—has moved toward its goal of creating a unified streaming service by announcing that select programming from Discovery+'s Magnolia Network (a joint venture between Chip and Joanna Gaines and Discovery) will debut on HBO Max in September. According to The Hollywood Reporter, that content will include the series Fixer Upper: The Castle, which features a renovation of the the couple's own home, though all shows will also continue to be available on Discovery+.
Pinterest's monthly users continued to slide in the second quarter, ending with 433 million—the same number as the previous quarter and a five percent year-over-year decrease, Adweek reports. However, the company also reported in its letter to shareholders a revenue increase of 9 percent year-over-year and 16 percent from the first quarter. Pinterest attributes the dip in users to a decrease in search traffic driven by Google's November algorithm update; waning online activity as the pandemic wears on; and competition from video-centric platforms.
Kumospace, a startup that creates virtual offices, has secured a $21 million Series A funding round led by Lightspeed Venture Partners, TechCrunch reports. The company was launched by co-founders Brett Martin and Yang Mou in April 2020 as an alternative to group video chat platforms like Zoom and Google Meet. The Kumospace software allows users to sign into a workspace, where their selected avatar can navigate a video game–like digital office, complete with chairs, coffee tables, water coolers, conference rooms and spatial audio that offers the illusion of co-workers meandering nearby. With the new capital, the company plans to focus on mobile product development as well as growing its partner and customer base.
Showhouses
The 2022 Hampton Designer Showhouse kicks off on August 13, with a lineup of designers that includes Robert Brown, Chad James, Mabley Handler, The Lewis Design Group and Donna Benedetto, among others. The event will be hosted at the 7,500-square-foot Ivy Lodge, a former hunting destination dating back to the 1830s and surrounded by a nature preserve that is part of the Peconic Land Trust. Proceeds from tours of the showhouse will benefit the Stony Brook Southampton Hospital.
Launches & Collaborations
AllModern has teamed up with fashion icon Jason Wu for a collection of signature rugs, throws and pillows. Available online and at AllModern's retail store in Lynnfield, Massachusetts, the product assortment pulls inspiration from architecture and midcentury design, drawing upon the work of modern artists Josef Albers and Mark Rothko by incorporating geometric forms, abstract patterns and tonal textures.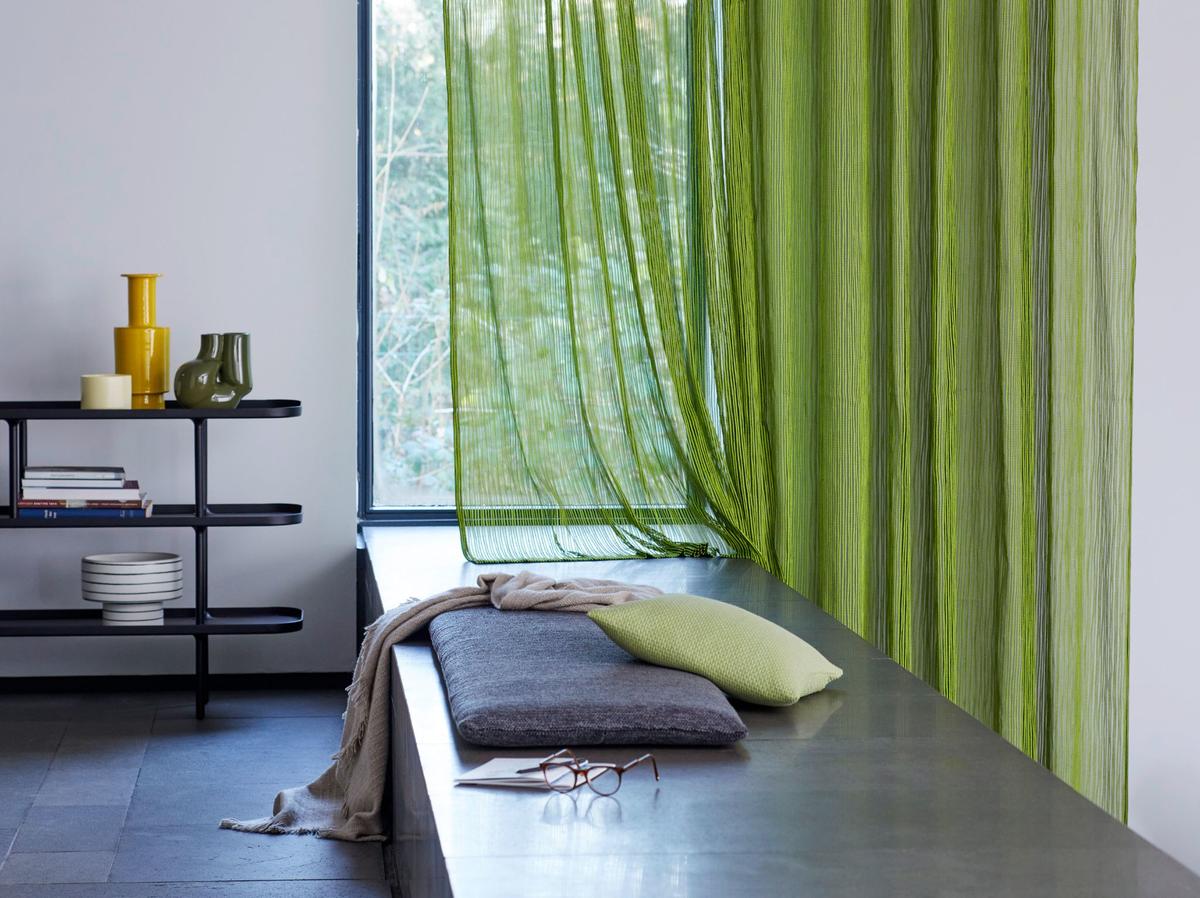 Courtesy of Carnegie Fabrics
Carnegie Fabrics has partnered with Swiss textile specialist Création Baumann for a collection of nine new window covering patterns, with options suitable for both outdoor and indoor spaces. Building on the pair's previous collaborations, the new line offers a variety of sustainably made designs, including two (Outdoor Denver and Outdoor Miami) that pass contract requirements for indoor and outdoor use.
Recommended Reading
When Herman Miller acquired rival furniture company Knoll in May 2021, it was a merger that felt unprecedented in the world of design. As it turns out, the two behemoths share an intertwined history that began nearly a century ago at the Cranbrook Academy of Art in Michigan. For The New York Times, Brett Berk checks in with Ben Watson—Herman Miller president and chief product officer of MillerKnoll—about the little-known historical precedents for the merger, as well as what the future may look like for the combined companies.
According to real estate agents, nearly half of all homebuyers agree that an outdoor kitchen is at the top of their list. For House Beautiful, BOH editor in chief Kaitlin Petersen outlines the eight steps to alfresco success—everything from hiding unsightly infrastructure features to managing the mess when the outside gets in—and provides a few cost-saving solutions for those short on time or budget.
It's no secret that climate change and subsequent rising sea levels are coming for coastal towns in the U.S.—one recent study found that 300,000 oceanfront homes are at risk for "chronic inundation" by 2045, prompting environmentalists to call for a "managed retreat" from fast disappearing coastlines. As Francis Wilkinson reports for The New York Times, the costly burden of that process (especially when the crisis poses a threat to the oil, gas and petrochemical industry on the Gulf Coast) might eventually be borne by federal, state and local taxpayers.
Homepage image: Jason Wu and AllModern teamed up for a joint collection | Courtesy of AllModern