Broadway has the Tonys, Hollywood has the Oscars, but when it comes to celebrating superlative design work and customer service in residential and commercial interiors and renovation, it's a decidedly more democratic, crowdsourced affair: For more than a decade, designers have turned to the Best of Houzz awards. Offered by the home remodeling and design platform since 2012, not long after its inception, these annual honors are decided by Houzz's global community and recognize the industry pros who made a big impression with their creative talent or customer service in the previous year. By spotlighting exceptional interior designers, architects and other experts, the awards serve as a handy online guide for homeowners in search of referrals in their region. But conveniently for the designers, no fawning applications or extra-credit homework is required to qualify: Consideration is automatic by virtue of having an active profile on the site with new projects and client reviews.
"Unlike most design prizes, which are voted on by a small panel, Best of Houzz is really a people's choice award," says the company's vice president of industry marketing Liza Hausman. Winners in the design category are chosen based on popularity—how often a project photo has been saved by the 65 million homeowners and home design enthusiasts who use the platform—while service awards reflect an abundance of good reviews and an overall positive rating. "Recipients really get excited, because a Best of Houzz win means that their work is being seen by a very large number of people. For a small business, that's incredibly rewarding," says Hausman. "It's wonderful to see designers announcing their Best of Houzz honors on social media."
The awards are both local and global in impact. Winners are named for each city or region, meaning there will be best bathrooms and primary bedrooms for Dallas and Detroit, Nashville and New Orleans, Palm Beach and Palm Springs, and beyond. But because the platform itself has such an enormous reach, with members throughout Europe, Asia, Australia and New Zealand, that exposure crosses time zones and borders. "As a result, award winners, especially on the design and architecture front, are getting work all around the world, wherever Houzz has a presence," says Hausman.
Here, three 2023 honorees share, in their own words, what the experience has meant for them and their business:
THE CLIENT COMES FIRST IN NORTH CAROLINA
The biggest benefit of the Houzz awards is the credibility they convey. It shows potential clients that we're a reputable business, we design beautiful spaces, and clients enjoy working with us. Homeowners want a gorgeous outcome, of course, but they're investing both financially and emotionally. Ninety percent of the time they're living through the renovation, so they want to know that the firm they're hiring has done this before, has a process. Houzz awards affirm that.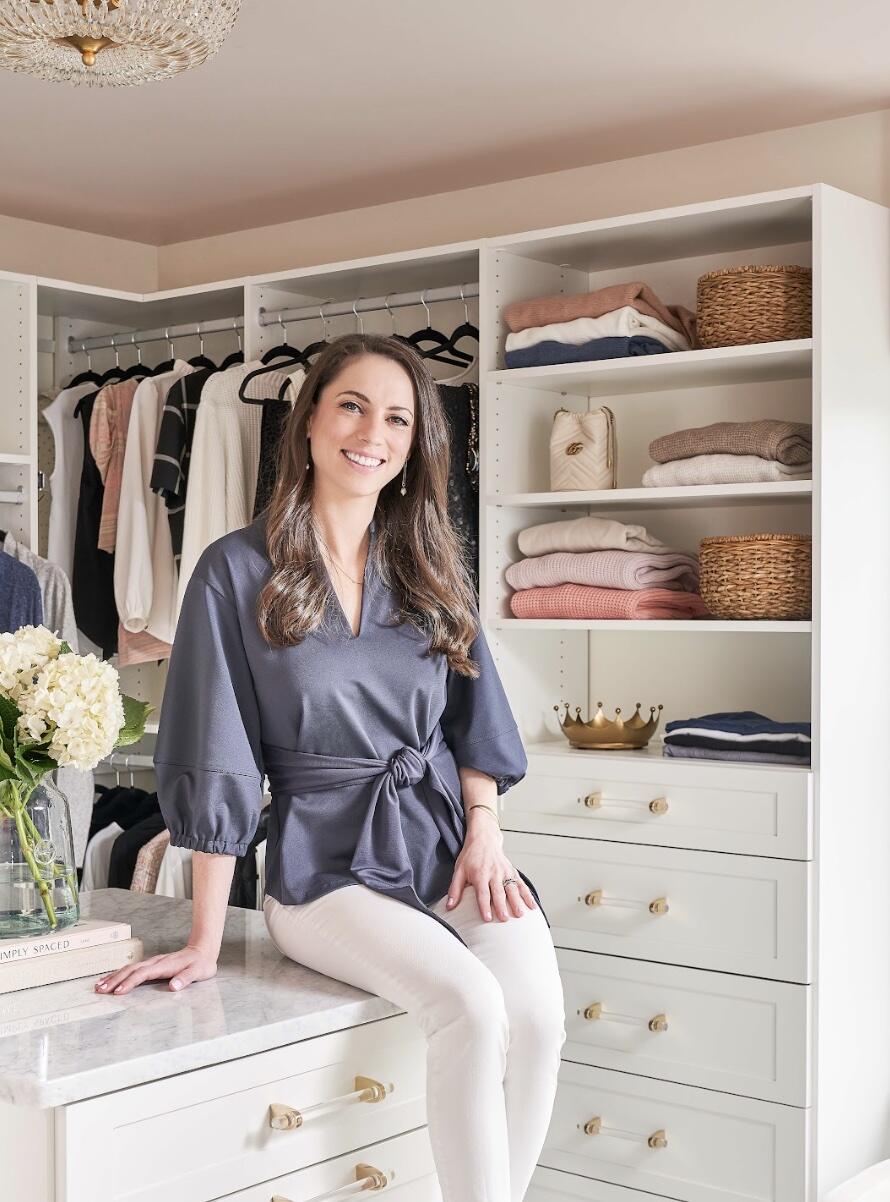 Michael Blevins courtesy of Delphinium Design
Every client presents a different set of wants and needs. Some are families, some are empty nesters. I try to design spaces that are super functional for the individual client, not just for Instagram. One of the reasons my firm wins Best of Houzz awards is our use of professional photography. We're always putting our best foot forward with quality content that showcases our bright, airy, refined aesthetic of neutrals, blues and greens, and then we tag with keywords to make sure the projects reach a broader audience.
Separate from design, excellent customer service is our number one focus. I take a lot of pride in the fact that we've won the service award five years in a row. When you provide excellent service, customers are more than happy to tell other prospective clients about it. To be able to deliver that quality service, you have to have your back end set up and organized with systems. We use Houzz Pro for everything: product libraries, presentations, invoicing and purchase orders. We also make sure we're in regular communication with our clients, sending status updates every Friday, so they always know they're top of mind. And we show up to meetings early. The service awards prove that what we're doing is working.
All potential clients receive a guide to working with our firm that includes a section that lists our awards, so it's part of the first impression we make. We post it on our social media too. We're always tooting our own horn because we work really hard, and we won these awesome Best of Houzz awards, and we want people to know. We've earned it.

Jena Bula, Delphinium Design, Charlotte
Best of Houzz Design 2020, 2021, 2022, 2023
Best of Houzz Service 2019, 2020, 2021, 2022, 2023
TEXAS TEAMWORK
For me and my team, the Best of Houzz awards translate to: "Hey, we're doing something right!" We're always challenging and questioning ourselves: "Are we managing our projects efficiently? Are we making a positive impact on people's everyday lives?" The awards are a validation for us as designers, and for me as a business owner. And they're confirmation for our clients that they trusted the right people with their home. The awards also act as a reminder that when we deliver a beautiful, functional product, our clients give back the love in the form of reviews.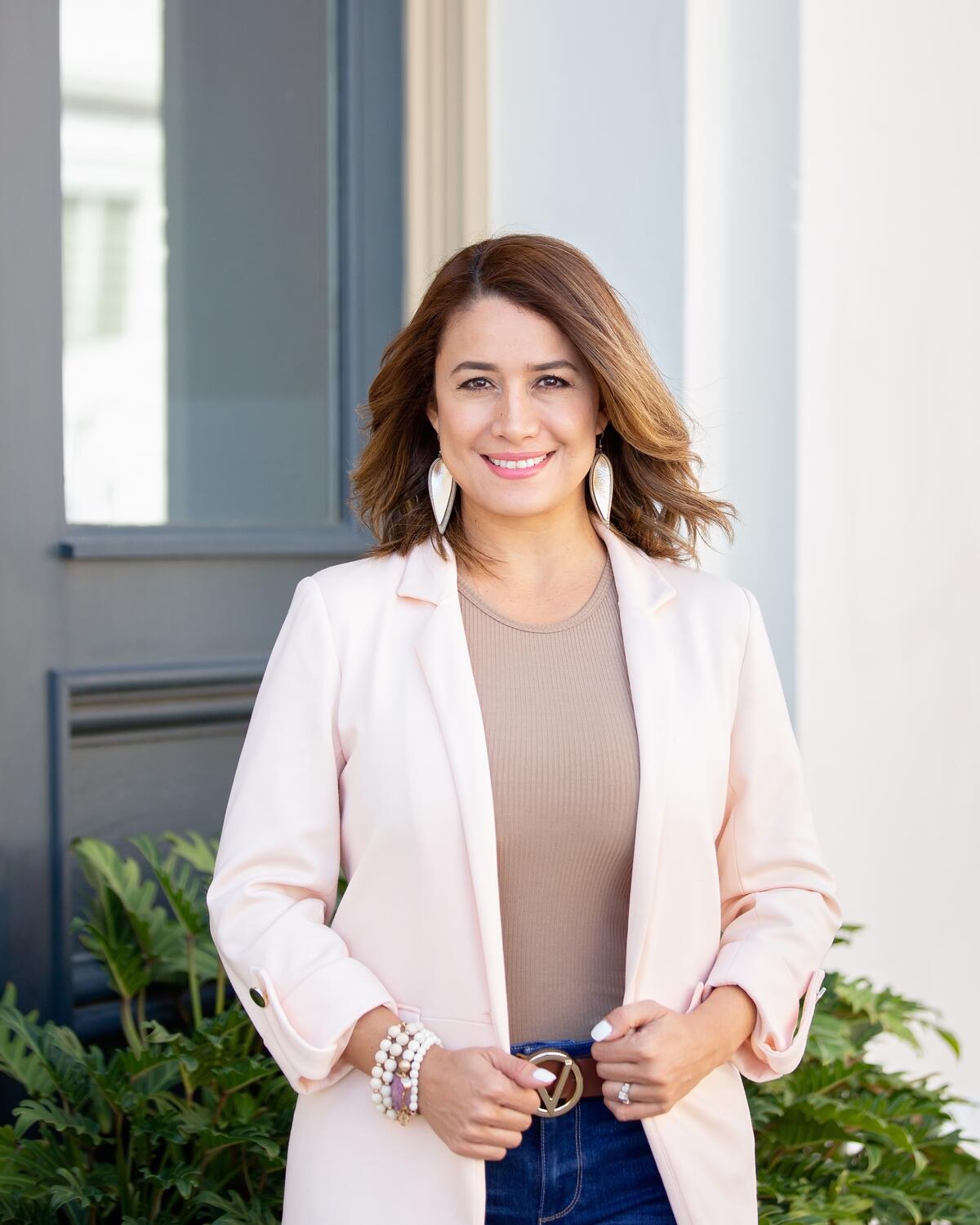 Gisele Parra courtesy of Jennifer Kizzee Design
One factor our Houzz reviews often mention is the collaborative aspect of our process. Because we work on medium to large renovations, there are at least three to four people involved per project. To deliver in a timely manner and ensure an amazing result, many creative minds have to join the party, from concept to project management, including client communications, procurement and logistics. When people review the business, they always praise us as a team. Sometimes they single me out because I am the captain, navigating the boat, but it takes a village to get everything done.
For potential clients, we do a 20-minute complimentary call on Zoom. In addition to outlining our rates and services, we also demonstrate how we utilize Houzz Pro. Clients absolutely love the convenience of having everything in one place, because when you're talking about kitchens and multiple bathrooms, you may make all the product selections in person, but the moment you leave the showroom, you've forgotten what the tile looks like for every one of those spaces! Once clients see the setup of Houzz Pro, they say, "I'd go crazy if another designer ever sent me 20 separate links to look at different items."
A client joked that he was worried we were going to charge more now that we were repeat Houzz winners. That's a strategic decision, to raise your rates. You have to make sure you understand your market so that you price yourself competitively, but not beyond the reach of the typical household income in your area. Still, it's interesting to consider how the awards from Houzz could influence that decision. They definitely have an impact.

Jennifer Kizzee, Jennifer Kizzee Design, Houston
Best of Houzz Design 2018, 2019, 2021, 2022, 2023
Best of Houzz Service 2018, 2019, 2020, 2021, 2022, 2023
BOSTON (SOFT AND) STRONG
On April 4, it will be four years since I launched my firm, two of which were at the height of the pandemic. It's been a whirlwind. The fact that we've earned both design and service awards over the past two years is a testament to how hard we work and the dedication we have to both creativity and our clients. People trust Houzz, so being recognized through the platform legitimizes our business.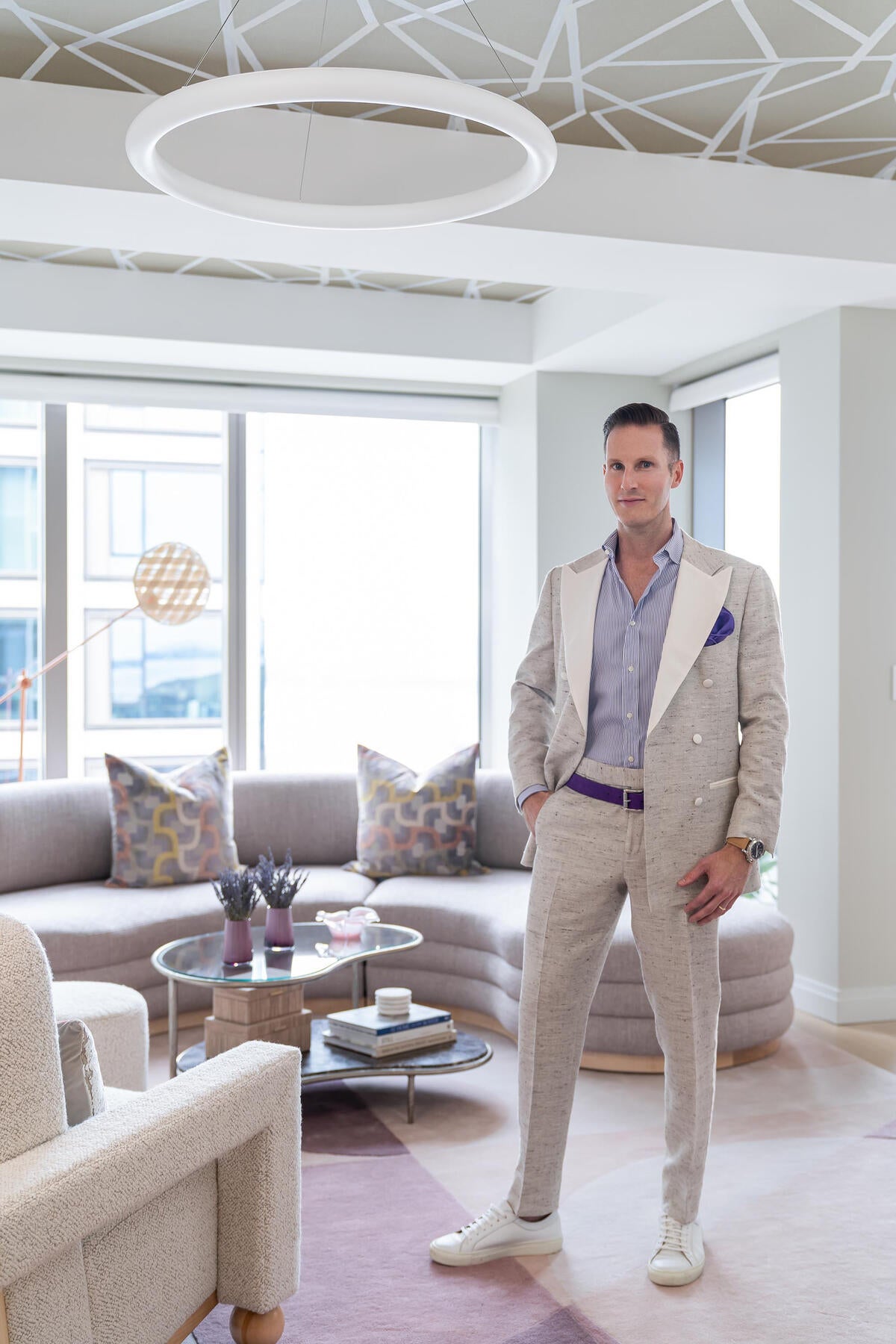 Venjhamin Reyes courtesy of Trevor Fulmer Design
It's easy enough to design a great-looking space that doesn't offer a lot of comfort. Clients may like the aesthetic, but perhaps not the stiff sofa or solid-wood chair. I refer to our style as "livable modern." It's warm, functional and inviting but has a contemporary edge. The dining room of "International Influence," one of our most popular projects on Houzz, for example, balances a pedestal table with comfortable seating and unique pendant lights. Another successful design, seen in our "Modern Elegance" project, is simply of a closet—but one where we really got into the nitty-gritty details. We went back and forth with the client, asking what specific items they were planning to store: "Where do you want to keep your bags? How do you want to hang your clothing?"
I sometimes say that we're in the service industry. Our clients are relying on us to provide a standard of service throughout the entire project. You can see from the reviews on Houzz that our clients trust us—and we trust them. It goes in both directions. When we complete a project, we do a walk-through with the client and have champagne and hors d'oeuvres for a wonderful reveal experience. And we always say, "Please, tell us your feedback." It's important that we learn how our process is working, from start to finish. We're not perfect; we're continually evolving. Having that open communication makes us better designers and better service providers.
My background is in marketing and advertising, so I definitely see the value in promoting our business and being smart about the right avenues and tools to do so. Utilizing the media kit to announce our Best of Houzz wins via email blasts and creating reels for social media are our way of sharing our accomplishments with the people who appreciate what we do.
Let's face it: As designers, half the time we're on our hands and knees. We're moving carpets, we're lifting chairs, we're installing light fixtures. We work hard for this job, so we deserve to celebrate our successes too. It feels like I'm bragging a bit, but you know what? We won the awards, so we can.
Trevor Fulmer, Trevor Fulmer Design, Boston
Best of Houzz Design 2022, 2023
Best of Houzz Service 2021, 2022, 2023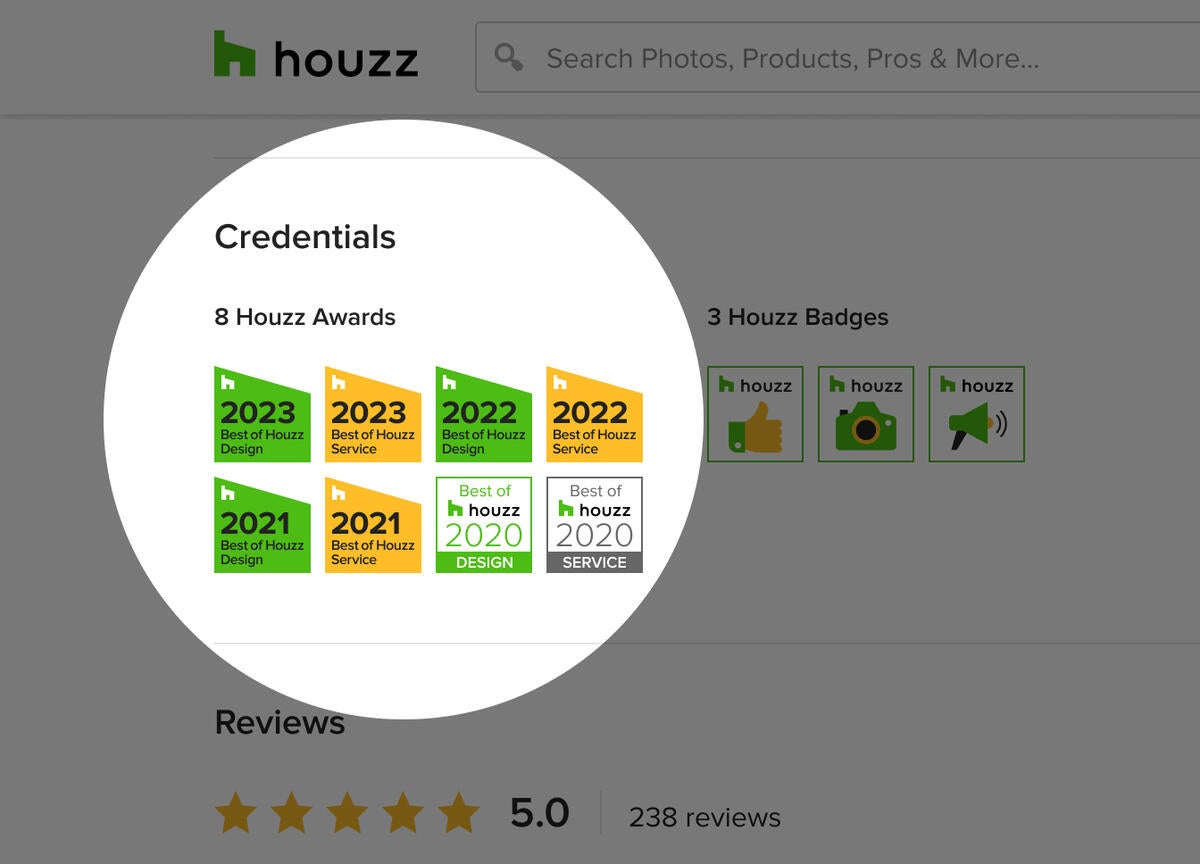 This story is a paid promotion and was created in partnership with Houzz.
Homepage image: Jena Bula's StoneCrest bathroom in Charlotte is among her Best of Houzz award-winning designs | Tiffany Ringwald courtesy of Delphinium Design