In our series, What I Love, we're asking designers to build us a mood board of what's inspiring them right now.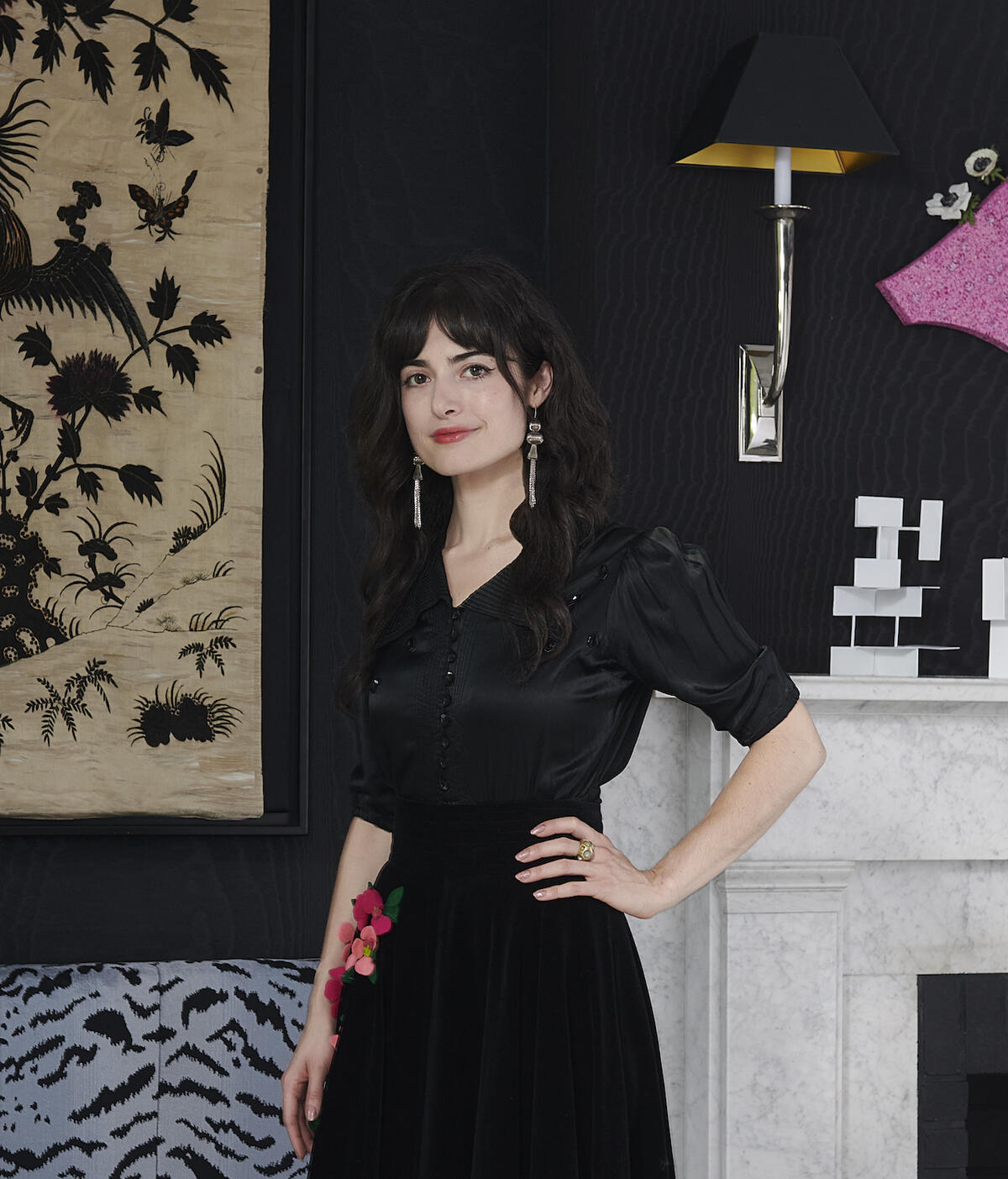 Tara McCauley is a bit of a rebel. While some designers rely on familiar hues and motifs to foster understated spaces, the New York designer—and former apprentice to Nick Olsen—prefers to employ eclectic, unexpected elements throughout her projects. "Fashion, art and travel are my main sources of inspiration," she tells Business of Home.
Her current mood board provides a superlative case in point. Crafted with her new Nolita apartment in mind, McCauley drew from a wide range of periods and styles to create a fashion-forward look with plenty of old-school charm and levity. "My last apartment was very colorful and exuberant, and I want my new home's palette to be a little more sleek and subdued," she says. "I'm challenging myself to find more luxurious materials in neutral tones, while still reflecting my sense of humor."
The end result is a roller-coaster ride of glamorous materials (embroidered silks and velvets), racy patterns (trompe l'oeil prints and hand-painted kintsugi motifs) and treasured antiques. "I tend to be overly sentimental," she says. "I'm taking my time to decorate my new space in an intentional way."
Here, McCauley breaks down the details, from sheer, space-age-style fabrics to vintage yellow scalloped window treatments.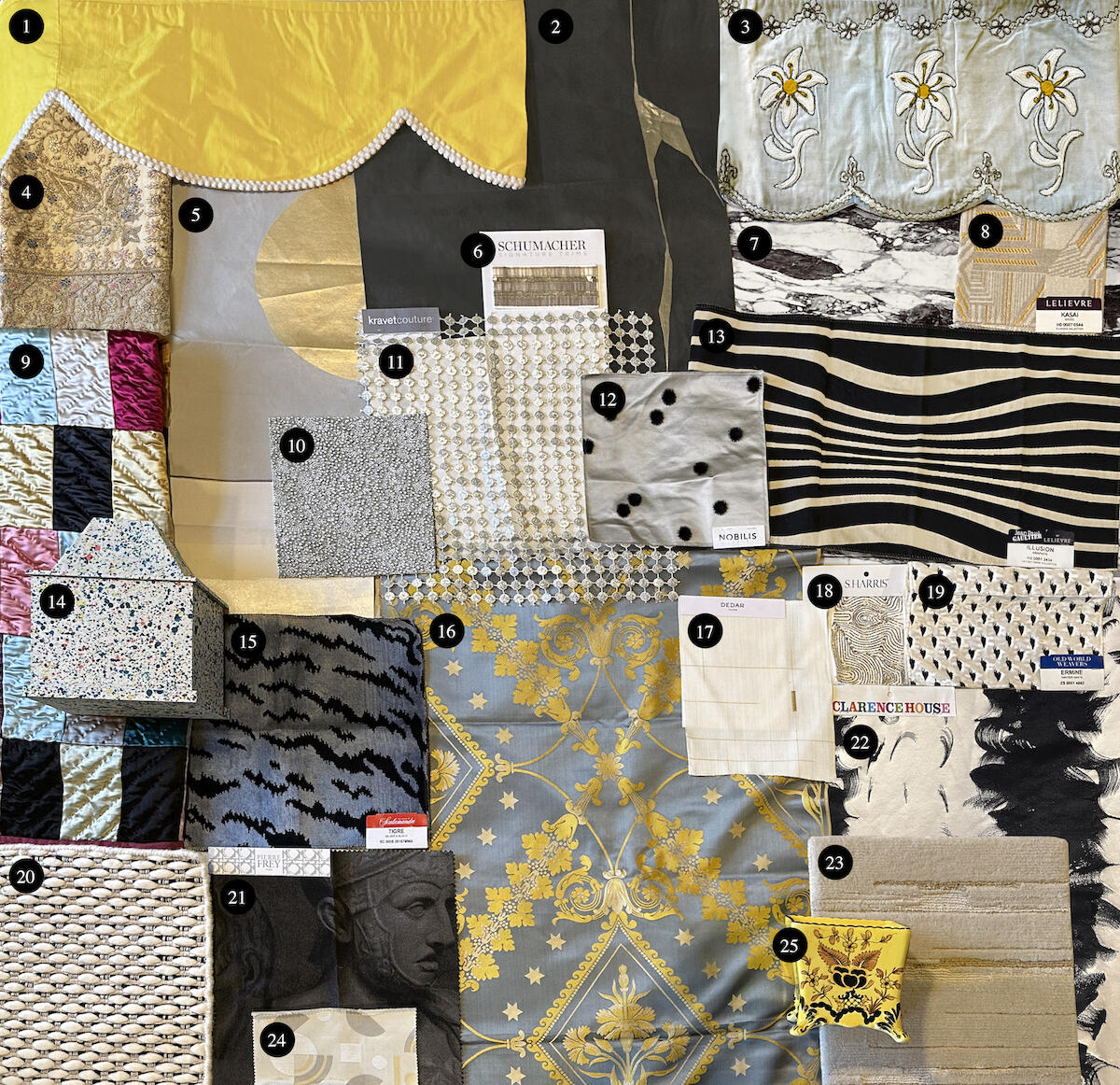 Courtesy of Tara McCauley
1. VINTAGE YELLOW SATEEN CURTAINS
"I found a two-window set of yellow sateen curtains with matching scalloped pelmets at a vintage shop in Berlin last year, and I couldn't resist."
2. KINTSUGI HAND PAINTED WALLCOVERING IN POLISHED BRONZE BY PORTER TELEO
"I love how delicately Porter Teleo managed to mimic the Japanese kintsugi technique at a much larger scale. The metallic details contrast so beautifully with the matte ground paper."
3. ANTIQUE VELVET PELMET
"I fell in love with this antique velvet ecclesiastical pelmet I found at a flea market in Paris—the crewelwork daisies are so precious."
4. ANTIQUE EMBROIDERED SILK FABRIC
"I am thinking of hanging this antique embroidered silk square, another purchase from the Paris flea market, from a dowel. You can really see how much work went into it from the back, so it would be a shame to frame it flat."
5. GEO HAND PAINTED WALLCOVERING IN PALE GOLD BY PORTER TELEO
"This paper exemplifies the vibe I'm going for with my new apartment: a mix of matte and shiny finishes in a range of neutral tones, with pops of warmth and brightness. Like a Klimt painting—sans the figures."
6. TRENTO BEADED TAPE IN PLATINUM BY SCHUMACHER
"I had planned to be a fashion designer before pivoting to interiors, and sometimes I think of my job as 'dressing' a space. This beaded trim would almost function like jewelry along the edge of a soft furnishing."
7. VINTAGE MARBLE SAMPLE
"This dramatic marble is from a cocktail table I purchased at auction. This year, I want to educate myself more about natural materials."
8. KASAI FABRIC IN SOLEIL BY LELIÈVRE
"My last apartment in Brooklyn was a madcap mix of florals in a kaleidoscopic color palette. Now that I've moved back to Manhattan, I feel the urge to move away from organic prints toward more graphic geometric prints inspired by art deco design."
9. ANTIQUE SILK PATCHWORK BLANKET
"I came across this antique satin patchwork blanket while gift shopping at New York's best menswear shop, Crowley Vintage & Antiques in Dumbo. Leave it to me to find the one shiny object in a shop brimming with natty tweeds."
10. W3389.11.0 WALLCOVERING BY KRAVET COUTURE
"A paper coated in silvered glass beads. In my fantasy room, I would cover every single surface with this."
11. PARTY FAVORS FABRIC IN STERLING BY KRAVET COUTURE
"I've always loved the space-age aesthetic, and I dream of using this sheer fabric as a window treatment."
12. PRELUDE FABRIC IN 10821_08 BY NOBILIS
"I'm obsessed with this flocked satin! It strikes the perfect balance of glamour and humor—I can't help but laugh out loud when I pet the fluffy little caterpillar dots."
13. ILLUSION FABRIC IN GRAPHITE BY JEAN PAUL GAULTIER AT LELIÈVRE
"Gaultier is one of my favorite designers—he's the master of playing with proportions and trompe l'oeil illusions."
14. CUSTOM ART BOX BY THOMAS ENGELHART
"Thomas Engelhart constructed this by hand, then wrapped it in a porphyry design he painted in a fantastical color combination. The colors are actually quite similar to faux terrazzo."
15. TIGRE IN SILVER & BLACK BY SCALAMANDRÉ
"This new grayscale colorway of a 1960s classic was a showstopper on the custom sofa I designed with Billy Baldwin Studio for the Brooklyn Heights Designer Showhouse."
16. ANTIQUE JACQUARD FABRIC
"This antique jacquard—another treasure from the Paris flea market—gave me the [original] idea to go neutral with pops of yellow. I'm thinking of using it to upholster the back panels of a mirrored folding screen."
17. LIRA FABRIC IN ORO BY DEDAR
"The wool satin ground has just the right weight for drapery, and the gold embroidery is so delicate despite its sharp geometry."
18. HAKARI TRIM IN 04 BY S. HARRIS AT FABRICUT
"Another trim that feels almost like jewelry."
19. ERMINE FABRIC IN WINTER WHITE BY OLD WORLD WEAVERS AT SCALAMANDRÉ
"This unbelievably plush velvet reminds me of the his-and-hers ermine capes worn by Napoleon and Josephine in my favorite Jacques-Louis David painting. Oh, the opulence!"
20. KHOLA RUG BY MAKROSHA
"I love an ivory carpet with personality, and this one's got fabulous texture and movement thanks to its black and silver accents."
21. STONED ROMANS FABRIC IN CRIN BY KEN FULK FOR PIERRE FREY
"The subtlety of this gray-on-black damask renders these Roman emperors with an almost ghostlike quality. I love the idea of walking past curtains that make you stop and look twice before you realize just what you're looking at."
22. SHUJI FABRIC IN NERO BY CLARENCE HOUSE
"I recently toured the Clarence House showroom with creative director Kazumi Yoshida and was delighted to hear the origin story of one of my all-time favorite designs. Apparently, he whipped out a paintbrush at the weaver's workroom and went to town! I find the motif so playful and the material super luxurious—I'm definitely using it in my new apartment."
23. SONALI RUG BY MAKROSHA
"This wool rug is so luxuriously soft underfoot, and the streaks of gold silk add just the right amount of illumination."
24. DISCOBOLE ZENITH FABRIC IN 001 BY MÉTAPHORES
"This ivory satin jacquard features touches of silver and yellow in just the right proportion, and the pattern looks like how I imagine Kandinsky would interpret art deco."
25. VINTAGE TULIPIERE BY GINORI 1735
"A bit of yellow that's traveled with me from my last home."
Homepage photo: A flat lay by Tara McCauley | Courtesy of Tara McCauley