Every design project is built on trust. Shared aesthetics, mood boards and budgets are crucial too, but trust—between designer and contractors, and between designer and client—is paramount for a beautiful collaboration.
It's no coincidence, then, that once a designer finds a painter with the same values, they'll join forces for decades to come. "Partnering with someone who also prioritizes quality is foundational to a successful result," says Laura Pankonien, designer-builder at The Pankonien Group in Austin. "I've been working with the same painter for 10 years, and he and I are on the same page that Benjamin Moore is always worth the investment." To ensure the same product fidelity with your contractors and clients, follow these four steps:
1. Choose your colors
With more than 3,500 shades on offer, Benjamin Moore can match every imaginable palette. Refine your focus with fan decks, free samples and other professional color tools like the Color Portfolio app. "We have the complete set of fan decks in our office for reference," says Dane Pressner of D'Aquino Monaco in New York. The complexity of color offerings ranges from showstoppers to more subtle hues. "There's an entire fan deck just for whites," adds New York designer Gala Magriñá.
2. consult with the experts
To get the expert perspective on color, application and performance, connect with your local Benjamin Moore Architectural & Design representative—and consider them an extension of your team. "Ours will come to our office for lunch-and-learn CEUs, to swap out or refill our sample bin and paint swatches, and to give us the newest products and tools," says Arianne Bellizaire, a designer based in Baton Rouge, Louisiana.
3. confirm the formula and finish
Color comes first, but formula depends on the particular needs of the space: Is it a rarely used guest room that could luxuriate in Regal, a high-traffic family den that would benefit from Scuff-X, or a bathroom that could counter humidity with Aura Bath & Spa? Finish determines how light will affect, and reflect off of, the hue you choose. Your rep can advise on both components to make sure the paint product you select provides the perfect coverage for your needs. "If I want guidance on how to properly apply a new paint, I can get answers quickly. It's a resource-heavy relationship and my rep is extremely knowledgeable," says Minneapolis-based professional painter Jessica Rowland.
4. spec it in your contracts
You've decided on the very best colors, formulas and finishes to realize your design vision and delight your client. Now lock it down before the work begins so you never have to give it a second thought. "We specify Aura or Regal, the color names and numbers, the finishes, and there's a line item: 'No substitutions,'" says Pressner. Adding such language is even more important when working with a new crew. "Some contractors and developers will try to save by using an inferior product, so I line-itemize everything at the proposal stage," says Pankonien. One nonnegotiable? "We never do a color-match with another brand; it has to be the gold standard, Benjamin Moore." Bellizaire issues equivalent documentation with an added proviso in case of any pushback: "If the painter, contractor or builder wants to deviate from my directives, they're required to show the client two samples on the wall: of the spec'd shade and the proposed substitute," she says. "The client always comes back to me and says, 'Thank you, because it would have been a totally different color if it wasn't Benjamin Moore.'"
That Finishing Touch
Color's subtle partner, sheen affects how a paint reflects light and performs. But which one is the right fit for the job? Baton Rouge, Louisiana–based designer Arianne Bellizaire walks us through six key options—from flat and more forgiving to shiny, super durable and easy to clean—and how she balances functionality and style when making her selection.
Flat/Ultra Flat: Primarily for ceilings, this finish covers flaws without calling attention to itself. "The ceiling is usually in shadows and has imperfections that flat paint camouflages well," says Bellizaire.
Matte: An increasingly popular alternative to eggshell, matte offers a seductive degree of nuance that designers can't resist. "I choose it when I want even more depth from darker colors like Benjamin Moore Gentleman's Gray," says Bellizaire. "For lower-traffic spaces like a home office or primary bedroom, it really lets you lean into the pigmentation." Some pros also find it easier for spot touch-ups than eggshell—a more forgiving and low-maintenance finish.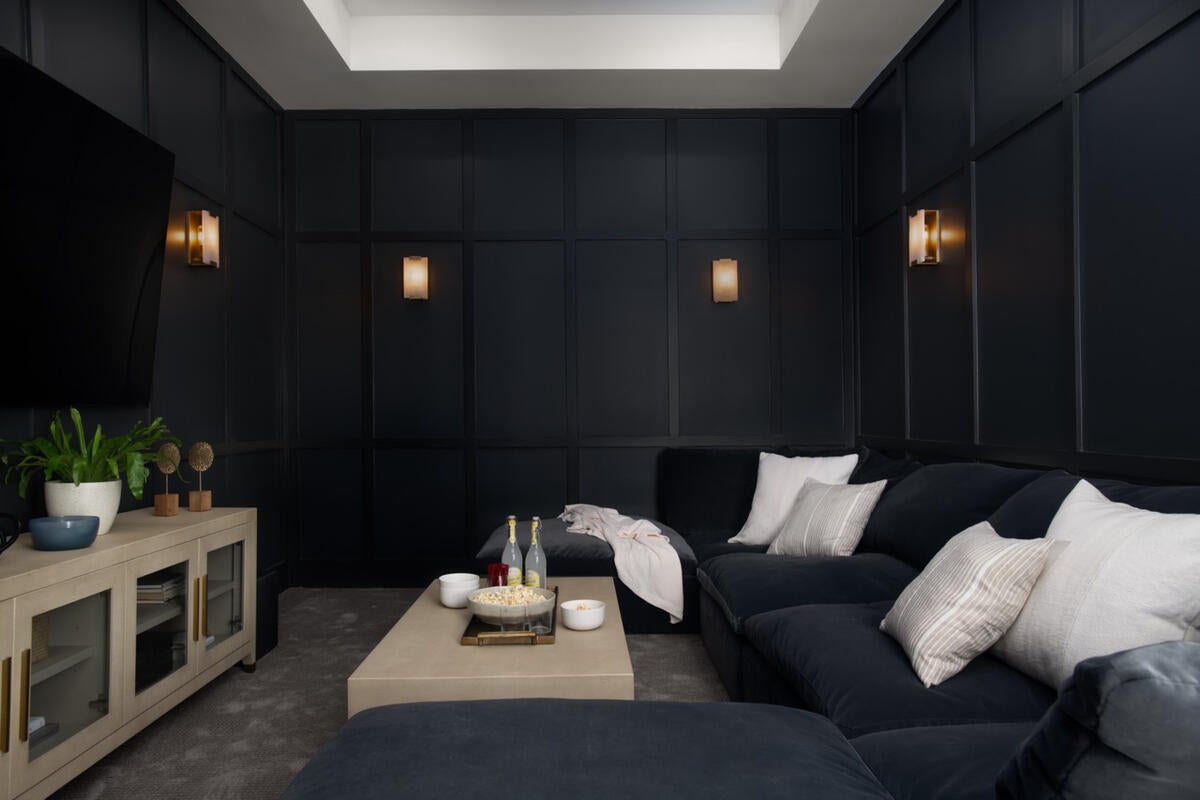 Photography by Haylei Smith
Eggshell: A classic for a reason, eggshell, with its subtle sheen, remains the residential standard for walls in any room of the house. "You don't have to worry about scratches or fingerprints, and it's easy to wipe down," says Bellizaire.
Satin/Pearl: For extra sheen plus durability on hardworking surfaces, satin offers a subtle contrast to matte or eggshell walls. It's a designer go-to for custom kitchen cabinetry, a subtle polish on trim, or any space where there's more splashing and spillage.
Semi-Gloss: In the heightened shine of semi-gloss trim, cabinets and wainscoting stand out against eggshell walls. "It's just enough of a differential but provides a seamless transition," says Bellizaire.
High Gloss: High gloss makes a glamorous statement and bounces light around the room. In addition to cabinets and trim, it gives doors a polished gleam.
The Traditional Trio: Typically, three finishes complete a residential room: flat on the ceiling, matte or eggshell on walls, and satin or semi-gloss on trim. Even if the same color is used for all surfaces, the differences in finish will impact how it reads. "Progressively, the color appears a little lighter the more shine it has. So even if you want that clean, modern, monochromatic look, Benjamin Moore Simply White in three distinct sheens will still be dynamic and have dimension," says Bellizaire.
This story originally appeared in the summer 2023 issue of BOH magazine and is a paid promotion created in partnership with Benjamin Moore.
Homepage image: Benjamin Moore French Beret in Advance Satin makes for chic, durable cabinetry in this Texas kitchen designed by Laura Pankonien | Avery Knoll Photography