In our series, What I Love, we're asking designers to build us a mood board of what's inspiring them right now.
Make no mistake: Details make all the difference to Sarah Lederman. The New York designer relies on a well-balanced mix of luxe materials, simple graphic patterns and rich earth tones to create elegant yet understated spaces that exude warmth and sophistication.
Her current flat lay is no exception. Inspired by "Riverside Park on the first warm day in spring," the mood board features an array of gradient shades of green, designed to evoke the feel-good vibes of the season. "Green is a symbolic color that represents good health, renewal and growth," she tells Business of Home. "I personally find it to be cheerful and mood-elevating to live with."
The final scheme offers a fresh blend of tactile textures and earthy hues, anchored by the occasional zip of an untamed organic motif or deep brown wood. "Though it's a tight palette, it reads as layered and textural by combining natural elements like jute, wool and oak with green and neutral tones," she says.
Here, Lederman breaks down the details, from baseball-stitched upholstery to tasseled curtain tiebacks.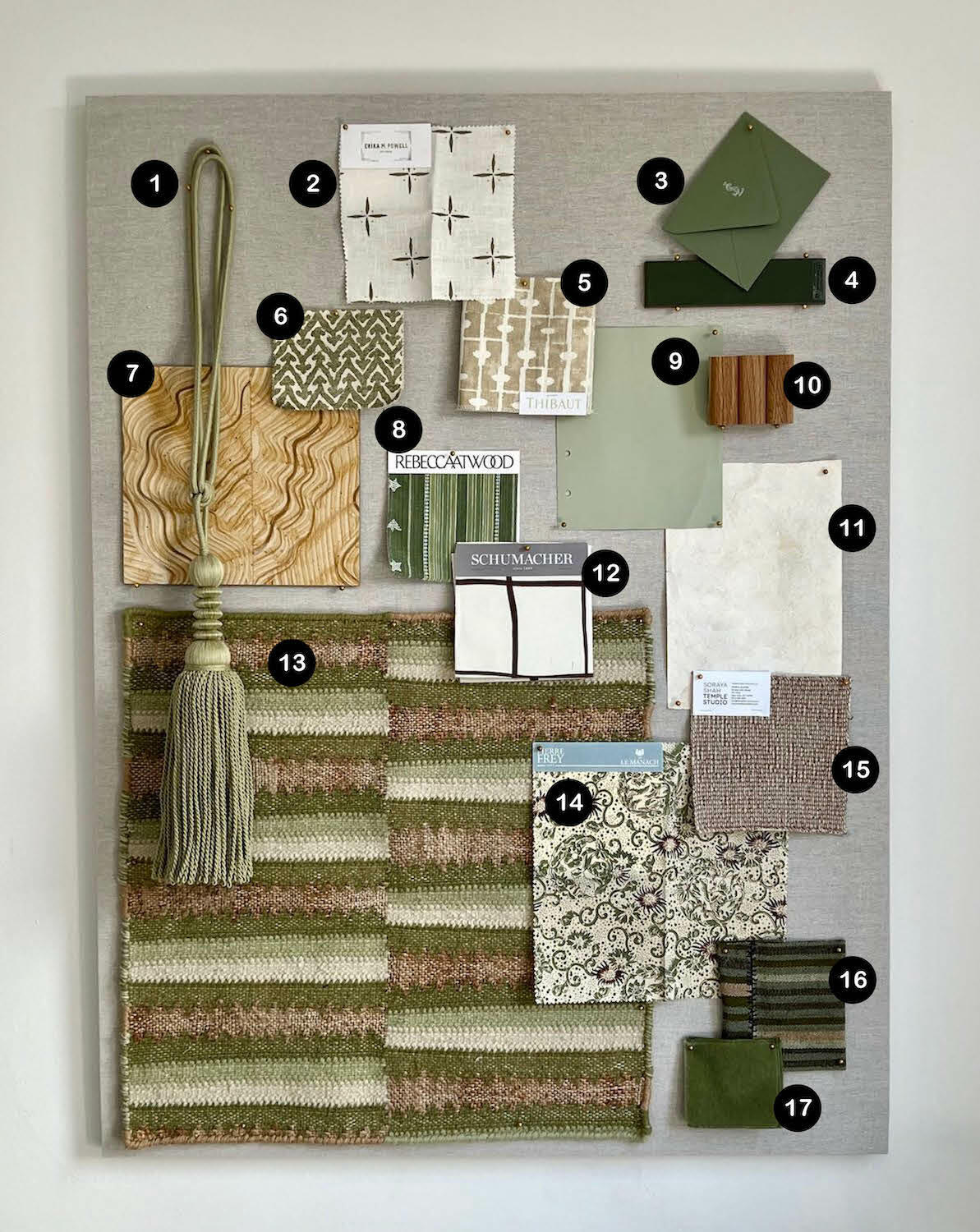 Courtesy of Sarah Lederman Interiors
1. CAITLIN SINGLE TASSEL TIEBACK IN CELERY BY SAMUEL & SONS
"We just used this tieback on a pair of raw silk curtains in our room at Holiday House NYC designer showhouse this past December—the perfect finishing touch. After all, design is in the details!"
2. PETITE CROSS + DOT FABRIC IN GROVE BY ERIKA M. POWELL TEXTILES
"Another graphic and minimalistic take on a flower motif. I like to juxtapose old-fashioned prints with slightly more modern iterations like this."
3. CUSTOM SARAH LEDERMAN INTERIORS ENVELOPE
"It comes as no surprise that our company stationery fits perfectly with this fresh green scheme."
4. HUNTER GREEN TILE BY FIRECLAY TILE
"I'm waiting for the ideal client for this chic matte Hunter Green subway tile."
5. HAVEN FABRIC IN WHEAT BY THIBAUT
"Neutral patterns have a place in every scheme, and this painterly take by Thibaut makes for easy layering."
6. RABANNA FABRIC IN L-267 BY FERMOIE
"With so many easy-to-use small-scale prints and a wide range of colors, Fermoie ends up in many of our client presentations. We are especially fond of this fresh ivory and green print."
7. CUSTOM DECORATIVE PAINT FINISH BY JJ SNYDER STUDIO
"We worked with a decorative painter to create this custom finish for a client's coffee table, and it adds a unique hand-crafted, organic feel."
8. BUDDING STRIPE FABRIC IN GRASS BY REBECCA ATWOOD
"All of my favorite greens, woven into one fabric with the prettiest embroidered flower buds to top it all off."
9. LICHEN PAINT BY FARROW & BALL
"We just painted a kitchen in this color, and it instantly imparted an inviting British vibe to the space."
10. AUDUBON PEDESTAL DINING TABLE IN NATURAL OAK BY DOORMAN DESIGNS
"We're so excited to use this reeded natural oak sample on the base of a custom dining table headed for upstate New York."
11. BARKSKIN WALLCOVERING IN IVORY BY CABA COMPANY
"Barkskin adds the best subtle wall texture and comes in different tones and sheet sizes, so it can be customized to accommodate any space."
12. PAINTERLY WINDOWPANE FABRIC IN BROWN BY MILES REDD FOR SCHUMACHER
"I like how this print has a graphic pattern, but with a hand-drawn feel—it's neither too geometric or too organic, so it works well in many schemes."
13. PATCHWORK OREGANO RUG BY TEMPLE STUDIO
"I find myself constantly reaching for natural fiber rugs, and this wool and jute combo provides a cheerful spring-y base for any room."
14. BUTTERFLY FABRIC IN VERT BY PIERRE FREY
"I love a touch of old-world charm, and this fabric nails it every time. Plus, it has the sweetest illustrated animals hidden in its design."
15. CUSTOM FABRIC BY SORAYA SHAH FOR TEMPLE STUDIO
"Who can say no to a nubby hand-woven linen/wool textile? Even better, it's woven right here [at Temple Studio] in New York."
16. MAZAN FABRIC IN ZFMZ-O5 BY ZAK+FOX
"The baseball stitch detail on this fabric makes it a fun one to use on upholstery. We have centered the stitching down the back of a chair or evenly on an ottoman, and it creates different looks depending on the application."
17. MOHAIR IN FIG BY OTIS TEXTILES
"Mohair wears incredibly well, which is why we use it on so many clients' sofas. This one is ultraplush, cozy and injects a verdant punch to any space."
Homepage photo: A flat lay by Sarah Lederman | Courtesy of Sarah Lederman Interiors