In our series, What I Love, we're asking designers to build us a mood board of what's inspiring them right now.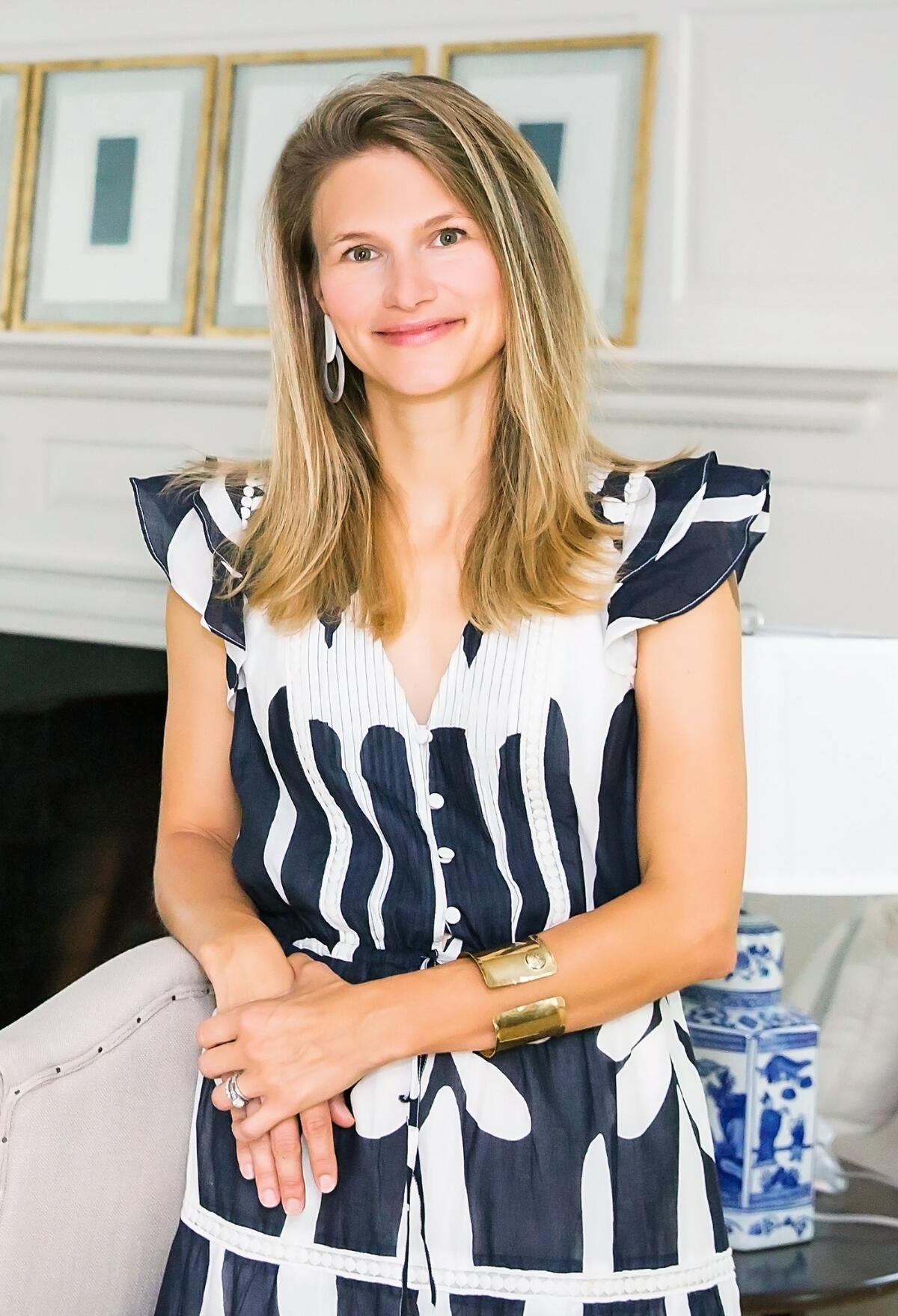 Winter is just days away, but Sara Hillery still has balmy weather on the brain. "I'm inspired by the idea of a never-ending summer," the Richmond, Virginia–based designer tells Business of Home. "I am reluctant to let go of my favorite season."
Brimming with breezy fabrics and spirited motifs, her current mood board provides a superlative case in point. "This flat lay conveys the nostalgia for a well-spent summer," she says.
Though Hillery anchored the design with an assortment of highly touchable, organic materials—including grasscloth, sisal and linen—a sprightly symphony of earthy hues ultimately draws the palette together. "The dashes of orange and red are a nod to fall's beauty and bustling spirit, yet the rich golden and light brown tones embody the way the summer sunset illuminates sand dunes," she says. "Pure light blues are reminiscent of a cloudless sky mixed with salt air, and mossy greens remind me that the trees haven't yet been set ablaze."
Here, she breaks down the details, from paisley-esque floral patterns to shimmery mother-of-pearl buttons.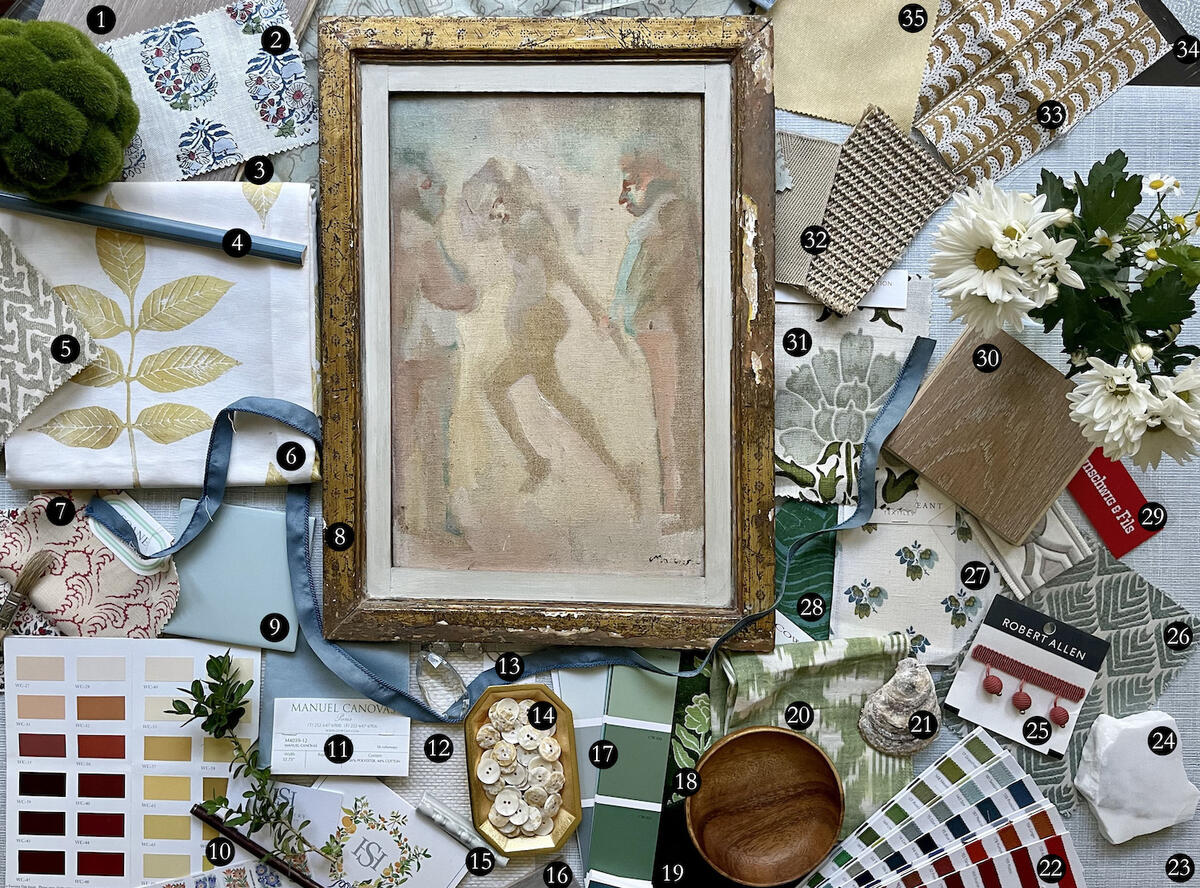 Courtesy of Sara Hillery Interior Design
1. COLLINA GRADERA WOOD SAMPLE BY VILLAGIO WOOD FLOORS
"The softness and texture of this flooring is splendid."
2. POSIE FABRIC IN MANDARIN BY IAN SANDERSON
"This pattern is a charming modern take on the traditional paisley and floral combination."
3. PARADISO FABRIC IN BLUE BY TYLERGRAPHIC
"I love the way the colors mix, giving this archival fabric an almost hand-drawn quality, albeit on a large scale."
4. MAOILICA BUNGALOW BLUE CERAMIC PENCIL TILE BY CANVAS
"I enjoy the modern convex shape on either side of the tile—almost facetlike."
5. RABANNA L-268 FABRIC BY FERMOIE
"Fermoie's Rabanna is a classic small pattern, and in this muted moss green colorway, it can be used as a neutral."
6. SOUTHERN SPRIGS FABRIC IN HARVEST GOLD BY SARA HILLERY HOME TEXTILES
"This rich gold fabric is simultaneously reminiscent of summer and suggestive of autumn."
7. PINEAPPLE FROND FABRIC IN WATERMELON STONE LINEN BY SOANE BRITAIN
"This swatch reminds me of an Old English textile and adds a historical feel to this mood board."
8. ANTIQUE PAINTING
"I happened upon this dreamlike painting in an alleyway behind an antique shop in Rome and have cherished it as a reminder of life's serendipity and good fortune."
9. SPA TILE BY DALTILE
"This tile has a classic silhouette, while its cool blue color is a fresh accent in any space."
10. FINE PAINTS OF EUROPE COLLECTION BROCHURE
"I have been reliant on this paint deck for quite some time. Not only do I love these rich, traditional colors, but I also appreciate the limited selection."
11. SAVERNE FABRIC IN CELADON BY MANUEL CANOVAS
"This fabric has the most amazing sheen. It is a relatively simple and casual satin, but a hint of reflection polishes it, giving it a luxe quality."
12. HAMPTON WALLCOVERING IN WHITE BY COWTAN & TOUT
"I try to incorporate a play on texture—whether with grass cloth or other natural elements—so that spaces do not fall flat, and this particular off-white grass cloth wallcovering is very refreshing."
13. 1/8" CAMBRIDGE CORD WITH TAPE IN 138 PRUSSIAN BY SAMUEL & SONS
"I love dainty colorful accents, and this peacock blue pillow cording is a simple way to add contrast."
14. VINTAGE MOTHER-OF-PEARL BUTTONS
"The shimmering beauty of these buttons reminds me that when it comes to nature-made and hand-made items, imperfections are assets."
15. LIGHT BLUE PENCIL TILE BY WALKER ZANGER
"I appreciate delicate, feminine details, and this [discontinued] decorative pencil tile can really embellish a space."
16. OAK WOOD FINISH SAMPLE IN DAPPLE GRAY BY CHADDOCK
"Greige tones tend to blend nicely with both light and dark flooring, keeping furniture selections in harmony."
17. WILLIAMSBURG PAINT FAN DECK BY BENJAMIN MOORE
"The Williamsburg paint deck is another beloved source of inspiration. Right now, I am very drawn to greens and blues found in nature."
18. MARIGOLD MULTI FABRIC IN DARK GREEN/LIGHT GREEN BY ANNA SPIRO TEXTILES
"Green has been one of my consistent choices this season, and I love the play on different tones of green in this fabric. It's a fresh, graphic take on floral."
19. KRAVET DESIGN FABRIC IN 29431-53 BY KRAVET
"There is nothing like a rich green cotton velvet."
20. DARJEELING COTTON IKAT FABRIC BY SCHUMACHER
"I have always been attracted to ikats, and this sample from Schumacher in Meadow Green is a fresh, bright take on a classic. Though this colorway is now discontinued, I could drape an entire room in this pattern."
21. OYSTER SHELL
"Every space should incorporate something that brings joy, and this shell evokes fond shoreside memories along oceans and riverbeds."
22. CAMBRIDGE III TRIM FAN DECK BY SAMUEL & SONS
"This fan deck is the go-to for trim for each of my projects. Here, I wanted to highlight mossy greens, peacock blue and navy, coupled with the warmth of persimmon and scarlet."
23. FINE HARVEST WALLPAPER IN SPA BLUE BY THIBAUT
"I love this wallpaper so much that we installed it in our office."
24. CALACATTA GOLD MARBLE BY HILLTOP GRANITES
"The fresh white background and elegant veins of gold and gray [in this marble] from Hilltop Granites is another reminder that nature is truly amazing."
25. MODERN BEAD TRIM IN CORAL REEF BY ROBERT ALLEN
"I am inspired by the playfulness of beaded fringe and love how it can be both refined and lighthearted. This coral fringe trim complements mossy greens and teals, and pairs nicely with several of the fabric samples."
26. INDUS WEAVE FABRIC IN CORSICAN BLUE BY GUY GOODFELLOW COLLECTION
"In addition to its tapestrylike structure, this fabric's small and traditional geometric pattern makes it an instant classic."
27. BEATRICE FABRIC IN AVOCADO BY ALICE SERGEANT TEXTILES
"I admire the graceful restraint of this pattern. Its elegant simplicity acts as a high contrast against some of the bolder prints including the malachite velvet."
28. MALACHITE FABRIC IN EMERALD BY COWTAN & TOUT
"This richly saturated velvet is reminiscent of one of my favorite finishes."
29. GANDEN TAPE IN GREY BY BRUNSCHWIG & FILS
"I am drawn to tapes with a crisp, clean pattern."
30. HARVEST WHITE OAK FLOORING IN AVIGNON BY MOUNTAIN LUMBER COMPANY
"I love the warmth of the color in this flooring."
31. PERSIAN VINE FABRIC IN OLIVE BY GUY GOODFELLOW COLLECTION
"I appreciate the large scale of this print."
32. SISAL RUG AND COORDINATING COTTON BORDER IN 729 OATMEAL BY FIBREWORKS
"Pops of earthy textures and colors can act as grounding elements and establish a calmness from nature that is difficult to replicate."
33. LUXOR SAFFRON LINEN FABRIC IN SAFFRON BY WALTER.G
"The cheerful repeat of palms and dots in this fabric combines a traditional floral pattern with the playfulness of an animal print."
34. KRAVET BASICS FABRIC IN 32753-35 BY KRAVET
"The tiny geometric print allows this fabric to read as a textured solid."
35. WOOL FLANNEL WALLCOVERING IN TUMERIC BY HOLLAND & SHERRY
"The unexpected combination of cozy, soft heathered wool in a sunny color makes me smile."
Homepage photo: A flat lay by Sara Hillery | Courtesy of Sara Hillery Interior Design