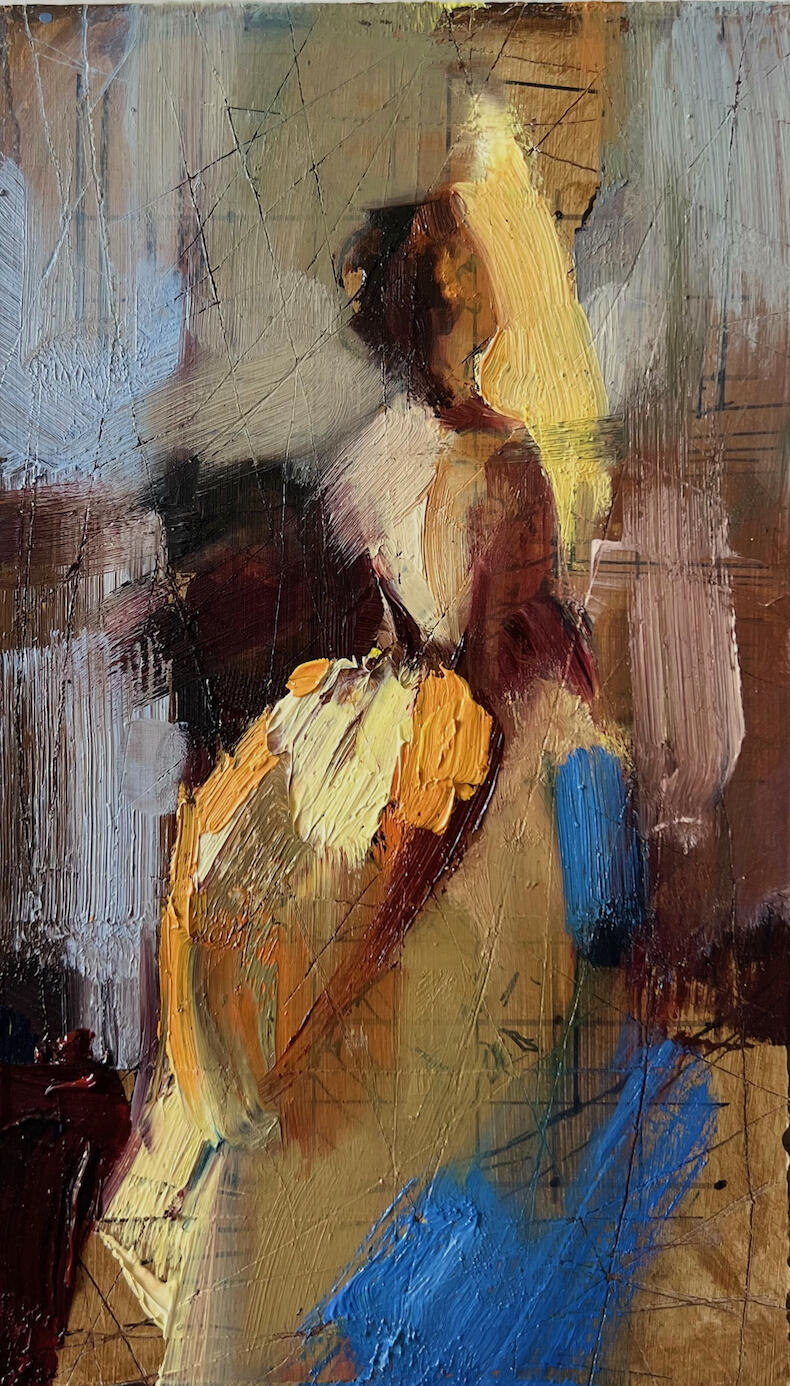 For more than a decade, Saatchi Art has honed its curatorial approach, winning client loyalty for its selections that express the true essence of an interior. "If it's a Nobu Hotel, we fully understand what that means. As opposed to a Four Seasons, which is a very different aesthetic. Then we obviously need to pay attention to the location. Is the property in Mexico? London? Japan? We did the guest rooms and residences for Nobu Los Cabos, where all the artworks have a Japanese feel but in terms of vibrancy the color palette is Mexican. It's a very particular blend that would have been totally inappropriate at Nobu London," says Rebecca Wilson, the chief curator and vice president of Art Advisory. "All these factors affect the selection of art for a project, so we work closely with the design team to choose pieces that will complement their vision for each property."
Representing over 100,000 burgeoning talents from all corners of the globe—110 countries and counting—Saatchi Art proudly bills itself as the world's biggest online gallery. While individual shoppers can directly purchase a $5,000 painting as easily as they'd buy a book from Amazon, Saatchi Art is unique in that it also offers curatorial services, making it an invaluable partner to not only private collectors but also architects and design professionals seeking entire programs to complete much more complex projects.
"We started Saatchi Art as a new way to show the work of all kinds of artists and enable all kinds of clients to find them, by accessing the best aspects of the internet," says Wilson. Whether it's to decorate hundreds of hotel suites, make a single dramatic statement in a corporate lobby, amplify a restaurant's ambiance or encourage recovery through therapeutic hues in a hospital, Wilson and her crew of 12 seasoned consultants can essentially scroll through their immense directory to identify the artists whose aesthetic best meets the challenge of the creative brief. Bonus: Saatchi Art provides the service for free.
"It's refreshing for a design team to know they can call, email, send us renderings, and we'll start working immediately on a proposal," says Wilson. Saatchi Art postpones the paperwork and contracts until after a consensus is reached. "We do it because we want to collaborate with the best designers and give our artists incredible opportunities as soon as possible."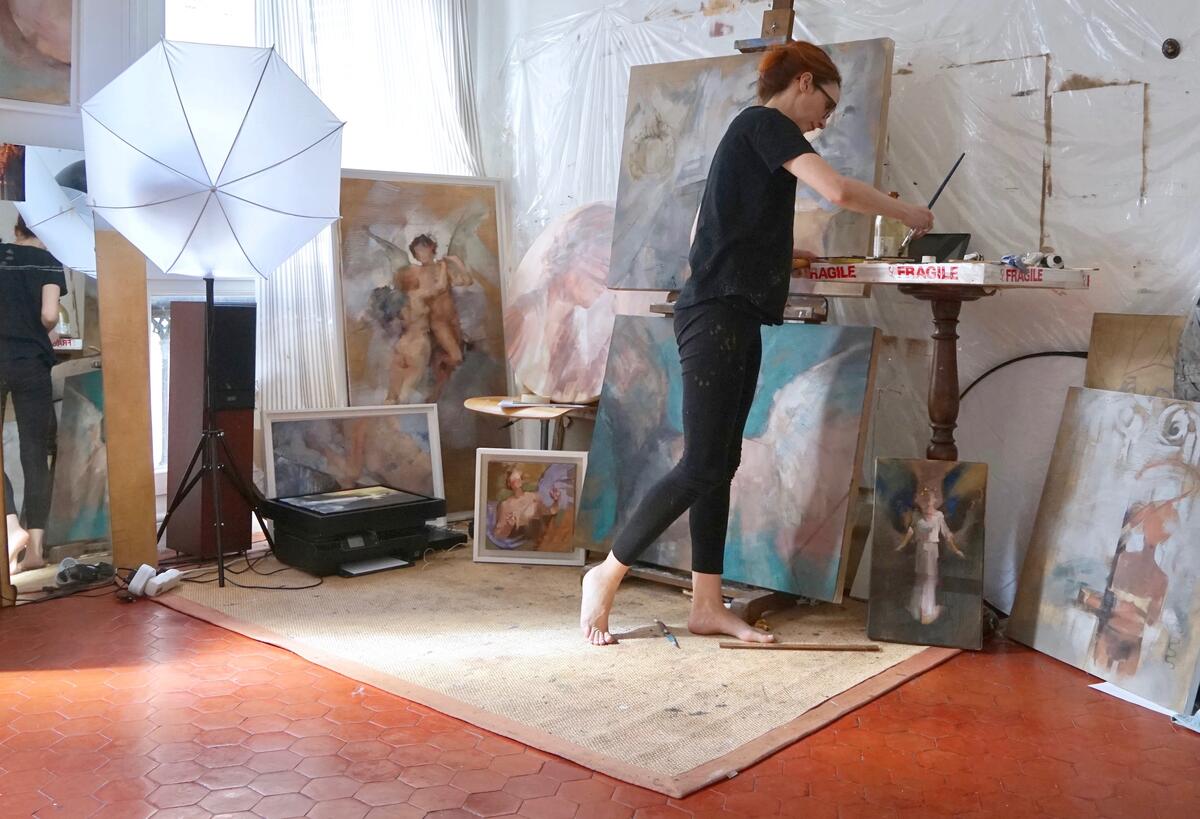 Gratis consultations are one key differentiator for Saatchi Art. Another is the commission it takes once it does sell an original work: 35 percent, compared to the industry standard of 50. Its portfolio of services also includes trade discounts, large-volume pricing, expertise in the labyrinthine intricacies of international customs and shipping, and white-glove installation.
candy-colored aristocrats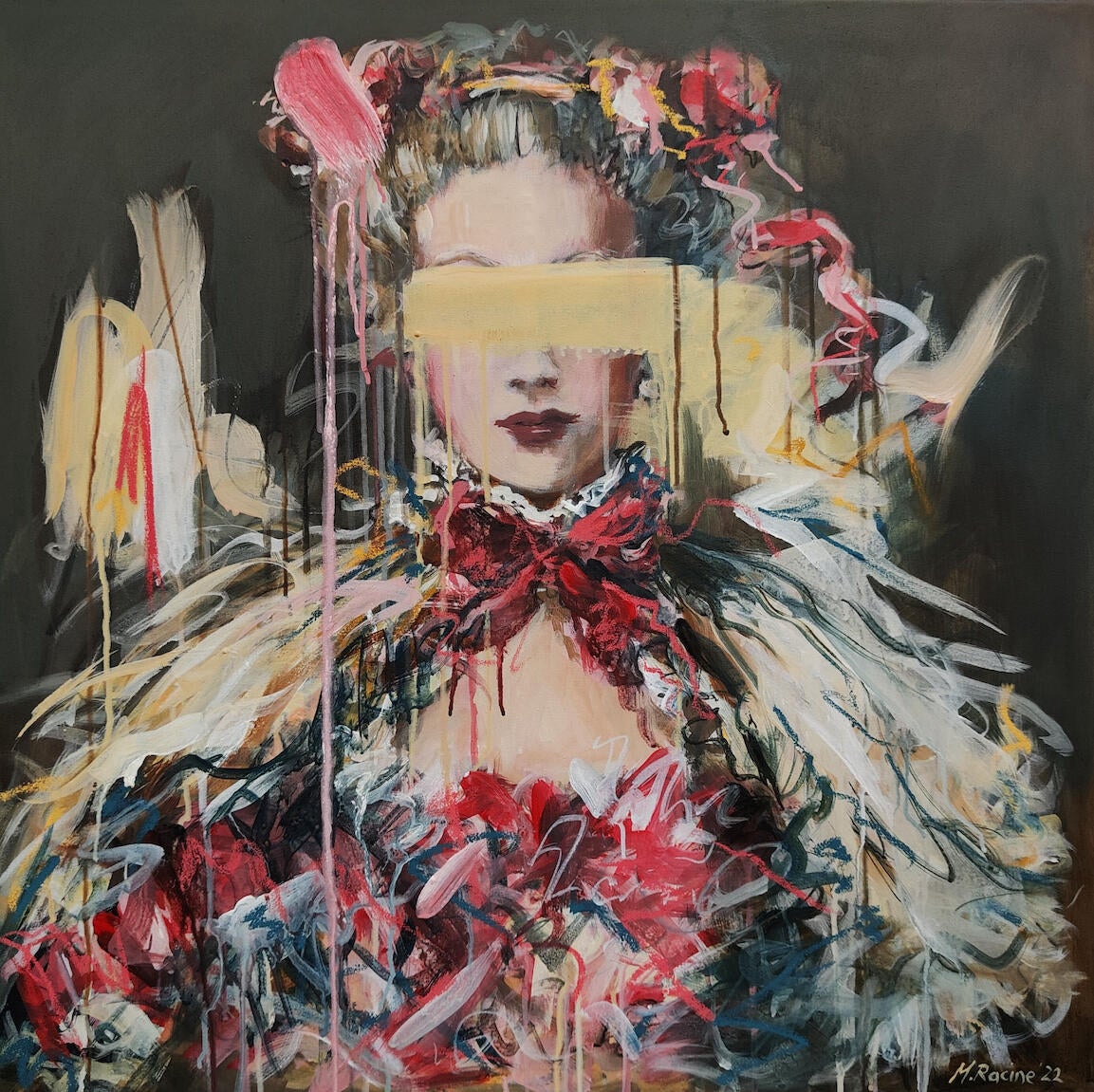 Each artist on Saatchi Art's platform is noteworthy for their singular sensibility. Collectively, they also embody broader movements. "Some years ago, artists all wanted to work with video. Now, textiles, fabrics and recycled materials are more prominent for their sustainability," observes Wilson. The website sorts creators and works into myriad categories: style, subject matter and medium to start, with filters and features that spotlight under-the-radar talents, rising stars and more. Wilson cites the use of bright, saturated color as one dominant direction, and modern, cheeky tweaks to classic portraiture as another. Scotland-born, Mallorca-based Mandy Racine, whose oeuvre features portrayals of powder-bewigged rococo ladies, their eyes cloaked by suggestive pastel swathes, checks the latter box. Her pairing of traditional French themes with the unruly energy of American street art made her portraits the obvious choice for the guest rooms at Hotel Barrière Fouquet's first foray into the U.S. market, in New York's Tribeca neighborhood. Au courant, candy-colored, but mysteriously masked, the graffiti-tagged aristocrats entice viewers but never hold their gaze—the characteristic that makes them so popular. "They're playful, seductive and not too serious," says Racine of her signature noble subjects.
"The hotel wanted to retain a chic Parisian aesthetic but also bring in the more industrial, ab-ex elements associated with New York, and Mandy's paintings really typify that," says Wilson. She presented a few of Racine's finished works as part of her proposed curated art program for the hotel, and the ownership and design team "fell in love" with the artist's style. After that, it was only a matter of weeks to print and frame the portraits, with Saatchi Art overseeing all purchase and production details.
Racine, whose previous experience includes creating colossal ceiling frescoes in private homes (and the occasional palace), could afford to climb down from the scaffolding thanks to her success on Saatchi Art's site, which gets more than 2 million page views per month. Now, she cherishes "tranquilo" hours in her studio: "I listen to music and paint all day long." After registering with the online gallery in 2014, she regularly uploaded high-res images of her artwork, a strategy she credits with building the momentum that ultimately cemented her stature as one of its top-selling talents. "I trust Saatchi completely," says Racine of her relationship with the gallery. "I know I'm in safe hands."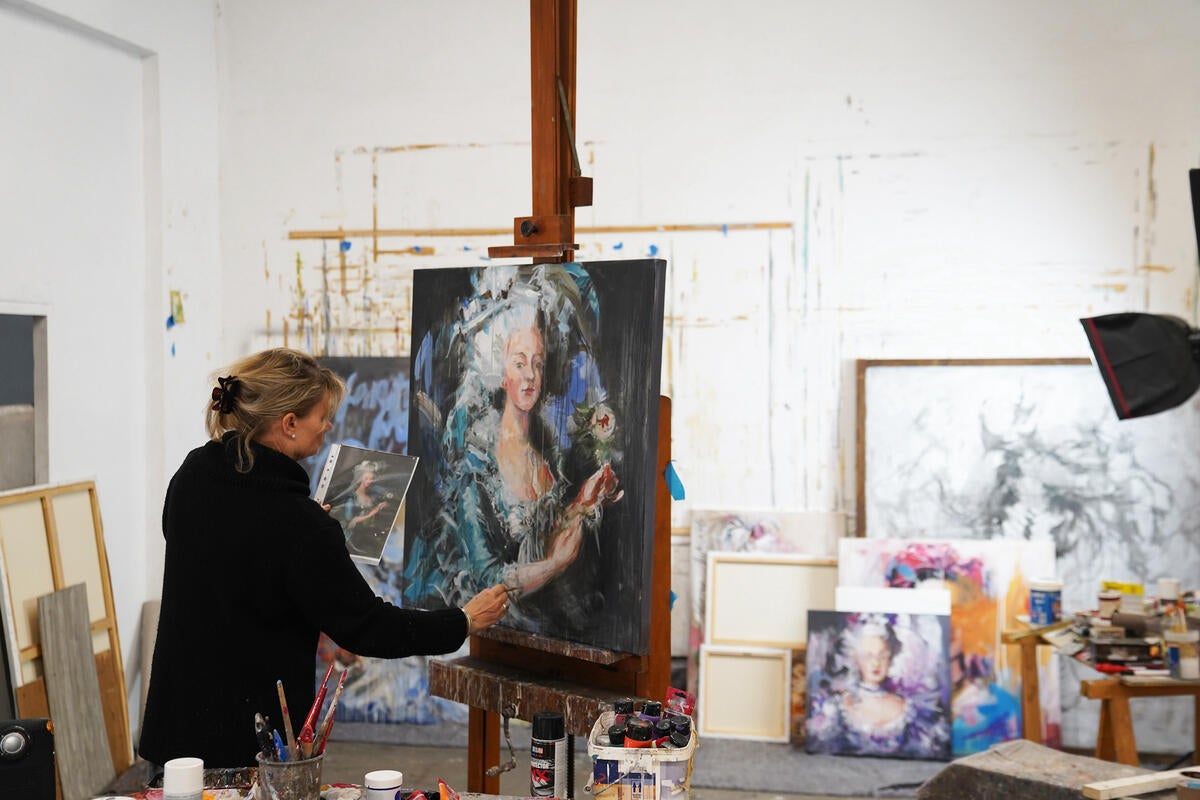 As companion pieces to prints of Racine's paint-splattered royals in the bedrooms, Wilson also recommended the hotel commission French artist Fanny Nushka to create 14 original works inspired by the ballroom scene in Madame Bovary to adorn its public spaces. For the artist, the assignment presented an opportunity to further explore her primary interest, the feminine form. "She had about four months to make them; she was under a lot of pressure," recalls Wilson. Painting directly from models posed in romantic scenes but illustrating them expressionistically, Nushka continued her commentary on the ever-evolving perception of women and beauty.
massive minimalism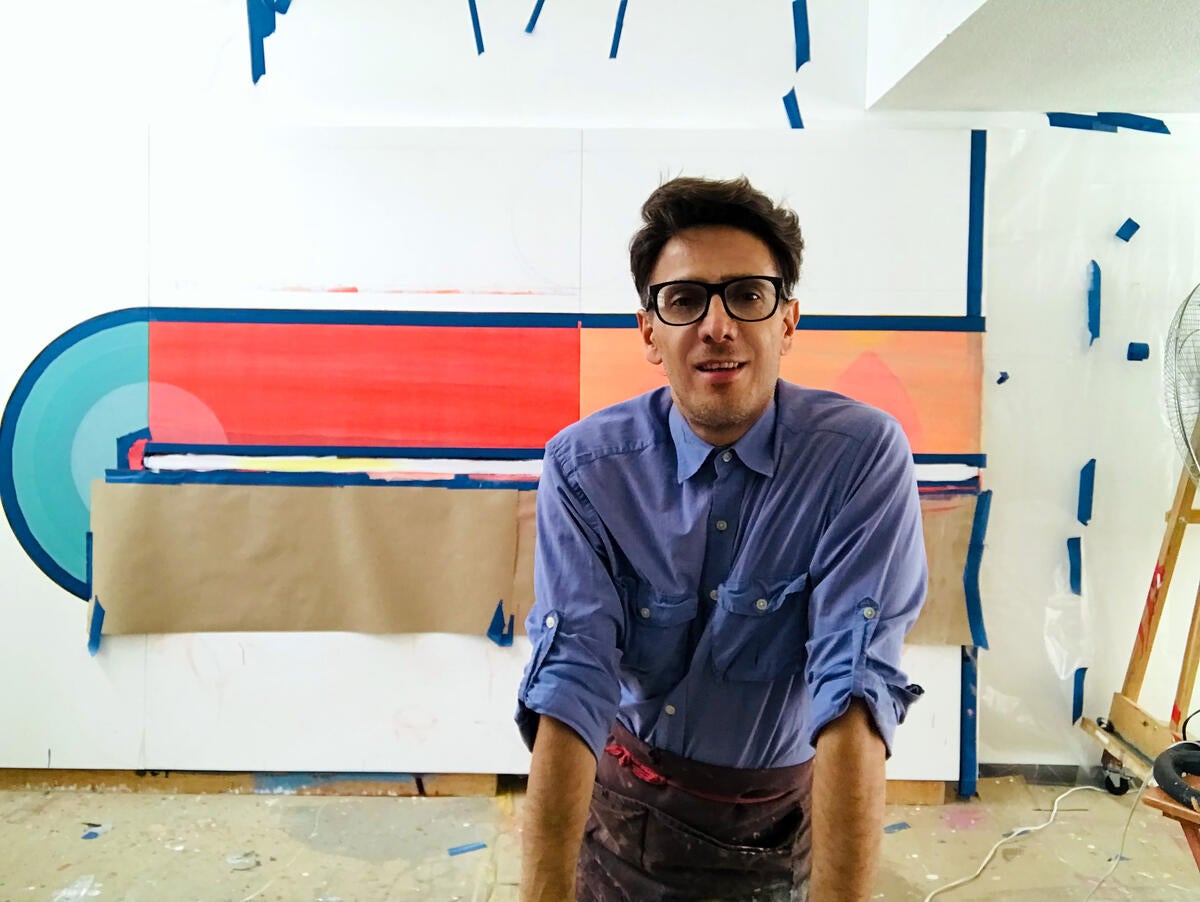 Contrary to Racine's and Nushka's figurative abstractions, Jaime Domínguez produces minimalist canvases whose color palettes evoke the folk art traditions of his native Mexico—a combination that has struck a chord among Saatchi Art's trade clientele and private collectors alike. Interior designer Andrew Suvalsky chose an enormous painting by Domínguez for a project in East Hampton, New York, that was published in AD Italia, and Houston design firm Mars recently acquired several of his works through Saatchi Art as well. Domínguez, a trained architect who began prioritizing his painting as a creative outlet after a cancer diagnosis several years ago, never anticipated his near-instant success on the site. With a background in set design, he rapidly adapted to the demand for megasize paintings.
"When Saatchi Art started asking for special pieces, my answer was always, 'Yes, I can do it,'" says Domínguez. He's currently completing a series of seven huge paintings for a collector in Hong Kong. Now cancer-free and considering his Cinderella story, he says, "When I was younger, I worried about fitting in with trends and what people would think of my work. It took me almost 20 years to embrace the artist within, because I was afraid I wouldn't earn a living. Now, I just do whatever I feel like, and I need more hands. Thanks to Saatchi Art, my art always finds its audience."
While Domínguez paints his heart out across 10-foot-wide canvases, Wilson and her team are reliably behind the scenes, translating feedback, making sure sketches are completed on schedule and confirming the client has signed off on every stage so there's no ambiguity or last-minute surprises. For designers who don't have time to work closely with an artist on top of all their other tasks, such project and personality management is an important part of what Saatchi Art has to offer.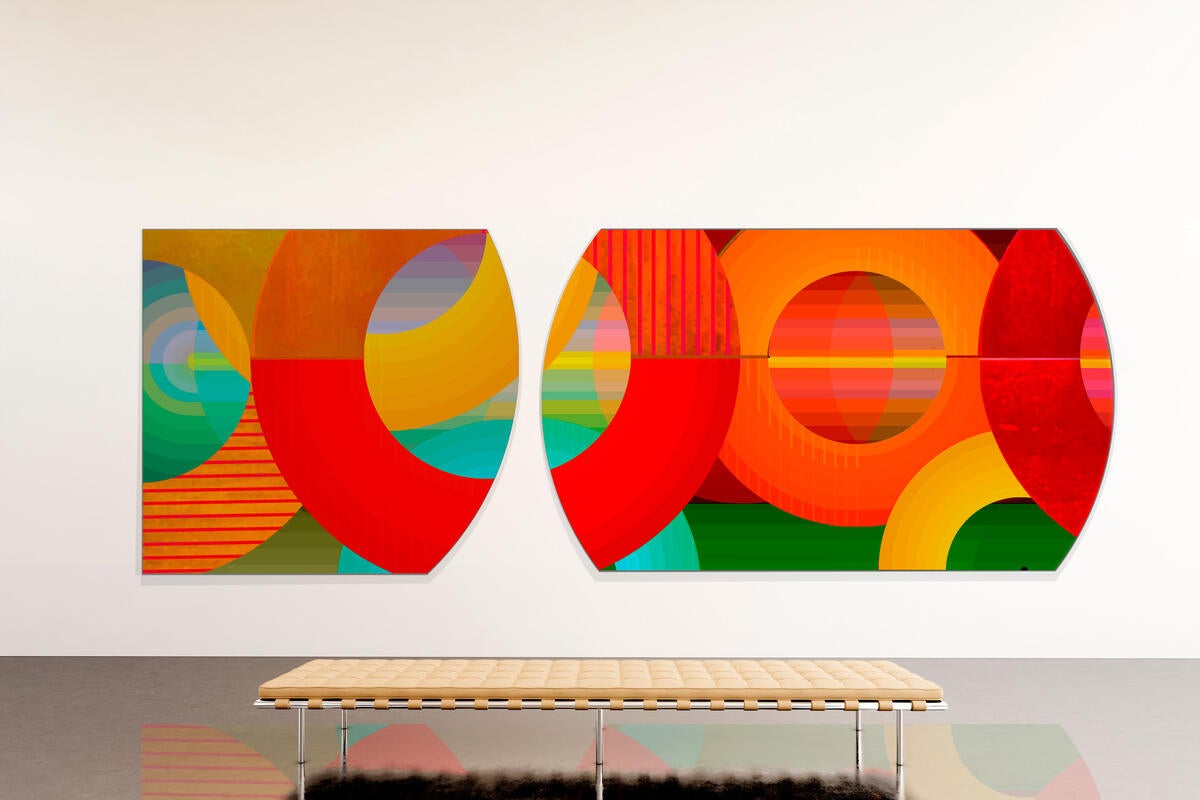 Another quality that distinguishes the company from competitors and keeps it ahead of the curve: its dedication to research and recruiting diverse talent. Annually since its founding, the company releases a report on emerging artists, along with smaller, country-specific features throughout the year. "From the outset, over 50 percent of our sales have been works by women," says Wilson. A recent office project she curated required that all works be by BIPOC artists from the East Coast. "A request like that is not difficult for us to fulfill because we already have so much information at our fingertips. Our trade clients benefit from all that valuable intel."
from haarlem to hollywood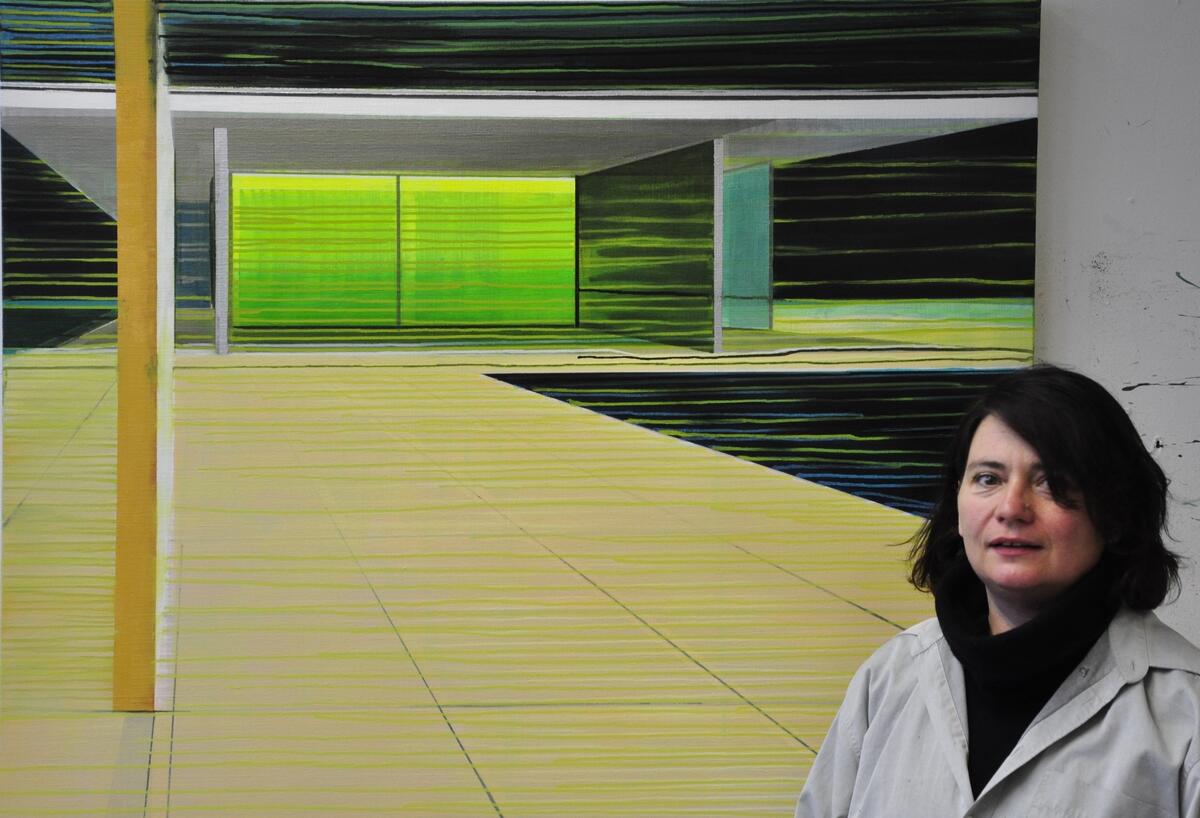 "Saatchi Art has been instrumental to my presence in the United States," says Cécile van Hanja, who works from Haarlem, Netherlands. Depicting the sleek geometrics of midcentury homes in thin layers of color that simultaneously convey transparency and depth, her paintings follow in the steps of David Hockney's famed Los Angeles poolside scenes—although Van Hanja has yet to set foot in California herself. Nevertheless, her practically neon pictures of streamlined Palm Springs houses were selected for Tommie Hollywood, the newly opened JdV by Hyatt hotel designed by Studio Collective. "We made prints from about 10 preexisting paintings, so there's quite a lot of variety. You might see one on one visit and another on the next, depending on your room," says Wilson, who curated the art program for the hotel.
When it comes to transporting art from Amsterdam to L.A., Van Hanja applauds Saatchi Art's hands-on approach. "A lot of online galleries make shipping the artist's problem, but Saatchi covers all the insurance and logistics," she says. "It gives me a sense of freedom because my paintings belong out in the world."
As the company branches out into customization, options abound to display art beyond the borders of a picture frame and elevate designers' interiors in truly unusual ways: mirrors back-printed with photographs; mixed-media installations suspended from the ceiling; mosaic headboards crafted Gaudí-like from ceramic shards; wall murals whose motifs repeat on the surrounding furniture. "The cast-resin headboards we delivered for the Four Seasons in New Orleans have won all sorts of awards," says Wilson.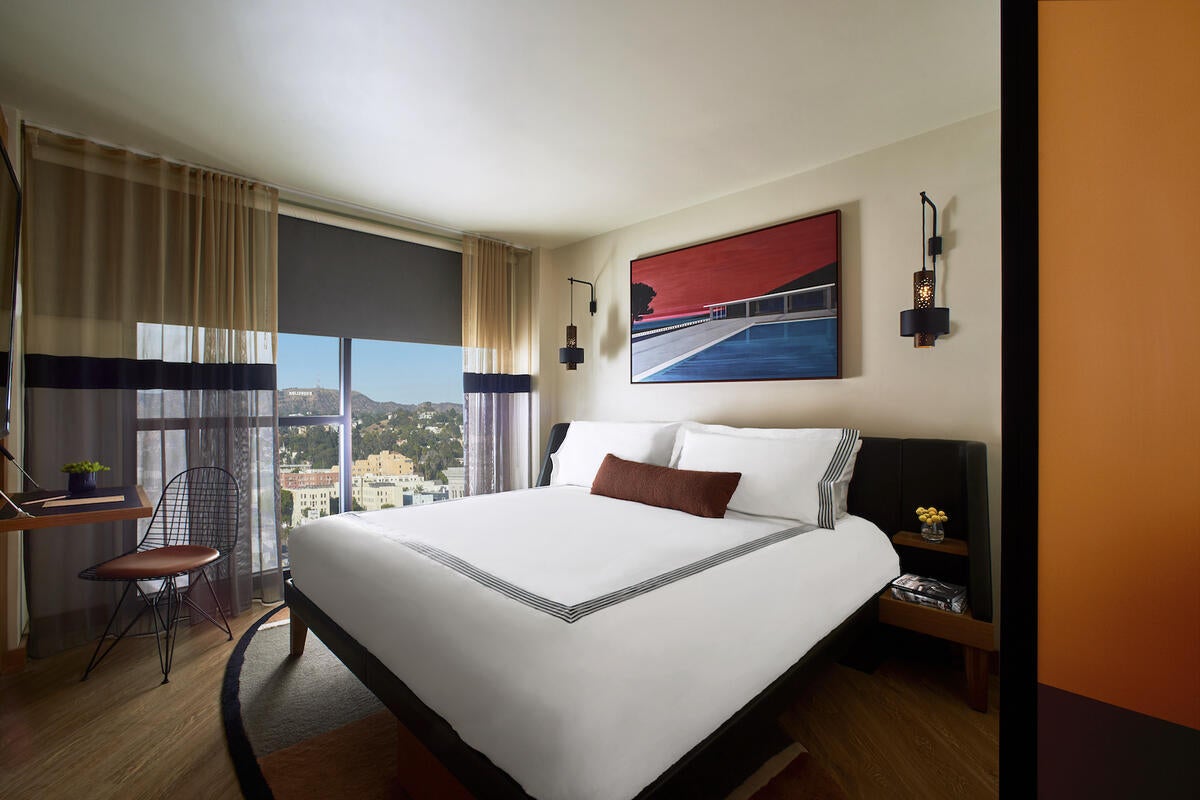 Because representation is nonexclusive, many artists selling with Saatchi Art also show their work at brick-and-mortar galleries in a fine arts capacity, in addition to having paintings or prints featured in commercial spaces like restaurants and hotels. It's an arrangement that benefits all parties. "Exposure for Saatchi artists in the hospitality sector coexists parallel to progress in the rest of their career. The overlap can lead to all sorts of positive outcomes," says Wilson. Case in point: In the few months since the Hotel Barrière Fouquet opened, several guests have inquired about works by Racine and Nushka. Through another collaboration with Saatchi Art, Racine dipped a toe into NFTs with a series of Van Gogh portraits. Van Hanja, meanwhile, sold multiple new paintings exhibited at New York's Fremin Gallery this past summer. "Without Saatchi Art online, my work wouldn't have been discovered and that wouldn't have happened," she says. A benevolent power broker between artists, designers and their clients, committed to bringing beauty to spaces private, public, big or small, the online gallery gives new meaning to the art of the deal.
This story is a paid promotion and was created in partnership with Saatchi Art.
Homepage image: "Alexandra," a modern portrait of a mysteriously masked artistocrat by artist Mandy Racine, casts her veiled gaze into a guest room at The Suites at Fouquet's New York | Photograph by Matthieu Salvaing