As a general rule, Perennials designer collaborations are one-and-done, allowing the legendary purveyor of luxury performance textiles, rugs and accessories to introduce a new talent every year in tandem with its own house collections. But any designer worth their salt knows that rules are made to be broken, and if ever anyone was destined to be the exception, it's Rose Tarlow. Since opening her eponymous antiques shop on Melrose Place in 1976, Tarlow has been pioneering her own path, launching her debut textile line in 1999 and her first bestselling collection with Perennials in 2012. Well, pardon the decade, but the wait is over: For fall 2023, Tarlow and Perennials have reunited to release a fresh batch of 100 percent solution-dyed acrylic (SDA) fabrics and, as a treat, four flat-woven rugs inspired by the designer's own watercolor paintings. It's the first time Perennials has done a second collection with a partner.
Being so strongly associated with Los Angeles, Tarlow no doubt helped put the city on the map as a design and architecture destination. But for this new collection, the verdant vistas and lived-in elegance of the English countryside beckoned. "She likes things to look like they've been there forever," says Perennials design director Amy Williams of the aesthetic. The subtle, sun-washed palette that in part creates this effect belies the durability of Perennials indoor-outdoor textiles, which are bleach-cleanable and fade-, mildew- and UV-resistant. "There's a weathered warmth to the pieces," says Williams, who worked closely with Tarlow over the course of three years to develop the patterns and colorways. "We wanted everything to look hand-dyed, hand-painted, hand-woven, hand-made—even though, of course, it's all done with SDA." Earlier this summer, while Tarlow herself was vacationing in the South of France—icon!—Williams spoke from company headquarters in Dallas about the eight new performance fabrics, one reintroduced classic and four winkingly abstract rugs. "What a blessing it was, and how lucky we felt, to be able to work with Rose again," says Williams.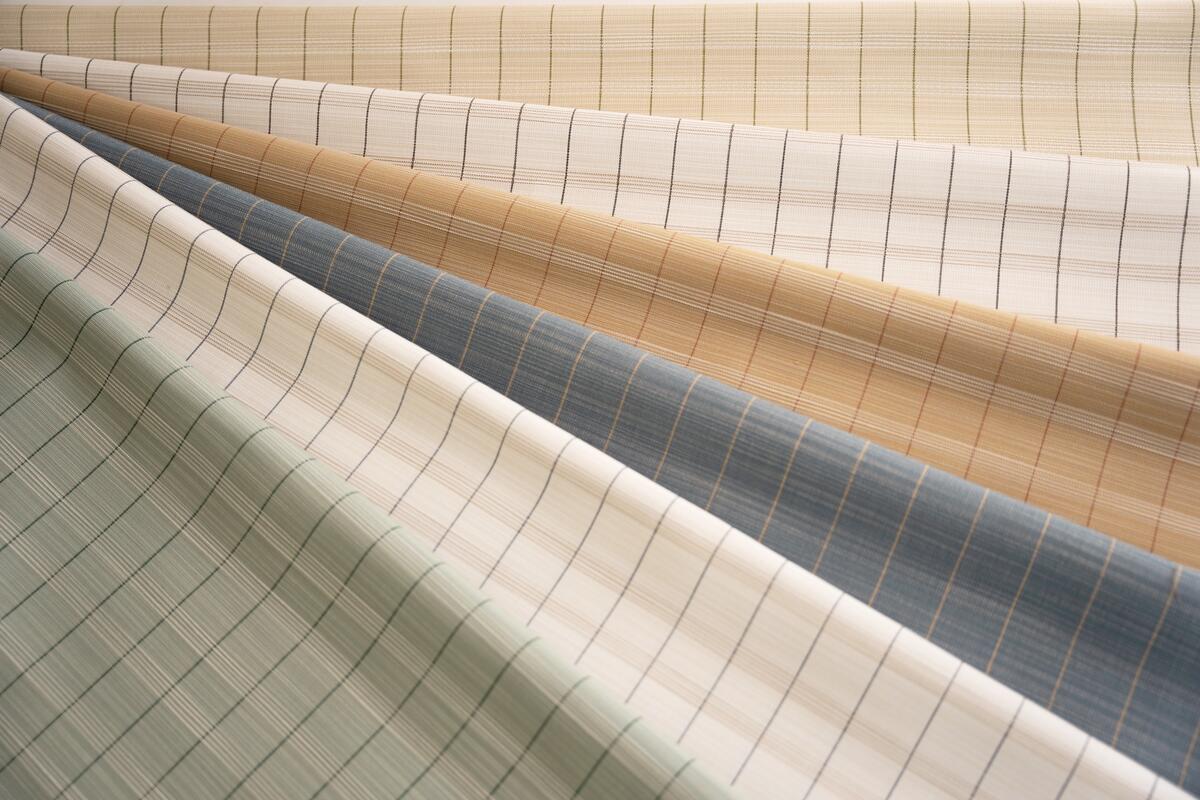 Garden Row
"This is a delicate multicolor plaid. You could also look at it as striping because the background has beautifully textured lines. Perennials typically does a lot of two-color designs, so the fact that this has three is special. It looks almost like it could be from the 1920s, a little Anni Albers, but so modern and fresh too. The refinement of the background gives it nuance and depth."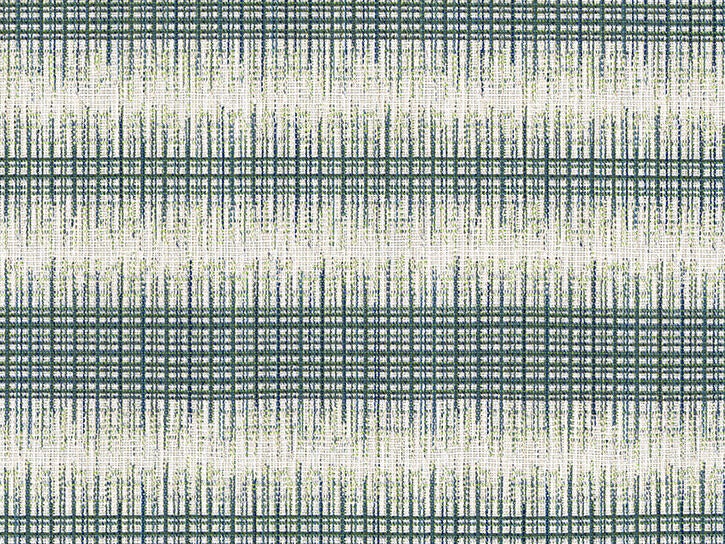 Huckleberry Trellis
"We really worked on the scale of this style, asking: 'Who's going to use this and what for? How does it look on a chair? On a sofa? What story does it tell?' We considered ultralarge, medium and fine versions of the pattern, ultimately deciding on the fine. It's interesting how scale can make such a difference, and we always want to offer variety to our clients. This pattern is almost abstract and looks a little like a plaid, a little like a striping. It's quite elegant, a bit graphic. Blue Spruce, our new blue-green, gives it a fun punch of color. Like many of the fabrics in the collection, it's reversible, to show a whole other way to approach it."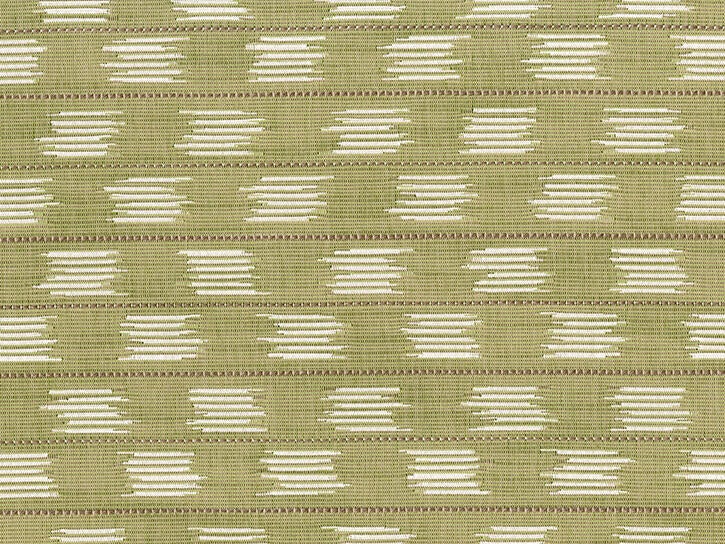 Willow Way
"It's an ikat-inspired, delicate design with this incredible dash detailing that looks and feels like embroidery, even though it's actually not—it's the different qualities of our yarns that create the texture. So pretty in Chartreuse, another one of our bright new colors."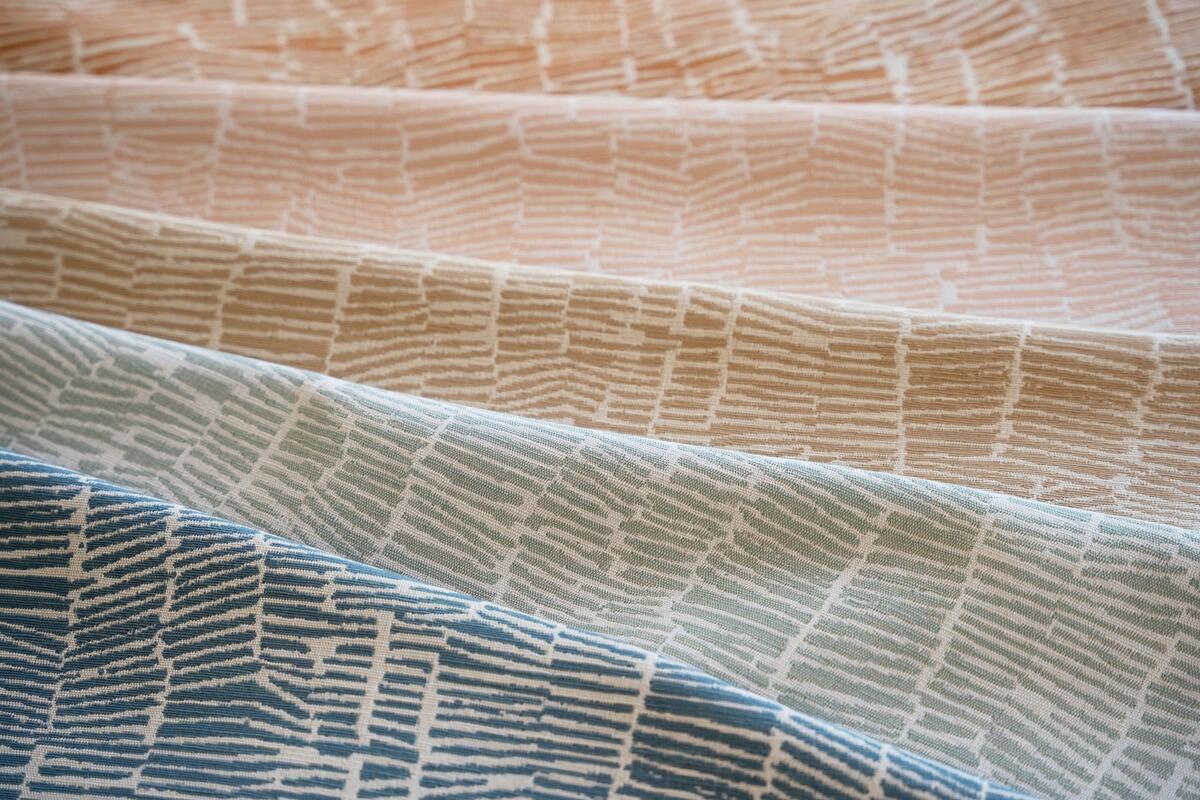 Bramblewood
"With its allover pattern of abstract lines, Bramblewood has got an energy, a rhythm, to it. It's inspired in part by a block-printed piece of art. We wanted to capture the interest and sense of movement created by perfectly imperfect lines."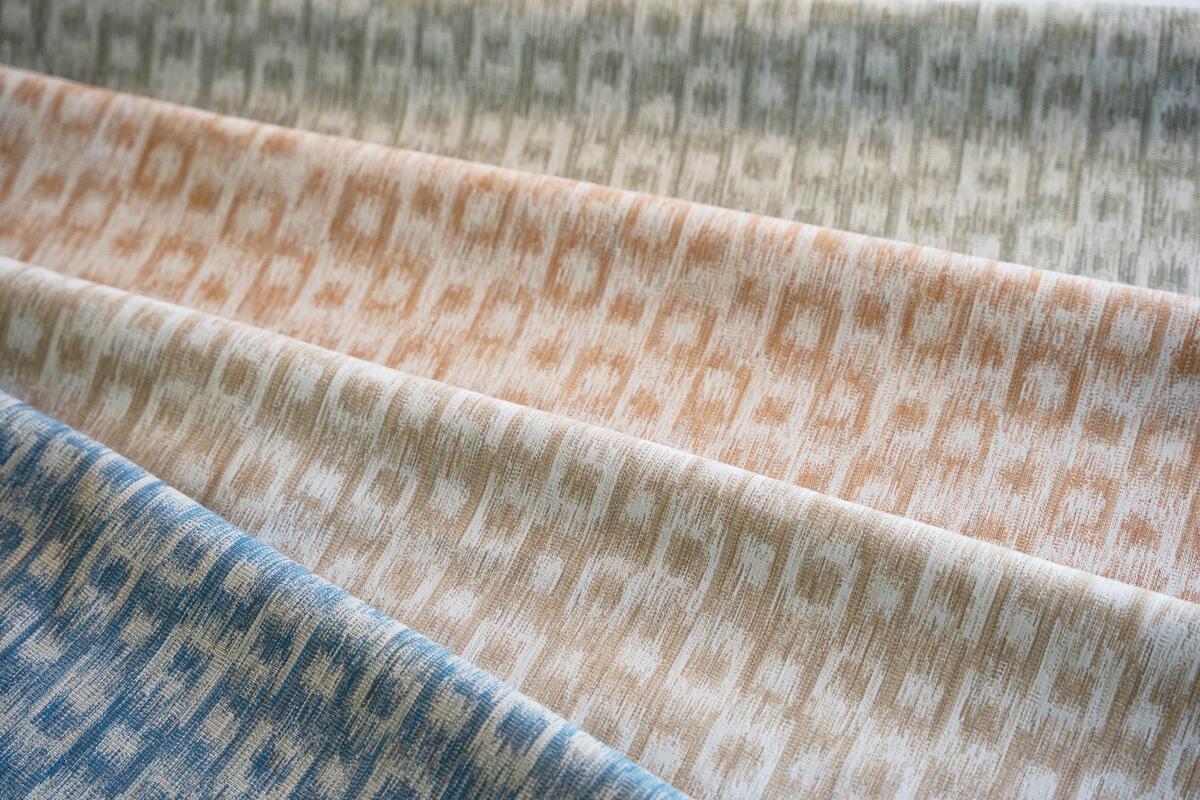 Stepping Stones
"Stepping Stones alternates circles and squares in a fluid, abstract ikat pattern. This fabric debuts in four subtle new colorways that come from the countryside: Parchment, Apricot, Bluestone and Matcha. The Apricot, for example, beautifully aligns with Rose's point of view: bright but still soft."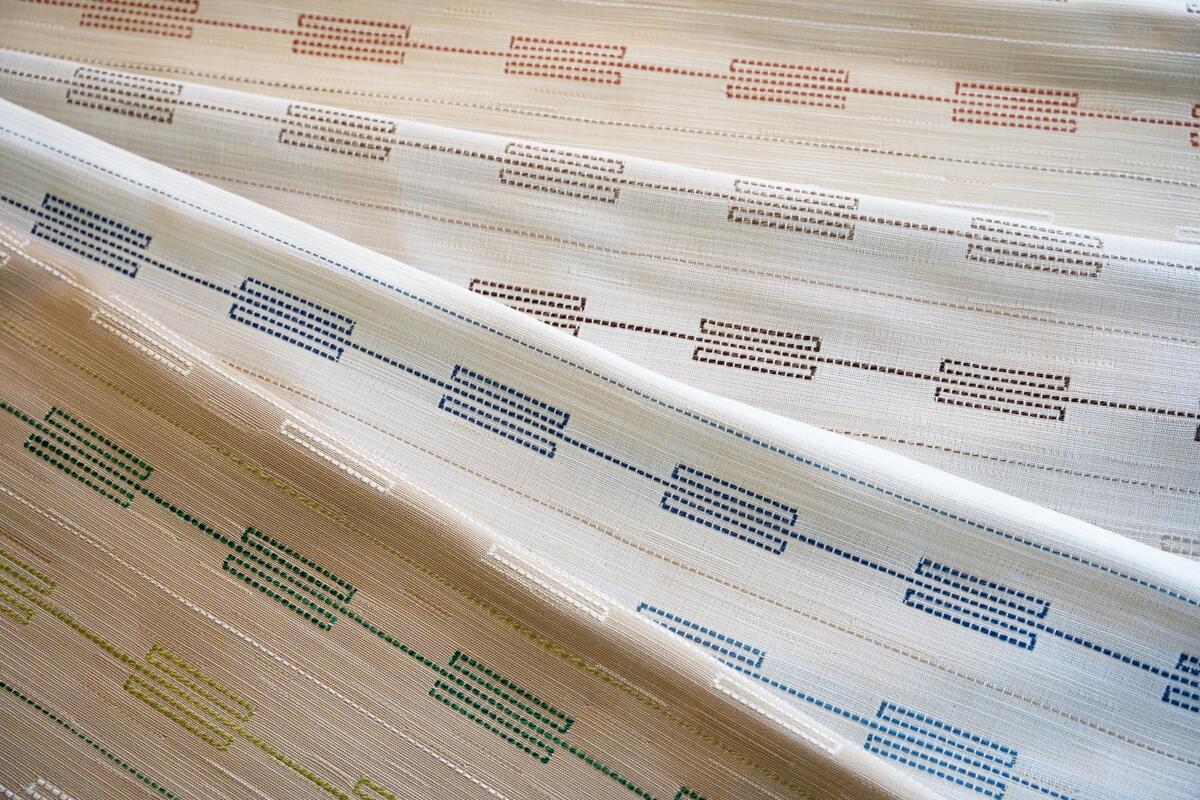 Hedge Hunt
"Hedge Hunt features these gorgeous mélange yarns that combine many different colors in one. Those are the types of details Rose explores. It creates a kind of ombre effect within the geometric 'embroidered' lines of each of the four colorways: Sable, Vellum, Grass and Blue Heaven. Even the background has so much color play in the striations, which gives it luxurious dimension. A great pattern for layering, it looks hand-made and antique."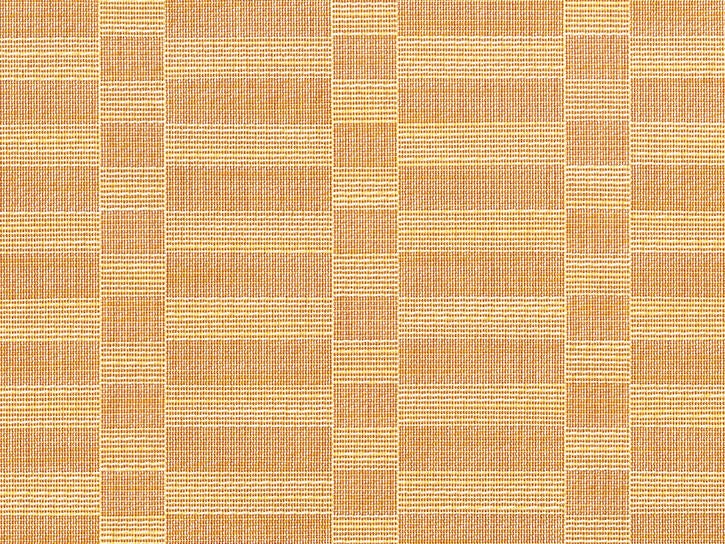 Foxglove Lane
"A tonal, irregular check design that resembles a vintage raw silk, Foxglove Lane is very fine and has a dryness to the finish—it looks just like it's been here for 100 years. Rose imagines it in the stately but comfortable country manors of Somerset or Oxfordshire, England. The shade variations are very clear in all the colorways: Beeswax and Apricot on the warmer end of the palette that Rose is so well known for, and Bluestone and Blue Spruce on the cool. And I'm always the one pushing the pinks: Shell is not a new color for us; it's a classic. We're all feeling very pro-pink these days."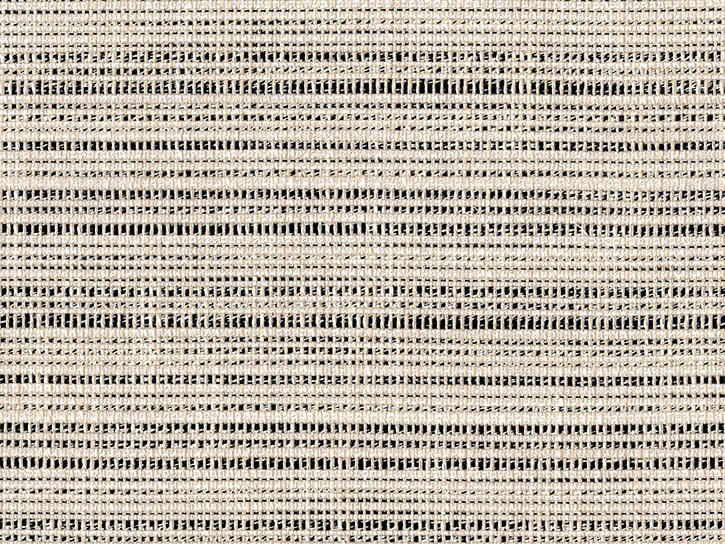 Rock wall
"We did this one in 12 colors. Are we crazy? Or did we just believe in it so strongly that we couldn't say no? It's a chunky texture in solid tonal colorways like Blue Heaven, Salt & Pepper, Gunmetal, Patina and Grass. The linear contrast in Sunset is so lovely. Rose is known for being the Queen of Camel, so we had to have the gorgeous, warm Beeswax hue. This pattern has also got that raw, woven, matte quality to it. Is it a linen? If you didn't know, you couldn't tell."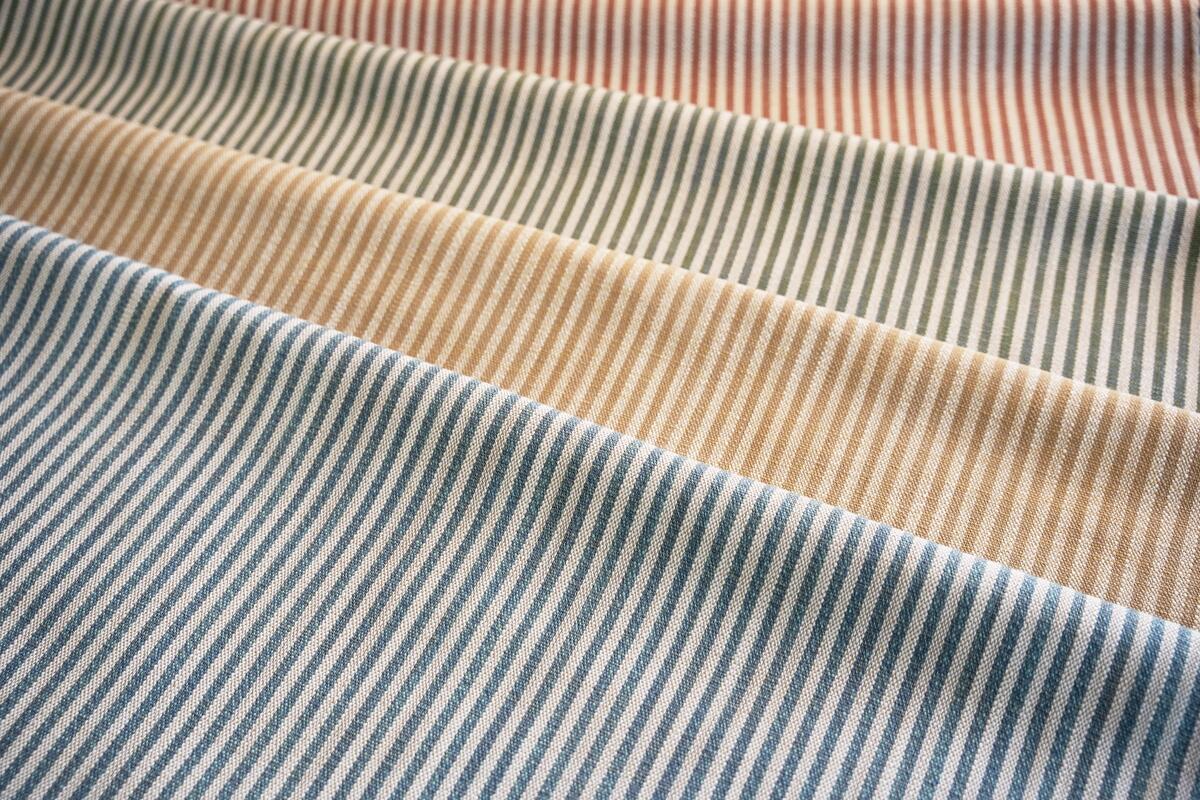 Tatton Stripe
"A bestseller since launching with Rose's original Perennials collection, so we brought it back in nine new colorways. Saffron is bright and fun and punchy. Zephyr's a sun-washed blue. People love the pattern's well-worn vintage quality. It's the classic ticking stripe; a no-brainer."
Tarlow took quite the contrarian approach to her premier rug collection, treating the four designs as if they would not be the signature or anchoring piece in a room. Rather, they'd serve as a subtle layering element, their fine lines peeking out from underneath a coffee table, their abstract patterns and neutral palettes barely suggesting the traditional motifs that inspired them. Interpretations of her own watercolor paintings, each of the four styles is flat-woven from solution-dyed acrylic and suitable for indoor-outdoor use. Williams describes a bit of the creative process behind the new category: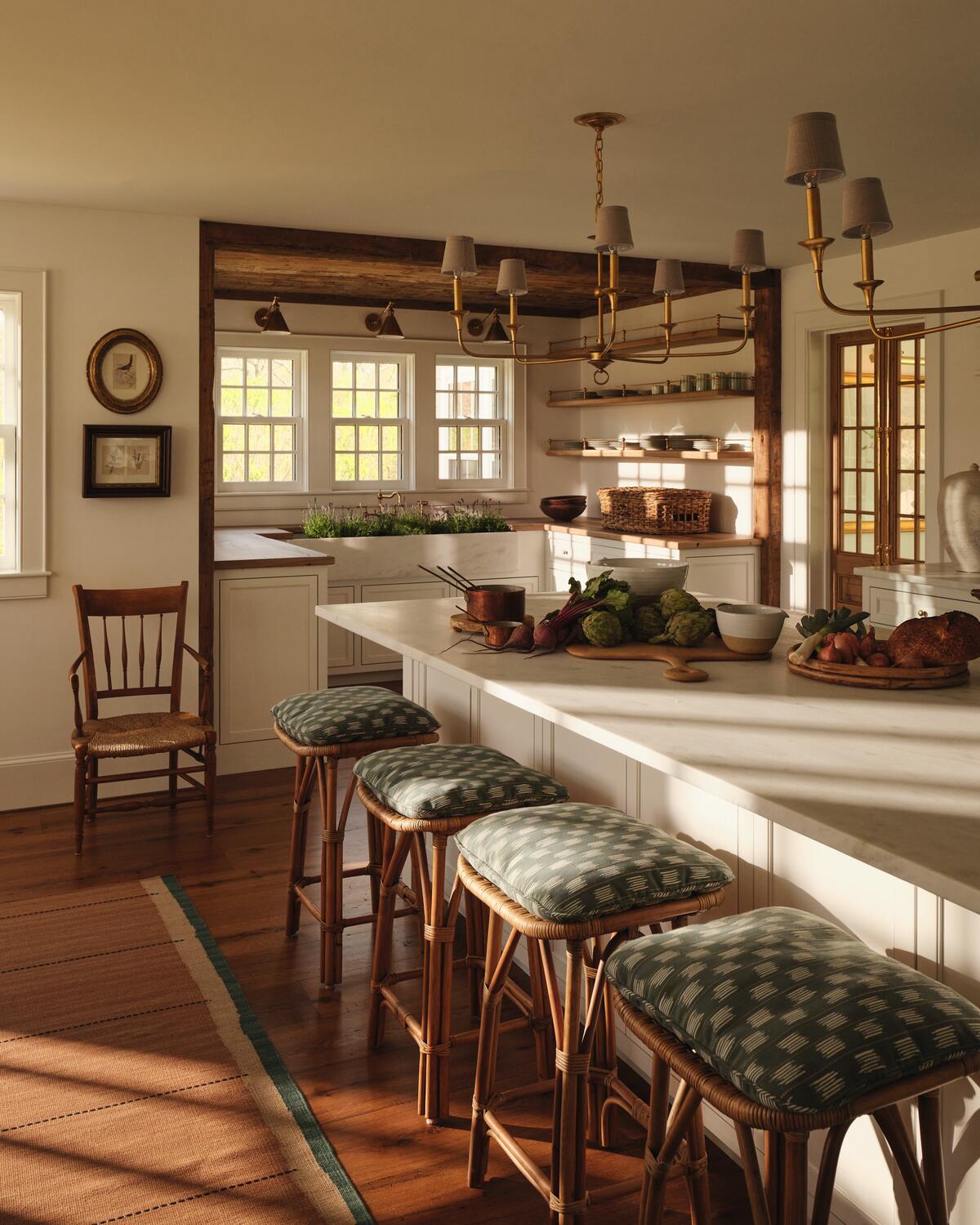 In the Weeds
"For extra depth and texture, we incorporated rope into the horizontal striping, designing an all-new, smaller rope size—3.5 millimeters, rather than the usual 5—at Rose's direction. Having the rope as part of the weave makes the rug look like an old soul, even though it's brand-new. Vertical stripes border the two colorways—a dark green in the case of Emerald and a sky blue for Apricot. Imagine this beautiful watercolor wash of a paintbrush down the sides. It's not a straight line for a reason: It's supposed to have movement."
Meandering Lines
"Debuting in Bluestone and Shell, you can really see the different tonal qualities in the softly saturated backgrounds of this pattern. It's not just a solid color; it's much more nuanced and complex. The horizontal lines are deliberately uneven, for the kind of gentle flow found in nature. Such a serene, unique design—so modern yet so timeless."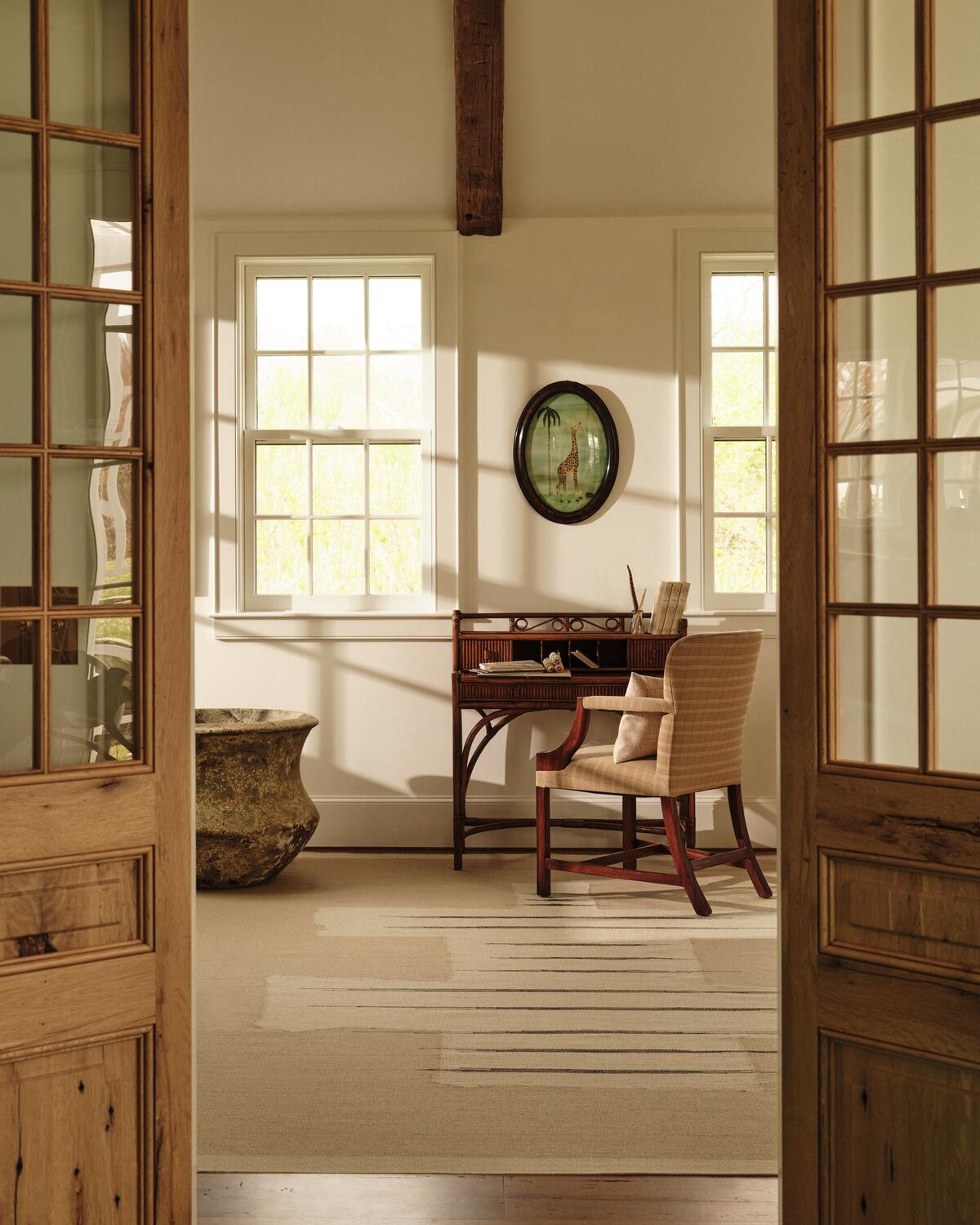 Tyger! Tyger!
"One of my personal favorites and sure to make a statement in any space. It's playful, it's witty, it's a surprising twist on the majestic tiger in that it's just an abstraction of the animal—a thinly striped outline on nuanced backgrounds of Paperbag, Salt & Pepper and Beeswax. Though, as with all the rugs, Perennials can customize these in any color. Rose loves the exclamation points in the name, a little nod to the William Blake poem about the graceful beast with the 'fearful symmetry.'"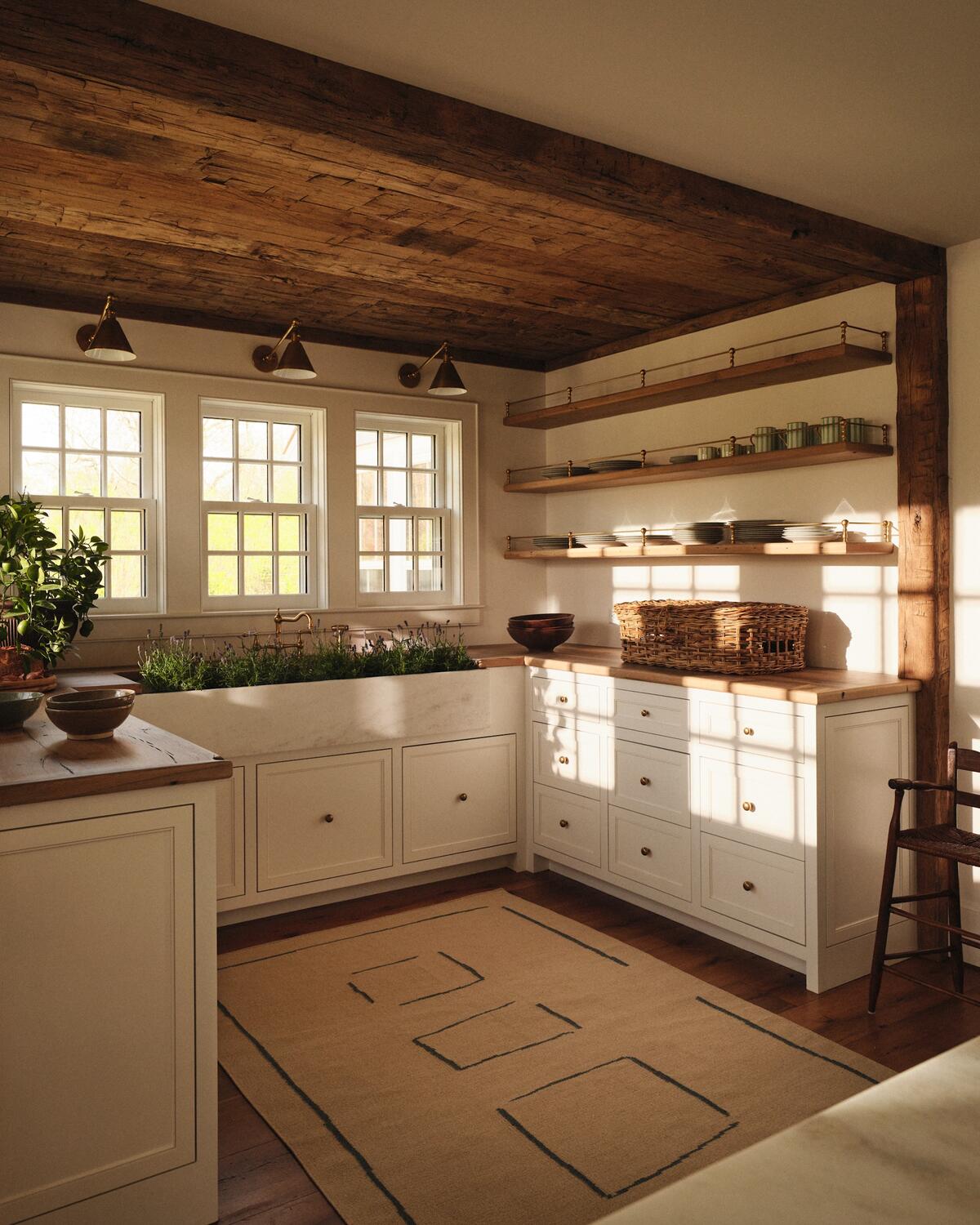 A-mazed
"Interpreting traditional topiary design in a completely unexpected way, the three box shapes down the center of this rug are not meant to be precisely straight. As we were developing the pattern, Rose would say, 'The lines are too thick. Let's get them thinner.' With Rose, it's never about screaming, 'Here's the design!' It's about its versatility in the space, how it adapts to or interacts with its environment—even if that means only a couple of corners of the three squares, marked in Grass or Bluestone, can be seen here or there."
This story is a paid promotion and was created in partnership with Perennials.
Homepage image: Rose Tarlow's second collection for Perennials features the warm, neutral shades she's so well-known for, as well as several fresh new colorways. Textiles on the table: Foxglove Lane, Garden Row and Hedge Hunt. Seat cushions in Rock Wall and Willow Way | Courtesy of Perennials