In our series, What I Love, we're asking designers to build us a mood board of what's inspiring them right now.
Roric Tobin is having a moment with color, and more specifically, green. Lately, the New York designer finds himself gravitating toward tonal variations of the verdant hue to infuse his projects with depth and richness. "Green has always been a bit tricky to decorate with," he tells Business of Home. "Almost every shade of blue can coordinate easily together, but mixing greens is a lot more daunting."
Inspired by the idea of a colorful library or den, his current mood board is brimming with vibrant—and markedly modern—textiles in gradient shades of green. "It would be so easy to go a traditional route in a cozy space, but these items reflect a younger, contemporary use of green, while retaining all of the features that draw you into the room to relax," he says.
The final scheme showcases a symphony of olive, emerald and aqua pieces, ranging from rugs and fabrics to hardware adorned in semi-precious stone. "Green is an inviting and comforting color, but we wanted to go beyond soft textiles," he says. "Most importantly, we have artworks [that serve as] focal points to draw these colors out."
Here, he breaks down the details—from quartz-clad sconces to acrylic-encased coffee tables.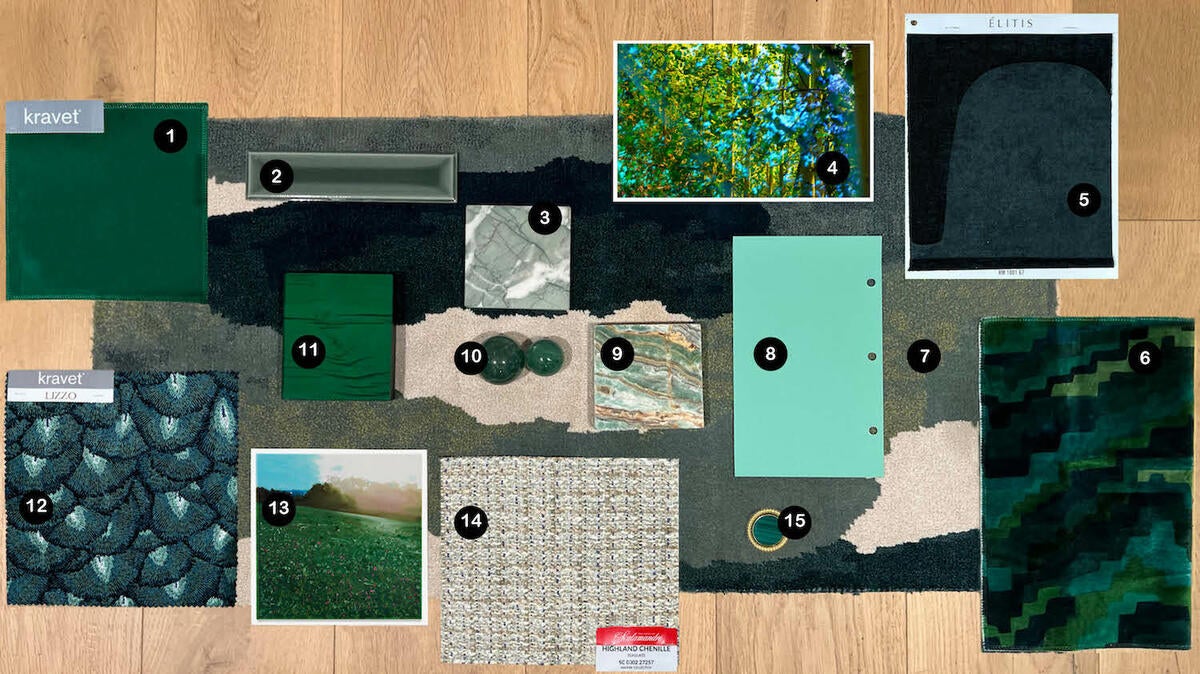 Courtesy of Roric Tobin Designs
1. VERSAILLES FABRIC IN E257080 BY KRAVET DESIGN
"Cotton velvet is a fantastic fabric choice because it's soft and plush while remaining cool to the touch. This solid is a perfect base color for a scheme, either a sofa or a headboard."
2. FLAUTI PORCELAIN TILE IN GREEN GLOSSY BY NEMO TILE + STONE
"By adding color and dimension, these tiles would work well for either a shower wall or the backsplash of a wet bar."
3. REVENGE ROUND DINING TABLE IN ESMERALDO ONYX SAMPLE BY NELLA VETRINA
"This stunning marble brings both jade green and ivory to a large surface like a table or countertop. It is not oversaturated, nor is it too washed out—just a lovely subtle color."
4. TREMBLING GIANT, AN ARTWORK BY KARINE LAVAL STUDIO
"Laval is a very prominent photographer whose painterly images are all created in situ without digital manipulation, so they feel completely real and otherworldly at the same time."
5. GALERIE WALLCOVERING IN COLISÉE BY ÉLITIS
"A dimensional wallcovering adds such character to a room and the classical arch motif makes it very serene."
6. FALCONETTO CALYPSO PRINTED VELVET FABRIC BY ZINC
"This versatile fabric could be seen as both a natural landscape motif or a geometric pattern."
7. PAINTER'S PALETTE TIBETAN KNOT RUG IN HONEYDEW BY PERENNIALS
"The blend of hues in this rug gives you the ability to go in many different directions stylistically. The added bonus is that, even though it is plush as can be, it is solution-dyed and suitable for outdoor or stain-prone areas."
8. EUCALYPTUS 621 PAINT BY BENJAMIN MOORE
"This shade of green is soft and soothing."
9. ESMERALDO ONYX SAMPLE BY ABC STONE
"This multicolored, richly and directionally veined onyx works perfectly for stone-trimming pieces. We recently used it as the frame on my Window Pane bed for a client, paired with stainless steel trimming and great upholstery."
10. GREEN QUARTZ BUBBLE SCONCES BY PHOENIX GALLERY AT 1STDIBS
"Using natural quartz and rock crystal in light fixtures is a wonderful way to bring warm light into an atmosphere. The sculptural, contemporary nature of these fixtures keeps the look entirely modern."
11. GEORGE COFFEE TABLE IN CRYSTAL EMERALD BY BARN IN THE CITY
"Taking reclaimed barn wood, coloring it and then encasing it in thick, crystal clear acrylic creates the earthy feel of a wooden table with an added dash of glamour."
12. PROUD FABRIC IN 04 BY LIZZO FOR KRAVET
"This beautifully embroidered fabric is like a bunch of peacock feathers. Its scale is well-suited for pillows or wall upholstery."
13. HILLSIDE, 2019, AN ARTWORK BY ISCA GREENFIELD-SANDERS AT MILES MCENERY GALLERY
"Isca Greenfield-Sanders is an artist I have followed for some time. Her work is soft and impressionistic, yet modern. Art should never be an afterthought, and a work like this will serve to elevate the entire scene."
14. HIGHLAND CHENILLE FABRIC IN SEAGLASS BY SCALAMANDRÉ
"This lush chenille is like a Chanel jacket for spring: perfect for a club chair or an accent pillow."
15. STONE INSERT KNURLED CABINET & DRAWER KNOB IN MALACHITE BY SHERLE WAGNER INTERNATIONAL
"Hardware can do so much for a piece, despite being so little. Whether you're using it to accent a stunning highly lacquered commode or a DIY repurpose, a few of these pieces give a major wow factor."
Homepage photo: A flat lay by Roric Tobin | Courtesy of Roric Tobin Designs