If a cashmere sweater is the first item that comes to mind when Quince's name is mentioned, the brand understands: Through targeted online ads, the San Francisco–based company has built a reputation for transparently priced, quality wardrobe staples for women. Less commonly known, though, is that Quince is also something of an under-the-radar source for home goods that are equally well-made and affordable. Interior designers and influencers have been low-key buying up the brand's sustainable sheets, duvets and towels in bulk, then stocking their properties with the stylish basics, to the rave reviews of clients accustomed to paying much, much more. "Cashmere sweaters were our first disrupters," says Hannah Samlin, senior buyer for Quince's home sector, "but the brand was actually conceived around bed linens." Now, with "quiet luxury" an industry buzzword, plus the company's March 2023 introduction of trade partnership benefits, the secret's starting to get out.
One such partner is the owner and principal designer at the firm Table Thirty Three in Costa Mesa, California, McCall Henke, whose signature $150 Quince leather jacket served as her personal gateway purchase to the brand—and continues to act as a calling card. "I've had at least three clients ask me where I got it. These are women who typically shop at Dolce & Gabbana and Louis Vuitton," she says. After being smitten by a Quince cotton waffle bedding set she bought for her own home, followed by a crush on the complementary cotton waffle towels—"My favorites!"—Henke decided to go all in before the trade discount was even an option. "I was like, 'Oh, my gosh, I'm going to put these sheets in all my clients' houses because the product is so good, and it washes great, and the colors are beautiful and it just feels yummy."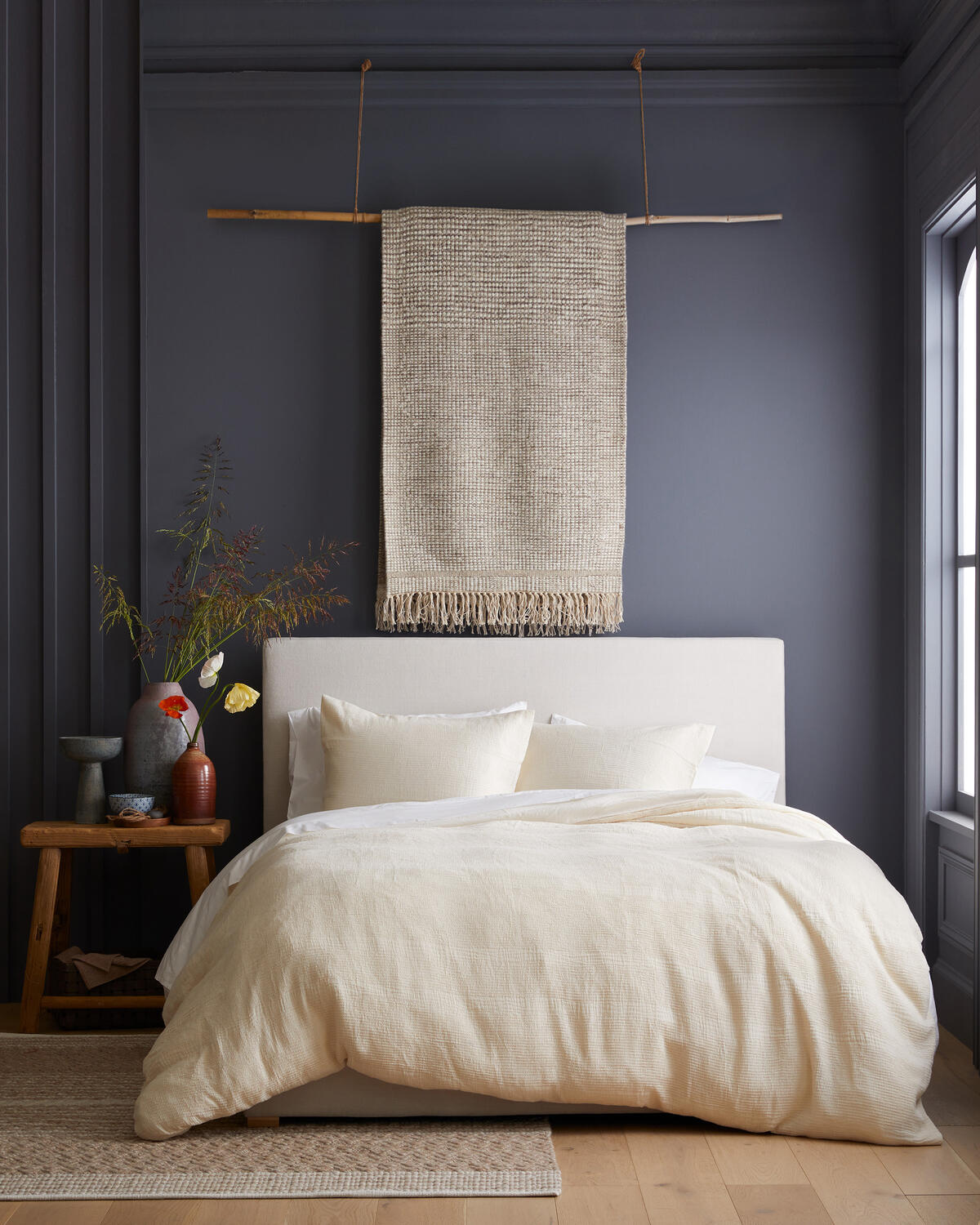 For a custom build in the $30 to $40 million range that Henke worked on in Orange County—belonging to a client who ended up buying that leather jacket, natch—the designer used the brand's bamboo sheets in every bedroom, Turkish towels in every bath and minimalist dinnerware as well. At another custom home in Laguna Beach with a more organic objective, Henke chose Quince linen sheets and natural fiber rugs because, in keeping with the coastal environment and an allergen-sensitive client, "the materials had to be durable, soft and breathable." Henke styled a third property, in Newport Coast, with Quince blackout curtains. "And they look beautiful—airy and light," she says. "As a designer, I sometimes shy away from blackouts, but these fully darken the room without making you feel like you're in a cave." After one night under their new bamboo sheets, the homeowners told her they were the best they'd ever slept with. "These are international clients who stay at five-star hotels all over the world," adds Henke. "Quince matches up to those standards but at a price point that's so manageable."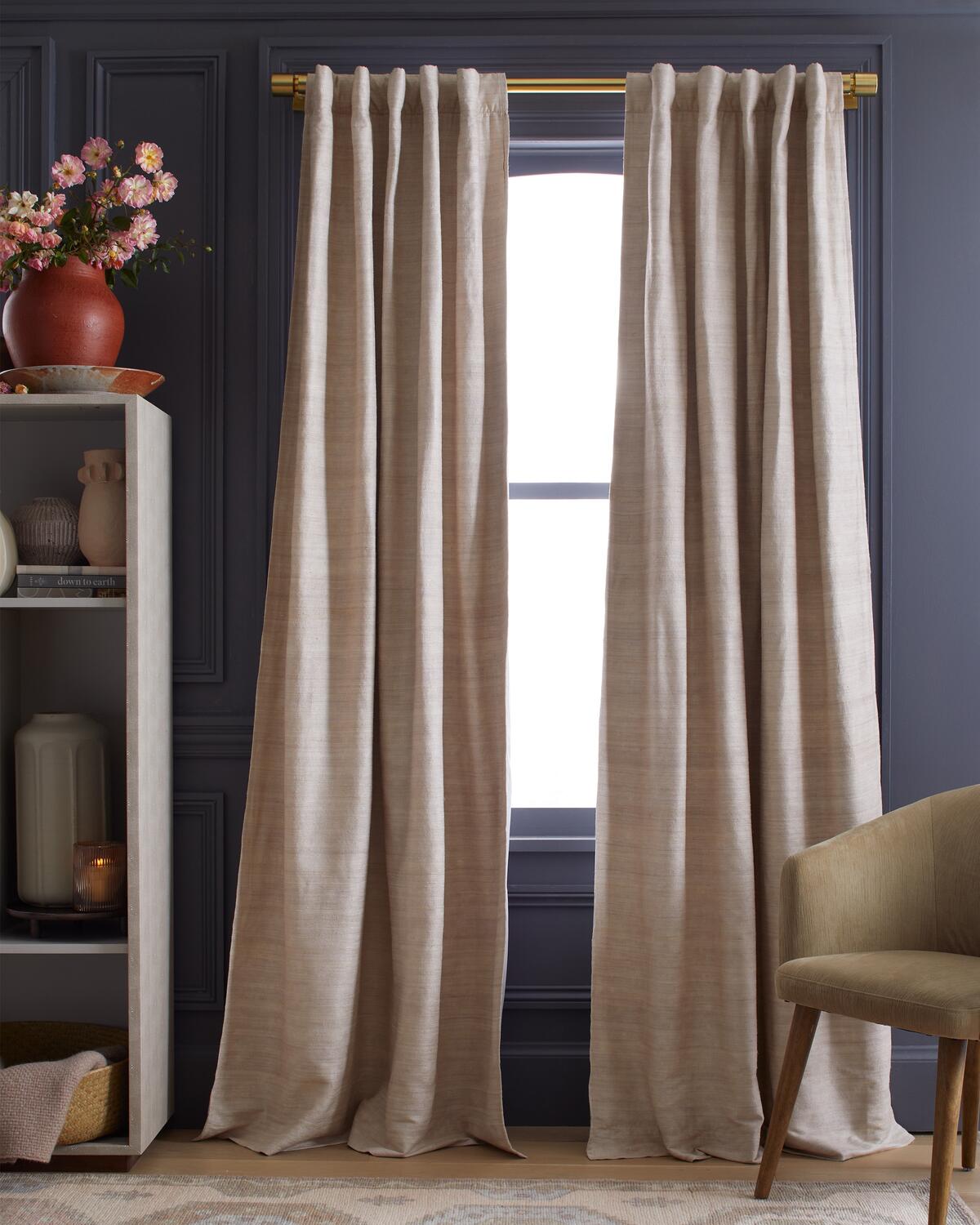 "Quality should never be a luxury; everyone should have access to it," says Samlin, emphasizing one of the brand's main messages. Quince's factory-to-doorstep model helps contain costs. It also reduces waste, in keeping with the company's commitment to environmentally responsible business practices. By using premium materials like Belgian linen and Indian wool, the products not only feel luxurious but last longer too—another check mark in the sustainability column. Through its new trade program, partners receive a 20 percent discount on orders greater than $250, often earning points on select products and promotions, as well as referrals, that can then be applied back to their account. Shipping is free, as are returns, which are open for 365 days. Like its products, the company's approach to partnership is practical and straightforward, intended to incentivize its best customers to keep styling their properties with—and by extension promoting—Quince home goods.
"Twenty percent off and the resulting credits add up really quickly," says Madeleine Raiford-Holland, founder of MHM Luxury Properties, a short-term rental business based in Athens, Georgia, with residences throughout the Southeast region. Like Henke, Raiford-Holland was invited by Quince to be among the first to join its trade program thanks to her already established dedication to the brand: Prior to pivoting to property management in 2021, she published a blog, Moderately High Maintenance, where she parlayed her status as a lifestyle influencer to post affiliate links to her favorite products, receiving a commission on every sale. It's a practice she continues on her website with the "Shop Your Stay" tab for the properties she now oversees.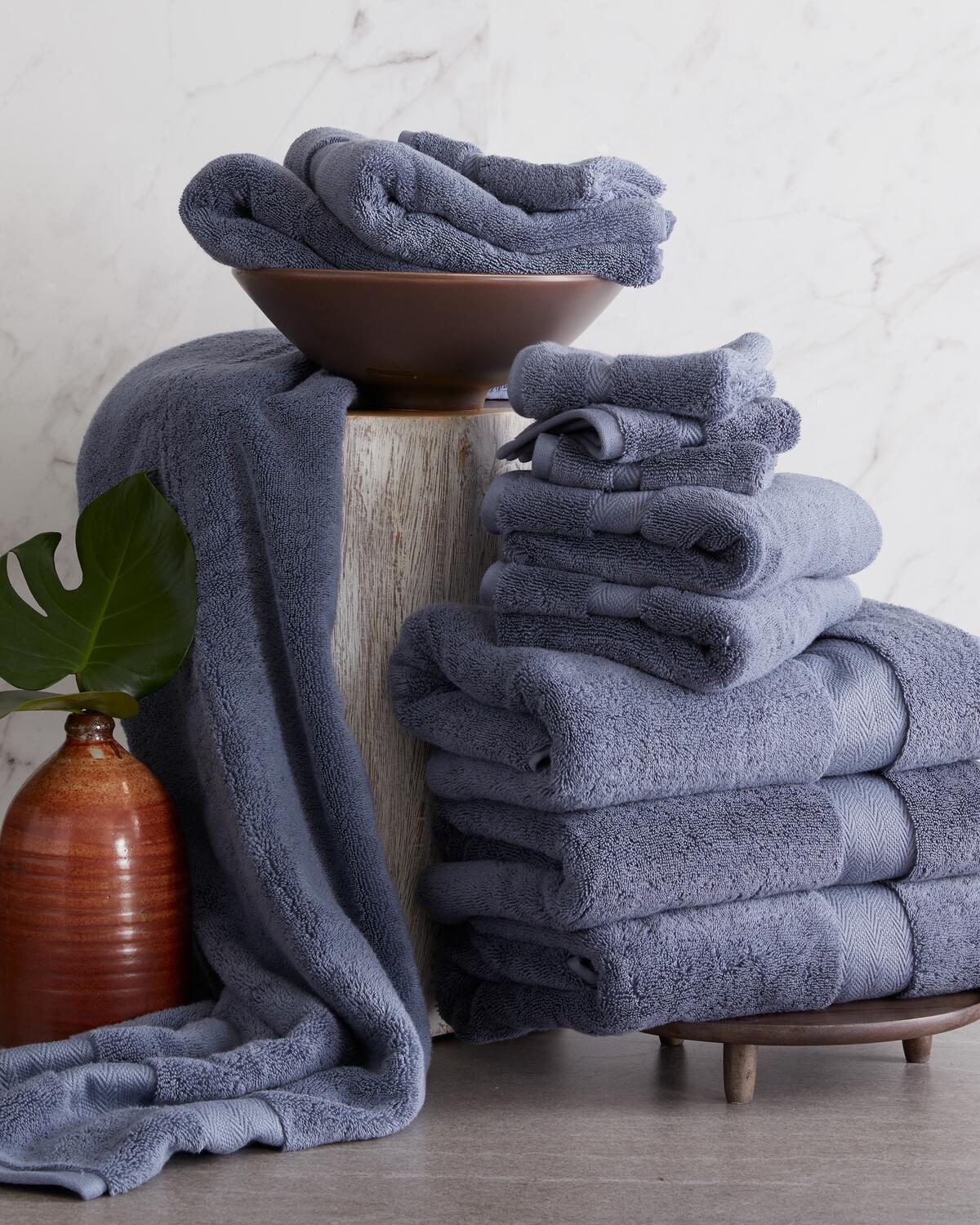 "The general rule of thumb in hospitality is to have three sets of sheets per bed," says Raiford-Holland. "The same for duvets. Just outfitting a three-bedroom home, you're spending thousands of dollars on linens. I didn't want to compromise on quality, but I also needed to work within my budget. That's how I originally found Quince." Also like Henke, Raiford-Holland initially ordered a set of sheets for herself and fell in love with them: "They had the same hand-feel as linens that were four times the price, and they held up in the wash." Before long, Quince organic white sateen sheets and waffle duvets became the standard at all MHM rentals. "That's what I sleep in at my house, and that's what I want my guests to experience when they stay at my properties," she says. In the two years since opening her rental business, hundreds of guests have reached out to ask where their bedding was from, then bought it for themselves through her website.
With Quince bed linens and bathroom towels quickly becoming indispensable designer basics, the brand is steadily expanding the trust it has built to products beyond the primary suite. "Window is one of the most exciting, and fastest-growing, categories for us right now, ready-made from ultra-premium fabrications," says Samlin. Another is rugs, the majority of which are made to order in India. In mid-June, Quince launched a limited-edition run of 20 one-of-a-kind pieces at 144 knots per inch. An 8-by-10-foot wool rug can retail for less than $3,000. "For anyone who appreciates quality and workmanship, that value proposition is mind-blowing," says Samlin. Rounding out its selection of home goods, the company also offers pillows and poufs, blankets and throws, artwork, mirrors and coffee-table books.
"Every designer could benefit from partnering with Quince," says Henke. "There's a traditional way of sourcing, and designers end up sticking with labels and showrooms they already know, but what's special about Quince is, you're getting the same exact, if not far superior, product, at a fraction of the cost of competitors." Not to mention the extra enticement of credits toward a sweet cashmere sweater or chic leather jacket for those moments when you're not in bed.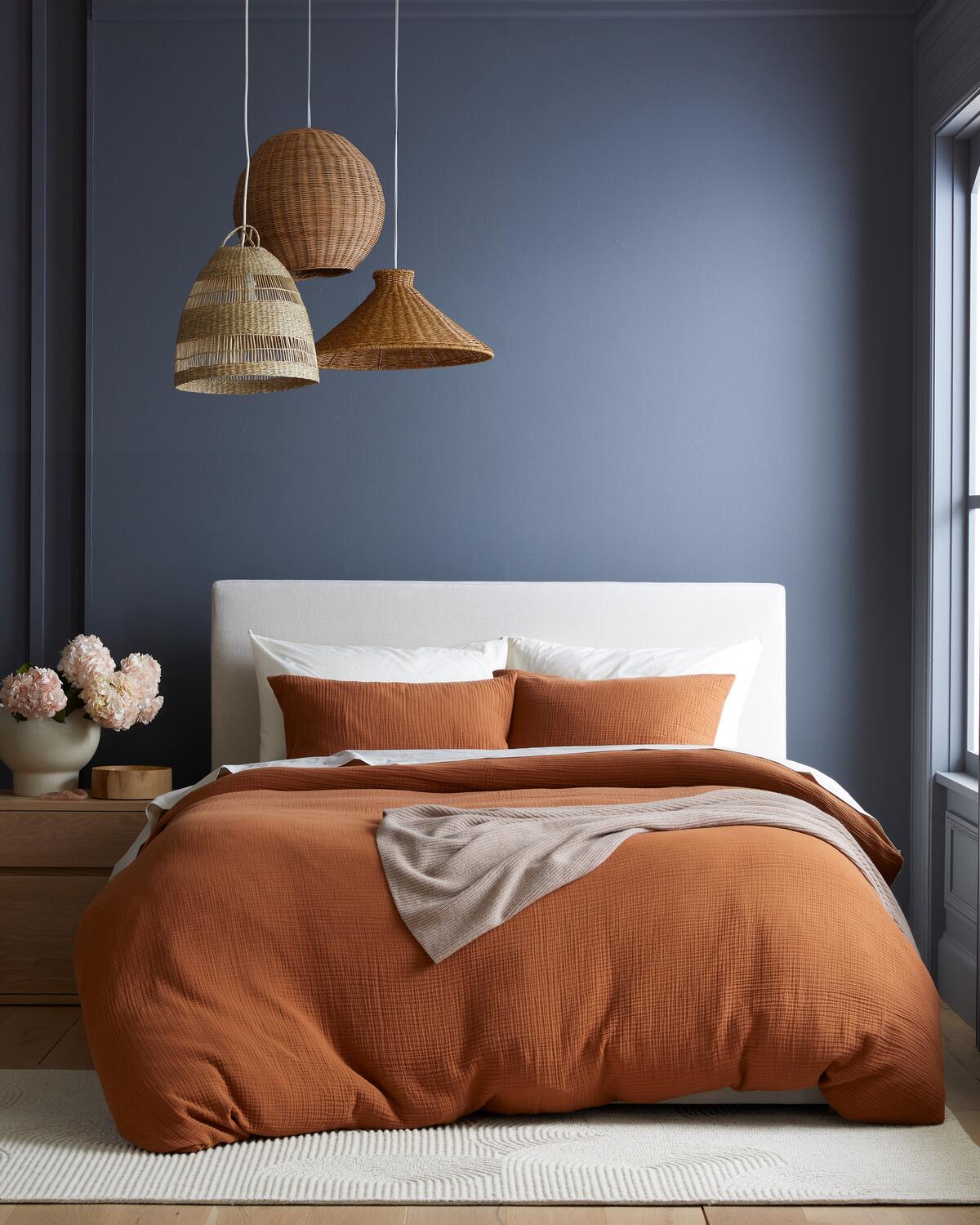 This story is a paid promotion and was created in partnership with Quince.
Homepage image: For durable, affordable, dreamy bed linens and other home goods, more and more designers source from Quince | Courtesy of Quince